Bursting the PC Bubble: Government Officials Sent Mysterious Pipe Bombs
by The Cowl Editor on November 1, 2018
---
National and Global News
---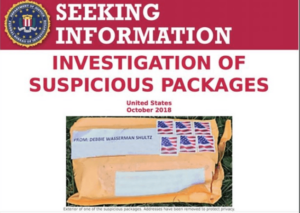 by Thomas Edwards '20
Former President Barack Obama, former Secretary of State Hillary Clinton, Representative Maxine Waters, and former CIA Director and MSNBC contributor John Brennan are all among the list of names who were targets of pipe bombs last Wednesday and Thursday, October 24 and 25. 
The pipe bombs were sent in the mail to prominent members of the Democratic party and news media. There was also a bomb bomb that was sent directly to CNN headquarters.
Cesar Sayoc was arrested on Friday, October 26 for a suspected connection to the bombs. It is believed that he created and delivered the bombs to critics of President Donald Trump. 
Sayoc's van, where the bombs were believed to be created, was covered with pro-Trump memorabilia and memes attacking liberals.
Sayoc made his first appearance in court on Monday, October 29 in the Federal District Court for the Southern District of Florida, facing charges for five federal crimes connected to his alleged mailings of 14 pipe bombs. These crimes include: interstate transportation of an explosive, illegal mailing of explosives, threats against former presidents and other persons, threatening interstate communications, and assaulting current and formal federal officers.
The appearance was just an initial hearing to bring forth the charges being filed against Sayoc. 
The defense lawyers asked Magistrate Edwin Torres, who presided over the hearing, if they could meet with Sayoc in a room with a table, instead of through a glass window as they had previously; Judge Torres agreed.
The defense stated they could not go forward with any other proceedings, and the hearing concluded with Judge Torres ordering both the defense and the prosecution back to court on Friday, November 2.
Outside of the courthouse, when asked whether Sayoc should reveal how many bombs he put into the mail system, one of Sayoc's attorneys Daniel Aaronson, stated that his client "is innocent until proven guilty," and that "he remains innocent."
"Nobody has been able — in a court of law — to say that those were bombs that he sent. Therefore, there is no reason why he should speak or possibly have any information to impart," continued Aaronson. 
Aaronson added on CNN's "Erin Burnett OutFront" that Sayoc will plead not guilty at this stage.
In response to the bombs sent out, President Trump tweeted on Oct. 29 that, "There is great anger in our Country caused in part by inaccurate, and even fraudulent, reporting of the news. The Fake News Media, the true Enemy of the People, must stop the open & obvious hostility & report the news accurately & fairly. That will do much to put out the flame…" 
From this tweet, it appears as though Trump is blaming the media for the bombs, despite CNN and MSNBC correspondents being among some of the intended targets.