Millie Paladino '19 Races to Success
by The Cowl Editor on March 21, 2019
---
Athlete of the Week
---
Paladino has Highest Finish for PC Since 1994
by Meaghan Cahill '20
Sports Coeditor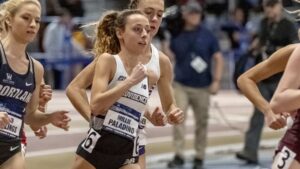 For the first time since 1994, Millie Paladino '19RS became the highest mile finisher from Providence College to place at the NCAA Indoor Track and Field Championships. Placing third in the nation in an event that only 16 people nationwide qualified for, Paladino ran a 4:38.44 mile, a time that also earned her First Team All-America Honors.
Having been told by Head Coach Ray Treacy that she could finish anywhere from eighth to first, Paladino says that she was "really happy and proud" of her accomplishment.
"It means a lot for me to do it for the school because it's one of our highest places in the last couple of years so I think it really puts the team and the program on the map in the NCAA, which is always really good to do," Paladino commented.
Her third place finish concluded a very tactical race in which Paladino reserved her energy by maintaining a solid seventh place position and then pulling ahead to third in the final 100 meters. To Paladino, the race was more mind over matter as she felt she had to prepare for it more mentally than physically.
"For prep…your physical prep is done [during the season]. You have to really work on telling yourself that you're good enough to do this and that you're prepared for this. The whole season has led up to this…I just have to tell myself that it's not worth it to step on the line if you're not confident in what you can do. Otherwise, why do it at all?" said Paladino.
Having transferred to PC from West Virginia University after her sophomore year because she felt that she would not get to be the best runner that she could be if she remained there, Paladino primarily chose to join the Friar family due to the success of Coach Treacy.
"He's the best in the biz!" praised Paladino when talking about Treacy's influence to come to PC. "I never looked back."
In her time with the Friars, Paladino has a number of top-three regular season finishes and has consistently been recognized by earning NCAA First Team All-America Honors. At the Big East level, Paladino recently won her third career Big East title when she was crowned 3,000-meter champion—the first Friar to win the event since 2015. She also set a school record for the 1,000-meter race this season with a time that is also the 12th fastest mark in collegiate history.
Paladino's continued success, especially within this current season, in what she describes as a "day-to-day" sport, has all added up to the U.S. Track and Field and Cross Country Coaches Association naming Paladino the 2019 Northeast Region Female Track Athlete of the Year.
And while Paladino recognizes that running is very much an individual sport, she does not believe she could have had any of her success without her team.
"I can only do so much on my own…I owe the whole world to [the team] honestly," says Paladino. "I think people really underestimate the people you are surrounded by and if I didn't have my teammates to train with throughout the season…I would never have gotten this far."
On the topic of her teammates, Paladino admitted that the cross country team's Big East Championship win her junior year is her favorite memory.
"I still wear my ring," she proudly admitted.
With the winter track season coming to a close, Paladino and the rest of the track teams are gearing up and heading outdoors with the start of the spring season, a season in which Paladino says the only main difference is that things are done outside.
"Mileages stay the same and your focus has to stay the same so your focus does not look that different even though it might," she comments on going from one season to the other.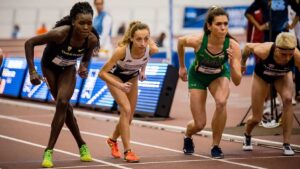 With a goal of finishing out her career at PC with an outdoor track Big East Championship title, Paladino also hopes to make it to Nationals again and just "make the most [of her final season]." And with the end in sight, she hopes to keep running and as she gets more "mature" in her running, she plans to up her distance, hoping to eventually run a marathon.
"But, I think that's so far in the future," she concludes.
Paladino will continue her distance running into the spring season, running both the 1,500 meter race as well as the mile as that is where her "strengths" are.
"Never give in," is how she would encapsulate her running career. "If it's really what you love and it's your dream, keep chasing it because you'll really surprise yourself."