Team USA Takes Bronze at the Pan Am Games
by The Cowl Editor on August 29, 2019
---
Friar Sports
---
First Time Since 1975 Friars Earn Medal at the Event
By Sullivan Burgess '20
Sports Staff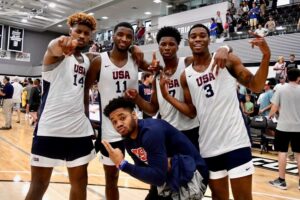 This past August, the Big East all-star team defeated the Dominican Republic 92-83 in the Pan American games in Lima, Peru while representing USA Basketball. This win secured a bronze medal for the summer games, the third straight Pan American games in which Team USA has won the bronze medal.
For those not familiar, the Pan American games is a multi-sport event that features numerous athletes and teams from all over North, South, and even Central America as well as the Caribbean. It is played every four years, in the year preceding the Olympics.
The team's overall record was 3-2. It consisted of various players from the Big East, including four members of our very own Providence College Basketball Team. These players were Alpha Diallo '20, Nate Watson '21, David Duke Jr. '22, and AJ Reeves '22, all while being coached by the Friars' own Ed Cooley.
Seton Hall University senior guard Myles Powell showed nothing but love and respect for coach Ed Cooley, saying, "Since the first day I stepped foot on Providence campus (for training camp) he has shown me nothing but love."
In the opening game of the event, USA claimed its victory over the Virgin Islands in a 119-84 victory. In this game Diallo led the team with 20 points and 11 rebounds, staking their ground in the games. 
When asked about the victory and the team going forward for the rest of the event, Cooley stated to the press, "I thought our depth was an important factor today along with our 3-point shooting. We got contributions from everyone. We have to guard the ball a little better moving forward, but today was a good day for us." Other Friar contributions in this game included Duke's 13 points and six rebounds. 
The rest of the trip included a win and a loss against Venezuela, and a loss against the games favorite Argentina, all leading to the bronze-securing game against the Dominican Republic.
In this victory, Diallo was 8-12 from the court and finished with 23 points and five rebounds. On top was Villanova's Collin Gillespie, who led the team with 24 points.
At the end of the match, Cooley was nothing but proud and honored to represent the team he had in front of him. He stated, "We have been together for two short weeks and we asked a lot of these young men. The way they came together and competed for five consecutive nights was impressive. They represented our country with pride."
With the first medal won for the College since 1975, Diallo, Watson, Reeves, and Duke can look forward to taking this experience and applying it to the upcoming season.