Spare Parts Named 2017 Common Reading Book
by thecowl.news on May 4, 2017
---
Features
---
by Patrick Healey '17
News Staff
For incoming freshmen and transfer students coming to Providence College, the first assignment they will receive will be to read what is known as the "common reading book," which all freshmen are required to read during the summer leading up to their first semester at PC.
The College takes this opening requirement very seriously, and there is a great deal of preparation that goes into choosing a book that is meant to be enjoyable as well as thought-provoking.  Established at PC in 2010, with a goal of providing stimulating and educational conversation which can bring all incoming students together, the common reading book has become a staple at the College.
Tiffany Gaffney, associate dean of students and chair of the Book selection committee, explained that a recommendation committee is put together to make sure that the best possible book is chosen for the incoming freshmen to read.
Many elements go into finding what is hopefully the perfect book, including thorough examinations of reading lists, researching what other institutions are having their students read, as well as more logistical things regarding the book, such as availability, cost, and length.
Dean Gaffney said that over 100 books are considered, and then narrowed down to seven, which everyone on the committee is required to read over winter break.
Those seven are then narrowed further to three books, which are then given to the President and provost who make the final decision. Dean Gaffney said that both students and faculty are on the recommendation committee, and a passion for reading is the main qualification, ensuring that those choosing the book are committed and passionate about the task at hand.
Dean Gaffney noted that one of her favorite parts of the process is having an "opportunity to participate in academic conversations," because she works on the business side of school operations.
The common reading book provides an outlet for people of all areas of the school to engage in conversation and get to know each other better, and Dean Gaffney called the program "very inclusive."
For next year's incoming freshmen, the common reading book that was selected is Spare Parts, by Joshua Davis. This book was unanimously selected by the committee as the best choice. Dean Gaffney spoke passionately about the book, which chronicles the story of four undocumented teenagers in America, saying, "I was able to experience, through these four boys, things I never could have experienced."
The main goal in selecting a book is maximum engagement and enjoyment for the students who are required to read it.  PC tries to ensure that there are follow up activities throughout the school year to spark more discussion and create a community using the common reading book.
Events and activities are still being planned for Spare Parts, but last year's common reading activities featured an essay contest and multiple discussion sessions for those who wished to participate.
Last year's freshmen were assigned I Am Malala: The Girl Who Stood Up For Education And Was Shot by the Taliban, by the youngest Nobel Peace Prize winner, Malala Yousafzai, which Gaffney thought produced a particularly positive response from students.
Catherine Goldberg '20, said that her reading experience was, "very eye opening because in a place like America we are so privileged to have education and we don't realize that girls in Afghanistan don't have that opportunity."
While summer reading assignments can sometimes be pushed aside as "busy work" or unimportant, PC has placed great effort into choosing books and activities which will provide students with a meaningful and fulfilling experience worthy of their time and attention.
Haiti: Donating to a Bee-utiful Charity
by thecowl.news on April 27, 2017
---
News
---
By Patrick Healey
News Staff
Sometimes school projects are a little extra special, and that seems to be the case for the project that Morgan Alch '17 and Briana Di Prizio '17 are leading.  They are focusing on bringing awareness to an important charity of their choice, and in turn making positive and lasting changes in the lives of others.  This is all part of their global studies capstone project, in which the assignment is to team with a charity of their choice and then aid in promoting the idea further. The two students have chosen a Rhode Island non-profit, titled "Honey for Haiti," founded and currently being run by two PC students.
When asked why they chose Honey for Haiti for their capstone project, Alch '17 said, "I have gone to previous fundraisers that Nick has held, and seeing his passion for the charity really inspired me and I wanted to help."
Di Prizio '17 agreed with Alch's statement, adding, "I honestly think Nick's work is remarkable and wanted to gain more funding and in turn help the children in the orphanage."
The event that Alch and Di Prizio have organized will take place on April 30 in '64 Hall from 4:30-6:00 p.m. and will feature a Skype call with the founders of the orphanage. The call will give donors a better understanding of the children's situations and allow students and faculty to see exactly where their money is going and how it will help.
In addition, Dr. Phillip Chan, a Brown University professor specializing in infectious diseases, will be speaking about HIV/AIDS and the current research being done for improved treatment, as well as the stigma that surrounds the disease.
The fundraiser will be catered by Milestone Kitchen and feature live music by Jesus Maldonado '17.  There will also be a raffle at the event, with prizes ranging from restaurant gift cards to a pair of Red Sox tickets.
Entrance will be $5 with a suggested additional donation of $3 but, of course, any and all donations are appreciated.
Alch and Di Prizio hope to see a lot of students on Sunday, and they encouraged those who would like to get further involved in Honey for Haiti to visit honeyforhaiti.org, follow Honey for Haiti on social media, and email honeyforhaiti@gmail.com.
Anticipating a successful event, Alch stated, "We hope to make an impact on our fellow classmates and allow Honey for Haiti to have a presence on the campus long after our fundraiser."
#FriarsGive…A Lot! PC Raises $700,000 in 24 Hours
by The Cowl Editor on April 6, 2017
---
Campus
---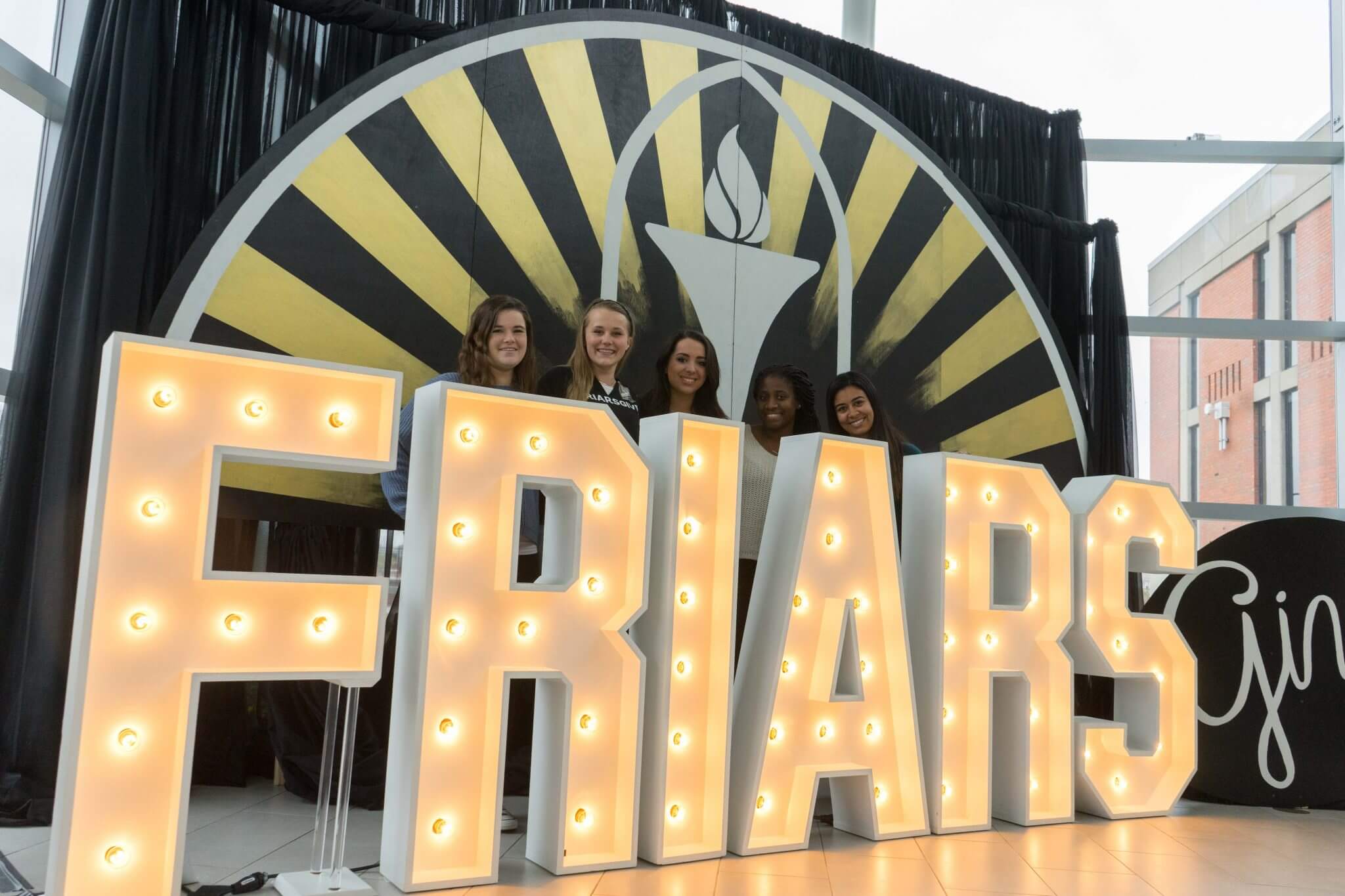 by Patrick Healey '17
News Staff
The goal was $100,000 and 1,917 donors. The result? 3,187 donors for a whopping total of $719,580.
Last week, students and faculty came together to celebrate Providence College and show their gratitude and support by donating to various causes within the College. Friars Give, as the 24-hour event was called, featured a DJ in Slavin Center, free coffee outside the Arthur F. and Patricia Ryan Center for Business Studies, and an all-around festive atmosphere on campus.
"#PCGive," and slogan, "All in for One PC" were everywhere, and there were opportunities for alumni and parents, faculty and staff, and even devoted Friar friends to make a contribution via the internet.
Going into Friar's Give, PC's goal was to get 1,917 donors in honor of the College's 1917 centennial celebration, and to raise a total of  $100,000.  If these two goals were met, trustee John A. Cervione '87, pledged to give an additional $100,000.
In an great show of support from everyone in the PC community, this goal was completely shattered.  Donors were able to specify where exactly they wanted their money to go, with options ranging from the Angel Fund to athletics. As a result, donations were very personal for many donors.
Mary-Ruth Foley, assistant director of annual giving noted, "Friars Give was an example of our culture in all aspects from the cross campus execution to spreading the word, making a gift, and sharing the pride of our first day of giving. We should all be proud."
Foley also pointed out that the day was such a success "because we were 'All In for One PC.' That slogan and sentiment defines the true spirit of this event and the collaboration it took to execute."
Students appeared to love the day and the fun atmosphere it brought with it.
"I was so impressed with the great campus-wide effort to raise money for the college and in turn bring the community together," said Jordyn D'Esposito '17, who could not help but smile amidst the Slavin festivities.
Stephen McCormick '18, also seemed to enjoy Friars Give, and specifically the free golf cart rides that were given around campus in honor of the event.
"My favorite part of the day was when I was walking back from a test and it was raining like a hurricane and a nice lady offered me a lift in a golf cart," McCormick stated.
Christine Roche, a faculty member that was part of the office of annual giving, said that her favorite part of the event was "seeing everyone from  the PC community coming together and showing strength in numbers."
The event continued with  drinks and snacks in Slavin to go along with the DJ and decorations, and Bianca Danello '17, who worked at Friars Give and collected money said, "Moe's Burritos was the biggest hit with the students!"
Some PC students  were more critical of the event,  believeing students currently paying tuition should not be asked to donate more funds.  Haley Grant '17, said, "I found it strange that they were asking families who already pay tuition to donate even more money."
Looking beyond the financial aspect of the day, many students felt that it allowed them to express their thankfulness for their education and also the environment and people of the PC community.
Stefan Puente '17, reflecting on both Friars Give and his entire PC experience, concluded. "I am very blessed to have had an amazing four years here."
PC Donation Supports Catholic Education
by The Cowl Editor on March 17, 2017
---
News
---
by Patrick Healey '17
News Staff
Students and faculty will have organized days which will be coordinated to meet the needs of each school, allowing them to volunteer their time to help Providence's student population.  This will serve to aid the schools and the children, but also to extend PC's connection and strengthen its communication with its neighboring communities.
Kathryn Mazzucca '17 stated, "As a future teacher and promoter of Catholic education, I feel as though the monetary and voluntary donations made by the College are extremely generous and will ultimately promote greater learning amongst the students in these schools."
Jake Guglielmetti '17 agreed, remarking, "I think it's great PC is supporting local Catholic schools. It's a good way to give back in honor of PC's 100th anniversary."
In a press release regarding the donation, Fr. Brian Shanley, O.P. '80, wrote, "In this, our Centennial year, it is only fitting that Providence College recognize and support the efforts of Catholic education in Rhode Island. There is no better preparation for an education at Providence College than the academic rigor and spiritual formation provided at a Catholic elementary and secondary school."
Bishop Thomas J. Tobin reacted graciously to the announcement of the donation, saying, "On behalf of the Diocese of Providence, I am very grateful to Father Shanley and Providence College for this outstanding gift to our Catholic schools. The financial support is itself very encouraging; it will make a significant difference for many of our students and their families."
Steven Maurano '78, associate vice president of public affairs, explained that, a century ago, Bishop Matthew D. Harkins organized a $25,000 gift to PC in addition to reaching out for donations in the surrounding parishes. Together, the people and families were able to raise an amount which totaled $217,000 by 1918.  These donations were integral in making PC's 1917 founding a reality, and they prove how fitting this gift to the Catholic community in Providence really is.
Maurano noted, "In announcing our gift to the Catholic School Office, I like to think that, one hundred years after these families gave of themselves to help start the College, PC is now acting to support the grandchildren and great-grandchildren of many of these families."
Overall, while PC has done and is continuing to do so much to celebrate this historic year for the College, it may be comforting for many faculty and students to know that it is also using this year of celebration as motivation to reach out and kindly give to others, embodying the Catholic foundation on which PC has stood so strongly for the past 100 years.
When speaking about the generous donations of Rhode Island parish members a century ago, perhaps Maurano put it best, "It is our way of saying 'thank you' and that, 100 years later, we continue to remember and appreciate their sacrifice and support."
Find the Time: When Does Your Study Space Close?
by The Cowl Editor on March 3, 2017
---
News
---
by Patrick Healey '17
News Staff
The scramble to find a place to study during busy nights in the library, or particularly when finals week is in full force, can be a frustrating and tedious way to start out an evening of work.
Something even the most seasoned seniors may not know is the specific closing times of the various buildings and places to study on campus.  When the library is full and Slavin is filled with people bustling about, students often turn to classrooms in campus buildings to use as their studying base.
During the often late hours that students spend working, it is important to know exactly what time each building is open to avoid being sent back home, having wasted precious studying time.
Each building on campus closes at a specific time, sometimes depending on the day of the week, according to what kind of resources the building has and what its main usage is.  Major John Leyden, head of security at Providence College, noted that there are many buildings on campus that "contain offices which are secured at 9 p.m."
When asked why all buildings do not close at the same time, he replied, "We want to allow safe spaces on campus to accommodate students."
Major Leyden also explained that buildings containing classrooms are closed at 11 p.m., so students who wish to study into the morning hours should avoid settling down at places such as The Feinstein Institute  for Public Service and Accino Hall.  The Ruane Center for the Humanities is an exception, though. A few years ago Student Congress was able to change the hours of operation of Ruane to match those of the library.
One of the most popular studying spots, the library, has varying hours.  Monday through Thursday, the library is open from 8 a.m. until  2 a.m., Friday from 8 a.m. until 10 p.m., Saturday from 9 a.m. until 10 p.m., and Sunday from 9 a.m. until 2 a.m.
These hours change occasionally during holidays and finals week, when there is a higher demand for the resources the library provides. Slavin Center, on the other hand, is the one building on campus that is open 24 hours in order to provide students with a place to go no matter the day or the hour.
The Arthur F. and Patricia Ryan Center for Business Studies has added more confusion to the issue of when certain buildings close on campus, and many students are wondering whether or not the new building will be an area where they can study late into the night.
As of now, officers are closing the Ryan Center at midnight on Sunday through Thursday, and at 2 a.m. on Fridays and Saturdays. These hours, however, are still under discussion and seem to be considered temporary until further notice.  It seems some students like the idea of the Ryan Center having extended hours of operation. Haley Smith '17 said, "It's fun studying there late at night because of how open it feels."
Major Leyden cited safety, usage, and access parameters as the reasons for how late a building does or does not stay open. Both the library and Slavin are the only buildings for now that will be available for students to use no matter what time they choose to go during finals.
Overall, there are many buildings on campus with individualized hours of operation, that can be difficult to remember.  It is advised that all students note that the Ryan Center's hours of operation are not yet set in stone and still being considered.
Remembering Rev. Adrian G. Dabash, O.P.
by The Cowl Editor on February 10, 2017
---
News
---
by Patrick Healey '17
News Staff
These past two weeks on campus have been veiled with sadness for many students and faculty as Rev. Adrian G. Dabash, O.P., passed away at the age of 85 on Friday, January 27.
George James Dabash was born in Brooklyn, New York, on February 22, 1931 to Greek Melkite Catholic parents who were originally from Lebanon.  Fr. Dabash attended the University of Virginia for one year before his five-year period of service in the U.S. Navy, where he specialized in aviation maintenance, from 1950 to 1955.
After spending two years studying at Fordham University and working in the Bronx, Fr. Dabash came to Providence College. He believed that PC would prove to be a special place for him, and he was certainly special to the College.
From 1957 to 1959, Fr. Dabash attended PC as a pre-ecclesiastic student. In 1960, Fr. Dabash entered the Novitiate of the Dominican Friars in Ohio, where he also received his religious name, Adrian.
In the early 1960s, after moving from Ohio, Fr. Dabash studied in Massachusetts at St. Stephen's Priory, where he earned a bachelor's degree in philosophy and art and a master's degree in philosophy. He then received a Ponitifical bachelor's degree in theology in Washington, D.C., and was then assigned to begin his teaching career at PC in 1966, where he became a professor of art.
In 1971, Fr. Dabash was officially ordained as a priest at St. Pius V Church, which is right across the street from the College. He then left PC briefly to receive a master's in theology and liturgy at St. John's University in Minnesota, as well as a master's in art, painting, and fine arts at the University of Dallas.
In 1974, Fr. Dabash came back to PC, having received many degrees through many different institutions, and proceeded to teach art and art history for over 30 years. He was specifically known for his design and sculpture classes, and was described as a gentle soul by people who knew him.
Fr. Dabash also served as assistant chaplain and chaplain in his years at PC, as well as being involved in and moderating various student clubs across campus.  While he was extremely active and generous on campus, he also took his extensive knowledge and love for art to other places in Rhode Island, such as mental health facilities.
Fr. Dabash had been retired from his positions at PC for the last seven years, and his presence will be sorely missed. Fr. Dabash spent so much of his life making this campus a better place through his preaching and sharing of his passion for art with students and faculty alike. He was a beloved and long-standing member of the PC community and is remembered for his service to his country. While his passing surely saddens the campus, students and faculty might find solace in celebrating a life well lived and a spirit that will live on forever here at PC.
Soft Opening of New PCSB Building
by The Cowl Editor on January 27, 2017
---
News
---
by Patrick Healy '17
News Staff
The Arthur F. and Patricia Ryan Center for Business Studies enjoyed its first welcoming, referred to as the "soft opening," last Tuesday, where Fr. Shanley, O.P. '80, and Dr. Sylvia Maxfield, dean of the school of business, spoke of so much gratitude and pride in the opening of perhaps Providence College's crowning achievement of the past decade.
Dr. Hugh Lena, senior vice president of academic affairs, introduced Fr. Shanley among a crowded central lobby in the new business building, where there was a tangible buzz and excitement for the christening of the long awaited Ryan Center.
Fr. Shanley harkened back to the theme of thankfulness many times during his speech and insisted that the new building will serve as a place to further foster the PC community.
He emphasized that the "space enables collaboration" between students and faculty to a high degree, one that will provide the best environment for learning and communication. Fr. Shanley mentioned just how far the campus has come in recent years and how impressed past alumni are when they set foot on campus.
He confidently stated that with the addition of this new asset to the already flourishing business program at PC, there is "a kind of competitiveness that I don't think we've had before."
Fr. Shanley made a point to reference Dore Hall as a way of connecting PC's past and present and how far the college has come while at the same time remaining true to its roots.
He talked about the importance of the well-rounded education that PC offers, emphasizing that while the College wants to prepare students for success in the world, it also wants to make sure students lead a happy and fulfilling life.
Fr. Shanley made it clear that what would make this building so special is the people that it will be filled with and the educations that it will aid.  The Ryan Center, he explained, will be a meeting space where everyone can collaborate, learn, and grow.  Perhaps he summed up  the morning best when he said, "This is a dream come true."
According to Fr. Shanley, the person who deserves the most credit for the Ryan Center is Dean Maxfield. Dean Maxfield spoke next, and she talked about how proud she is of what the College has accomplished in the construction of the building.
She spoke in the same light that Fr. Shanley did, explaining that the Ryan Center is "so much more than a building," and how it will serve as a "home for students." Maxfield was responsible for ensuring that the Ryan Center became a reality, and noted the many long meetings that went into making sure this building best fit the needs of the faculty, staff, and students.
She explained that the building was designed with a theme of a "town square," which can be clearly seen walking through the central lobby in the Ryan Center.
She touched on the many hard hours that went into making sure that there would be a data-rich style of learning and that the technology would fit the needs of teaching business in the modern day.
Students seem to be loving the building so far, and are excited to be a part of its first semester. David Szewczul '17 said, "I think the trading center and the new technology will excite and increase the yearn to learn.
Caroline Haddad '17, when asked about her favorite part of the new business building, said, "I like the way the Ryan Center's classrooms are designed in a way that encourages collaboration and active learning through pod seating."  Haley Smith '17 smiled when talking about Room 107, "I am so excited to learn about and use the Bloomberg Market Concepts this semester."
The Arthur F. and Patricia Ryan Center for Business Studies will have its official grand opening on April 9, where there will be a dedication and blessing, but this smaller opening served as a warm welcome for this invaluable new addition to the PC School of Business that will undoubtedly be a place of growth and togetherness for PC students in the years to come.
Still Dreaming: MLK Jr. Vigil
by The Cowl Editor on January 27, 2017
---
News
---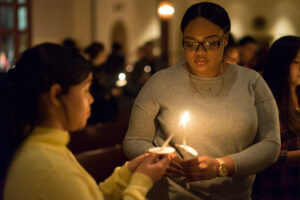 by Patrick Healey '17
News Staff
Perhaps one of the most recognizable and influential speeches of all time is Rev. Dr. Martin Luther King, Jr.'s "I Have a Dream" speech, which stopped the world in its tracks and served as a catalyst for change and love that is still being carried out today.
On Wednesday evening, members of the Providence College community gathered in St. Dominic Chapel to attend a vigil of remembrance for Dr. King, and for a night of deep reflection and gratitude for his great achievements.
Additionally, though, there was a clear recognition that there is more work to be done and that students must follow in the footsteps of Dr. King in order to fully realize his dream.
The PC Liturgical Choir began the evening by performing "Open the Eyes of My Heart," which undoubtedly foreshadowed the evenings reflections on Dr. King.
Pedro Aleman '17 gave a short introduction to begin the activities of the event, saying, "Dr. King was committed to social justice and equality for all people." Fr. Peter Martyr Yungwirth, O.P., then gave a brief invocation, followed by a few words from Dean Quincy Bevely.
Dean Bevely spoke of the great and unwavering faith which Dr. King seemingly always possessed, even in the most difficult of times, and noted that he was a man of action, and was a great leader who served others. He said that Dr. King's "impact was insurmountable."
Dean Bevely addressed the way in which Dr. King gave all people hope that indeed one man's dream could change the world. He talked of how far social justice had come since Dr. King's famous speech, but touched on the fact that there is still much work to be done.
Tierra Marshall from the Office of Institutional Diversity gave the vigil's first reflection, imploring students to continue the legacy of Dr. King.  She drew attention to the way in which his faith was able to sustain Dr. King during the many threats and dangers that he faced in his life. She mentioned Dr. King's strong love of God and love of his neighbor, and the incredible way in which he was able to show respect and love for both collaborators and enemies alike, and how he yearned to hear the voice of the Lord.
Gabriel Alvarez '20 offered the second reflection of the evening, conveying the impact that Dr. King had on the Latino community.  Alvarez stated, "King Jr. did more for Latinos than I can ever properly explain," and spoke of the various ways which Dr. King reached out to the Latino community and aided in their fight for social justice.
The final reflection of the night was delivered by Adriel Antoine '18, who explained how he reveres Dr. King and how he has influenced him from a young age.  He said that Dr. King taught him to refuse to be idle in the midst of injustice, and called the attention of the students to the various injustices and examples of racism in the country and on PC's campus, encouraging students to be active in the fight for justice, begging the question, "What is stopping you?"
After Antoine's reflection came the candle lighting part of the vigil, where each student passed the flame of their small candle to each other until the whole Chapel was glowing in remembrance of the great Dr. King.  As the small fires were flickering in front of everyone's faces, PC alumnus Paul Carroll '99 read aloud the entirety of Dr. King's "I Have a Dream" speech in what was quite possibly the most powerful few minutes of the vigil.
Just as Aleman introduced the night, he also concluded it, noting that Dr. King's leadership and fight for justice paved the way for so many movements that are going on today, such as the LGBTQ movement, the women's movement, and Black Lives Matter.
Club Spotlight: Running Club
by The Cowl Editor on January 19, 2017
---
News
---
by Patrick Healey '17
News Staff
For runners or aspiring runners of the Providence College community, who are either looking to test their skills in competition or merely looking for a group of peers to enjoy jogging through the streets of Providence, the PC Running Club may be a perfect fit.
The club boasts an extremely welcoming environment, where anyone with a passion for running is encouraged to join, regardless of skill level.  Race coordinator and co-founder of the competitive division of the club, Anthony Stalter '17, said that the PC Running Club "provides an opportunity to run with others regardless of skill level and it allows members to compete against other club teams throughout the country."
He noted that students should not be intimidated to join the Running Club and that members value the enjoyment and comradery that can be fostered through running just as much as the competition it can bring.
There are PC Running Club members that run casually and others who participate in races with other schools, making it a diverse club that can meet the desires of any runner.  There are opportunities to work out as a group and run almost every day of the week in an organized fashion.
For those looking to get involved with the club, members can be found at the indoor track around 5 p.m. each day, where students are welcomed to show up, or the club's contact information can be found on the PC club sports page online. The PC Running Club's next competitive event is an indoor track meet next month.
Overall, if you are a runner of any style or skill level, or perhaps desire to begin a journey to become one, you would be remiss to graduate PC without checking out the PC Running Club.