Featured Friar: Peter Chin '20
by The Cowl Editor on September 26, 2019
---
Features
---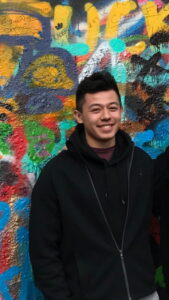 by Eileen Cooney '23
News Staff
For Peter Chin '20, studying abroad was one of his favorite experiences at Providence College. 
Chin decided to spend the spring semester of his junior year abroad in Rome, Italy, hoping he would experience new cultures and travel all over Europe. "I chose to study in Rome because of its reputation as a mecca of religious and historical significance," says Chin. 
Rome truly lived up to his expectations. Chin's favorite part of Rome was the close proximity of all the major tourist sites: St. Peter's Square was a three—minute walk from his living arrangement and the Colosseum was a 20—minute walk away. 
While he loved to call Rome his home-base during his time abroad, Chin also enjoyed traveling to and exploring the cultures of other countries. 
During his time abroad, Chin traveled to France, Monaco, Morocco, the Netherlands, the Czech Republic, Poland, Hungary, and Greece. "These are experiences I wouldn't trade for the world," says Chin. 
Chin's favorite country he visited was Monaco. Although it is the second smallest country in the world, Monaco is home to pristine beaches, beautiful architecture, stunning hotels, and unique dining options. "Monaco's architecture and wealth are breathtaking," says Chin. 
During his travels, Chin saw a plethora of famous landmark monuments, museums, and paintings, including the Statue of David, St. Peter's Square, the Louvre, the Colosseum, and Monte Carlo Casino. 
Chin's one regret from studying abroad was missing the opportunity to visit Germany. Chin commented, "I heard that the food, beer, and culture in Germany is very cool, and I wish I could have made it there." 
Traveling to all of these places was a lot of fun, but Chin also had to focus a considerable amount of time on his studies. In Rome he took his 300-level theology class, art history, a Mafia history class, beginners Italian, and a management informations systems class. 
He described these classes as "enlightening," and as a finance major, very different from other types of classes that he took while he was at PC.  
Chin's biggest advice for students planning to study abroad is to try to go with people that you do not know very well. "Studying abroad is all about branching out, meeting new people, and stepping outside your comfort zone," he says. 
He also advises students to budget their money well. "While abroad, it is easy to blow through your money extremely quickly, especially when its only around six euro for six nuggets at McDonald's. It's key to budget your money wisely so that you can spend it on traveling experiences that you will remember forever." 
For Chin, studying abroad is an experience that he is extremely grateful for, saying, "Studying abroad opened my eyes to new experiences that I would not have had if I had chosen not to go abroad." 
Although Chin had the time of his life,  he is excited to be back at PC to finish out his senior year.