Bursting the PC Bubble: Polar Vortex Sends Temperatures Plunging in the Midwest
by The Cowl Editor on February 7, 2019
---
National and Global News
---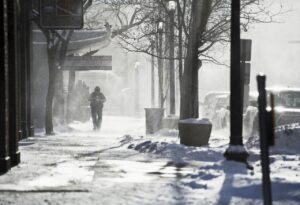 Brian Garvey '20
News Staff
Last week, the U.S. was hit by a wave of record-setting low temperatures across the country, causing widespread disruption and disfunction. This was the result of a relatively common weather phenomenon called a "Polar Vortex." 
A Polar Vortex is a wide expanse of swirling cold air that forms in polar regions, and during the winter months, the polar vortex at the North Pole expands, sending cold air southward. 
Temperatures dropped to life-threatening levels across the country, particularly in the midwest. According to the National Weather Service, more than 340 daily low minimum and 340 daily low maximum temperature records were broken or tied across the Midwest from this Arctic outbreak. 
Thief River Falls, Minnesota recorded a RealFeel low temperature of -77 degrees, and the lowest actual temperature recorded hit -56 degrees in Cotton, Minnesota. Illinois' Mount Carroll set a state record temperature of -38 degrees, and Chicago dropped to its own record low of -28 degrees.
These extreme temperatures are exceedingly dangerous, and at least 20 deaths, including a student at the University of Iowa, are believed to be related to the bitter weather system, government officials say. Cause of death, according to local police and other officials, range from hypothermia and freezing to death to traffic collisions and faulty home heating systems. 
Despite all the dysfunction and emergencies caused by the freezing weather, countless first responders, as well as volunteer workers and random citizens, stepped up to help those in need. The Illinois State Police assisted more than 1,300 drivers whose cars had stalled out in the cold over an eight-hour period on Wednesday, about 10 times the troopers' normal workload. 
In Chicago, a woman named Candice Payne and a small group of unnamed people rented out 60 rooms for three nights to provide for over 80 homeless people, likely saving many of their lives. 
Both Lyft and Uber offered free rides for all homeless people in Chicago, transferring many people out of harm's way into the safety of the many homeless shelters working overtime to save the lives of those most in need.
Managing these temperatures was no picnic for those in the midwest, but people can look forward to warmer times ahead. Temperatures are expected to swing as much as 70 degrees in some areas, as most of the country can expect to see much milder temperatures in the coming days.