Former Friars: Where Are They Now?
by The Cowl Editor on February 14, 2019
---
Friar Sports
---
Pro Ambitions Hockey Developers
By Cam Smith '21
Sports Staff
Jeff Serowik's '90 professional hockey career came to an abrupt conclusion 10 years after he graduated from Providence College. It was then that Serowik suffered his career-ending concussion during a breakout season in the National Hockey League (NHL). He had tallied six assists in 26 games as a smooth skating defenseman for the Pittsburgh Penguins.
Instead of taking time off from the ice following his injury, Serowik jumped right back onto it. "I graduated from Providence and that summer is when I started my camps, 29 years ago," Serowik said in a recent interview with The Cowl. "I started off with one or two camps per summer while I was playing [professionally]… After the injury my wife and I took a lot of the money we saved over the years and invested it in this Pro Ambitions and really blew it up."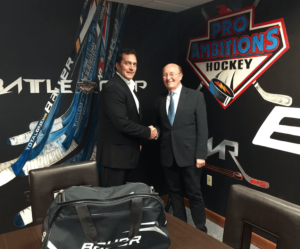 Pro Ambitions Hockey is now the largest hockey development company in the world, offering dozens of different specialized training camps from "Hybrid Powerskating" to "European Micro Stick Skills." Their Division I AAA Camp features Serowik and many other Hockey East alumni as coaches in a camp that is the official development program of Hockey East.
"We really took it throughout the country and into Europe and into Canada and kept expanding," Serowik said of the now massive scope of Pro Ambitions. "Each year we tinker with it… We try to keep up with the times. The game is so fast now that we've created these different types of power skating camps and we try to keep up with the technology. We've been doing this for so long, you don't want to get stale."
Serowik and his team certainly have the technology nailed down, as they even offer the Pro Ambitions app that supplies on and off the ice training right from your phone. With these technological feats, in addition to the masterful training kids get on the ice, it is no wonder that Division I hockey and the NHL boasts numerous Pro Ambitions alumni. But, to Serowik, achievement on the ice is not the only way to measure success.
"It's great when you see kids have victories, going off to prep school or going off to college to play," Serowik explained. "But, the most rewarding thing for me is something like where a dad called me recently and said, 'Hey, my son came to your camp 10 years ago. He's working on Wall Street now. He said his boss gave him the job because of the handshake that he had.'"
At every camp he hosts, Serowik holds a handshake competition. There, he teaches the kids the importance of looking someone in the eye and maintaining a good firm grip. As his Wall Street anecdote shows, it certainly pays off down the line.
"Hockey's hockey, we do a great job out on the ice, but I think you can differentiate yourself off the ice with your relationships with your coaches. These kids are there, and they want to learn. They're little pieces of clay and you just got to mold the clay into the good people that you know they can be," Serowik explained. "All that stuff is rewarding."
While a lot has changed for Serowik since he last skated for the Friars, the PC experience remains dear to his heart. "Providence was just a fantastic experience. It's a great school," he lauded. He also commented on the transformation the campus has undergone since his time in Friartown, citing his amazement about all the new changes. "There's a lot of chatter about it everywhere you go," he went on to say. "A lot of applicants, a lot of great things going on in Providence. Kudos to them, I'm proud of it."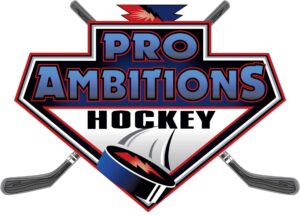 In a testament to his good-natured disposition, Serowik closed his interview with some profound words about the lessons he hopes his campers take away from the camps they participate in. "Be the best you can be. Nothing replaces hard work. I want these kids working hard and being humble," remarked the PC alum. "The biggest thing: I want them to improve. I want them to be a great person off the ice and I want them to enjoy it and be passionate about it on the ice."
With this philosophy of hard work and all-around improvement, it is clear that the next generation of hockey players are in good hands with Jeff Serowik and Pro Ambitions Hockey.