Editor's Corner
by Joshua Lopes on May 6, 2021
---
Professional Sports
---
European Super League
Liam Tormey
Sports Editor
On April 18, the European soccer community was shaken to its core when it was announced that 12 of the biggest clubs in Europe would be breaking away to form the European Super League, ending the competitive structure of the game all for the pockets of 12 greedy owners.
Real Madrid CF, FC Barcelona, Manchester United FC, Liverpool FC, Juventus FC, and seven more of the most well-known clubs in the world founded the Super League. Florentino Pérez, the president of Real Madrid, was due to be the chairman of the Super League, with owners from other clubs named vice-chairmen.
Talks of a European Super League have been rumored for decades. In theory, the top clubs across Europe would create a league in which they would compete against each other every week. Due to the financial implications of the COVID-19 pandemic, these top clubs have been hit with large amounts of debt, giving the owners an excuse to finally propose this idea. 
Quickly following the news, UEFA, the Union of European Football Associations, and many other domestic leagues, condemned the formation of the Super League, issuing a statement that if the clubs went through with this proposal, there would be major punishments.
Television pundits, fans, and even players and managers took to the press and social media to express their disgust at the proposal. A Sky Sports commentator, Gary Neville, who played for Manchester United for 19 seasons, labeled the formation of the league as an act of "pure greed."
In the end, the proposal of the European Super League is an act of "Americanizing" the European game. European soccer is so unique because of the opportunity for any team to win it all. The promotion and relegation system across European soccer is not seen within American sports, and it allows for teams' successes to be rewarded and teams' failures to be punished. 
After the upheaval from fans, many within the Super League, most notably the English clubs, were the first to apologize to their fans and withdraw from the proposal just three days after the news broke on April 18.
The Super League responded by saying they will need to reshape the project, as they still believe it will enhance the experience of European soccer.
Fans across Europe, particularly in England, have continued to express their disapproval of their owner's wishes. Large protests outside stadiums have occurred, and on May 2, Manchester United against Liverpool was canceled due to United fans storming Old Trafford in protest of their owners.
This fiasco has shown the power that soccer fans still have in shaping the game. As the famous saying across Europe goes, "Football is nothing without fans."
English Premier League: Worth the Watch
by The Cowl Editor on November 12, 2020
---
Professional Sports
---
By Leo Hainline '22
Sports Staff
With the conclusion of the NBA, NHL, and MLB seasons, American football may seem like the only sport to watch on TV these days. However, this is the perfect time to tune into the English Premier League (EPL). Watching the EPL is the perfect way to start a Saturday or Sunday morning, and this season looks to be one of the most intriguing ones yet.
The defending champions, Liverpool F.C., sit at the top of the table, but unlike last year, the Reds will not be completely invincible. Liverpool has already looked vulnerable at times and endured a shocking 7-2 defeat to Aston Villa F.C., a team that narrowly escaped relegation from the Premier League last season. Star centerback Virgil van Dijk suffered a season-ending ACL injury in the Merseyside Derby on Oct. 17, and midfielder Fabinho is out with a hamstring problem until late November. However, new signing Diogo Jota has helped carry the Reds since manager Jurgen Klopp inserted him into the starting lineup. The 23-year-old Portuguese striker has scored seven goals in six games for the club.
Liverpool's inter-city rivals Everton F.C. have also gotten off to a hot start, winning their first four matches. Manager Carlo Ancelotti, who took over the squad halfway through last season, has brought out the best in players such as Dominic Calvert-Lewin and Richarlison. The summer signing of former Real Madrid and Bayern Munich midfielder James Rodriguez has also helped to elevate the team to the next level. Everton appears to be a threat in the EPL, and if they continue their strong play, a Champions League appearance is certainly a possibility.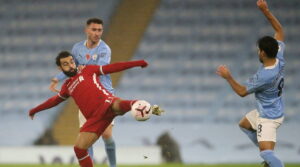 Tottenham Hotspur F.C. has also looked dangerous this season. Currently sitting around the top of the table, the Spurs could easily be league-leaders had they not conceded last-minute goals against Newcastle United F.C. and West Ham United F.C. Harry Kane and Heung-Min Son have been the most impactful duo in the league. Kane leads the league in assists with eight, which is four more than any other player. He also has scored six goals, while Son has scored eight. The return of Gareth Bale to North London has also brought a new sense of excitement to the team, as manager Jose Mourinho now has plenty of attacking options to dissect any defense.
Manchester has been host to two of the biggest disappointments in the EPL. Manchester City F.C. sits in the middle of the table and has underperformed against teams they were expected to beat. However, Manchester United F.C. has been the real disaster. The Red Devils are closer to the relegation zone than the top of the table and have suffered embarrassing losses, including a 6-1 home defeat to Tottenham. Their wild inconsistency has now put manager Ole Gunnar Solskjaer on the hot seat.
Ultimately, there is a long way to go in the season, but the EPL is reaching a critical juncture where the top four are beginning to shape up. This is important as the top four qualify for Champions League football. Most clubs are still in contention to obtain the finish in the table that they desire. However, for clubs like Manchester United, that window is closing fast. Clubs like Liverpool and Tottenham aim to grab all three points week in and week out to separate themselves from the pack. Manchester City aims to assert themselves into the title race too, while Leicester City F.C. will also attempt to gain the points needed to qualify for Champions League football.
Indeed, this year is shaping up to be one of the most entertaining seasons yet for English football.
State of the Olympics: Tokyo 2021
by The Cowl Editor on October 4, 2020
---
Professional Sports
---
International Competitions to be held in Summer 2021
by Leo Hainline '22
Sports Staff
When the COVID-19 pandemic first hit, there was an eerie point in time when the entire sporting world went on pause. While many sporting events were canceled altogether, some major events were postponed to the summer of 2021. This includes the quadrennial Olympic Games and the European Championships (Euros) for soccer. 
Although no one knows when stadiums will be packed with fans again, both of these competitions are expected to take place regardless. Even without fans, watching both of these historic competitions will add some quality entertainment to next summer. 
Indeed, the Tokyo Olympics will happen next year under any circumstances. According to the International Olympics Committee (IOC), the opening events are planned for July 23, while the closing day is set to be Aug. 8. The IOC is branding it as the "Games that Conquered COVID." All eyes will be on Japan to see what measures will be implemented in order to host the Games successfully. 
Officials have yet to determine whether spectators will be allowed to attend. They are also considering simplifying the opening and closing ceremonies in addition to reducing the number of staff and delegates from each nation. Over 200 countries intended on participating in the Tokyo Olympics prior to the pandemic, but Japan still has strict travel restrictions on most foreign nations. 
The 11,000 foreigners entering the country will certainly require constant testing, but the fact that the Games are held in one city will be an advantage logistically. The Olympic Games have a tradition of being held regardless of ongoing global challenges, with the only cancellations in its history due to World War I and World War II. 
As for the Euros, one of the biggest tournaments in the world of soccer, the competition is expected to take place from June 11 to July 11 in 12 different host cities. These cities include London, Baku, Munich, Rome, Saint Petersburg, Amsterdam, Bilbao, Bucharest, Budapest, Copenhagen, Dublin, and Glasgow. Usually the tournament is hosted by one or two European nations, but this year it was originally intended to be hosted across the continent to honor the tournament's 60th anniversary. 
Soccer has seen all of its major leagues restart amid the pandemic without a bubble system akin to the ones used in the United States. The Euros are expected to proceed smoothly without one as well. 
20 of the 24 teams participating have already been decided, with the remaining qualification games occurring on Nov. 22 for the final four teams. Italy is set to play Turkey at the Stadio Olimpico in Rome for the tournament's opening match on June 11. Like the Olympics, the status of fans at the stadiums has yet to be determined. While most soccer matches have been played without any fans in attendance, some countries have recently begun to allow in-person viewings. 
Even with the United Kingdom being one of the hardest-hit countries during the pandemic, Wembley Stadium in London is set to host the finale of the tournament. The Premier League was planning on reintroducing fans in early October, but a recent uptick in the U.K.'s case counts has pushed back that initiative indefinitely. 
While still many months away, it will be interesting to see how both of these major sporting events will be impacted by the ongoing pandemic.
Trio of Men's Soccer Players Go Pro
by Meaghan P Cahill on February 13, 2020
---
Friar Sports
---
By Liam Tormey '22
Sports Staff
Three Providence College men's soccer players are now professional soccer players. Danny Griffin '20 and Austin Aviza '20RS are now both part of Major League Soccer (MLS) teams, while Tiago Mendonca '20RS has signed in the United Soccer League (USL).
The 2020 MLS SuperDraft took place on Thursday, January 9. In the draft,  Aviza was selected in the second round, number 44 overall, by Orlando City. Griffin was also selected in the second round, just five spots after Aviza in the number 49 spot overall, selected by the Columbus Crew SC. Mendonca has signed a professional contract with the New England Revolution II in the USL League One.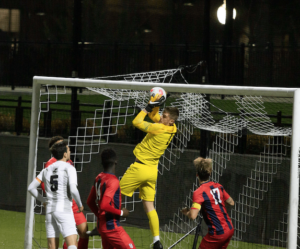 In the 2019 campaign for the Friars, Aviza, from Medway, MA, featured in all 23 games as PC's goalie. Aviza was also honored to the Big East Weekly Honor Roll twice along with being awarded All-Big East Third Team honors. After their second round win in the NCAA Men's Soccer Tournament against Penn State University, Coach Craig Stewart credited Aviza, saying, "I think he's been steady all year and very consistent as a goal keeper," and a large part of the comeback win against Penn State was because of Aviza; as Coach Stewart mentioned, "We don't win that game without him." In the 23 games Aviza played this season, he posted a 16-7 with 56 saves and recorded nine shutouts. 
Griffin, one of the captain midfielders from Wethersfield, CT, had the same profound impact for the team in his time spent at Friartown. In his career, Griffin recorded 32 points with 13 goals and six assists. Griffin has been named to the Preseason All-Big East Team in 2018 and was also a unanimous pick into the Big East All-Freshman Team. He played and started in all 80 games during his career. In the 2019 campaign, Griffin had eight points and one game-winning goal this season against the University of Villanova in a 2-0 victory. He was also awarded All-Big East Third Team Honors this past season. 
Mendonca, from Faro, Portgual, was another captain for the Friars this season. He started all 23 games and was an integral part in the midfield. He was crucial in helping the team reach the  third round of the NCAA Tournament. In his time at PC, Mendonca recorded 26 total points with 11 goals and four assists. Before the season's start, Mendonca was named to the Preseason All-Big East team and then was named to the All-Big East First Team and Big East All-Tournament Team to round out the season. In the second round game against Penn State, Mendonca scored the equalizer with just under five minutes remaining in regulation before the Friars would go on to win in overtime. 
After PC's heartbreaking loss to Clemson Unversity in double overtime in the third round of the NCAA Tournament, Coach Stewart commended his senior captains, saying he "couldn't be more proud for the work that they've contributed towards the program." Stewart said they were both "fantastic footballers but also human beings." 
In the same press conference, Griffin spoke of his time with the Friars and said, since freshman year, "The community, the coaches, the staff, the trainers, it's been a family and it's meant everything to us."
Aviza, Griffin, and Mendonca all played crucial roles in the big success PC had on the pitch this past season. They were role models for the organization and have left their mark on Friar history. 
A Decade of Success: PC in the Pros
by Meaghan P Cahill on January 16, 2020
---
Professional Sports
---
By Cam Smith '21
Sports Assistant Editor
The 2010s produced a slew of immensely successful Providence College athletic teams, cementing the College's status as a major player in the Big East conference and beyond. However, collegiate success is not the only thing that PC produced last decade, as the College also churned out a bevy of professional players who are currently finding success at the highest levels of their respective sports.
Three players that exemplify this wealth of Friar talent are Julian Gressel '17, Noel Acciari '15, and Kris Dunn '16.
Gressel wrapped up his historic college career for the men's soccer team in 2016, a season in which he scored a whopping 15 goals, placing him in the top four in scoring in the country. Following a two-goal performance against the top-seeded University of Maryland in the 2016 College Cup, Gressel was drafted by Atlanta United with the eighth pick of the 2017 MLS SuperDraft.
The sure-footed midfielder wasted little time adjusting to the big leagues, as he registered nine assists, third-most all time for a rookie, to go along with five goals in a first-year campaign that landed him the 2017 MLS Rookie of the Year award. Since then, Gressel has only continued his success, tallying a total of 15 goals and 35 assists across three seasons for an Atlanta United team that he has helped turn into one of the best expansion teams in recent history.
Acciari, too, found collegiate success prior to entering the professional ranks. His final season with the Friars featured the first national championship in men's hockey history, a season in which Acciari tied for most goals scored on the team with 15.
After spending four solid seasons with the NHL's Boston Bruins to begin his pro career, Acciari signed a three-year, $5 million deal with the Florida Panthers this off-season. The deal has immediately paid dividends for both sides, as Acciari has already set a career high in goals with 17, a number boosted by a remarkable two-game stretch in December that featured back-to-back hat tricks.
Dunn, perhaps the most well-known recent PC alumni, also finished his PC career strong, leading the men's basketball team to a NCAA tournament victory over the University of Southern California in the first round. The Big East player of the year for 2016, Dunn was drafted fifth overall by the Minnesota Timberwolves in the 2016 NBA draft.
Though shooting woes have marred the start of his promising career, Dunn has found his stride this season with the Chicago Bulls on the defensive end. The fourth-year point guard has locked down some of the best offensive players in the league, and trails only Philadelphia 76ers' star Ben Simmons in total steals, all while playing almost 400 minutes less than Simmons.
''I've been guarding my whole life,'' said Dunn on his defensive prowess. ''I know when somebody is kind of fearful. I can see it, I can smell it, and I just try and act on it.''
Indeed, the past decade has shown that PC can produce world-class athletes, ones who can succeed against the toughest competition in their respective sports. Players like Gressel, Acciari, and Dunn will continue to serve as inspirations to the next generation of Friar athletes.
Already this year, Jack Dugan '22, a Vegas Golden Knights 2017 draft pick, has shined for the men's hockey team. In addition, a pair of men's soccer players, Austin Aviza '20RS and Danny Griffin '20, were both taken in the second round of the 2020 MLS SuperDraft and will hope to follow in the footsteps of Gressel. The triumph of these players and many more bodes well for another decade of success beyond Friartown for PC athletes.
PCI: Should the 2022 World Cup Be Moved From Qatar?
by The Cowl Editor on October 3, 2019
---
PCI
---
PCI: Should the 2022 World Cup Be Moved From Qatar?
Yes, There is Too Much Controversy
by Liam Tormey '22
The 2022 FIFA World Cup is set to take place in Qatar, an Arab country in the Middle East. Since the announcement on December 2, 2010, immense controversy followed, which is why the 2022 FIFA World Cup needs to be moved from Qatar.
Although never proven, there were numerous allegations after the bidding process in 2010 that Qatar had bribed FIFA members and executives to get the World Cup to Qatar. If true, they were successful in their attempt. However, even worse was ex-president of FIFA, Sepp Blatter, coming out a few years after the bid was complete to say that choosing Qatar was a "mistake." 
This doesn't even scratch the surface of the problems in Qatar. The abuse of migrant workers in Qatar is astounding. There are 1.7 million migrant workers in Qatar, who make up over 90% of the work force. These workers are put in dangerous working conditions, often abused and exploited, and are then housed in appalling living conditions. Eight or more men must live in a room with just a single bunk bed for example.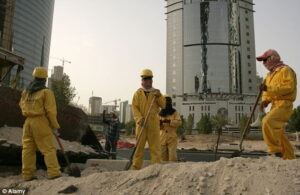 Workers' salaries are often delayed for months, leaving their families homeless. This is not to mention the monthly salary for a worker is only $220. 
This is an issue of human rights. FIFA should have pulled the plug on Qatar once they heard of any reports such as this. 
A big problem the media has also reported is the illegality of homosexuality in Qatar, punishable by up to seven years of imprisonment. This creates an uneasiness about traveling there not only for homosexual players, but for fans as well. 
The 2022 World Cup is scheduled to take place during November and December. Besides the issues of scheduling it during the holidays, the domestic league seasons, and not having the traditional summer World Cup, the climate in Qatar is very hot. The conditions are not right for players to be competing in. 
It is not too late to make a change. The 2022 World Cup location needs to be changed. If the reasons above do not make you hesitate to want a global event in a place with so much controversy, I am not sure what will. The ball is now in FIFA's hand to make a change.
No, The Location is Fine
by Joseph Quirk '23
Every four years, the world stops for about a month in the summer to watch one of the greatest international sporting tournaments known to mankind. And no, I am not referring to the Olympics. The FIFA World Cup is watched by billions and has the power to bring entire nations together, soccer fans or not. However, the announcement that Qatar would be the host location for the 2022 World Cup came with a lot of controversy. 
Many people argued that there were a bevy of reasons why Qatar should not host the tournament, ranging from the country's summer weather to concerns about the labor force. Because of this, many believe Qatar is unfit to host the cup and are calling FIFA corrupt because of the decision to allow Qatar to host. That being said, I believe that the World Cup should stay in Qatar and that FIFA made a good decision in their selection.
Qatar is an Arabian peninsula country off the shore of Saudi Arabia, jutting out into the Persian Gulf. It also happens to have the highest per capita income in the entire world due to its wealth in natural oil and gas resources. The wealth has made Qatar a very rich country and capable of building large and beautiful cities with futuristic designs, such as Doha, the country's capital. This leads me to all the positives that Qatar hosting the World Cup has. 
First of all, by having a relatively unknown, small country be the host of such a significant global event, FIFA is drawing tourist attention to a beautiful place that, up to this point, made the majority of their money off of oil and gas. The new hotels being built will also increase employment and open the country to new job opportunities. Because Qatar is so small, this can also have a spillover effect into neighboring countries' economies as well, whether it be through tourism or other means.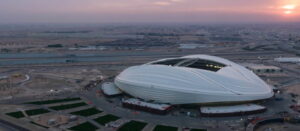 Finally, Qatar has the funds to make this not only a fantastic spectacle to all those fans watching from home, but a very hospitable and luxurious experience for fans, teams, and broadcast crews alike.
While I understand why Qatar could be seen as a questionable choice by some, it has many positives to it as well, and I see no reason why FIFA should consider moving it. After all, having the tournament there is going to do more good than bad.
Athletes Visit PC to Teach Students That We're All A Little "Crazy"
by The Cowl Editor on February 7, 2019
---
Professional Sports
---
Former NHL Player Dowd, Boxer Kelley, and Runner Brown Share Their Stories
by Gavin Woods '22

Providence College hosted a former NHL player and Stanley Cup winner, a former track and swimming star, and a four-time national championship winning middleweight boxer at the #SameHere Sit-Down event on Feb. 4. One common thread between these three incredible athletes is their participation in the We're All a Little "Crazy" Foundation with the Global Mental Health Association. 
The founder of this program is Eric Kussin, a former sports manager, who has previously worked with the Florida Panthers, the New Jersey Devils, and the Phoenix Suns. The primary focus of the We're All A Little "Crazy" program is to expand public awareness about mental health, especially with respect to athletes. While the program is by no means limited to exploring mental health in athletes, it works specifically to breakdown the stigma around problems with mental health amongst athletes. 
One of the main messages of the event is encouraging vulnerability. We're All A Little "Crazy" emphasizes this message with the help of professional athletes. Each of the three guest speakers shared their stories and their own respective lessons from their life experiences. 
The first guest speaker following Kussin's introduction was Eric Kelly, once the top pound-for-pound boxer in the United States. Kelly's stardom began at an incredibly early age. By 16-years-old, Kelly had already won his first Junior Olympic Boxing Championship. He then received a full scholarship to the University of Northern Michigan, to train at their U.S. Olympic Training Center. It was then that Kelly received the news that his father, who had been his primary caretaker for as long as he could remember, was diagnosed with a terminal illness. This was devastating to Kelly; due to his grueling workout and travel schedule, he could not be there by his father's side.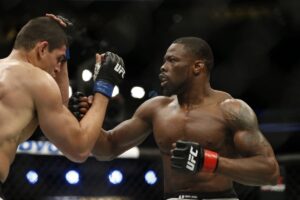 Athletes have historically been private about the states of their mental health. Many athletes, especially those involved in contact sports, feel as though they are not allowed to show weakness. This was the case for Kelly. His father's illness, mixed with his unrelenting workload, brought up many feelings. However, Kelly's coaches and training staff did not encourage him to work on these issues that he was dealing with. Instead, they encouraged him to keep fighting. As a result, Kelly was forced to repress these emotions, which affected his mental health tremendously. Kelly soon found himself channeling these emotions into negative activities. He then lost his scholarship to the University of Northern Michigan, following his arrest for assault charges. 
Looking back, Kelly deeply regrets not dealing with or even acknowledging his feelings. This is precisely what We're All A Little "Crazy" is trying to remedy. It is their hope that by traveling the country and sharing so many professional athletes' experiences, young athletes and people alike will feel more comfortable discussing the topic. 
A similar lesson was learned when the second guest speaker, former New Jersey Devils star Jim Dowd, spoke briefly about his own experience. Stemming from his rather difficult childhood, including struggling with his parents' divorce as well as being molested by his cousin, Dowd also had to repress his feelings. Throughout his entire professional career, Dowd was intent on never revealing to anybody what happened to him or expressing how it made him feel. However, repressing these feelings only came back to haunt Dowd, when last August he began experiencing thoughts of suicide. Now retired, Dowd finally saw a specialist and began communicating his feelings to his family and friends. Above all, Dowd stressed the importance of forgiveness.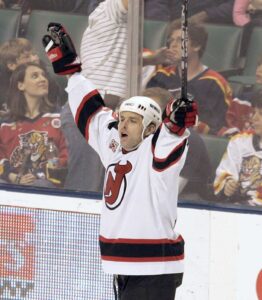 The topic of anxiety was covered in Asheton Brown's story. Before she became a successful track star and swimmer, Brown struggled with anxiety. The source of the problem dates back to her childhood, when Brown suffered physical abuse from her father, as well as being raped in her teenage years. These atrocities significantly impacted Brown, causing her to fear practically any human contact. She recalls that she would not give or receive hugs to anybody, family or otherwise. Her crippling anxiety constantly made Brown wonder, "What can I do to get off this hamster wheel?" Brown eventually saw improvement with her anxiety, as she became more confident in herself and in her relationships with others.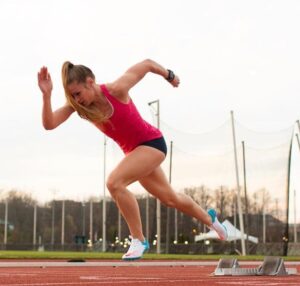 Much of the discussion involved the rhetoric used when speaking about mental health. Kussin called attention to the commonly used statistic by the media, "one in five people experience issues with their mental health." Not only is this incorrect, as nearly all humans experience changes in their mental health, but it also encourages marginalization. For example, saying only one in five people experience issues with their mental health alienates the one in five who are experiencing it. Also, it creates a false sense of comfort for those who are not experiencing it yet. 
The event ended with a Q&A session with Kussin and the athletes. Many insightful questions were shared from prior We're All A Little "Crazy" events, including, "What is the best way a peer can help?" Kussin responded by saying, "The first step is the acknowledgment that what they're going through is real. Because there's so many of us who go through things, like depression and anxiety, but nobody can physically see it, a lot of people don't understand. Acknowledging, 'Hey, I know you're going through something right now, but I've got your back and I believe in you,' that's one way you can be there for your friend."
Julian Gressel '16 Finds Home with Atlanta United
by The Cowl Editor on January 24, 2019
---
Friar Sports
---
By Scott Jarosz '21
Sports Staff
After what was an outstanding career as a midfielder on the Providence College Men's Soccer Team, Julian Gressel '16 has quickly become one of the top rising stars in Major League Soccer. Born in Neustadt an der Aisch, Germany, Gressel came to the United States in 2013 to join the Friars' soccer team. Gressel's impact on the team was felt immediately as he started all 22 games for the Friars in his freshman season. Over that span of time, Gressel led the team in goals, assists, points, and shots on goal. In his rookie season, Gressel achieved a Big East Rookie of the Week honor and was named to the Big East All-Rookie Team and All-Big East Second Team.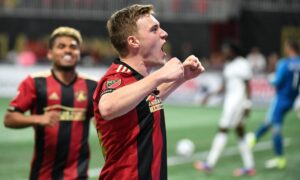 Gressel continued to produce for the Friars in his sophomore season on the team in 2014. During the 2013-14 season, Gressel scored five goals and added five assists. He continued his steady play into the Big East Tournament, receiving Big East All-Tournament Team recognition. In 2015, Gressel scored five goals in his third season at PC. He again received numerous accolades including being named to the Big East All-Tournament Team and the All-Big East Second Team. However, during his senior season in 2016, Gressel truly played to his full potential. Gressel netted an outstanding 15 goals in just 22 games played, 6 assists, and 36 total points. His incredible performance throughout the season ultimately led to an NCAA tournament berth for the Friars, which included an incredible 5-4 comeback win over No. 1 seed University of Maryland. Gressel added two goals in this second-round game of the tournament, and finished second all-time in goals, assists, and points among all PC players.
Upon the conclusion of his career at PC, Gressel entered the 2017 MLS Super Draft where he was the highest Friar ever selected. He was picked up by Atlanta United FC as the 8th overall draft pick in the draft.
In his rookie season with Atlanta, Gressel showed no signs of being overwhelmed with the conversion from college to professional soccer. In his first season with Atlanta United, Gressel appeared in 32 games, scoring five goals and adding nine assists. This stellar first season led to him being named the 2017 MLS Rookie of the Year. Atlanta, however, fell short in the MLS Playoffs to Columbus Crew SC in the 2017 season. Gressel and Atlanta United made sure that they would not fall short the following season, and showcased their dominance throughout the 2018 season.
In his second season in the MLS, Gressel scored four goals and recorded 14 assists to help lead his squad to its first MLS Cup victory. Atlanta beat the Portland Timbers in the MLS Cup Final by a score of 2-0. This was a fitting way for Atlanta United to cap off its second season in the league as no other MLS team showcased nearly the same level of quality and consistency throughout the season. Gressel was an integral part of this quality and consistency as a rock-solid midfielder.
Through just two seasons in MLS, Gressel boasts a Rookie of the Year award and an MLS Cup victory. The PC graduate has shown no signs of slowing down as he is one of the top young midfielders in the league.
Manchester City Crowned Champions of England
by The Cowl Editor on April 26, 2018
---
Professional Sports
---
By Joe Myko '19
Sports Staff
On April 15, Manchester City officially won the 2017-2018 English Premier League title, coming after Manchester United's 1-0 home loss to bottom-placed West Bromwich Albion that confirmed the title race was over mathematically. Ultimately, it was Jay Rodriquez's deft header which would confirm City as champions; however, pundits and fans alike have been blown away by the unrelenting performances of Pep Guardiola's side this season.
Multiple records have already been broken by this City side this season already, including a previously unprecedented 18 consecutive wins and beating each team in the league this season at least once. It has not just been the amount of games won that has impressed those watching City this season, but also the manner in which the wins have been obtained. They smashed the record for the highest amount of possession in a game with their match against Everton, retaining a ridiculous 82.13 percentage of the ball. They also broke the record for most passes successfully made with over 900 against Chelsea, last year's champions.
Argentinian striker Sergio Agüero has been City's top scorer in all competitions this season, having netted 30 goals with seven assists. English winger Raheem Sterling comes in second with 23 goals and nine assists, while Brazilian striker Gabriel Jesus is in third with 15 goals and three assists. The 2017-2018 Professional Footballers' Association Team of the Year awards was somewhat of a rout for City, with five players being named in the side: Agüero, Nicolas Otamendi, Kevin De Bruyne, David Silva, and Kyle Walker. German winger Leroy Sane also went home with the PFA Young Player of the Year award, after impressively bagging 13 goals and providing 14 assists within all competitions.
Liverpool's Egyptian winger Mohamad Salah was recently awarded the highly-prestigious PFA Player of the Year award for 2017-2018, after impressively scoring 31 goals in 33 games in his first season back in the league, which appeared to leave somewhat of a sour taste in Guardialo's mouth. Manchester City's Belgian midfielder Kevin De Bruyne was a close second for the award, having scored eight, assisted 15 and created more chances (104) than any other this season – albeit from a slightly deeper position. Guardiola told BBC: "When you are analysing nine months or 10 months then there was no player better than him […] I am sorry, maybe with numbers, there are numbers guys better than him, but no player in this season with the team who wins [the title] five games before the end, and he was the best."
Despite City's resounding success in the league this season, it is likely that a manager as used to success as Guardiola, having spearheaded both Barcelona and Bayern Munich to many trophies in previous years, may be somewhat disappointed with how his side faired in cup competitions this year. City was knocked out of the Champions League quarterfinals by Liverpool and were also beaten by League One (third division) side Wigan Athletic in the FA Cup. However, they were successful in the Carabao Cup (also referred to as the League Cup) after beating Arsenal in the final.
Currently sitting on 90 points with four games yet to play, coming off the back of their recent demolition of Swansea City in a 5-0 home win, you would be brave to not back Manchester City to smash the record for most points ever obtained in a season–currently held by Jose Mourinho's 2004-2005 Chelsea side, at 95.
Beckham to Create New MLS Team
by The Cowl Editor on February 8, 2018
---
Professional Sports
---
by Joe Myko '19
Sports Staff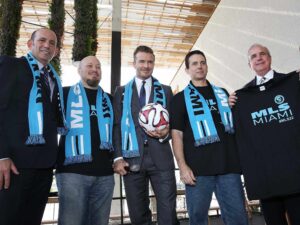 Former England national team soccer captain David Beckham announced on Monday Jan. 29 that his long-awaited Miami-based Major League Soccer team will be launched, becoming the 25th team included within the franchise.
Beckham and Miami were formally granted an expansion side by Don Garber, an MLS commissioner, at a ceremony at the Adrienne Arsht Center on Monday. Beckham himself promised, "The team we will bring into the league will be the best team."
The club is still unnamed, with no official badge, known team colors, or officially signed players; however, it has been confirmed that the Miami-based side will play at a 25,000 capacity stadium in the Overtown neighborhood of the city.
Having played for Manchester United, Real Madrid, Milan, Paris Saint-Germain and LA Galaxy, Beckham was well-travelled in his sporting career, something that will no doubt prove useful for developing and building this club from scratch. He said "I've had a long career in the game. I've had a wealth of experience from playing with different clubs in different cities around the world, so I've been able to experience different leagues and different cultures, so that's where I can add my expertise into this ownership group. That will be my role to bring great, talented players, but also to build this academy."
Beckham announced his intentions to establish the club in 2014, after having exercised a clause in his contract with LA Galaxy which allowed him to buy an expansion franchise. It has been a rather frustrating four years for those involved with the project, as there have been various disputes which have halted progress, mainly in relation to Miami residents disapproving of the placement of potential stadium builds.
Since joining LA Galaxy back in 2007, a team he went on to make 98 appearances for, the former-midfielder has been vocal about his appreciation and support for the growing enthusiasm for soccer within the United States. Beckham, speaking at the announcement ceremony on Monday, told the BBC that "I joined the Galaxy because I realised the long-term potential in this league." He went on to say, "Commissioner Garber came to me and sat down and explained the plan of this league and where he wanted to take it. I was in from day one."
Though many of the specifics surrounding this Miami-based MLS team are unconfirmed, Beckham has in fact ruled out any role as a coach or manager. The 42-year-old confirmed that "Management has never been something that I've felt passionate about doing." However, this does not mean Beckham will not still have a very hands-on approach to the development of his club he went on to say that his major role will be to help develop the academy and its players.
Ultimately, this announcement is great news for not only Miami-based soccer fans, but all United States soccer fans. Beckham, as one of the sport's most famous and recognizable names, should have no problem marketing and bringing more interest to the league.
The MLS, and the United States in general, has long been considered a sleeping giant within the soccer sphere, so Beckham's promises to bring in top players and coaches could prove pivotal in helping to unlock the league's potential. It is also good news for the nation's young talent, as the former Ballon d'Or nominee was quoted on Monday as enthusiastically saying, "We keep talking about building this state-of-the-art academy in Miami, because we have a hotbed of talent in young kids here and I believe if we build the right facilities, if we bring the right coaches, then we have a chance of bringing home-grown talent into this team."