Lions, and Friars, and Bears, Oh My!: BOP Hosts ProvapaZOO for PC Community
by The Cowl Editor on September 12, 2019
---
Campus
---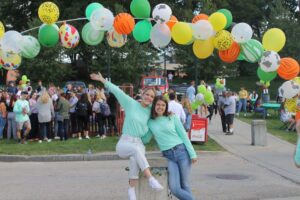 by Hannah Langley '21
News Co-Editor
For nearly ten years, Providence College's Board of Programmers (BOP) has hosted a day full of fun and activities in early September known as Provapalooza. This year, BOP's social committee decided to change things up by hosting ProvapaZOO, which had the same feel and spirit of the original event, but with a wilder twist.
BOP's current social committee, led by Maria Johnsen '20 and Shannon McDonald '21, along with Zack Dinopoulos '20, Emily Mastroianni '21, Kevin Michels '21, and Fred Desravines '21, began planning this event back in June with the help of the student activities office.
The idea for ProvapaZOO came about last year when BOP was informed that the former title, Provapalooza, faced some trademarking and copyright issues. According to Johnsen, the name Provapalooza was found to be too similar to Lollapalooza, an annual music festival that takes place at Grant Park in Chicago, Illinois.
Because the name could not  legally be used anymore, the committee proposed the title ProvapaZOO. "We dreamed up ProvapaZOO walking through Alumni," recalled McDonald. "We thought it would be cool to somehow have an animal themed prova." Johnsen thinks the name change was successful, saying, "ProvapaZOO sounds a little wacky when you first hear it, but I think the zoo theme got people excited."
Despite the name change, much of the event remained similar to previous years, with several new additions and twists. One of the main differences was the location of the event, which was moved to the Concannon Patio due to weather issues. Johnsen explained that Smith Lawn, which is where the event has been traditionally held the past few years, was too wet due to recent rain to hold the event.
Even though BOP had this last-minute change in venue, Johnsen thinks it actually ended up working toward BOP's advantage. Not only did it allow them to keep the event outside, it also made the event more accessible to students living on upper campus. "Having it on upper campus this year definitely got more underclassmen to come, which is awesome," said Johnsen.
Keeping with the zoo theme, BOP also decided to add another attraction to their usual line-up—Barn Babies. "They have always been a crowd favorite," noted McDonald. Other additions to the event included a performance by the Naticks, a local Rhode Island band, BBQ provided by B&M Catering, Spike's Hot Dogs, Like No Udder Vegan Ice Cream, and a beer garden for students over 21.
Lawn games and a photo station were also set up throughout the space outside Concannon, along with balloons and other fun, festive decorations.
McDonald also talked about how she was put in charge of designing the long sleeve t-shirts for ProvapaZOO this year, which she recalled as one of her favorite parts of organizing and planning the event. "To see the entire Board of Programmers and now other students wearing the shirt I designed is a dream come true," said McDonald.
Both McDonald and Johnsen stated their excitement over how well they felt the event went. "I had a vision which I can happily say was met and exceeded," said McDonald. "Our months of planning and hard work were rewarded." Johnsen also stated her enthusiasm not only about ProvapaZOO's success, but for the future events planned for BOP's social committee. "Personally, I'm really happy with how everything turned out," she stated, "and I'm excited to get a chance to do it again for Clam Jam in the spring."