Men's and Women's Track Prepare for Big East Championship
by npatano on May 5, 2022
---
Friar Sports
---
Both Teams Look to Finish the Year on a High Note
Joseph Quirk '23
Sports Staff
The 2022 Providence College spring track and field season is off to a fast start. Both the men's and women's squads have hit the ground running since they opened their season on March 27 at the Raleigh Relays.
The Raleigh Relays are a collegiate track and field event hosted by North Carolina State University in Raleigh, NC. For the men, the event represented an opportunity for many athletes to achieve new personal bests. Liam Back '24 and Angus White '22 both ran personal best times in the 1,500-meter, running 3:43.78 and 3:45.15 respectively. Matt Lepine '22 ran a PR of 14:27.73 in the 5,000-meters event. But perhaps the greatest bunch of accomplishments from the men's team at this event came in the 10,000-meters race. Shane Coffey '24 ran the race for the first time in his collegiate career, finishing with a solid time of 30:11. David McGlynn '22 ran a time of 29:04.9, which not only was a personal best for himself but also placed him at No. 6 in the College's history. Abdel Laddjel '25, from Lucan, Ireland, ran a time of 29:23, breaking the 50-year-old Irish Junior records.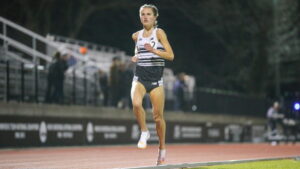 Things were just as historic on the women's side. Lily Tuck '23 ran a personal best time in the 5,000-meters with a time of 16:02. With a time of 14.98, Nicole Borowiec '23 broke the PC program record for 100-meter hurdles. Niamh Gowing '22 also entered the record books, running a 56.87 second time in the 400-meter which was not only a personal best but good enough to put her at No. 3 all-time in Providence College program history. Hawa Grear '24 also entered the record books, running a 12.61 second time in the 100-meters, food for No. 2 all-time in PC program history. Taylor Newman '23 also became No. 2 all-time in program history for her 25.19 second finishing time for the 200-meters. Meg Hughes '24 set a school record early in her career as well with a 400-meter hurdle time of 63:64 seconds. Along with previous years performances, McGlynn, Back, AJ Ernst '22, Tuck and Shannon Flockhart '24 all earned a qualification for the NCAA First Round, which will be hosted in Bloomington, IN from  May 25-28.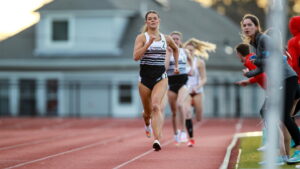 The Friars continued their hot start when they went to the Black and Gold Invitational, which was hosted across town by Bryant University on April 2. Nicola Calabrese '22 and Grear both recorded personal bests in the 200-meters. Gowing had a personal best performance in the 400-meters, landing her in second place. In the women's 400-meter hurdles, Meg Hughes not only had a first-place finish and a new personal best time, but also broke her own school record with a time of 61.34.  Borowiec also broke her own school record in the 100-meter hurdles, giving her a third-place finish. The Friars men's team claimed the first four finishes of the 1,500-meter race with Michael Morgan '25, Patrick Thygesen '24, Ryan Gallagher '22, and Josh Lewin '24 finishing in that respective order. Back and White also claimed the first two finishes of the 800-meters (respectively) with Back setting a meet record with a time of 1:52.21.
Following their strong return to Rhode Island, the track and field team decided to take the heat to their own turf, right at Ray Treacy Track. On April 8, Back ran the first sub-4-minute mile of his career, with a first-place finish and a personal record time of 3:59.06. The time was also the first sub-4-minute mile at Ray Treacy Track and beat the previous record by over 4 seconds. Ernst and White were not far behind him with 4-minute flat miles and third and fourth place finishes. Gallagher took first place in the 5,000-meters, an event which also saw McGlynn and Lepine hit new personal bests. Lewin had a nice first place finish in his heat of the 800-meters. In impressive fashion, Thygesen had a second-place finish, with a time of 8:54.07, in the 3000-meter steeplechase. Brett Lehman '25 had a second-place finish for himself in the 400-meters. And Chris Johns '25 had himself a first-place finish in the high jump. As for the women, sophomore Laura Mooney '24 dominated 5,000-meters, with a personal best time of 16:09.43, which was over 17 seconds faster than the runner up. Flockhart came in second in the mile, Gowing came in third in the 400-meters, and Alex O'Neill '23 came in first while setting a facility record in the 800-meters. Following the Friar invitational, Back earned a Big East men's track athlete of the week honor.
The Friars continued to rack up records in subsequent meets. At the Penn Relays, Mooney broke the Irish U23 National record and placed sixth all-time in Providence College history for the 10,000-meter. A team of Kimberly May '25, Halle Atkinson '24, Flockhart, and O'Neill also set a Providence College record for the 4×800 meter relay. In their most recent event, the Brown Springtime Invitational, O'Neill broke a 32-year-old Providence College record in the 800-meters. O'Neill, along with Lewin, made a good case to qualify for the NCAA first round.
The Friars will look to continue their historic record breaking season May 13-14 when they head to Storrs, CT for the Big East championships.