New Food Options at PC
by The Cowl Editor on September 14, 2017
---
Campus
---
New Food Options Available in McPhail's and Beyond
By, Gabriella Pisano '18
Assistant News Editor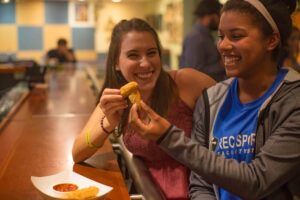 From the ongoing construction on Albertus Magnus Hall to the transformation of Guzman Hill, Providence College students are used to seeing changes to the campus. While construction projects mark physical changes, there are other changes happening at PC, including the availability of Allie's Donuts and the serving of food in McPhail's.
Last semester when Sandella's closed, students were given an upgraded dining option with the opening of the Eaton Street Café, located in the Arthur F. and Patricia Ryan Center for Business Studies. Changes in food options at the College haven't stopped there.
Allie's Donuts are now sold at the Eaton Street and Ruane Cafés. Allie's Donuts, a small bakery in North Kingston, Rhode Island, is known for their delicious, and often colorful sprinkle-topped donuts. Thrillist named the bakery one of the 33 "Best Donut Shops in America."
The two cafés on campus now supply a variety of types of Allie's donuts Tuesday through Friday. For $2.49 students, faculty, and staff can purchase an Allie's donut of their choosing. Ashleigh Arenas '18, a Rhode Island native, said, "It's great to see a Rhode Island staple here on campus."
Student responses have been highly positive. "Having Allie's Donuts at Ruane Café has been wild. Students are losing their minds," said Emma O'Rourke '18, student employee at Ruane Café.
"Eli  Estavez and the Sodexo Team worked so hard to make this happen and we sell out almost every night. These donuts are definitely taking Friartown by storm!"
Milkshakes, beer, mixed drinks, and free popcorn are available at McPhail's, but that is nothing new. Starting this past Monday, September 11, the on-campus bar is serving food cooked and served on site. The new food options in McPhail's include chicken tenders, mozzarella sticks, and personal pizzas.
While most of these food options are available in Alumni Dining Hall, student employee at McPhail's Kelsey Doyle '19 said, "With the option to serve food at McPhail's, a greater customer base is served. It's for the kids!"
Selena Ainzuain '17, McPhail's staff supervisor spoke to another benefit, stating, "Now when someone is having a drink, they don't need to leave to go get food. Instead, they can keep socializing and eat right here."
Though excited about the new food options, Doyle urged students not to forget $2 milkshake Wednesdays. Doyle said, "Don't forget to come down on Wednesday nights to enjoy $2 milkshakes with your McPhamily!"
In the early 2000s, food was available for order at McPhail's, but since the bar does not have a kitchen food was cooked and served in Alumni Dining Hall. Trish Swanson '18G, graduate assistant at McPhail's, explained that ordering in McPhail's was put to a stop because there was often confusion when food was ordered from McPhail's and picked up in Alumni.
With a small oven that thoroughly cooks food located right in the bar, confusion can now be avoided when ordering food. Food will be available during regular hours.
"In recent years there weren't food options, since all we had in the past was popcorn. The food options now available are really for the convenience of students enjoying time in McPhail's. There are now more options available for students of all ages, not just students 21+," said Swanson.