Olympic Committee says "No More Russia"
by The Cowl Editor on December 7, 2017
---
Professional Sports
---
IOC Bans Russia for Doping Scandal
by Jack Belanger '21
Sports Co-Editor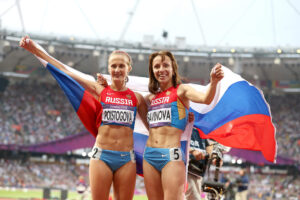 On Tuesday, December 5, the International Olympic Committee (IOC) voted to ban Russia from competing in the 2018 Winter Olympic Games in Pyeongchang, South Korea for state-wide doping, which Russian officials were believed to cover up. Over 25 Russians from the 2014 Sochi games have been disqualified and banned from the games.
   This decision marks the full-fledged ban of Russia from any Olympic Games after reports came out of a Russian state-sponsored doping cover-up after the 2014 games in Sochi. It was determined that Russia's sport ministry tampered with over 100 urine samples to conceal steroid use by many top athletes. The Russian track and field team was banned from the 2016 games in Rio de Janeiro, but Russian athletes were allowed as the IOC decided to allow committee from individual sports to determine banning Russian athletes.
   IOC President Thomas Bach concluded, "This was an unprecedented attack on the integrity of the Olympic Games and sport. The IOC EB, after following due process, has issued proportional sanctions for this systemic manipulation while protecting the clean athletes. This should draw a line under this damaging episode and serve as a catalyst for a more effective anti-doping system led by WADA."
    Olympic officials have left the door open for some Russian athletes to compete in the games as a neutral athlete under the Olympic flag. Athletes who have shown they have gone through rigorous drug testing will be able to petition to be allowed to compete. Regardless of how many athletes do this, Russia's athlete count will be nowhere close to past competitions.
    It is also certainly possible Russia has its athletes who could be allowed to compete boycott the Olympics all together. From an ABC news article, Russia's current sports minister Pavel Kolobov said having its athletes under a neutral flag would be "unacceptable" but the final decision would be made by President Vladamir Putin, who has denied any state involvement in the scandal.
    Rumors of cheating began to surface in 2014, when German network ARD reported a documentary that there was systematic doping in Russia. This caused the World Anti-Doping Agency (WADA) to launch its own investigation.
    It released their findings in November 2015, in which they found out that "state-sponsored" doping occurred. WADA also suspended the Russian Anti-Doping Agency (RUSADA), and recommended Russia be banned from the 2016 Rio games.
    In May of 2016, Russian official were dealt a huge blow, when the former head of Russia's anti-doping labatory, Grigory Rodchenkov, who fled from Russia to the U.S., revealed to the New York Times detail of Russia's organized doping. He described the involvement of the Sports Ministry and the Federal Security Service (FSB) in Russia and said at least 15 medalists from Sochi were involved.
   On July 18, 2016 Professor Richard McClaren, who previously looked into Rodchenkov's allegations, released a report for the WADA that outlined Russia's state-sponsored doping at the Sochi games. He reported that it was likely that Russia's Sports Ministry and FSB were involved in covering-up the athletes. WADA responded by declaring RUSADA non-compliant and recommended Russia be banned from the Rio games.
    278 athletes were cleared to participate in the Rio games while 111 were banned. After the games, McClaren released a second part to his reports and found that over 1,000 competitors were involved in concealing positive drug tests from 2011-2015.
    The IOC has since banned and dissqualified over 20 athletes from the Sochi games, which dropped Russia's medal count from 33 to 22.
    Anti-Doping agencies from around the world called for Russia to be banned from the games, which led to the IOC's decision. In order for Russia to avoid further punishment, its anti-doping agency must become compliant again.
    According to CNN, WADA laid out a plan for RUSADA to become compliant again, but it failed to meet two of the conditions before the IOC made its decision.