Shalane Flanagan Wins NYC Marathon
by The Cowl Editor on November 16, 2017
---
Professional Sports
---
By Eileen Flynn '20
Sports Staff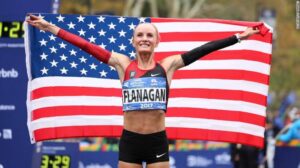 On Sunday, November 5, Shalane Flanagan made history by becoming the first American woman to win the New York City Marathon in 40 years.
  Runners from all over the world gathered in New York City to compete against one another. Over 50,000 runners were set to race a 26-mile-long course through five boroughs of New York. After the recent attack in lower Manhattan that left eight pedestrians dead, the presence of police was unprecedented for a New York City Marathon. 2.5 million spectators were scattered throughout the course, unaware of the history that was about to be made by Flanagan.
   Shalane Flanagan was born in Marblehead, Massachusetts, to two accomplished runners. Her mother, Cheryl Treworgy, and her father, Steve Flanagan, were both U.S. World Cross Country Championship participants and marathon runners. Flanagan was born to be a runner, but the work she put into her career was what made her cross the finish line first at the New York Marathon.
  As a student-athlete at the University of North Carolina, Flanagan won national cross country titles in 2002 and 2003. Flanagan became the first individual champion in the sport in Tar Heel history. As a student, she also set several records including four national titles in cross country, the 3,000 meters and the distance medley relay.
  After graduating in 2004, Flanagan competed in the 2004, 2008, 2012, and 2016 Olympic games. She won a bronze medal at the Beijing '08 games in the 10,000m race (which was upgraded to silver after the winner failed a drug test), and set an American record at 30:22.2.
  In 2014, Flanagan ran in the Boston Marathon. Although leading the female pack through mile 19, Flanagan fell back and finished in sixth place. In 2017, when it seemed Flanagan could not stop improving and shaving her previous times, Flanagan suffered a fracture in her lower back, rendering her to being unable to participate in the upcoming Boston Marathon.
   Flanagan impressed many with her comeback. Many athletes would not be able to fight back after an injury like Flanagans's. Flanagan, however, knew she had more records to break and titles to win. The New York City Marathon was just nine months away, and she knew she had to be better than she was before when Nov. 5 arrived.
  Mary Keitany of Kenya was the favorite to win the NYC Marathon, seeing she claimed the championship title the past three years. The pace most runners started with was slower than usual, the cold weather and degree of difficulty of the course allowed for a below-average pace. As time passed, the intensity picked up and Keitany and Flanagan were fighting hard to lead the pack. At about the 37km mark, Shalane picked up her pace and inched her way in front of Keitany. She was the first to finish and concluded her race in a time of 2:26:53. Flanagan was the first American woman to finish first at the NYC marathon since 1977. This victory marked Flanagan's first win in a major marathon.