Simone Biles: The Golden Girl
by The Cowl Editor on October 10, 2019
---
Professional Sports
---
Gymnast Sets Record for Most Medals in History
By Nicole Patano '22
Guest Writer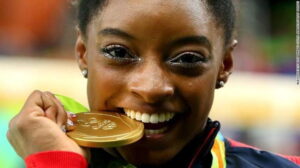 Simone Biles has one medal for every year she has been alive—and then some. During the 2019 World Artistic Gymnastics Championships, which started on Oct. 4, Biles won her 21st world championship medal. Taken together with her five Olympic medals, the 22-year-old has a total of 26 medals, making her the most decorated female gymnast in history.
The title for most World Champion medals was previously held by retired gymnast Svetlana Khorkina, who had 20. With 21 under her belt, Biles is only two medals short of the all-time record for men and women. And the week is not over yet. If Biles were to medal in the Women's All-Around Final, as well as four individual event finals—vault, uneven bars, balance beam, and floor exercise, her total count of World medals could get up to 26. While this week is full of successes for Simone Biles, it is nothing new to her.
Biles has been training in gymnastics since the age of six. She made her national debut at the American Classic only five years later, where she placed third in the all-around competition and first in the vault. From there, her career took off. Still too young to perform in the 2012 Olympics, Biles trained six to eight hours a day in preparation for the 2016 Olympics held in Rio de Janeiro, Brazil.
Biles's inaugural Olympic performance led her team to victory and won her four gold medals, setting a new American record for most gold medals in gymnastics at a single Olympic Games. Her team elected her to carry the American flag in the closing ceremonies. Since then, Biles has been the face of U.S. female gymnastics, appearing on the covers of Time, Sports Illustrated, and Teen Vogue.
Recently, Simone Biles has been in the news for being the first to execute a perfect double-double dismount off the balance beam and a triple-double on the floor. She nailed these two moves at the world gymnastics championship, and they are now known as the "Biles" and the "Biles II," respectively. With the addition of these moves, Biles now has four moves named after her. If her performance this week continues, we may see more history being made.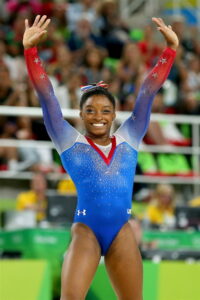 But it has not all been gold medals and perfect dismounts. At an early age, Biles was diagnosed with attention-deficit/hyperactivity disorder (ADHD). While this was difficult enough, after the 2016 Olympic Games, Russian hackers accessed the medical records of some Team USA athletes, including Biles. They revealed that Biles had tested positive for methylphenidate (Ritalin) and tried to use this information to discredit her performance at the Games. Biles took to social media, saying, "I have ADHD and I have taken medicine for it since I was a kid. Please know, I believe in clean sport, have always followed the rules, and will continue to do so as fair play is critical to sport and is very important to me." By opening up about her experience with ADHD, she encouraged many young people in similar circumstances.
When Team USA members began accusing team doctor Larry Nassar of sexually abusing them, Biles added her name to the list. While she does not carry Nassar's guilt, Biles says, "It's not easy coming back to the sport, coming back to the organization that has failed you…I feel every day is a reminder of what I went through and what I've been through and what I'm going through and how I've come out of it. I try just not to think about it." In August, Biles told reporters that she could no longer trust USA Gymnastics, and that she feels anxiety whenever visiting a doctor or trainer now. "We had one goal and we've done everything that they've asked us for, even when we didn't want to, and they couldn't do one damn job."
In addition to the emotional pain Biles feels, she admits to constantly being in physical pain. In an interview with Daily Mail, Biles says, "I joke to my friends a lot that I am going to be in a wheelchair at 30." She adds that it is unusual for her to not be in pain. A calf that has been torn repeatedly, a broken rib, and a shattered toe, and Biles claims she has been fortunate with her injuries. Less than 24 hours after spending the night in the hospital with kidney stones, Simone Biles was leading her team to first place at the 2018 World Gymnastics Championships and securing them a spot in the Tokyo 2020 Olympics.
The 2020 Olympic Games may be Biles's last ever. The champion says that her body is "just kind of falling apart." While she has been out breaking records, she is also healing—emotionally and physically. Admitting that there is little keeping her in the sport besides herself, Biles feels she does not have to prove herself anymore. It is about time that she experiences a break that will not result in a hospital visit.