PCI: Best Sports Moment of 2017
by The Cowl Editor on January 18, 2018
---
PCI
---
Astros Win First Title
By Ethan Ticehurst '18
Sports Staff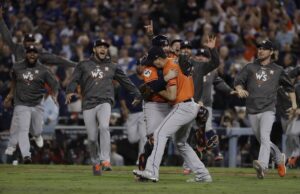 The best sports moment of this past year occurred when the Houston Astros won the 2017 World Series in Game 7 against the Los Angeles Dodgers. It was a triumph of David over Goliath, a true underdog storybook moment. The team that had never found sustained success in franchise history finally overcame the odds and took down one of the most storied teams in Major League Baseball history.
  Part of the excitement over this victory is due to the nature of the playoffs that took place before the World Series was even played. In order to have a shot at being world champions, both the Astros and the Dodgers encountered difficult opponents in their respective League Championship Series. 
   It took the Astros seven games to take out the resurgent and youthful New York Yankees, while the Dodgers had to finish off the previous year's champion, the Chicago Cubs. Both series helped to raise the stakes and the excitement for the final showdown.
    After seven hard-fought games, the Astros emerged from the dust as the champions of the 2017 MLB season. After many years of less- than-stellar play and a transfer from the National League to the American League, many baseball fans were happy to see the Astros finally win their first championship in team history, and do it in a very entertaining way. It ranks as the best sports moment of 2017 not just for all of the above reasons, but also because it was nice to see the Astros win their first championship only a year after the Cub's ended their 108-year World Series drought. Here's hoping that next year brings the rise of another underdog.