Providence College Investigates: NCAA
by npatano on March 24, 2022
---
PCI
---
Who Will Win March Madness?
Leo Hainline '22
Sports Co-Editor
Providence Friars
On Monday, April 4, the Providence College Friars will be the team cutting down the net in New Orleans. 
This team is the toughest in the nation. Defensively, the Friars are elite and have a standout player in Justin Minaya '22GS who can guard all five positions. His ability to stifle the opposition's best offensive threat combined with his relentless rebounding on both the offensive and defensive ends makes him indispensable to this Friars team. He sets the tone with his energy and is a player any coach would love to have. 
The Friars are well-balanced offensively. Four members of the starting five, and Big East Sixth Man of the Year Jared Bynum '23, are all threats from beyond the arch. Nate Watson '22GS and Ed Croswell '23 are dominant big men who can change the game through merely their presence on the court. They are a tough team to guard given each player has the ability to rise to the occasion and get themselves a bucket. 
Additionally, whenever one Friar is struggling, another steps up and helps lead the team to victory. Each player is unfazed by big moments yet knows their individual roles, making the right plays at the right moment. The unselfish yet assertive dynamic on the offensive end, especially in close games, is a key reason why PC will prevail in this tournament. 
Coach Cooley has also done a phenomenal job leading this team both on and off the court. His preparations and in-game decisions have been a massive factor in the Friars' success and he deserves to be named Coach of the Year. The Big East is arguably the most competitive conference in the nation and winning the Regular Season Championship is a significant accomplishment. Players are the ones who ultimately decide games, but Cooley's ability to prepare his men and to manage any situation on the sidelines gives the Friars an edge over their opponents. 
Among all else, this Friars team never gets rattled. They are mature and remain calm in adversity. Numerous times this season, most notably at Hickle Fieldhouse playing Butler University when the Friars faced a 19-point second-half deficit, they battled their way from behind to win. Their energy and communication with each other are arguably the best in college basketball. PC emulates what true teamwork entails and their composure under pressure has been and will continue to be a driving force of their success. 
The energy surrounding this team is unmatched. No student body and administration are more collectively passionate about their basketball program. The players and fans are eager to prove doubters wrong. PC has a chip on our shoulders and is eager to continue this statement season. The support from the Providence College community will only further elevate this team towards a national title. 
God bless, go Friars. 
Stephen Foster '22
Sports Co-Editor
Gonzaga Bulldogs
When I look at the group of teams assembled this year in Division I Men's College Basketball, I see a lot of teams with talented interior and exterior offense and defense. However, one team stands out from the rest: Gonzaga University, the 2021 March Madness Runner-Up.
The Bulldogs are the favorite to win it all this year, and for good reason. According to ESPN, Gonzaga is in the top ten for both adjusted offensive and defensive efficiency. They finished the regular season as the No. 1 team in the nation after a strong late season push. In the first four hours after the 2022 tournament bracket was determined, 34.5 percent of brackets in ESPN's Tournament Challenge picked Gonzaga to win it all.
Gonzaga has an overall record of 26-3 and a West Coast Conference record of 13-1 this season. They have only lost to No. 2 seed Duke University (28-6 overall, No. 1  in Atlantic Coast Conference), No. 5 seed Saint Mary's College (25-7 overall, lost to Gonzaga in WCC Tournament), and No. 6 seed University of Alabama (19-13 overall).They are led by two strong candidates for the John R. Wooden Award, which is awarded to college basketball's most outstanding player.
Drew Timme '23 is a 6'10" forward for the Bulldogs who averaged 17.5 PPG (points per game) and 6.3 RPG (rebounds per game). Timme picked up the West Coast Conference's player of the year award this season. Chet Holmgren '25 rises up at 7'1" and is another inside force for Gonzaga. The center leads the interior defense for the team with 9.6 RPG and 3.4 BPG, as well as contributing extensively on offense with 14.2 PPG and shooting 41.3 percent from three-point land (3PT). He won the defensive player of the year award and is projected to lead the NBA draft class next year.
The Bulldogs starting lineup as a whole is a force to be reckoned with, as all five starters average double-digit scoring. In addition, four out of five starters shoot over 36.5 percent on three-point attempts. These players include Holmgren, Julian Strawther '24 (12.2 PPG, 39.6% 3PT), Andrew Nembhard '22 (11.7 PPG, 36.5% 3PT, 5.7 assists per game), and sharpshooter Rasir Bolton '22 (11.2 PPG, 46.7% 3PT).
Although the path to the March Madness Finals is undoubtedly challenging, Gonzaga University will have the best chances to reach the end. They have a unique combination of offensive and defensive talent that prevents them from lacking in any area of the game. Gonzaga has reached the national title game in two of the past four NCAA tournaments. This year will make that three of five, with a national championship to go along with it.  
Sports Shorts
by npatano on March 3, 2022
---
Sports Shorts
---
Sports Shorts
Stephen Foster '22
Sports Staff
Men's Basketball
The Providence College Men's Basketball Team won three games last week, bringing their record to 24-3 overall and 14-2 in Big East Conference play. They defeated Butler University 71-70 in overtime on Sunday, Feb. 20 and were victorious over Xavier University with a score of 99-92 in triple overtime on Wednesday, Feb. 23. The Friars clinched the Big East Regular Season Championship on Saturday, Feb. 26 for the first time in history with a dominating 72-51 win over Creighton University. Fans young and old stormed the court to celebrate the victory and stayed to watch players and coaches cut down the net in celebration. The Friars wrapped up conference play at Villanova University where the Wildcats came away with a victory in a tight contest 76-74. The final record for the Friars in conference play was 14-3.
Women's Basketball
The Providence College Women's Basketball Team went 0-3 in three games this week, bringing their record to 11-18 overall and 6-14 in Big East conference play. They were defeated 62-68 in overtime by St. John's University on Sunday, Feb. 20, lost 51-57 to Marquette University on Friday, Feb. 25, and struggled against No. 7 University of Connecticut on Sunday, Feb. 27, losing 31-88. The Friars begin the Big East Tournament on Friday, March 4 at Mohegan Sun Arena in Uncasville, CT.
Men's Ice Hockey
The Providence College Men's Ice Hockey Team won two games this week, bringing their record to 21-13-2 overall and 12-11-1 in conference play. They defeated University of Maine in both home games, winning 4-2 on Friday, Feb. 25 and 3-2 in overtime on Saturday, Feb. 26. The Friars play their last game of the regular season and host their senior night on Friday, March 4 in an exhibition match against the U.S. NTDP Under-18 (USA Hockey National Team Development Program). Their run in the Hockey East Championship begins soon after.
Women's Ice Hockey
The Providence College Women's Ice Hockey Team went 1-1 in the Hockey East Tournament last week, bringing their season to a close. They defeated the College of the Holy Cross 3-1 on Wednesday, Feb. 23 at home. However, they could not overcome the strength of No. 2 University of Vermont on the road, losing 4-1 on Saturday, Feb. 26 in the quarterfinals. Lily Hendrikson '25 scored the lone goal for Providence. The Friars end their season with a record of 16-14-6 overall and 12-12-3 in the Hockey East conference.
Sports Shorts
by npatano on February 7, 2022
---
Sports Shorts
---
Sports Shorts
Stephen Foster '2
Men's Basketball 
The Providence College Men's Basketball Team won their two games this week, bringing their record to 16-2 overall and 6-1 in Big East conference play. They defeated Georgetown University 83-75 on Thursday, Jan. 20 and were victorious over Butler University with a score of 69-62 on Sunday, Jan. 23. Coach Ed Cooley recorded his 210th victory as the Friars head coach and moved into second place on the PC All-Time Win List with the win over Butler. As of Monday, Jan. 17, the men's basketball team is ranked No. 21 in the Associated Press Poll and No. 21 in the Coaches Poll. They have been nationally ranked for five consecutive weeks.
Women's Basketball 
The Providence College Women's Basketball Team went 1-2 in their three games this week, bringing their record to 9-9 this season. They were defeated 62-42 by Seton Hall University on Sunday, Jan. 16 and 71-56 by Villanova University on Friday, Jan. 21. Providence rebounded on Sunday, Jan. 23 as they traveled to Washington, D.C. to take on Georgetown University, who they beat 66-58 in overtime. The Friars previously beat the Hoyas on Dec. 5 at Alumni Hall. The women's basketball team is currently leading the Big East in field-goal percentage defense (.351), blocked shots (119), and blocks per game (6.6 bpg).
Men's Ice Hockey
The Providence College Men's Ice Hockey won their two games this week, bringing their record to 16-9-2 overall and 7-7-1 in conference play. They defeated Boston College in both games, winning 7-0 on the road on Friday, Jan. 21, and 2-1 by a shootout at home on Saturday, Jan. 22. Providence is now fourth place in the Hockey East and trails first-place University of Massachusetts Lowell by seven points in the standings. Next week, the men's hockey team travels to play UMass on Friday, Jan. 28 and Boston University on Sunday, Jan. 30.
Women's Ice Hockey
The Providence College Women's Ice Hockey Team lost their two games this week, bringing their record to 8-9-5 overall and 5-8-2 in conference play. They were defeated by the University of Vermont in both games, losing 1-3 on Friday, Jan. 21 and 1-4 on Saturday, Jan. 22. Providence is now eighth place in the Hockey East and trails first-place Northeastern University by 31 points in the standings. Next week, the women's hockey team hopes to turn their streak around as they travel to Chestnut Hill, MA to play Boston College.
Friar Divers Scuba Club Gains Open Water Certification
by The Cowl Editor on November 18, 2021
---
Friar Sports
---
By Stephen Foster '22
Sports Staff
This past week, Friar Divers Scuba Club had their first open water scuba certification of the year, finally returning from their two-year hiatus caused by COVID-19. Eight members of the club endured the open water of Bigelow Hollow Pond in Union, CT for two half-day sessions. Each participant had to be in the water for approximately two hours, with about 30 minutes dedicated to being under water.
Alex Lanna '22 described the thrilling challenge in detail, saying, "The visibility was so low, it was insane. It was quite the 'mind over matter' experience. The mud from the bottom kicked up and you couldn't see anything. It just made it even cooler to do. When we got there, it was 27 degrees with ice on the pavement. We had to put on our wetsuits, hoods, and gloves to make it better. Then two days there and we are all certified!"
Friar Divers is a Providence College club sport offering open water scuba certifications each semester, with the next course starting in March. The club was founded in 2013 by Danny Hentz '17 and has certified over 100 students, with many going on to become Advanced and Rescue Divers. Instruction and dive gear is provided by Enfield Scuba and Watersports, a dive shop in Connecticut. Membership is open to any student interested in oceans, marine life, and scuba. Although the club offers on-campus PADI Certification each semester, you do not have to be a certified diver to be a member.
In addition to the certification trip, Friar Divers hosts other club adventures throughout the year, including local dives at Jamestown and Beach Pond, Underwater Pumpkin Carving, aquarium trips, and beach clean-ups. However, the token adventure offered by the club is their annual scuba trip. Friar Divers Scuba Club has traveled to Grand Cayman, Roatan, and Key Largo in the past. This year, they are planning a scuba trip to Cozumel in June.
Friar Divers advocates for more than just diving, as the club also promotes ocean and environmental conservation. Two upcoming activities include "Wands for Wildlife," a mascara recycling event, and fundraising to support Save the Sharks and the Sea Turtle Conservancy. Equipment is provided for all events, and club members receive discounts on dive gear.
Many PC students get involved in Friar Divers Scuba Club for the exciting trips, the strong sense of community, and the reduced price of certification. Normally scuba certification costs more than $1000, but club members get certified at a discounted rate, only having to pay around $700.
Alex Lanna '22 highlighted the perks of being certified, explaining, "You can use the certification anywhere in the world to scuba dive for the rest of your life, which is really cool. Anywhere you can dive to sixty feet, anywhere in the world, you just have to show your certification card and that is it."
It is necessary to be certified in order to scuba dive, and the College offers this unique opportunity to do so. Lanna mentioned that her interest in scuba diving was sparked by a trip to Turks and Caicos Islands. She enjoyed snorkeling with exotic fish so much that it made her want to swim deeper and stay underwater for longer. If you have ever wanted to explore deeper into open water at exotic locations around the world, check out Friar Divers Scuba Club. Interested students can reach out to Alex Lanna at alanna@friars.providence.edu for more information on how to get involved.
Women's Soccer Recap
by The Cowl Editor on November 4, 2021
---
Friar Sports
---
Reflecting on the Friars End to the Season
Stephen Foster '22
Sports Staff
The Providence College Women's Soccer Team finished their season in heartbreaking fashion this Sunday, Oct. 31, suffering a disappointing 2-1 overtime loss to St. John's University in the first round of the Big East Tournament. Amber Birchwell '21 scored the lone goal to force OT for the Friars. Despite outshooting St. John's 16-3 in the contest, the team let up the game-winning goal to the Red Storm within the first 25 seconds of the extended period. PC Women's Soccer finishes the season with a 10-6-3 record, and a 5-4-2 record in the Big East competition.
For the 2022 season, the Friars will be hurt by the loss of fifth-years Amber Birchwell '21, Hannah McNulty '21, and Jana Braun '21, as well as graduate student Christina Rodgers '21.
Birchwell finished second in total points (two points per goal, one point per assist) on the season with 13 points, composed of four goals and a team-leading five assists. She has started in 82 of her 86 games played for women's soccer over her five years in Friartown.
McNulty finished fifth in total points on the season with eight points, including two goals, and tied for second on the team in assists with four. Similar to Birchwell, McNulty has been an integral part of the Friars lineup for the entirety of her five years at PC. She started 72 of her 89 games in her college career.
Braun was a significant part of PC's midfield this season, starting 14 of 19 games with 1,111 total minutes. Her returning teammates will miss her skills in advancing the soccer ball down the field and distributing to her teammates.
Rodgers was a defensive anchor for the team this season, playing in a team high 1,808 minutes and starting every game. She did the same in the 2020 season, playing all 1,140 minutes across all 12 games. Rodgers started in 82 of 88 games for the Friars across her five years on the team. Her defensive presence on the back line will be greatly missed next season.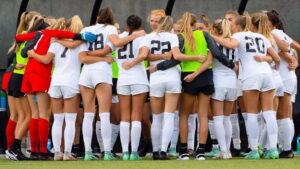 Although the women's soccer team will be hurt by the loss of their graduating players, there is a silver lining in the performance of several underclassmen who stepped up this season and will continue to improve for the 2022 season.
The Friars were led in points by Meg Hughes '24, who scored nine goals and tied for second in assists with four. This is her second season in a row leading in scoring, as she led the team in goals and assists in 2021. She looks to continue her pattern of dominating offense for her junior season, as well as stepping into a leadership role.
Continuing on the offensive side, Gillian Kenney '25 impressed in her freshman debut. She started in 10 of 19 games and recorded the third most points, finishing tied for second in both goals and assists with four in each category. She has much room to grow in the offseason and could become the spark the Friars need in 2022. Kyla Gallagher '24 also contributed to the bottom line, adding in four goals and two assists for 10 total points, which is good for fourth on the team.
The defensive line relied on the skills of Alexis Rothmann '23 and Chloe Ortolano '23 to keep the opposing offense out of the net. They will be seniors next year and likely will be called upon to lead the Friars with their experience. Sophomore midfielder Avery Snead '24 is also a name to remember for next season as she looks to take a step forward in her responsibilities. In addition, goalkeeper Emma Bodmer '24 thrived in her second season this year, picking up three Big East weekly awards.
Providence College Women's Soccer may have ended their season without a Big East Tournament victory in 2021, but they have high hopes for next season with a mix of proven and promising returning players set to fill the minutes vacated by those who close the door on their admirable college soccer careers.
Who Will Win the 2021 World Series?
by The Cowl Editor on October 7, 2021
---
PCI
---
Providence College Investigates: MLB
Justin Bishop '24
Sports Staff
San Francisco Giants
The best team in Major League Baseball is, without a doubt, the San Francisco Giants. The Giants were the best team in the regular season, which concluded this past Sunday with a dominant record of 107 – 55. The Giants' +210 run differential is second in the league to their rival division opponent, the Los Angeles Dodgers, who have a +269 differential. Finishing second in the league in Team Earned Run Average (ERA) 3.24 and Team Home Runs (HR) 241, it is clear that the San Francisco pitching staff is more than capable of handling its own and that the players can hit the long ball with ease. Throughout the second half of the year, the team put together winning streaks of 6+ four times, and their longest losing streak was four and only occurred once. Being able to string along winning streaks of that stature is a necessity in the postseason, and avoiding losing streaks is equally important.
Sitting at (+450) odds to win it all, the Giants are the second in betting favorite, just behind the Dodgers at (+350), according to oddshark.com. San Francisco has no "star player" who carries  the team; instead, they rely on the entire team to produce. One could raise the argument that shortstop Brandon Crawford is the "star player," seeing that he leads the team in every offensive category other than home runs, and he is still third on that list. Brandon Belt leads the team with 29 HR and nine other players have 10+ HR, which ties none other than the Dodgers for most players with 10+ HR. Having this type of offensive production out of so many players is key to having prolonged success in the playoffs.
However, one cannot only rely on offense. Even though putting up almost five runs per game is key, pitching and fielding are also aspects of the game San Francisco have down. The team has seven pitchers on the team that have 50+ innings pitched with an ERA less than 3.00. The pitching staff holds opponents to batting a measly 0.229 average, and only allowing three runs per game will stifle almost any opposing offense. The Giants are clean and efficient in fielding, ranking second amongst playoff teams in fielding percentage. Specifically, outfielder Mike Yastrzemski ranks third in the league in fielding percentage as an outfielder, and Brandon Crawford ranks fourth amongst shortstops in the league in the same category.
Statistics are all great measurements of where a team ranks and how much they produce compared to the rest of the league; however, the only statistic that matters is how many games they win. The San Francisco Giants are the winningest team in baseball, and they will carry that momentum into the National League Division Series and eventually through to the World Series. They will take on the winner of the Dodgers and St. Louis Cardinals.
Stephen Foster '22
Sports Staff
Los Angeles Dodgers
When looking at the group of talented teams assembled this year in the Major League Baseball playoffs, there are several with superior pitching, hitting, and defense. However, one team stands out from the rest: the Los Angeles Dodgers, the 2020 World Series Champions.
The Dodgers started the 2021 season as the favorite to go back-to-back and win it all again. Since then, their President of Baseball Operations, Andrew Friedman, has improved the team even further, making several significant moves at the trade deadline. They added starting pitcher Max Scherzer (15 Wins, 2.46 Earned Run Average) and middle infielder Trea Turner (27 Home Runs, 32 Steals, .328 Batting Average) from the Washington Nationals. Both have formed an integral part of the Dodgers' success down the stretch. Having starting pitchers who go deep into games and keep runs off the board is essential for winning playoff games.
The Los Angeles Dodgers lead the MLB in earned run average and earned runs allowed with a 3.02 ERA and 486 earned runs, allowing a significant 38 runs fewer than the next best team. This feat is primarily achieved by the work of their outstanding starting rotation, which is arguably the best in the league. Led by Max Scherzer, Walker Buehler (15 W, 2.49 ERA), Julio Urias (20 W, 2.96 ERA), and Clayton Kershaw (10 W, 3.55 ERA), the Dodgers' pitching rotation strikes fear into the eyes of any hitter. Furthermore, their bullpen led by Kenley Jansen (2.22 ERA in 69 games, 38 Saves) and Blake Treinen (1.99 ERA in 72 games) is equally as strong as their starting pitching. The Dodgers are ready to ride the arms of their aces all the way to The Commissioner's Trophy. If that is not enough, their lineup is stacked with power hitters and players who excel at getting on base. The Dodgers are fourth in both home runs and on base percentage in the MLB with 237 HR and a .330 OBP.
Moreover, Los Angeles is a team known for sparing no amount of money in order to get to the World Series. Their monetary flexibility allows them to go big on many players that other small market teams cannot afford to sign. They lead the MLB with the highest payroll in 2021, which is an astounding $194,839,000. Their ability to sign the best players in the league is a huge advantage that will pay off in the postseason. Small market teams can only hope to compete with the prowess of the 2021 Los Angeles Dodgers. Their financial ability combined with their spot near the top of almost every statistics category will bode well for the Dodgers. At the end of the MLB postseason, The Commissioner's Trophy will once again find its way to Los Angeles.
Sports Shorts
by The Cowl Editor on September 30, 2021
---
Sports
---
Sports Shorts
Stephen Foster '22
Sports Staff
Men's Soccer
The Providence College Men's Soccer Team earned a spot in the United Soccer Coaches Poll on Tuesday, Sept. 21, coming in at no. 24 in the weekly Top 25 National Rankings for Men's Soccer. Since then, the team extended their win streak to four games with a 3-0 win over Brown University on Wednesday, Sept. 22 and a 3-2 win over Xavier University on Saturday, Sept. 25. Davis Smith '21 continued to impress against Xavier, scoring on a header and dishing out an assist in the contest. Smith was named the Big East Offensive Player of the Week for the second time this season on Monday, Sept. 20. Men's Soccer looks to continue their winning streak this Saturday, Oct. 2 as they travel to Marquette University.
Women's Soccer
The Providence College Women's Soccer Team brought their record to 6-3-1 this week, splitting the games with one win and one loss. The team forced overtime in both games this week, ultimately losing 1-0 against Xavier University on Thursday, Sept.23 and shutting out Creighton University 1-0 on Sunday, Sept. 26. Emma Bodner '24 won the Big East Goalkeeper of the Week on Monday, Sept. 20, putting up eight saves against Brown University on Thursday, Sept.16. Bodner continued her strong play from the net with eight more saves this past week. Women's Soccer will be traveling to No. 25 ranked Georgetown University on Sunday, Oct. 3 to take on the Hoyas.
Volleyball
The Providence College Women's Volleyball Team faced two tough conference matchups this past week, losing 3-2 to Xavier University on Friday, Sept. 24 and 3 – 0 to Butler University on Saturday, Sept. 25. The team registered 43 kills on 133 total attacks, 65 digs, and 39 assists in the game against Butler. Their record now sits at 12-3 on the year. Women's Volleyball looks to rebound with two more Big East Conference matchups this upcoming week. They face Seton Hall University on Friday, Oct. 1 and St. John's University on Saturday, Oct. 2.
Field Hockey
The Providence College Field Hockey Team brought their record to an even 5-5 this past week. Four of their five losses this season have come against teams ranked in the Top-25 national poll. The team lost to No. 20-ranked Monmouth University on Sunday, Sept. 19 and No. 22-ranked University of Massachusetts Amherst on Sunday, Sept. 26, but fought well to pull out a tough conference win against Georgetown University, winning 2-1 on Friday, Sept. 24. This upcoming week, Field Hockey will face off against University of Connecticut on Friday, Oct. 1 and Virginia Commonwealth University on Sunday, Oct. 3.