Softball Heads Toward End of Season
by npatano on May 5, 2022
---
Friar Sports
---
Big East Tournament Set for Next Week
Stephen Foster '22
Sports Staff
The Providence College Softball Team is approaching the end of their 2022 season. They have an overall record of 24 wins and 19 losses and a conference record of 10 wins and 11 losses. Coach Jill Karwoski mentioned that one highlight from the season so far was winning in extra innings over the University of Connecticut, who is in first place in the Big East Conference, to snap their nine-game win streak.
Karwoski had many great things to say about the graduating seniors, especially their resilience and the impact that they have had on the PC softball program. This group of seniors had to go through a lot to get where they are today, including much of their college career being interrupted by the COVID-19 pandemic. She explained, "Every year we get to this point in the season and look at our soon to be graduating seniors and say, 'I can't believe it's been four years.' This year is no different, however, I would be remiss to not acknowledge that this year's seniors' careers were filled with unique ups and downs, Covid pauses and cancellations and nontraditional seasons. These past few years have been everything but 'normal' and I am extremely proud of their ability to overcome, persevere, and prevail. Each senior, whether they had been with our program for one year or four, will have left with us a foundation of resiliency and a path to success for years to come."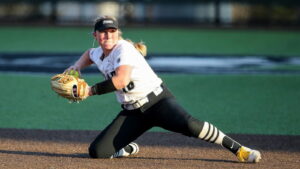 The Friars' softball coach also highlighted the significance of the freshmen on the team this year, explaining, "So many first-year players have been making an immediate impact on the field. And those not on the field have been equally committed to our culture and continue to improve weekly as well as positively influencing our program every day. This is both rewarding this season as well as for the future of our program." With seven freshmen on the team this season, it is important that they commit to the team culture and continue to improve as they grow to play greater on-field roles over the next three years.
The team has a three-game home series against DePaul University before the regular season comes to a close. They play Friday, May 6 at 5:00 p.m. and Saturday, May 7 at 1:00 p.m., and finish the series off with Senior Day on Sunday, May 8 at 12:00 p.m. Following this series, the Big East Tournament begins on Thursday, May 12 and goes until Saturday, May 14. Regarding the Friars' potential in making the tournament, Coach Karwoski explained, "We are still looking to qualify for a tournament berth. The Big East Tournament takes the top four teams and it's a dogfight for the last three spots. UConn has clinched but Villanova, Butler, DePaul, and us are still in the race. It may come down to our last home series next week vs. DePaul, but we have to take care of business today vs. Butler."
The Providence College Softball Team managed to pick up one win out of three games against Butler this past weekend, bringing them in need of some wins down the final stretch against DePaul University. Karwoski highlighted, "This upcoming last home series vs. DePaul will be the biggest weekend for us yet with likely playoff implications. I encourage all Friar fans to come out in full force Friday night. Saturday we will welcome back our Alumni, and Sunday we will celebrate our Seniors. We know there is both power and magic to competing in Friartown, so I thank everyone who has come out thus far to cheer us on and hope to see everyone this weekend. Go Friars!" Make sure you find your way to Glay Field this upcoming weekend to cheer on the Providence College Softball Team as they take on DePaul with hopes of securing a spot in the Big East Tournament.
Optimism in the Air for Friars Softball
by npatano on February 17, 2022
---
Friar Sports
---
By Stephen Foster '22
Sports Staff
The Providence College Softball Team is primed for a return to the diamond for a full season this year, and they cannot wait. After having two years of disrupted and shortened seasons due to COVID-19 concerns, the Friars plan on having a preseason filled with several tournaments to become game-ready. 
Coach Jill Karwoski explained that it was difficult to face opponents last season who had played 20-30 more games than the Friars, and she highlighted the strength of this team to fight through this disadvantage. She stated, "Our team has been so resilient. We essentially lost two seasons, and they kept a positive mindset. We are ready to go this season."
Karwoski has been the head coach at PC for four years, and she has been coaching college softball in the NCAA for more than 17 years. This experience gives her an understanding of the ups and downs of D1 college softball and how to bounce back after a down year. The Friars' coach emphasized the opportunities that await the team this year and how their offseason preparation readied them to take on the new challenges of the season. 
Karwoski detailed, "To prepare for the season, our players have been seeing a variety of live pitching and making adjustments. There has been a lot of work off the field with culture and team building. Their preparation creates the perfect storm of opportunity." PC softball has remained dedicated to their craft on and off the diamond throughout the offseason, and they will prove themselves to be a contender this season.
The Friars' game plan involves leaning on their strong pitching core to keep opponents' run totals low, while outscoring the opposition with their equally tough hitting. PC's softball team is led by a core of strong pitchers, including returners Daniela Alvarez '22 and Tori Grifone '24.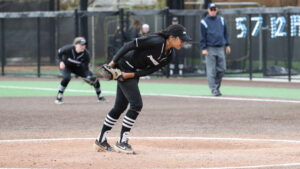 Alvarez has pitched for the Friars for three consecutive seasons, posting a 2.58 earned run average (ERA) and 25 wins throughout her college career. Grifone hopes to build off of a freshman season that saw her significantly contribute to the team on offense and defense. Not only did she finish the year with a 3.90 ERA in five pitching starts, but she also led the team in batting average (AVG) with a .354 AVG in 48 at bats. 
The Friars' pitching staff is rounded out by Elysia Cunnigan '23 (0.00 ERA in 2.2 innings in 2021), Gianna Magrino '23 (1.45 ERA and 466 strikeouts in high school), and Jessica Walter '25 (0.96 ERA in 95.1 high school innings in 2021). All three hope to be decent contributors this season.
In addition to Alvarez, PC hitting is led by dual threat pitcher/outfielder Cunnigan (.297 AVG in 2021), infielder Jessica Tomaso '22 (.281 AVG and 13 walks in 2021), catcher Lyndsey Evix '24 (.279 AVG in 2021), and infielder Madi Traver '22 (11 runs batted in in 2021). In addition, there are six incoming freshmen hoping to contribute to the Friars' success in 2022.
The softball team will play 51 games this season, far more than the 19 they played last year. They begin the season with three tournaments.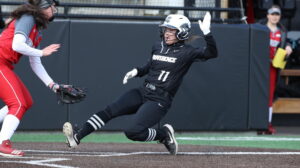 Beginning on Friday, Feb. 18, they have the Elon Softball Phoenix Invitational where they travel to Elon, NC to play Elon University, Morgan State University, and University of Massachusetts Lowell. 
Next, they take on the University of Santa Barbara Invitational, where they travel to Santa Barbara, CA to play Idaho State University, University of California Santa Barbara, and Boise State University. 
The third tournament to begin the season is the Demarini Tiger Clash, which takes place in Towson, MD. The Friars face off against Coppin State University, Towson University, and Columbia University. Coach Karwoski expressed her and the team's excitement at engaging in these three tournaments to start their season off strong. 
Playing against different competitors who they would not normally face will help PC  grow as a team and get some competitive games in to prepare for when Big East conference play begins.
The Big East looks to be full of competition as always, with teams like Creighton University (4-0 in 2022) and Butler University (4-2 in 2022) already kicking off their seasons in the win column. 
Last year, PC had an off year in the conference, going 4-13-1 in conference play and 5-16-1 overall. DePaul University (13-1 in Big East, 25-11 overall) and Villanova University (15-2 in Big East, 37-15 overall) dominated the conference in 2021. Providence College looks to bounce back in 2022 as they maintain numerous returners and welcome new talent.
Coach Karwoski and The Cowl encourage students to come out and watch the team play as they make a run for the Big East conference championship. 
Karwoski emphasizes, "We are just going to be fun to watch this year. We have a lot of home games and a lot of options in our lineup, with some very competitive games. We have plenty of opportunities to make a run for the conference championship." The Providence College Softball Team plays their first home game of the season at Glay Field on Wednesday, Mar. 2 against Boston College.
Who is the PC Men's Basketball X-Factor?
by The Cowl Editor on December 9, 2021
---
PCI
---
Providence College Investigates
Justin Bishop '24
Sports Staff
Al Durham
The best player for the Providence College Men's Basketball team is clearly 6'10" Center, Nate Watson '22GS. He is dominant in the paint and constantly comes down with rebounds. However, the X–Factor for this season's team is the new guy-transfer guard Al Durham '22GS. 
Head coach Ed Cooley knew Durham would be great for the PC culture. He said, "I know that as good as a basketball player as Al is, he is even a better person and for that reason we believe he will fit into our culture as we welcome him into the Friar family."
Durham transferred to Providence this past off-season from the University of Indiana where he averaged 8.6 points per game (PPG) and 2.0 assists per game (APG) across 123 games during his tenure. 
The 6'4" playmaker transferred to Providence looking for a bigger role and better leadership than where he left. 
He is a confident shooter the team can rely on to keep his composure during crucial moments. 
The veteran guard has started out on a hot streak, putting up at least 10 points in every game this year and is currently averaging 13.4 PPG and 3.6 APG, well above his averages during his time at Indiana.
 Durham has adjusted well to playing with a new group of guys, but having veteran players like Watson, Noah Horchler '22GS, and A.J. Reeves '22 on the starting lineup helps. Durham is expected to be the clutch guy and make the big shot late in a close game. 
The question of whether Durham can adapt to the Big East style of play compared to the Big 10 remains. 
The Big 10 Conference is similar to the Big East, where it is dominated by big Centers in the paint as the first scoring option, with the second scoring option in the corner, ready to shoot a three. 
For Providence, Watson is the first scoring option down low in the post, and  Durham is expected to slide in as the second scoring option ready to hit that clutch three or short jumper. Watson is currently averaging 17.7 PPG, the most on the team, while Durham is second with 13.4 PPG, proving that this model is working. If the Friars want to reach the next level, Durham is going to have to step up in big ways. 
Stephen Foster '22
Sports Staff
Nate Watson
When looking at the Providence College Men's Basketball Team's roster for the 2021-2022 season, there is a group of talented players ready to prove their worth to the team. 
However, one player stands out as the X-Factor for the Friars this season: center Nate Watson '22GS. Watson is returning to the Friars for his graduate year, which will be his fifth season with the team. 
He has made substantial improvements throughout his collegiate career, and this season seems to be no different.
Watson was named the Providence College Male Team Athlete of the Year last year for his impressive season, during which he recorded a team high 16.9 points per game (PPG), 6.7 rebounds per game (RPG), and 26 total blocks. David Duke '22, who finished second on the team in points per game (16.8 PPG) and rebounds per game (6.3 RPG), chose to leave PC after last season to play professional basketball in the NBA. Watson is expected to step up and become a pure star player for the Friars in order to fill the gap left by Duke.
So far this year, Watson is leading the team with 17.7 PPG and 10 blocks. He is also second on the team with 5.9 RPG, including a team-high of 13 offensive rebounds. Watson controls the paint both offensively and defensively for the Friars. He is their best option when they look to score inside and is their number-one rim protector. He also grabs the most rebounds for the Friars, which limits the opposing team's shot attempts and ensures that Providence gets as many possessions as they can on the offensive end. It is essential in D1 College Basketball to have a force like Watson playing the center position.
If Watson can hold down the key for the Friars, then the rest of the team will step up from deep and capitalize on their three-point shot attempts (3PTA). Having Watson's strong interior presence opens up the court for guard Al Durham '21 (13.4 PPG, 31 3PTA, 25.8 3PT%), forward Noah Horchler '21 (11.9 PPG, 25 3PTA, 48.0 3PT%), and guard AJ Reeves '22 (7.9 PPG, 32 3PTA, 31.3 3PT%) to provide consistently from beyond the arc.
If Watson can continue to perform at this level for the remainder of the season, the Friars should rise to the top of the Big East Conference in 2021-2022. 
MLB Free Agency Update
by The Cowl Editor on December 9, 2021
---
Professional Sports
---
By Stephen Foster '22
Sports Staff
The 2021-2022 Major League Baseball offseason is off to a hot start with unpredictable free agency moves and trades. Some teams struck gold with new talent, meaning other teams lost their stars and will need to find ways to fill their roster with equal or better talent. However, the biggest story to date is the first MLB lockout and labor stoppage since the player strike in 1994.
When Major League Baseball's collective bargaining agreement expired on Dec. 2, team owners voted to enter a lockout due to failure to reach a new deal with players. The Collective Bargaining Agreement, or CBA, is the agreement between the MLB Players Association and Major League Baseball which determines the rules of employment and the financial structure of the game. The lockout caused by the failure to agree on a new CBA results in the temporary halt of all transactions until a new agreement is finalized and agreed upon by both parties.
The MLB Players Union believes that the lockout was caused unnecessarily by team owners. They released a statement on Twitter saying, "This shutdown is a dramatic measure, regardless of the timing. It is not required by law or for any other reason. It was the owners' choice, plain and simple, specifically calculated to pressure players into relinquishing rights and benefits and abandoning good faith bargaining proposals that will benefit not just Players, but the game and industry as a whole." On the other hand, commissioner Rob Manfred emphasized that the lockout is necessary in order to avoid missing time once the season begins because of the failed agreement. Regardless of whether it is necessary, the lockout is happening and will stop MLB transactions, including Free Agency, until a new agreement is reached. 
Even with the pause, MLB teams have been working hard to improve their rosters for the 2021-2022 season. Some of the most substantial moves so far have the possibility to completely turn a losing team from 2020-2021 into an instant competitor.
The biggest example seems to be the Texas Rangers, the most unexpected story in the offseason. After trading away top players like 2021 Gold Glove-winning outfielder Joey Gallo at the trade deadline, the Rangers have spent more than a half-billion dollars in the few weeks since the Free Agency period began. This money has gone towards a ten-year, $325 million deal with shortstop Corey Seager, a seven-year, $175 million contract with second base/shortstop Marcus Semien, and a four-year, $56 million deal with starting pitcher John Gray.
Although these moves promise to improve the Texas Rangers, the jury is still out on whether they can fix their 2021 record of 60 wins and 102 losses. Their record last season left them in last place in the AL West, a whole 17 games behind the next worst team in the division. I predict that the Rangers will not be able to do any damage in the AL West for several years due to their abundant weaknesses across the board, everywhere except middle infield. However, these contracts are long enough that they should still be around once Texas' top prospects are called up in a few years, including infielder Josh Jung. The question is, will Seager and Semien still be top players by the time Texas is ready to make a push for the World Series? Baseball fans will have to wait and see.
Friar Divers Scuba Club Gains Open Water Certification
by The Cowl Editor on November 18, 2021
---
Friar Sports
---
By Stephen Foster '22
Sports Staff
This past week, Friar Divers Scuba Club had their first open water scuba certification of the year, finally returning from their two-year hiatus caused by COVID-19. Eight members of the club endured the open water of Bigelow Hollow Pond in Union, CT for two half-day sessions. Each participant had to be in the water for approximately two hours, with about 30 minutes dedicated to being under water.
Alex Lanna '22 described the thrilling challenge in detail, saying, "The visibility was so low, it was insane. It was quite the 'mind over matter' experience. The mud from the bottom kicked up and you couldn't see anything. It just made it even cooler to do. When we got there, it was 27 degrees with ice on the pavement. We had to put on our wetsuits, hoods, and gloves to make it better. Then two days there and we are all certified!"
Friar Divers is a Providence College club sport offering open water scuba certifications each semester, with the next course starting in March. The club was founded in 2013 by Danny Hentz '17 and has certified over 100 students, with many going on to become Advanced and Rescue Divers. Instruction and dive gear is provided by Enfield Scuba and Watersports, a dive shop in Connecticut. Membership is open to any student interested in oceans, marine life, and scuba. Although the club offers on-campus PADI Certification each semester, you do not have to be a certified diver to be a member.
In addition to the certification trip, Friar Divers hosts other club adventures throughout the year, including local dives at Jamestown and Beach Pond, Underwater Pumpkin Carving, aquarium trips, and beach clean-ups. However, the token adventure offered by the club is their annual scuba trip. Friar Divers Scuba Club has traveled to Grand Cayman, Roatan, and Key Largo in the past. This year, they are planning a scuba trip to Cozumel in June.
Friar Divers advocates for more than just diving, as the club also promotes ocean and environmental conservation. Two upcoming activities include "Wands for Wildlife," a mascara recycling event, and fundraising to support Save the Sharks and the Sea Turtle Conservancy. Equipment is provided for all events, and club members receive discounts on dive gear.
Many PC students get involved in Friar Divers Scuba Club for the exciting trips, the strong sense of community, and the reduced price of certification. Normally scuba certification costs more than $1000, but club members get certified at a discounted rate, only having to pay around $700.
Alex Lanna '22 highlighted the perks of being certified, explaining, "You can use the certification anywhere in the world to scuba dive for the rest of your life, which is really cool. Anywhere you can dive to sixty feet, anywhere in the world, you just have to show your certification card and that is it."
It is necessary to be certified in order to scuba dive, and the College offers this unique opportunity to do so. Lanna mentioned that her interest in scuba diving was sparked by a trip to Turks and Caicos Islands. She enjoyed snorkeling with exotic fish so much that it made her want to swim deeper and stay underwater for longer. If you have ever wanted to explore deeper into open water at exotic locations around the world, check out Friar Divers Scuba Club. Interested students can reach out to Alex Lanna at alanna@friars.providence.edu for more information on how to get involved.
Women's Ice Hockey Preview
by The Cowl Editor on October 28, 2021
---
Friar Sports
---
Friars with High Hopes Starting the Season
Stephen Foster '22
Sports Staff
The Providence College Women's Ice Hockey Team began the 2021-22 season on a high note with an exhibition win over the Boston Pride on Friday, Oct. 1, setting the tone for what looks to be a successful season.
They hope to build off of a 2020-21 season that saw them finish with a 12-8-1 record while spending 14 consecutive weeks in the top 10 for national rankings.
The Friars are currently ranked No. 11 in the USCHO Division I Women's National Collegiate PairWise Rankings and have started the season with four wins, one loss, and two ties. They have collected wins over No. 27 University of New Hampshire, No. 16 Northeastern University, and No. 26 Union College, while tying No. 6 Quinnipiac University twice and losing to No. 15 Rensselaer Polytechnic Institute.
Women's hockey has some major talent this year, with many of last year's most influential players returning again for the 2021-22 season. The players with the top two most points (total goals and assists) last year are returning as seniors this year, hoping to cap off their senior season on a high note. The Friars also added six new players to the team for the 2021-22 season.
Forward Sara Hjalmarsson '22 led PC in points last season with five goals and 12 assists. She is no stranger to competition, having played for Sweden in the 2018 Winter Olympic Games in Pyeongchang and winning bronze in the Women's World U18 Tournament in 2016. Forward Caroline Peterson '22 finished second in points for PC Women's Hockey last season.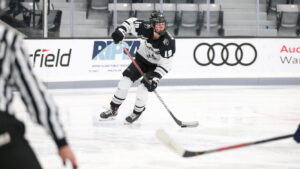 Her 15 points, with a team high of eight goals, trailed only Hjalmarsson. Peterson was awarded the Friars' Offensive Player of the Year Award for her efforts. She is also experienced in competitive play, having won four state championships across high school and club women's ice hockey before attending Providence College.
Forward Hayley Lunny '21GS is coming off a season where she totaled nine points on four goals and five assists, as well as 31 blocked shots, the second most on the team. She has scored four game winning goals and two game winning assists during her time at Providence College.
On the defensive side, the Friars are anchored by Brooke Becker '24 and Claire Tyo '24. Becker totaled 14 points on three goals and 11 assists in the 2020-21 season, ranking first on the team in points scored by a defenseman and second on the team in assists.
Tyo picked up the Rookie of the Year Award last year for PC. She had eleven points on three goals and eight assists. As the two defensemen are only sophomores this year, they should have much room to grow even better throughout the season.
Women's Ice Hockey is happy to have last year's goalkeeper Sandra Abstreiter '21GS returning to net again for the 2021-22 season.
Abstreiter is a graduate student who has consistently manned the goal for the Friars since her junior year in 2019-20. Last year she had a breakout season, totaling a career high 526 saves. Abstreiter is also used to performing well under the pressure of post-season hockey.
In the last two games against No. 1 Wisconsin in the NCAA Tournament on Mar. 16 and No. 2 Northeastern in the Hockey East Championship Game on Mar. 6, she recorded a career high 41 saves. Furthermore, the goalkeeper was awarded the team's Defensive Player of the Year Award and the Providence College athletic department's Female Athlete of the Year Award for the 2020-21 season.
PC's impressive lineup had them ranked high on preseason polls. In the Hockey East Preseason poll, the Friars were one of only two teams to receive a vote to finish first place in the Hockey East.
They finished second in the poll and are projected to finish behind Northeastern University, who lost in the NCAA Championship game last year. In National Polls, the Friars received three votes in the USCHO poll and 10 votes in the USA Hockey Poll.
So far this season, the team has been putting up impressive numbers. Lunny, Becker, and Lindsay Bochna '24 are currently leading the team in points with five each, and Tyo is right behind with four points. Lunny leads the team with three goals, while Becker, Bochna, and Tyo lead the team in assists with three each.
Lunny also leads the Friars in blocks so far with 12. Goaltender Albstreiter has been locked down in the net, winning the Hockey East Goaltender of the Week on Oct. 11 for her shutout performance over No. 16 Northeastern University. She recorded a combined 56 saves that weekend against Northeastern and No. 27 University of New Hampshire.
PC Women's Ice Hockey combines seasoned, experienced players with new players ready to step up and fill the spots vacated by graduates.
The returners have significant experience playing competitive, post-season hockey. Their success in clutch moments should translate well to a Hockey East league that is ready for some top-tier competition in the 2021-22 season.