Achieving Academic Excellence
by The Cowl Editor on September 28, 2017
---
Campus
---
Stronger at PC Encourages Students to be Their Best
by Alexandra Huzyk '20
News Staff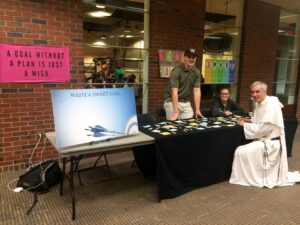 Stronger at PC, an academic program introduced last year, is back to help students develop healthy study habits and time management skills. Students of all grades can benefit from the various events being held throughout the week.
Gabriella Dess '18, academics chair of student congress, says that Stronger at PC was created "to encourage students to be their best selves both academically and socially, stressing the importance of work-life balance." The events will offer students study strategies that can be incorporated into their busy routines, so that they can better maintain a balanced lifestyle.
For freshmen especially, balancing academics, extracurricular activities, and a social life might seem like an intimidating feat. With newfound freedom and a surplus of free time, it is all too easy to focus too much on one aspect and not enough on another. Overall, acclimating to college life can be a difficult, and sometimes overwhelming, experience. Meghan Murray '02 and '04G, associate director for student success & retention, says, "The goal is to bring awareness to some study strategies, particularly for freshmen." For instance, on Monday at 7 p.m. in Ruane 206, students can attend a discussion with Dr. Mulcahy, a chemistry professor, who will discuss what it's like to be a science major at Providence College. On Wednesday, there is a workshop dedicated specifically to discussing strategies to help freshmen and sophomores tackle their Development of Western Civilization lectures and seminars.
Another event occurring during the week is a SMARTER Goals Booth to help students develop specific and attainable academic goals on Monday from 10 a.m. to 1 p.m. in Slavin. Throughout Monday and Tuesday, there will also be a student Snapchat takeover providing quick organization tips and tricks via Providence College's Snapchat account, @provcollege. Also on Tuesday, students can attend drop in hours at the Writing Center from 2 p.m. to 3:30 p.m. Here they can get feedback on writing pieces and learn about helpful tips to use in a variety of writing formats. On Thursday, there will be a "Note Taking Hacks" event that will discuss strategies that will help students take more efficient and helpful notes. On Friday, "Flourishing Friar-days" will address the importance of sleep and how it relates to academic success. Murray says that for "every event that a student goes to, or if they share a tip" on social media with the hashtag #StrongeratPC, "their name is entered into winning a PC basketball jersey." At the end of the week, a winner will be randomly chosen from this raffle.
Regardless of grade or age, most students are not conscious of how their study habits affect their health, and might not ask for help when they need it. Murray says that by "having conversations in spaces that are less academic, we can destigmatize the concept of studying." Stronger at PC works to create an inclusive discussion on how properly managing one's time can help alleviate stress and benefit students' overall health. Dess says that the strategies students learn from these programs will allow them to "manage their time wisely and get everything done in an appropriate, safe, and healthy way."
As a senior, Dess' advice to freshmen is to "use their time well and figure out a system to get things done ahead of time," which will help to alleviate stress or anxiety that might arise from deadlines. The skills students acquire from Stronger at PC are not only applicable to their time here at Providence College, but can also be useful after graduation. "Time management is a life skill," Murray says, and college is "the best space to see what strategies work best for you." By tailoring study strategies to students' own lifestyles, they can use their time more efficiently and productively, thus, helping students to achieve a healthy work-life balance.