Science After-Hours: Friars Conduct Summer Resarch Projects on PC Campus
by The Cowl Editor on August 29, 2019
---
Campus
---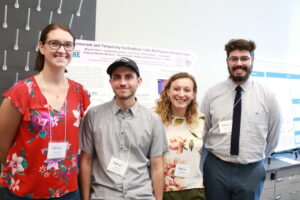 Alexandra Huzyk '20
News Staff
Throughout the summer of 2019, a variety of different science departments at Providence College conducted multiple research projects. 
A few areas of concentration included molecular and evolutionary biology, genetics, neurobiology, population and conservation biology, cancer cell metabolism, stem cell biology, and computational organic chemistry.
In the biology department, Alexis Rabbitt '20 conducted research with Dr. Pamela Snodgrass-Belt '91 on the circadian rhythms in Drosophila—commonly known as fruit flies. Rabbitt explains, "A circadian rhythm is the body's internal clock that controls things like the sleep and wake cycle."
"My research focuses on the quantification of the expression of the clock, time, and per genes that play an essential role in the regulation of circadian rhythm," says Rabbitt. The purpose of this research, Rabbitt continues, is to determine how circadian rhythms fluctuate throughout the day and how they affect oxidation rates. 
A normal day for Rabbitt included running polymerase chain reactions, freezing flies at different times during the day, dissecting fly heads to extract RNA, and measuring gene expression. "This research has important implications in the lives of shift workers who experience elevated risk of type two diabetes, obesity, and other chronic illness."
After volunteering in Dr. Snodgrass-Belt's lab, Rabbitt says, "I chose to do research for class credit and over the summer because I really enjoyed experiencing the more hands-on aspect of biology." Rabbitt will continue to conduct research throughout the school year, and plans on applying to medical school in the future.
"This research taught me to apply the biology I learn in lecture to real life," says Rabbitt. "This will help me in the future by allowing me to think of biology on a broader scale, especially when it comes to medicine and applying biological concepts to human patients."
Kyle Medas '20, a biochemistry major, became involved in research during the summer following his freshman year. He says, "I chose to do research because I knew that the experience I would obtain from being in a research lab would be much different than a lab from my courses."
During this past summer, Medas completed his third year of research in Dr. Seann Mulcahy's lab. Medas says that the focus of this particular lab was to research,"possible strategies to synthesize a class of molecules known as alpha-carbolines." 
Robert Lesch '20, another student working in Mulcahy's lab, explains, "The main point of this research is to increase the efficiency of alpha carbs, as all of our work is methodological," and, "potentially lead researchers into finding applications of alpha carbs as pharmaceuticals."
"My role in the lab would be to perform the desired reaction, work up the product mixture, then purify the desired product from other side-products," says Medas. "From here, we analyze the product to determine if it is actually what we want, then move forward with further reactions."
Medas will continue conducting research within Mulcahy's lab, and hopes to have his work published. He says, "the experience I have gained from research will allow me to enter future labs with the knowledge of essential techniques." In the future, Medas hopes to attend graduate school and eventually obtain a Ph.D. in chemistry.
Students who wish to participate in research are encouraged to consult with faculty who specialize in areas that they are interested in.