Featured Friar: Samantha Dietel '23
by Sydney Olinger '23 on October 29, 2022
News Co-Editor
---
News
---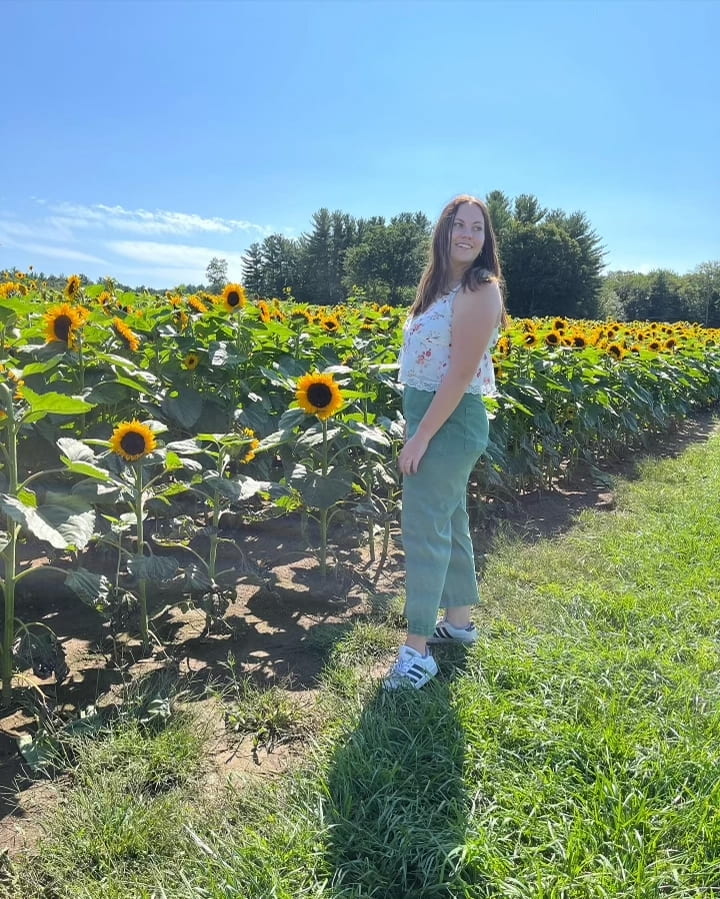 Samanatha Dietel, a current senior  at Providence College, did not expect to attend PC. Dietel went to the fall open house because the school was close to her home in Seekonk, MA, and she planned to go on tours at different schools. One of her first memories of PC was parking in the garage by Ray and seeing dark clouds in the sky. Her dad thought it would pass by without raining, so they left their umbrella in the car. 
In true Providence fashion, five minutes into the tour, it started raining. There was another father and daughter on the tour, each holding an umbrella, who were kind enough to share. This is what truly drew her to PC, and after that day, Dietel knew that PC would become her new home. 
"When I saw the kindness of the Friar family, I knew it was the place I wanted to go," she stated. 
Here at PC, Dietel is a Psychology and Elementary Special Education major. She is involved in numerous clubs on campus, some of which include Dance Club, Her Campus, Providence Animal Welfare Club, Elementary Special Education Mentoring, and ECOPC. Dietel has danced since she was just two years old and has continued to pursue this passion into college. She has performed with the Dance Club since freshman year and is now going on her sixth semester of choreographing dances for their shows. 
Dietel is also the co-president of both the Providence chapter of Her Campus, which is an online magazine for and by women, and for PAW, the Providence Animal Welfare Club. It is clear she has a love for animals based on her two yorkies at home, Luke and Lily, and her extra spoiled Betta fish, Sashimi, that stays with her here on campus. 
Outside of clubs, Dietel works in two different psychology labs at PC. She is the lab manager in Dr. Lawrie's Cultural and Positive Psychology Lab (CUPPS Lab). Here, she oversees a variety of studies and research assistants. Currently, she is studying parenting styles across different cultures. She also conducted an independent study last year with Dr. Lawrie where she utilized Positive Psychology Interventions in a local public school and measured well-being.
She is also a research assistant in Dr. Van Reet's Imaginative Thought and Learning lab. Her duties in this lab include testing children, collecting and analyzing data, and completing literature reviews. 
During her senior year, she has been student teaching full time in her special ed practicum in East Providence. 
According to Dietel , "Special ed is hard work—harder than people think. I've learned to adapt, be flexible, and do everything I can to help my students."
She noted that teaching young children can be highly unpredictable."Whether they think our planet is Venus, our continent is Greenland, or our country is Florida, or, when I ask how they feel and I get the response 'like bread on toast,' I truly never know what to expect," Sam said.
On top of all of these extracurriculars, she is also a part of several honor societies; Psi Chi, Phi Sigma Tau, and Dirigo. After graduation she plans to attend grad school and work towards starting a career as a Child Psychologist.
Outside of school life, she works several jobs. Following student teaching during the weekdays, she typically works in the afternoon as an HBTS Behavior Specialist and works one-on-one in children's homes to provide them with therapeutic services and take them on community outings. 
"I've been working with kids since I was one myself. I always knew I'd make a career out of it," Dietel stated.
Dietel also works as a tutor for the PC Tutoring Center, tutoring psychology and education courses as well as tutoring for the Praxis exam. She is a tutor for younger children as well, helping to reinforce what they are learning in school. Lastly, and arguably most importantly, Dietel is The Cowl Delivery Girl, going around to all the buildings on campus to deliver the newspaper.
Needless to say, there are very few things on campus in which Dietel is not involved, but she is truly making the most of her time here at PC and embracing the kindness of our community that she was drawn to when she first visited campus.
Student Turned Colleagues in HPM: PC Faculty Prioritizing Empowered Scholarship
by awakelin on January 10, 2022
---
Campus
---
Published in January of this year, Robert Hackey and Todd Olszewski work "Today's Healthcare Issues: Democrats and Republicans" explores the politics behind the COVID-19 pandemic and many other healthcare issues our country encountered over the last two years. Though Hackey and Olszewski are the listed authors, they worked with a team of 12 Providence College students in order to give students an opportunity to be a part of an incredibly unique independent study. Both Hackey and Olszewski are members of faculty here at PC in the health policy and management department. 
The book was originally inspired by a presentation given by ABC-CLIO, a publishing company for academic reference works, who stated that they were looking for someone to write on health care issues from a bipartisan perspective as part of a series entitled "Across the Aisle." They emphasized bipartisanship, as they wanted to examine both Democrat and Republican responses to the pandemic and healthcare issues. The book not only covers recent political issues regarding COVID-19 and healthcare, but it also looks into historical perspectives and legislative evidence. 
Though it can be observed that there has been a particularly great divide between political parties and their take on how the United States should respond to the pandemic, the divide over health care has been a much larger ongoing issue. There is much discourse over who should receive free healthcare, whether free healthcare should even be offered, health insurance, prescriptions, and more.
In this book, Hackey, Olszewski, and their students unpack many of these issues and bring to light both political viewpoints. . In a Zoom meeting with Hackey and Olszewski, they presented a brief overview of what the book would cover as well as discussing the project's journey. Olszewski spoke about the challenges they overcame, in addition to how monumental it was to have students working on the research side of a book that would soon be published.
 "Without our students we couldn't have done this and I think it's a true testament to our students that the chapters are as strong as they are," said Hackey. 
One thing they emphasized, which was a very important part of the group's entire process, was empowered scholarship. At the beginning of group meetings, participants would identify each person's strengths and weaknesses. This helped to determine where each individual would be best suited for research. They described each person on their team as a piece of a puzzle who came together to create something truly great. Though they had a system to keep track of participation, they still encountered challenges along the way. One of these was time. Students could not lower their course load even while being in such a time-consuming study and  were also working on this over zoom throughout the pandemic.
Hackey and Olszewski spoke about the large amount of time and effort that was put into simply forming the chapters and in what order they should go in. The chapters, as well as  making sure the book flowed, took a large portion of time. They stated that they had to ensure that all twelve student voices were heard and included throughout the book, which was certainly a challenge. Even through the trials and tribulations of transforming research into an academic chapter of a whole series, their team powered through. 
Hackey and Olszewski expressed extreme gratitude to the students they worked with and recounted how different yet amazing it was to work alongside their students turned colleagues.
Featured Friar: Nicola Calabrese – A Student-Athlete That Does it All
by The Cowl Editor on October 21, 2021
---
Features
---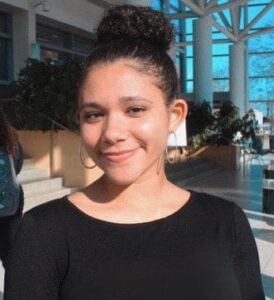 Nicola Calabrese, a senior here at PC, has been an outstanding member of the community, evident in her commitment to this school as well as her impressive involvement in clubs and teams on campus. She is from North Babylon, NY, and is currently majoring in elementary and special education with a minor in sociology.
One of the first of many clubs and programs that she joined was the Horizons program. Horizons is an incredible year-long mentoring program that gives incoming freshmen the tools to navigate the campus while maintaining their identity and cultural values, which is very important to Calabrese. 
Aligning with her strong determination to make a difference on campus, she also joined the Women Empowered club her freshman year. She has been on the executive board for the last two years and will now be entering her third year as public relations officer for the club. Women Empowered was established to create a safe space for women of color to speak about and discuss their experiences at a predominantly white institution. They also take time to focus on sisterhood, self-care, identity, relationships, and mental health.
Over the summer of 2020, Calabrese worked as a research assistant through the Elementary and Special Education Department. Throughout her time working as a research assistant, she conducted a study to expand outside of her required classes displaying her dedication to her studies. The study focused on reading comprehension and visualization skills of elementary and middle school students. 
Along with balancing her academics and extracurriculars, she is also a sprinter for the track team here at PC. Some of her personal track records include an 8.41 second 60 meter dash, 13.27 second 100 meter dash, and 27.38 second 200 meter dash. 
As a student-athlete and woman of color, there are many challenges she has faced outside of having to run fast. With the support from the athletic department and Diversity and Inclusion Department, she was able to attend the Black Student-Athlete Summit in Austin, Texas. At this summit, they looked to bring unique adversities that these student-athletes face to the surface in order to make student life and athlete life non-discriminatory for young people of color.
During this past summer, she was chosen to be one of the head dream coaches for the Pre-Orientation Transitions Program. This particular pre-orientation program was created to help multicultural and first-generation freshmen find their place at PC and become more adjusted to college especially at a predominantly white school.
As a dream coach, her role is to act as a resource to freshmen throughout the entirety of the semester. The program also helps freshmen form special bonds with one another as well as with dream coaches, creating a sense of community for everyone involved. 
When asked about her favorite part of PC, Calabrese chose the students and faculty members she has met throughout her academic, social, and athletic career here.
"Many people on campus have helped me grow as either a student, athlete, friend, or person in general, and I am very grateful for my time here," said Calabrese.
Vaccinated Americans Get Breath of Fresh Air: Biden Removes Mask Mandate for COVID Vaccine Recipients
by The Cowl Editor on May 6, 2021
---
National and Global News
---
by Sydney Olinger '23
News Staff
As of Tuesday, April 27, President Joseph Biden, alongside the CDC and Dr. Anthony Fauci, released new guidelines regarding the wearing of face masks. Biden addressed the immense progress America has made in reducing the number of COVID-19 cases and deaths by continuing to wear masks, social distancing, and now getting vaccinated. With full vaccination comes many new privileges, one of which is the freedom to not wear a face mask outdoors.
Experts have determined that wearing face masks throughout this pandemic has been one of the most effective ways of controlling virus transmission. 
This new mandate has been up for debate for a few months; however, since the release of the vaccine. Because many people are now getting the vaccine and most COVID-19 transmission occurs indoors, it was finally decided that a fully vaccinated person does not have to wear a mask outdoors. These new perks of not having to wear a mask in certain places will hopefully be an incentive for every person to get out and get vaccinated.
"So, for those who haven't gotten their vaccination, especially if you're younger or thinking you don't need it, this is another great reason to go get vaccinated," Biden said. People are considered fully vaccinated by the CDC two weeks after the second dose of the Pfizer/BioNTech or Moderna vaccines or two weeks after the single-dose Johnson & Johnson vaccine.
Unfortunately, though the vaccine certainly makes it much less likely that vaccinated people  will test positive for COVID-19 or experience symptoms, there is still a small chance that a vaccinated person could carry the virus and possibly transfer it to an unvaccinated person. It is also important that those who received the Moderna or Pfizer/BioNTech vaccines remain especially cautious, wear a mask, and socially distance before their second dose.
Coronavirus cases have decreased by 16 percent in just the last week as the amount of people in the U.S. who have received the first dose of the vaccine surpassed 140 million people. This means that 32 percent of the population is now fully vaccinated, with 44 percent having received one dose of the two-shot vaccine. Despite the high numbers of vaccinated citizens, many more will need to receive the vaccine before the country can return to normal life.
There has been hesitancy surrounding the vaccine, mainly as a result of fear of possible long-term effects. However, the vaccines were developed over a fairly long period of time, ruling out the majority of possible risks. Moreover, as of right now, there have been very few extreme negative reactions to the vaccines. It is important that we trust the experts and health professionals who worked diligently to find the most effective way to prevent the spread of the virus that we have faced for over a year now.
Featured "Friar": Father Justin Bolger, O.P.
by The Cowl Editor on April 22, 2021
---
Features
---
by Sydney Olinger '23
News Staff
Father Justin Bolger, O.P., works within faith formation ministries at Providence College. He is also involved in music ministries as he has a background in various types of music. As an assistant chaplain, Fr. Justin also helps to serve the wider campus community and provide for the spiritual needs of the students, faculty, and staff.
Though his faith plays an important role in his life, music is an early passion of Fr. Justin's. His love for music came in the form of both singing and songwriting. Shortly after finding this passion, he signed a record deal with his sister, Maggie. He recorded, toured, and wrote music with her for a period of time. Aside from just recording, touring, and writing, he found a way to connect his two passions: faith and music. Fr. Justin and his sister also played music for masses, youth retreats, and other religious events, which helped him imagine what his next journey might be.
Fr. Justin received his master's degree in philosophical studies at Mount St. Mary's University. While obtaining his master's, he worked as the director of music ministry there, continuing to pursue his love for music. After his time at Mount St. Mary's, Fr. Justin entered the Order of Preachers. In May 2020, he was ordained a priest, eight years after becoming a Dominican. Though it was an exciting moment meant to be celebrated after a long journey, Fr. Justin's ordination was a fairly small event due to COVID-19 regulations. Despite the small affair, he realized it was not the celebration that truly mattered, but instead the experiences to come.
Fr. Justin has worked in a variety of different ministries, both as an ordained priest and as a student brother. Some of these include campus ministry, prison ministry, helping the homeless, and, of course, music ministry. His desire to help others both inside and outside of the PC community demonstrates how much it means for Fr. Justin to act as a servant leader.
As a Dominican, Fr. Justin has helped record music specifically for music ministry. He has recorded four albums of sacred choral music and two albums of bluegrass/gospel music with his band, The Hillbilly Thomists. Students and faculty may remember members of The Hillbilly Thomists serenading the community from a golf cart in the fall of 2020.
"I love the fraternity of the Dominican Order—we live, pray, eat, study, and minister together," said Fr. Justin.
Growing up in a big family, it was not a huge adjustment for him to join the Dominican family here at PC. Fr. Justin was born in Baltimore and raised in Frederick, MD, alongside six siblings. Within his big family, his brother also decided to follow Christ and join the priesthood; he is currently a priest in the Archdiocese of Baltimore. 
Something Fr. Justin carries with him is the Dominican Order's charism "to contemplate and share with others the fruits of contemplation." He acknowledges that this is an important part of the Order, as well as the priesthood, and it is something the friars practice each and every day, studying and sharing the truth as a way of life.
Fr. Justin also thoroughly enjoys the time he spends with students on campus and loves to work with them. "I hope to help lead them in their pursuit of truth. Most of all I hope to lead them closer to Jesus, who is truth personified," stated Fr. Justin.
As a friar and a very faithful person, he loves spreading his knowledge of the Catholic faith and helping students to become active members in the ministry on campus. He shared that he is always available to meet and discuss any topic regarding faith, school, life, or anything else.
Former Friar is on Fire: PC Hosts Entrepreneur and Podcast Star John Lee Dumas '02
by The Cowl Editor on April 15, 2021
---
Campus
---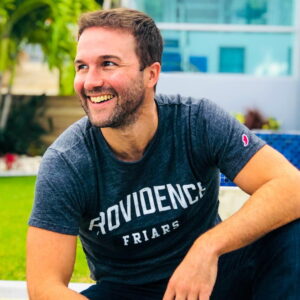 by Sydney Olinger '23
News Staff
John Lee Dumas '02, author of The Common Path to Uncommon Success and host of the award-winning podcast Entrepreneurs on Fire, spoke to students via Zoom on Tuesday, April 13. Dumas shared his story and journey to financial freedom and fulfillment after graduating from Providence College in 2002. He also addressed the lessons and strategies he learned while building his multi-million dollar media empire by interviewing over 3,000 of the world's most successful entrepreneurs. Dumas's podcast, Entrepreneurs On Fire, has gained over 100 million listens since its launch in 2012. He has now generated over 1.4 million monthly downloads.
Though he did not know what career route he would take at the time, the beginning of his long journey to success began at PC. From the first time he stepped foot on campus as a kid from Maine, to the present day as a successful businessman in San Diego, CA, Dumas states he has bled black and white as many members of the Friar Family do. After attending his first basketball game as a prospective student on his visiting day, he never missed a home game in all of his four years, which he claims is one of his proudest accomplishments at PC.
While a student at the College, Dumas was an army cadet in the Reserve Officers' Training Corps for four years before officially becoming an active-duty officer. Despite the 6 a.m. alarms three days a week as a member of the ROTC program, he powered through and believed that it was his "North Star" truly helping him to have a sense of focus and drive throughout his four years. He also strongly valued the relationships he made with and lessons he learned from the Dominican Friars as a freshman living in St. Joseph Hall.
Following Dumas's graduation from PC in 2002, he traveled to Iraq to serve a 13-month tour of duty at only 23 years old. There he was a tank commander in charge of four tanks and 16 men. Through all of the death and destruction he witnessed as an active-duty officer including four of his own men, Dumas was grateful for the many experiences he had, but he decided it was time to move on.
Subsequent to his time in the army, Dumas confesses that he struggled to find his place in the world for about six years. He attended law school at Roger Williams University for one semester before dropping out. He then tried corporate finance with John Hancock in Boston, until he realized he did not want to work a cubicle job and quit. After a few attempts of finding his footing, he ultimately made the decision to move to San Diego on his own to try working in real estate. Ironically, his first connection in San Diego within the real estate community was a fellow PC graduate, which further confirms that the Friar Family always sticks together.
Dumas started his own business with 13 employees, whom he had to train himself, which essentially gave clients home evaluations in regards to what a house was worth. He knew at the time that this was not going to be his end career, but he acknowledges that it was a perfect start and that he gained a great deal of business knowledge.
In an attempt to learn more about business for his job at the time, Dumas was unknowingly landing his most successful career yet. He started reading books on entrepreneurship, salaries, etc. but it was the podcasts that he truly enjoyed for inspiration. His favorite podcasts were the interviews with successful entrepreneurs, but when he realized there was not a single daily-interview-with-successful-entrepreneurs podcast that existed, he had, as he claims, his "aha moment."
In September of 2012, Entrepreneurs on Fire launched. For seven months, he did not make a single dollar. Dumas continued to consistently interview successful entrepreneurs until, finally, in his 13th month, he brought in abundant revenue. He has remained consistent for five and half years, interviewing thousands of successful entrepreneurs and inspiring many more future entrepreneurs.
Attempting to Get Vaccines and Stimulus Checks for All: Biden Administration Plans on Rapid COVID Relief
by The Cowl Editor on March 18, 2021
---
National and Global News
---
by Sydney Olinger '23
News Staff
March 11 marks the one-year anniversary of the nationwide shutdown that was enacted due to the rapid spread of COVID-19. A year ago today, no one could have predicted that our country would still have increasing cases and harsh COVID-19 regulations. In his first prime-time address to American citizens, given on this one-year anniversary, President Joseph Biden announced that he will direct states to make all adults vaccine-eligible by May 1. 
This directive will hopefully mark the start of our country's return to normalcy, but Biden noted that not all adults will be vaccinated by May 1. Therefore, some COVID-19 regulations, such as mask-wearing and not gathering in large crowds, need to be maintained. 
The federal government is in control of distributing the vaccine to each state, but states are given discretion in deciding who is eligible. Most states have been consistent in deciding who receives priority for the vaccine, but some have different guidelines for which groups are  eligible first. According to Biden, all adults should be able to get in line for their first dose of the vaccine by May 1, as long as the country has enough doses and rollout goes successfully. 
On the same day as this prime-time address, Biden signed a $1.9 trillion COVID-19 relief package into law. The intent of this bill is ultimately to help Americans who are struggling financially. The bill also aims to stimulate an American economy that has been facing major challenges for the last year, as countless businesses have shut down or reduced capacity in order to limit the spread of the virus. 
Biden's plans for returning the country to some semblance of normalcy offered a sense of hope to many people and businesses in the country. With the increased distribution of vaccines to all adults willing to get the vaccine, Biden hopes that we will be able to have as close to a normal Fourth of July that we possibly can. "By July the Fourth, there's a good chance you, your families and friends, will be able to get together in your backyard or in your neighborhood and have a cookout or a barbecue and celebrate Independence Day," said Biden. 
Despite the fact that Biden hopes we will be able to enjoy a fairly normal holiday, he is still encouraging people to not gather in large crowds. As vaccine rollouts progress in the coming weeks, the CDC will also update guidelines regarding travel, work, and gatherings. Depending on the number of cases as well as deaths, the first holiday we should be able to celebrate fully with people outside of immediate households will be Independence Day. "After this long hard year. . . [we] will make this Independence Day something truly special where we not only mark our independence as a nation but begin to mark our independence from this virus," stated Biden. Though we should remain hopeful that we will return to a sense of normalcy soon, we must also continue to follow the safety guidelines set by the CDC. 
Biden also asked Americans to do their part to help the country make it to the other side of the pandemic. "A lot can happen," Biden said. "Conditions can change. The scientists have made clear that things may get worse again. As new variants of the virus spread, we've got work to do to ensure that everyone has confidence in the safety and effectiveness of all three vaccines." Throughout his speech, Biden expressed empathy and compassion for the lives lost during the pandemic both within our country and across the world, while also offering hope to the nation that we will overcome the virus and all of the pain it has brought. 
FF: Christina Roca '21: Learning to Make a Change at Home and Across the Globe
by The Cowl Editor on March 4, 2021
---
Features
---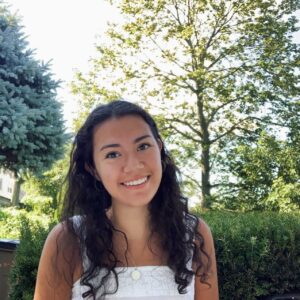 by Sydney Olinger '23
News Staff
Christina Roca '21, a global studies and sociology major, is a first-generation college student and daughter of two immigrants. She has dedicated much of her time at Providence College to studying immigration and helping to create an easy transition for others in her position. Like many first-generation college students, she has been committed to taking full advantage of all of the incredible opportunities a college education has to offer. 
Before coming to PC, Roca attended high school at Miss Porter's School in Farmington, CT, which is a small all-girls boarding school, adding yet another adjustment for her to make before college. After Roca made the decision to attend PC, she registered and took part in the Transitions pre-orientation program, which benefited her in many ways.
In this program, Roca became more comfortable with PC's campus and met her peers, faculty, and other key individuals. Though she did not know at the time, she would later become a dream coach in PC's Transitions program, and this year, a Head Dream Coach, where she would be a role model for other incoming immigrants and first-generation freshmen. In her role, she helped create the program application and schedule and handled other complicated logistics. 
Roca has been an integral part of many clubs and organizations on campus since her freshman year. As a part of the Feinstein Fellows cohort, she spent two semesters creating curricula to help 360 high school seniors navigate the college application process. By her third semester as a Feinstein Fellow, she became the social media manager at the Genesis Center. In this position, she helped create the content highlighting community members, make announcements, and improve digital presence. 
Roca also plays a major role in the Board of Multicultural Student Affairs. She joined the board as a sophomore and was on the social committee, where she planned events within BMSA. She has stuck with the organization since sophomore year and is now on the executive board of the Providence Immigrant Rights Coalition.
A program that has had one of the largest impacts on Roca, however, is the global service learning course and Global Border Crossings program, which she became part of during her freshman year. Through these, she was able to work with Esperanza International, a non-profit dedicated to providing poverty alleviation for families and community members in the Dominican Republic, where she learned all about historical and contemporary functions of borders and migration patterns.
Eager to continue working with the people in these organizations who were such an integral part her freshman year, Roca applied to be a student leader for the global service learning course her sophomore year. After being accepted, she became responsible for duties like developing a course syllabus, facilitating class discussions, spearheading fundraising initiatives, and coordinating logistics with Esperanza International's program coordinator. 
"My life was quite literally transformed after participating in the global service learning course," said Roca. "After taking a few courses surrounding the topic of immigration, my understanding of its complexities expanded exponentially within just two semesters." 
These courses focused on immigration led to her decision to study abroad in Rabat, Morocco. The immigration issues along the Mediterranean and Strait of Gibraltar that she studied in Global Border Crossings made her even more passionate about studying abroad in Morocco. She did this through the School for International Training's Migration and Transnational Identity program in fall of 2019. 
Though many students in the past year have been unable to travel due to the COVID-19 pandemic, Roca is grateful that she was able to make the most of her study abroad. She conducted an independent study which consisted of comparing Mexico and Morocco's migration themes as transit nations and forthcoming host nations. Her host family made her experience even more memorable and allowed her to fully immerse herself in Moroccan culture. 
Upon her return to campus, Roca continued to study immigration and became the vice president of PIRC. As VP, she helped to plan events and meetings and was a voice for students. Currently, she is the president of PIRC, and the coalition has expanded their outreach and has committed to making Zoom meetings a safe space for students. This year, while the whole country has faced extreme challenges and uncertainties in terms of politics and immigration rights during this pandemic, the coalition as a whole has gathered resources for individuals of migrant backgrounds. 
Roca shared that PIRC will soon be introducing their website as an easy and effective way for immigrant students to find resources on campus and even national resources to help in navigating college careers post-graduation. Roca has truly taken full advantage of her time here at PC, and though the last few semesters have certainly been different, it has not stopped her from playing a major role on campus. She has been a crucial part of the change in making the transition to college as a first-generation student as comfortable as possible for all college students to come.
Making a Worthwhile Investment: PC Provides Grants for COVID-19 Research
by The Cowl Editor on February 25, 2021
---
Campus
---
by Sydney Olinger '23 and Kyle Burgess '21
News Staff
Nearly a year after the first string of international lockdowns due to the COVID-19 pandemic, the race to find the most effective and obtainable vaccine for the novel coronavirus continues to heat up. Major pharmaceutical giants such as Pfizer, AstraZeneca, and Moderna have each developed their own respective vaccines and have seen their wares distributed across the United States and Europe. Although the finish line for herd immunity appears to be in sight, much work remains in helping to understand the medical, economic, and social consequences of this historic moment.
Here at Providence College, five faculty members have taken it upon themselves to assist in answering these questions with their own research projects. Each of them has received short-term research grants from the College's Office of Sponsored Projects and Research Compliance totaling $10,000 in funding with support from the Rhode Island IDeA Network of Biomedical Research Excellence. 
Dr. Kris Monahan, director of SPaRC, explained how PC wanted to provide an opportunity for both faculty and students to make the most out of the current situation in conducting research.  
"A strategic decision was made in consultation with the SPaRC advisory committee that the best way to support faculty scholarly work this year was to provide direct support to faculty who wanted to work with students to explore, understand, and develop solutions related to the COVID-19 pandemic," said Monahan. "While we don't expect to be positioned to always make direct grants, we are pleased that we were able to fund these pilot projects."
Some of their findings have already begun making headlines in the battle to contain the virus's spread. Father Nicanor Austriaco, O.P., of the biology department, for example, has been spending his sabbatical leave at the University of Santo Tomas in the Philippines developing a yeast-based COVID-19 vaccine. He was inspired by the plight of many Filipinos who were unable to obtain Western vaccines due to their socioeconomic status. Unlike the vaccines produced by many leading pharmaceutical companies, Fr. Austriaco's vaccine would not need to be stored at lower temperatures and could be dispersed at little to no cost for potential recipients. "The poor are [the] beloved of the Lord," he explained. "We should make COVID-19 vaccines available to them at no cost. This is both the ethical thing to do, because we should provide for those in need, and the scientific thing to do, because the poor often live in densely populated areas that tend to harbor the virus."
Meanwhile, Dr. Fang Dong, associate professor of economics, is hoping to comprehend the economic fallout from the pandemic. More specifically, she aims to discover the interrelatedness between unemployment rates, COVID-19 cases, and stringency/movement restrictions indexes. With the College's financial backing, Dong has been able to hire two research assistants from the economics department to collect data across the globe on variables such as gross domestic product and unemployment in 2020. "There are so many colleagues who had already been or are also working either solely or collaboratively on COVID-related research projects and I am just lucky to receive the grant," she explained.
For some communities, the consequences of the COVID-19 pandemic have only compounded previous natural and economic disasters. Dr. Jessica Mulligan of the health policy and management department, along with the help of five student researchers, is looking at the experiences of healthcare workers in Puerto Rico as the island continues to reel from the effects of Hurricane Maria, which hit in 2017. The team aims to identify the ethics of care styles circulating among healthcare workers during COVID-19, develop dialogues with healthcare workers working after what they call "compounding disasters," and establish policy recommendations to improve working conditions within the U.S. territory.
Elementary and special education professors Dr. Marci Zipke and Dr. Lori Dunn are using the College's generous financial grant to investigate how pre-service teachers can best prepare themselves and their students for learning during the pandemic. "We have administered a survey to the undergraduate pre-service teachers who took methods courses last semester in order to explore best practices," said Zipke. "We suspect that a combination of synchronous meetings and asynchronous assignments, with flexibility and judicious use of technological tools is most effective for course work, and that virtual field experiences have clear benefits in terms of the students' perception of their preparedness for teaching, but we are still analyzing the data and holding focus groups." Both Zipke and Dunn believe that their research will help teachers learn which course designs, technological tools, and field component formats will work best in the virtual classroom as social-distancing measures continue to keep schools closed.
 With the help of these grants, the Friar Family is beginning to unravel some of the complex and multifaceted consequences caused by the COVID-19 pandemic. 
Featured Friar: Malik Washington '21
by The Cowl Editor on February 11, 2021
---
Features
---
by Sydney Olinger '23
News Staff
As senior class president, Malik Washington '21 is truly following his dream to be a voice for the Providence College and greater Providence communities. Beyond this, what is most important to Washington are the opportunities and achievements he has had as a first-generation college student.
Originally from Washington, D.C.,Washington states that he immediately fell in love with PC after attending the "Night in Friartown" event while he was in high school. Father Jordan Kelly, O.P., a resident priest and director of campus ministry at Archbishop Carroll High School, was another inspiration in Washington's decision to join the Friar Family. If not for Kelly, Washington would have most likely attended a local college near his home. "For my entire life, all I came to know was D.C.," he explained. "[Fr. Kelly] worked in peer ministry and encouraged me to look beyond the city. When college admissions rolled around, he helped me throughout the entire process."
Washington is a political science and history double major at PC. He is grateful to the PC community for helping him to come out of his shell and for providing him with the opportunity to  become a leader. 
Given that he is not from New England, where most of PC's student body is from, Washington admits that it was difficult for him to adjust to college life at first. However, he is grateful to the Faithworks pre-orientation program and the Horizons retreat for making the transition easier and quite the memorable experience.
Serving as the president of the Pre-Law Society also allows Washington to pursue his passion for legislation and to showcase his natural leadership abilities. One of Washington's proudest accomplishments at PC, though, was when his peers elected him to serve as their class president. He credits the PC class of 2021 as the reason for making his college experience unforgettable with their endless support and friendship over the past four years. He is appreciative of the encouragement from his class, but he is especially grateful for his friend and personal campaign manager, Matthew Reardon '21. Reardon worked with Washington to develop campaign videos during the election which were, evidently, successful.
"Entering college, I did not envision such an opportunity for myself as I was just focused on making it to graduation—the most important thing for my family," stated Washington.
Now, as president of the class of 2021, Washington's primary focus has been ensuring that he and his classmates are able to enjoy their final year together safely. In the fall, Washington was able to work with other members of Student Congress to coordinate a senior class toast via Zoom. Seniors who registered for the event received personalized class of 2021 glasses and heard a personal speech from men's basketball coach Ed Cooley and College president, Father Kenneth Sicard, O.P. 
In addition to recommending speakers and introducing possible proposals for a COVID-19-safe commencement ceremony, Washington has also spent much of this academic year  brainstorming senior activities for the end of the spring semester. "We are currently planning events to make up for our school traditions that we could not partake in due to COVID-19," he shared. "I am working closely with the administration to hopefully have some form of senior week."
Following graduation in May, Washington plans to attend law school. He ultimately hopes to find success in his career in order to inspire children in his community back home to follow in his footsteps, in a way, and to pursue their own dreams, despite being a first-generation college student.
"As a first-generation college student, a degree is an opportunity to not recognize my work but my family's sacrifices for me to get where I am," said Washington.
As was the case for many generations of PC students before him, Washington states that 1 Cunningham Square will forever be his second home, and that the Friar Family will forever be his second family.