Tag:
Thomas Zinzarella '21
'99: The Final At-Bat
by Joshua Lopes on May 6, 2021
---
Friar Sports
---
The Story of Providence College Baseball
Thomas Zinzarella '21
Sports Staff
27 minutes is not nearly enough time to recount the entire history of the Providence College baseball program. Figuring out how to tell the story was even more difficult. For a film class this year, I was tasked with creating a sports documentary. There was only one story I knew I wanted to tell. The story of the baseball program.
It has been 21 years now since Title IX, among other decisions, forced Providence College to cut the men's baseball program along with the men's tennis and golf teams. To this day, there are no signs of resurrecting them. If you walk around the campus today, remnants of the Friar program can be found in Alumni Hall. There, you can catch a glimpse of some of the trophies, or some of the players' likenesses on the wall of the athletic hall of fame.
Baseball was once a sport for some of the most talented players in the Northeast, especially right here in Rhode Island. The first varsity sport founded on PC's campus in 1921, the baseball team faced off with schools that many are familiar with today, such as the College of the Holy Cross, Villanova University, and more. As the character Terrence Mann said in the baseball hit movie Field of Dreams, "The one constant through the years has been baseball." The program made it through turbulent times in the country such as the Great Depression and World War II.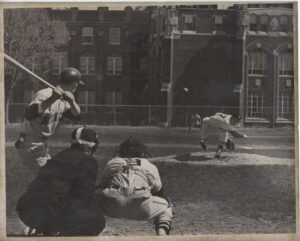 One obstacle that it could not beat, however, was Title IX. Many universities and colleges in the '90s were starting to face a problem that Providence College had just begun facing; The costs of programs were starting to escalate, and some schools' athletics programs were not in compliance with Title IX. Many schools had met the criteria for female students, but not for female student-athletes. 
In my film, '99: The Final At-Bat, I examine more of this issue, in addition to the history behind the program and the final season that saw the Friars capture success. It features interviews from former head coach Charlie Hickey, former players such as Marc Desroches '99, and more. 
The death of the baseball program here at PC mirrors a Greek tragedy. The 1990s brought some of the team's greatest success, with multiple Big East titles and NCAA tournament appearances, before being gutted in the fall of 1998. Competing in one last season, the Friars not only set the school record for wins, but also captured the Big East title and a spot in the NCAA tournament. There, they would fall to the No. 2 overall seed and national runner-up that year, Florida State University. 
The Friars showed that blue collar work ethic that many Rhode Islanders and New Englanders pride themselves on after dropping their first game to Jacksonville University. They then roared back to win the next two games, knocking off JU, and moving on to face FSU. With a lack of PC pitching depth in the short term, Florida State defeated the Friars, but it was something that all college baseball fans could admire. At the end of the year, PC was not only the best team in New England, but Baseball America also ranked the Friars in the final top 25 at the conclusion of the NCAA Tournament. 
The only thing left from the team are the stories from fans, players, and students alike who not only saw the team, but lived it. If you look around the college baseball landscape today, Boston College and the University of Connecticut have sustained success as top programs in the Northeast. But there's a team missing from that bunch, and it just makes you wonder where PC would be in that mix.
Former Pro Finds Home at PC
by Joshua Lopes on April 15, 2021
---
Friar Sports
---
Kapstein Enrolls in PC After Career in Minor League Baseball
By Thomas Zinzarella '21
Sports Staff
While many 18-year-olds look forward to their freshman year at college, Zach Kapstein '22SCE had something else on his mind: baseball. After being drafted in the 44th round of the 2010 MLB Draft by the Boston Red Sox, Kapstein opted to sign with Boston in pursuit of his childhood dream of one day playing in the major leagues.
"I went from my high school graduation from small town Tiverton, RI to six days later in Fort Myers, FL sharing a hotel room with the Red Sox 1st overall pick in 2006."
It is a road that not many baseball players get the pleasure to venture down, so Kapstein jumped at the opportunity to play. "Our goal was to get drafted and get a shot in the minor leagues," Kapstein said. Less than six percent of high school baseball players get the opportunity to play college baseball and only half a percent of high school players will eventually get drafted by a major league baseball team.
For Kapstein, it all started after playing in the Area Code Underclass Games the summer leading into his senior year of high school. The Area Code Games are an exclusive showcase that draws in the top 225+ high school players in the country. Major Leaguers like Bryce Harper, Clayton Kershaw, and Giancarlo Stanton have taken the field in this prestigious event.
During that summer, Kapstein competed against six future Major Leaguers including Kris Bryant, Christian Yelich, Dylan Bundy, Joc Pederson, Kevin Gausman, and Archie Bradley. At the games, scouts from all 30 MLB teams are present, as well as scouts from some of the top colleges in the country. 
Following the event, Kapstein received some college interest from powerhouse programs like the University of Southern California, the University of Texas, and fellow Big East foe at the time, West Virginia University.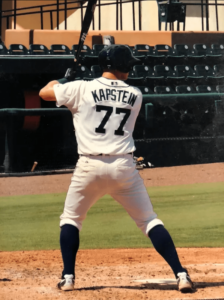 After being drafted in June and signing a minor league contract with the Red Sox, he was assigned to their Rookie League affiliate level in the Gulf Coast League. Kapstein would spend 2010 and 2011 in the area before being promoted back to the New York-Penn League and the Lowell Spinners. Injuries shortened some of Kapstein's minor league seasons. Life as a catcher is never easy. As he rose up to the full season single-A affiliates, he transitioned to the outfield. Kapstein reached as high as A+ with the Salem Red Sox, before being traded in 2015 to the Baltimore Orioles.
In the Minors, Kapstein was  teammates with big league club players on assignment like Daniel Nava, Jacoby Ellsbury, and Stephen Drew. One story he always gets asked about is the  time he spent with former Red Sox and current Los Angeles Dodgers superstar outfielder Mookie Betts in the Minors.
After Betts was drafted in 2011, Kapstein and he were teammates in Fort Myers that summer and fall during instructional league. They spent time together in extended spring training in 2012 before both were assigned with the Lowell Spinners the following summer. 
Betts struggled initially in the Minors. Alex Spier, a Boston Globe sportswriter, in his book Homegrown, talks about how Betts almost quit baseball entirely. Kapstein had a front row seat to Betts make the big adjustments in 2012. "That summer every ball he hit was hit hard…it was a complete 180 from the summer before," Kapstein revealed. "He just flipped a switch…we kept saying to ourselves, this kid is going to be in the Major Leagues in two years."
After one year playing in the Orioles organization, Kapstein signed a minor league contract with the Chicago White Sox. He began to think that it may be time to hang up the cleats. Kapstein was offered a coaching position inside the White Sox organization and accepted it. He spent two seasons with the Great Falls Voyagers and Kannapolis Cannon Ballers, the Rookie League and Single-A affiliate of the White Sox respectively..  
When asked about his time playing and coaching, Kapstein responded: "I saw a lot of America in which I wouldn't have seen…you really saw a lot of the fabric and the core of America. With me loving history, being a history major now…I saw a lot of the Mid-Atlantic area that played a huge part in the Civil War… I got to see Gettysburg when I was with the Orioles." He also added that it was "interesting to see places I had seen on a map or read about in history and to drive through them." 
When he figured it was time to go back to school, all Kapstein could envision was majoring in history. Sure enough, he is now a history major at PC's School of Continuing Education.
Coming in, Kapstein was always fascinated with the history of the U.S., but especially the Civil War and the American Revolution. He has family members who fought in the Vietnam War, World War II, and even World War I. One of his favorite classes he is taking right now is a class on the history of the Holocaust. 
He is not the only Kapstein connection to baseball and PC, however. His uncle Jeremy Kapstein was one of the first player agents and played a pivotal role in abolishing the reserve clause and creating free agency in baseball. As an agent he represented players that included Hall of Famers Rollie Fingers, Goose Gossage, and Carlton Fisk, among many others. "He got his start at PC," Kapstein stated. As a student at Hope High School in Providence, Jeremy was able to work the Providence College Men's Basketball games by keeping track of the stats during the games.
After graduation, Kapstein either wants to get back into coaching at the college or professional level or use his history degree in a more traditional way. Kapstein has thought about teaching history and coaching football and baseball at the prep school or the high school level.
Today, besides going to school, Kapstein still gives advice to high school athletes who are in the same boat as he was almost a decade before. "It was definitely a learning experience. It has you grow up very fast and makes you more mature," Kapstein stated. "You don't have anyone saying you have to be up at 7 a.m., you got to do this class, you've got to be in the cage. It's all on you. It makes you very punctual, very responsible, and professional." 
If Kapstein does become a history teacher, he will have to get used to the routine of going not into the batting cage this time, but rather, into the classroom.
Friar Freshman Off To Hot Start
by Joshua Lopes on March 18, 2021
---
Athlete of the Week
---
Diarbian Right at Home in Friartown
By Thomas Zinzarella '21
Sports Staff
Coming into the fall season, Providence College Men's Soccer player Gevork Diarbian '24 did not know what to expect. Colleges around the country were still attempting to figure out a safe way for fall sports to occur. As a conference with member schools spanning from Rhode Island to Nebraska, the Big East Conference ultimately decided to follow suit with other conferences by moving all fall sports to the spring season.
 "The freshman guys, we were all prepared and we couldn't wait," Diarbian stated. "I remember we had a couple of practices; they were telling us games are coming up and then we hear 'practice is canceled'…it was really hard. There were some moments where I was like 'Are we going to get the chance to play?'"
When play finally resumed in February, Diarbian instantly made a major impact on the field. He scored a goal in each of his first three games, including a double overtime game-winner against Big East foe Villanova University. Across this stretch, the Friars went a perfect 3-0 to start the year with wins over the University of Rhode Island, the University of Connecticut, and Villanova.
Diarbian collected seven points in his first three collegiate games and has helped PC rise in the national rankings. The Friars came in at No. 13 in the United Soccer Coaches College Rankings last week following a draw at home against No. 5 Georgetown University. Since then, PC has dropped their last two matches.
Diarbian's performance caught the attention of other Big East schools when he was named to the Big East Weekly Honor Roll on March 1. He was then tabbed the Big East Freshman of the Week the following week, too. 
Diarbian's accolades are representative of his teammate's success as well. Goalie Rimi Olatunji '22RS has been honored twice with Big East Goalkeeper of the Week after several impressive shutout performances. Christopher Roman '22 was named Big East Offensive Player of the Week on Feb. 22 following his three-point showing in PC's season opener.  
It is never easy to please all fans, especially after the performances that Diarbian has put up, but for him, it is the mindset for the future that keeps him going. "For me, always in my mind, I just tell myself to keep going and keep going…the most important thing is us as a team, to stay together and to work as a group to get better." With this competitive mentality, Diarbian looks primed to continue to reach not only his goals, but the team's as well.
In high school, Diarbian wore the coveted number 10 jersey. When he arrived on campus over the summer, the number was available, yet, he was not sure which number was going to be on the back of his jersey. Former captain Danny Griffin '20 had worn number 10 for the previous four years prior. "As a freshman, it's an amazing feeling. Ever since I was a freshman in high school, I always dreamed of starting and wearing the number 10 for PC." He had some big shoes to fill, but so far he is doing so very successfully.
Hailing from Cranston, RI, Diarbian is very familiar with New England soccer. He played a number of years for Bayside FC (the state's premier soccer club), before starting at La Salle Academy, just down the road from PC. Then, he was a part of the New England Revolution Youth Academy prior to enrolling at PC.
His older brother, Azad Diarbian '22, attends all of the Friars' home games along with his parents and other family members. "It's an unbelievable feeling. Without them [my family] I wouldn't be where I am today…just seeing them watching me play, it's an unbelievable feeling," said Diarbian.                 
Diarbian is one of two local players on the men's soccer roster from Rhode Island, the other being another Cranston native and fellow Revolution Youth Academy alum Kevin Vang '22.
"You know, for me, it's very good to play with Kevin. He's a great player, a good kid, and I feel I have a good connection with him on the field. For example, he assisted me against URI." On that play, Vang sent a gorgeous through-ball to a cutting Diarbian in the box. Diarbian then beat the keeper with a shot to the top right corner. 
"I love to play with him," said Diarbian. "He's great on the ball and very easy to play with because we have known each other for a very long time."
Diarbian also pointed out just how different of an experience it is to play at the college level compared to the youth academy ranks. "It's way different," Diarbian admitted. "When you were there, it felt like a job…you were there every single day training Monday through Friday and then games on the weekend. It was always traveling."  
The Revolution Youth Academy would travel all over, competing against fellow Major League Soccer youth academy teams. "The competition…you're playing the best kids in the country. It was good for me, though, to be in that environment. I feel like it helped me as well to show what I can do but also what the other academies do."
It mirrors a similar experience to that of men's soccer head coach Craig Stewart. Stewart spent a number of years as a youth academy player for big English football clubs in Sunderland AFC, Newcastle United, and Everton FC.  
One figure Diarbian looks up to as a role model is PC men's soccer legend Julian Gressel '17. Gressel was an All-American at PC in 2016 and led the Friars to the NCAA tournament quarterfinals before they fell to the University of North Carolina at Chapel Hill in double overtime. Gressel currently plays in the MLS with DC United.
 Diarbian hopes to one day follow in the footsteps of Gressel and fulfill his own dream of playing in Europe for his favorite football club: FC Barcelona.
February Sports Shorts
by Joshua Lopes on February 25, 2021
---
Sports
---
Weeks of 2/12-2/24
By Thomas Zinzarella '21
Sports Staff
Men's Basketball:
Heading into their Feb. 16 matchup at the University of Connecticut, the Providence College Men's Basketball Team was looking to build up some momentum in the month of February as they usually do. Unfortunately, it appeared they ran out of energy. The Huskies returned multiple players back from injury including James Bouknight and Akok Akok in their 73-61 victory. Alyn Breed '23 led the Friars in scoring with 14 points. PC's interior defense struggled against a juggernaut UConn front court that torched the Friars with 46 points in the paint.
Women's Basketball:
On Feb. 20, the Friars faced off against Seton Hall University on the first day of their tri-state weekend series. PC held an early 14-11 lead in the first quarter, but Seton Hall would come roaring back in the second quarter, outscoring the Friars 23-11. The team never quite got their momentum back and fell to the Pirates 67-55. Alyssa Geary '22 paced the scoring for the Friars with a team high 17 points and nine rebounds. On Feb. 21, PC went down to Queens, NY to take on St. John's University. Coach Crowley's team was looking for the season series sweep. Although it was close at the half, the Johnnies ended the third quarter on a 7-1 run, propelling them to a 65-47 victory over the Friars. Geary once again led PC in scoring with 13 points on 6-of-12 shooting. 
Men's Lacrosse:
In their first Big East game of the season, the Providence College Men's Lacrosse Team downed St. John's 16-8. PC led from start to finish in this one thanks to early goals from Dan Axelson '21GS and Matt Leader '21. Both would finish with three goals in the afternoon. The Friars now look to improve to 2-0 in Big East play as they take on Denver University on Feb. 27.
Women's Soccer:
The PC Women's Soccer Team has started the season strong, thanks in large part to their defense. After pulling off a 2-0 over the University of Rhode Island in their first game of the season, the Friars downed their other in-state foe, Bryant University, 4-0 on Feb. 21. The Bulldogs did not even record their first shot on net until the 67th minute of the game. The Friars outshot Bryant 10-0 in the first half, although the scoring did not start for the Friars until Kyla Gallagher '24 buried one off a cross to start the second half. PC is now 2-0 on the season and starts Big East play at home against UConn on March 4.
Men's Hockey Finds Their Stride
by Joshua Lopes on February 4, 2021
---
Friar Sports
---
Team Sweeps Weekend Series with UNH
By Thomas Zinzarella '21
Sports Staff
After picking up a pair of ties last weekend against the No. 8 University of Massachusetts-Amherst, the Providence College Men's Hockey Team matched up against the University of New Hampshire in a home-and-home series.
Coming into the game, the Friars had moved up a spot in the rankings from No. 18 to No. 17. The Friars' weekend began in Durham, NH on Jan. 29. UNH led the visiting Friars 1-0 early in the second period. That would change dramatically, however, as PC would score five unanswered goals, including four in the third period
Friars' forward Jamie Engelbert '23 started off the scoring barrage to tie things up at one in the second period. The goal was his first of the season. Greg Printz '21 and Nick Poisson '24  then scored goals just 52 seconds apart to start the third period, followed by Davis Bunz's '21 first career goal to make it a 4-1 game. All three goals were scored in a span of three minutes and 18 seconds. The final goal was driven home by New Jersey Devils draft pick Patrick Moynihan '23, who scored a power-play goal with just under two minutes left, sealing the 5-1 victory.
Both squads then matched up again on Jan. 31 in Providence at Schneider Arena. Once again, the Friars went down early to the Wildcats, via a goal in each of the first two periods by UNH. The Friars would have been trailing by a lot more if it was not for their defensive prowess on the penalty kill. PC warded off a five-on-three penalty and were a perfect seven-for-seven on the penalty kill in the game.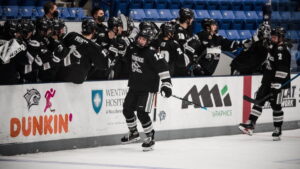 A five-minute major penalty towards the latter half of the second period against Kohei Sato of UNH allowed the Friars to crawl back into the game. PC would score two quick goals thanks to Brett Berard '24 and Tyce Thompson '22 in the first 3:32 of the third period off the penalty. Thompson continues to be the leading goal scorer for Nate Leaman's squad, with this being his sixth goal of the season.
A few moments later, Engelbert struck again. His second goal of the weekend was in fact the game-clinching goal as the Friars held on for the rest of the period to sweep the weekend series.
"I like the belief in the locker room that we can do that…I like the fact that guys believe that they can come back and win games," Leaman said after his team's win on Sunday. "But I think our starts certainly need to get better…[and] us getting to our game quickly is something that we definitely need to work on," he added. It has been a theme many Friar hockey fans have witnessed this year. Nevertheless, the Friars are still producing results. Currently, PC is tied for the second most points in the Hockey East, alongside the nation's No. 1 team in Boston College.
Jaxson Stauber '23 continues to produce strong results in between the pipes for the Friars. Stauber was recently named Hockey East Co-Defensive Player of the Week alongside Filip Linderg of UMass. Stauber stopped 26 of 27 shot attempts on Friday and followed that performance up with 29 saves on Sunday. He has allowed just four goals in the last four games.
The Friars are now 7-5-4 on the season and are unbeaten in their last four games. The Hockey East Conference is reverting to a week-by-week schedule, so their opponent for this upcoming weekend will be announced at a later time. Whoever their opponent is, the Friars will look to push their unbeaten streak to five.
Big East Media Day Goes Virtual
by The Cowl Editor on November 12, 2020
---
Friar Sports
---
Ed Cooley, Friars Ready for Redemption
by Thomas Zinzarella '21
Sports Staff
A telltale sign that the Big East basketball season is right around the corner is when Big East media day occurs. The event is usually held at the prestigious Madison Square Garden in New York City, but due to the COVID-19 pandemic, it was held over Zoom this year. Even so, the event still provided hoop fans with a glimpse of what they should expect this upcoming season.
The Providence College Men's Basketball Team was tabbed to finish third in the Big East Preseason Coaches' Poll. Last year, Providence was tabbed to finish fourth in that same poll. Villanova University took home the top spot this year and are in line to compete for another National Championship. Friar fans still reminisce on the Luwane Pipkins '20GS shot at the Wells Fargo Center last February, which led to an upset for the Wildcats on their home floor. Creighton University follows the Wildcats at the No. 2 spot and are also a Final Four-caliber team.
"Somebody's got to be picked first, and somebody's got to be picked third and somebody's to be picked ninth…it's nice, yet at the end of the day I don't look at these pre-season rankings as we have 11 high-quality programs that represent the Big East. Night in and night out, it's going to be a battle…I don't put a lot of stock into it," PC head coach Ed Cooley stated.
Another major focus of the media day was the University of Connecticut. UConn will make their much-anticipated debut in the Big East after returning from their exodus to the American Athletic Conference. UConn was one of the founding members of the Big East in 1979, along with PC, St. John's University, Georgetown University, and Seton Hall University.
The return of UConn also restores a rivalry between the Huskies and the Friars in many different ways. The Huskies' current head coach is Danny Hurley. Hurley, part of the famous Hurley family coaching tree, was a standout player at Seton Hall and is also the former head coach of the University of Rhode Island. Hurley helped turn the URI program into a powerful mid-major team in the Atlantic-10 Conference. After the Rams won just eight games in his first season, Hurley would eventually lead the Rams to back-to-back NCAA tournament appearances.
"[We're] excited to have Connecticut back as it's a regional game for us, they're an original Big East member. …It's going to be exciting to compete, to go to Gampbel [UConn's arena] and or Hartford. …The fan bases on both sides will be excited," Cooley said. UConn is seen as a blue-chip program in the college basketball community, as they have won four National Championships in their program history.
A pair of Friars also picked up pre-season honors. David Duke '22 was named to the Preseason All-Big East First Team. Duke received high praise from Cooley, who said, "David is the hardest working player I have ever coached in the gym. I've been coaching for 28 years…[and he is] one of the best if not the best defenders in the country." Nate Watson '21 was also named to the Preseason All-Big East Second Team.
Indeed, media day proved to be an exciting day for all involved. It also means that we are one step closer to the return of college basketball.
Three Future Friars Taken in NHL Draft
by The Cowl Editor on October 29, 2020
---
Friar Sports
---
Two Freshman and One Future Friar Taken in Final Rounds
by Thomas Zinzarella '21
Sports Staff
With the Tampa Bay Lightning still celebrating their recent Stanley Cup victory over the Dallas Stars, it is already time to look to the next generation of hockey players. Many potential stars were selected in the 2020 NHL Draft that took place on Oct. 6 and Oct. 7.
Two current Friars and one future Providence College player were selected on day two of the 2020 NHL draft. Brett Berard '24, a native of East Greenwich, RI, was the first Friar off the board. Berard was drafted in the fifth round at the 134th overall position by the New York Rangers. He was ranked 45th by the NHL Central Scouting for North American Skaters going into the 2020 draft.
Prior to coming to Friartown, Berard spent two years playing for the U.S. National Team Development Program (USNTDP). For the U18 team last year, he scored 16 goals and recorded 18 assists while also recording the highest points per game average of any United States Hockey League skater to play in 10-plus games last year (1.38). He played in the exhibition game between the USNTDP and the Friars last year at Schneider Arena. PC won the game 2-1 in overtime.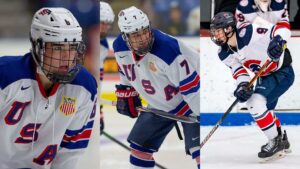 Berard's father, David Berard '92, played for the Friars and is currently the head coach at The College of the Holy Cross. The Friars split a home and home series with the Crusaders the last two years. David also spent time behind the Friar bench over a period of three different stints with the program. He was an assistant coach from 1994-1996 before returning from 1998-2011, and then was the director of hockey operations for the 2013-2014 season.
The next Friar selected was Chase Yoder '24, a forward from Fairview, TX. Yoder was selected in the sixth round with the 170th overall pick by the Pittsburgh Penguins. Yoder also hails from the U18 USNTDP along with Berard. He posted 10 goals and 10 assists in the 2019-2020 season. The shifty forward was ranked 92nd on the NHL Central North American Skaters ranking list coming into the draft. He has been compared to former Friar and current Penguins player Brandon Tanev '16. Yoder may eventually join Tanev in Pittsburgh as the former Friar recently signed a six-year, $21 million deal.
The final Friar selected was Riley Duran, a future Friar to watch. Duran hails from Woburn, MA and was drafted by his hometown Boston Bruins with the 182nd overall pick in the sixth round. Duran compares his game to that of current Bruins center Charlie Coyle. In 27 games last year, Duran recorded 22 goals and 22 assists for Lawrence Academy in Groton, MA. Duran was ranked 95th on the NHL Central Scouting North American Skater list. He will join Friar head coach Nate Leaman's squad in 2021 after he spends this upcoming year with the Youngstown Phantoms of the USHL.
Under the tutelage of Nate Leaman, Friar fans have become accustomed to seeing NHL draft picks fill the line sheet. Since 2011, 28 players have been drafted under Leaman. Just two years ago, the Friars had nine NHL draft picks on their roster, one of the highest tallies in the country. When they made the Frozen Four in 2019, Providence held the most draft picks out of any of the other three teams in Buffalo.
The Friars will look to get back to the Frozen Four this year after their previous season was cut short due to the COVID-19 pandemic. The Hockey East is currently working on plans to start the season in late November, so hopefully Friar fans will soon get to catch a glimpse of these new and exciting NHL prospects.
Shammgod '15 Shaping Future NBA Star
by The Cowl Editor on October 4, 2020
---
Athlete of the Week
---
Former Friar Flourishes in New Role with Dallas
by Thomas Zinzarella '21
Sports Staff
It has been over 20 years since God Shammgod '15 donned the Friar black and white on a basketball court, yet he continues to carry lessons learned in Friartown with him in his career as the player development coach for the Dallas Mavericks. Indeed, Shammgod plays an integral part in the development of players not only on the Mavericks, but around the NBA as well.
To see where it all began, the clock must be turned back to 1997. The Providence College Men's Basketball Team, led by head coach Pete Gillen, was en route to the program's fourth-ever Elite Eight appearance. The team had a core of players that featured a shifty point guard from New York City named God Shammgod. It was in the Elite Eight game against the eventual champion, the University of Arizona Wildcats, that Shammgod would make his name known nationwide. Shammgod, famous for his exceptional ball handling skills, dribbled the ball towards the baseline from the wing. He then moved his body in the other direction while simultaneously pulling the ball back in towards the paint. This move would be coined, "The Shammgod."
Shammgod elected to forgo his final two years at PC to take his talents to the NBA. He was drafted in the second round by the Washington Wizards and played for a few seasons before moving on to play overseas. After his playing career ended, his first order of business was to finish his undergraduate studies. Shammgod re-enrolled at PC in 2012 and started working on Ed Cooley's staff. Cooley had just been named head coach of the men's basketball team in 2011. Shammgod, at the time, was uncertain as to what he wanted to pursue following his NBA career. His time in Friartown pointed him in the direction of coaching. "The way Coach Cooley and his staff coaches…they're all hands-on coaches and hard workers," Shammgod stated. "Ed Cooley is a great coach, motivator, and innovator for the sport. He gets the best out of his players."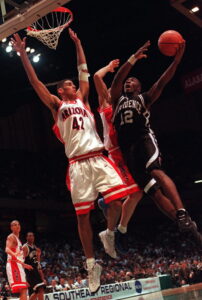 During his time as a coach under Cooley, Shammgod played an important role in the development of some brilliant Friar point guards, including Bryce Cotton '14, Kris Dunn '16, and Kyron Cartwright '18. Shammgod explains, "Their success is a testament to all of their hard work and what they put in… [That's what will happen] if you're willing to listen and to grow as a person and a player." He pointed to each of the player's successes in Friartown, but also to their successes in the professional leagues as well. Whether it was Cotton winning MVP awards in Australia or Dunn excelling with the Chicago Bulls, Shammgod was sure to recognize the talents of the Friar family. 
Though he now works at the professional level, Shammgod still recalls the passion and pride that comes with being a Friar. "The energy from the fans makes people play a certain way and with pride," he said. "PC is the biggest show in town. You have to play with a sense of urgency and pride."
 In his current job with the Mavericks, Shammgod coaches some of the best young talent in the world. He works with stars such as Kristaps Porziņģis and Luka Dončić, perhaps one of the best international duos to ever grace an NBA court. Dončić won the NBA Rookie of the Year Award in 2019, was named to the All-Star team in 2020, and with his recent play in the NBA bubble, looks to be an MVP candidate for years to come. "I feel blessed and honored," said Shammgod, "for kids to listen and take advice from me no matter what I have done in my career…I take a lot of pride in that…to see dreams come true…knowing all of the hard work they put in, for me it is wonderful."
 Although he is currently on an NBA staff, Shammgod has worked with players on all levels of basketball. He recalled working with a young Kobe Bryant when they played on the same Amateur Athletic Union (AAU) team for a summer in high school. Bryant's dad actually approached Shammgod to ask him to help his son work on his dribbling skills. Shammgod and Bryant became friends and remained so well after. When asked about Bryant, Shammgod reflected fondly on their relationship. He talked about the attitude that many referred to as the "Mamba Mentality." "[Bryant] said one day he would be better than Jordan," Shammgod recalled. "And he believed it. Even if nobody else did. We had a friendship because we had a certain bond about work ethic."
 Another major influence on Shammgod was the late-great John Thompson '64, a legendary collegiate coach and PC basketball star. Thompson and Shammgod connected through their love of hoops and passion for coaching. Thompson made sure to instill in Shammgod the idea that there was no one way to coach, that there was no perfect blueprint that you could easily follow. Shammgod took this advice to heart.
These days, everybody wants to learn "The Shammgod." Shammgod gets asked about the eponym everywhere he goes. Though he is perhaps most famous for this specific move, Shammgod refuses to let it define him and continues to strive to achieve even more than he has already. He hopes to one day be the general manager of an NBA team. "I keep studying and working hard, developing…my foundation is strong," said Shammgod. "I come from a great tradition, a foundation of family and sports at PC…I don't see how I can lose."
BROADCASTING DURING A PANDEMIC
by The Cowl Editor on September 17, 2020
---
Sports
---
The Call From the Booth During a Hectic Summer
by Thomas Zinzarella '21
Sports Staff
When the sports world came to a halt in the middle of March, my broadcast partners and I were at Madison Square Garden, taking in the first half of the Big East Tournament matchup between St. John's University and Creighton University.
We were awaiting the following game in which the Providence College Men's Basketball Team was to face off against Butler University. While other college basketball conferences started to shut down their basketball tournaments due to the COVID-19 pandemic, the Big East was one of the last conferences to shut down basketball.
As I walked out of an empty MSG and hopped on the Amtrak train back to Hartford, CT, I had no idea what the future would hold. I had no idea that I would be stuck in my house for over two months without any live sports on television. Even worse, I had no idea the next time I was going to broadcast a sporting event. With March Madness canceled and the remainder of winter and spring sports put on hold, I would have to wait for my summer internship where I was slated to work with the Newport Gulls of the New England Collegiate Baseball League (NECBL.)
The first summer collegiate league to go down due to COVID-19 was the prestigious Cape Cod Baseball League, where I had worked the previous two summers with the Orleans Firebirds and the Harwich Mariners. It was the first time since World War II that there would be no summer baseball on the Cape.
With the plug getting pulled on the Cape League season, I knew this did not bode well for the NECBL. However, plans for the NBA and other professional leagues gave me some hope. The Coastal Plain League, another summer collegiate league in the Carolinas and Georgia, provided me with even more hope when teams announced their plan for summer games.
In the late evening hours of May 1, my worst fears came true: the board of directors canceled the NECBL season. Just like many other broadcasters and employees in sports, I was left without a job. As the calendar rolled from May to June, I was planning on caddying at a golf course in Rhode Island.
Scrolling through Twitter one day, I saw a new summer baseball league was formed: the Newport Collegiate Baseball League. My contact with the Newport Gulls created the new league and enlisted me to be the main play-by-play broadcaster. 
The games were to be played at Cardines Field in Newport. There would be four teams who would play an 18-game schedule followed by playoffs. Just like with all of the other professional leagues, COVID-19 regulations had to be followed. Players were required to sit six feet apart in the stands, no fans were allowed into the ballpark, and players on the base paths had to wear masks.
Compared to my previous two summers on the Cape, this summer was drastically different. There was no crowd noise, no sideline interviews, and only local players from Rhode Island, Connecticut, and Massachusetts were allowed to play. The few players from out-of-state had to stay in houses in Rhode Island. During a normal summer, players would stay with host families, but that was obviously not a possibility this year. Even on the baseball operational side of things, there were limitations. Only a handful of interns were allowed into Cardines Field.
The games were all televised via Twitch and YouTube. Additionally, Cox Television picked up 15 games that were streamed throughout Rhode Island and across the country. Games were played on Thursdays, Fridays, and Sundays. Each weekend consisted of two games: one at 1 p.m. and one at 6:30 p.m.
The level of talent varied as there were players from Power Five schools all the way to some of the best Division III schools in the Northeast. There were players who competed in the NECBL or even in the Cape Cod Baseball League their previous summers. Many of the players hailed from Rhode Island College and Bryant University, but there was still a diverse array of schools. The league started in the beginning of July and wrapped up in the middle of August. Luckily, it was a great success as not a single player or league employee tested positive for COVD-19.
Being able to broadcast for this novel league over the summer made me realize how lucky I was to be back behind the microphone. I not only missed sports, but also truly missed spending a day at the park broadcasting baseball. Still, it was not the same. I could not interact with the players as I used to, nor could I talk with coaches pre-game at the batting cage. As I arrive back on campus, I am holding out hope that we can finally beat COVID-19, and that I will be back broadcasting Big East basketball as we cheer on the Friars at the Dunkin' Donuts Center. 
Behind Enemy Lines
by The Cowl Editor on March 5, 2020
---
Sports
---
A Student-Broadcaster's Experience On The Road To 'Nova
by Thomas Zinzarella '21
Sports Staff
At 5:00 p.m. on a Friday in February, most college kids would be hanging out with their roommates or getting some cardio in before dinner. That was not the case, however, for Matt St. Jean '20 and I on Feb. 28, as we walked into the Providence Amtrak Train Station.
The train we hopped on was headed to Philadelphia, a train ride that takes approximately five and a half hours. Both of us were preparing to broadcast the highly anticipated matchup between the Providence College Friars and the  no. 12 Villanova University Wildcats at the Wells Fargo Center in Philadelphia, PA.
Many of my peers see me broadcasting games at the Dunkin' Donuts Center or at Schneider Arena. Many also know it is my passion and future aspiration to pursue broadcasting. But, what many do not know is what goes on behind the scenes when producing a broadcast. I get that question once in a while, and my trip to Philadelphia is a perfect chance to show how I prepare for broadcasting a game on the radio.
For this past game against Villanova, well before we arrived at the train station, we created cheat sheets for the game called "spotting boards" or "spotting charts," a common practice in the art of broadcasting. Many professionals either make them online or by hand. They can include whatever you want to put on them that you think will be helpful during the broadcast. This includes the basics like names, hometown, heights, and weights of players. It could also include Big East standings, a team foul tracker, and other miscellaneous stats that can help tell a story about a team's season or a team's past few games.
After playing around with these charts for a few hours during the week, doing our research and crunching numbers, it is time to learn about the other team. Big East games are a lot easier because if you are a college basketball fan like myself, you are always engrossing yourself in a team's reading material, or have watched them on television at least once that year. The more you familiarize yourself with the team, the better you can inform the listener so they can learn something from the broadcast.
Following our arrival in Philadelphia around 11:30 p.m., we both headed towards our hotel, which was less than a quarter mile from the Wells Fargo Center. As we passed by in our Uber, the big red letters that bore the arena's name illuminated the night sky. We continued on to pass by the empty lots slowly, knowing full well that tomorrow they would be packed with Villanova fans.
After a good night's sleep, we walked over to the arena about two and a half hours before tip-off to collect our media credentials. From there, we explored the arena, looking to find our media seats. Soon, there was a palpable buzz that filled the arena, due in part to the large stakes involved for both parties. At the start of the day on Saturday, Villanova had won five straight games and was trying to climb for a higher seed come Selection Sunday. The Friars on the other hand, were trying to make sure they would get their name heard on Selection Sunday. They began the day in many analysts' "Last 4 In" the NCAA tournament. The Friars had collected seven quadrant one wins good enough for one of the highest marks in the country, but a win against Villanova would more than likely keep a spot waiting for them in the NCAA tournament.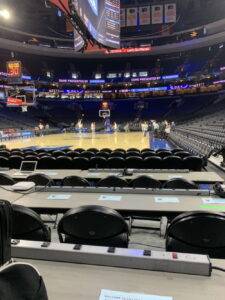 We both found our media spots and arranged all of the broadcast equipment that we lugged into the arena. Next, we headed down to the media room to grab a quick bite to eat before heading back out to floor level to catch shootaround. The biggest storyline in the pre-game warmups was whether Villanova starting point guard Colin Gillespie would play or not. The night before, head coach Jay Wright had said he was "questionable" to play because of a deep thigh bruise. 
Perhaps the coolest part about getting to an arena extra early is all of the access you get. You are in the building before every fan and before even some of the workers. Therefore, I was able to see that Gillespie was indeed warming up. He would go on to log 37 minutes in the game. 
Before we got nestled in for the game, we videoed our pre-game show, which goes onto our social media page and showcases some of the key facts and figures to watch in the game to our fans and followers.
As the fans started to file into their seats, we headed to ours. Our broadcast position for that day's game was right behind the hoop, about four rows up. On some plays you could maybe catch a glimpse of us on television. Sometimes, I will receive the occasional text from aunts, uncles, or grandparents who are watching the Friars on TV who have spotted us. 
With the pre-game clock winding down we hopped back on air before the starting lineups and the national anthem. "Welcome back inside the Wells Fargo Center as the Providence College Friars search to win their fifth straight game against a ranked opponent…" All is well once again. Just basketball and two passionate Friar basketball fans doing what they love.