College Hockey's Hobey Baker Award Nominees Announced
by The Cowl Editor on February 6, 2020
---
Athlete of the Week
---
Two Friars Nominated for Prestigious Award
by Meaghan Cahill
Sports Co-Editor
In the final stretch of their sophomore season, Providence College Men's Hockey Team players Jack Dugan '22 and Tyce Thompson '22 were announced as nominees for the prestigious Hobey Baker Award, which is given to the top player in college hockey. They were joined by 76 other Division I college hockey players throughout the country.
The Hobey Baker Award follows four criteria when considering the nominees: strength and character, on and off the ice; contribution to the integrity of the team and outstanding skills in all phases of the game; scholastic achievement and sportsmanship; and compliance with all NCAA rules, including being a full-time student in an accredited college or university and completing 50 percent or more of the season.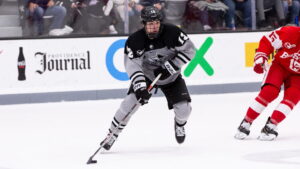 All 78 players who were nominated will go through a three-part selection process. First, NCAA head coaches nominate players from the league in addition to the top three players in the nation. Then, fans have the chance to vote online to narrow down the top 10 candidates. Lastly the Hobey Baker Memorial Award Selection Committee that consists of 29 individuals representing print and electronic sports media, college hockey coaches and officials, and NHL scouts, will vote on their top three candidates and, ultimately, who they think should win the award. Fans are also allowed to provide input by voting during this stage as well. Notable players that have won the Award in recent years include NHL players Johnny Gaudreau, Jack Eichel, Jimmy Vesey, Will Butcher, Adam Gaudette, and Cale Makar.
Dugan, whose goal is to be "the best player in college hockey," currently leads the NCAA in assists (34), points per game (1.78), power-play points (17), and even strength points (24). He also currently leads the league with 41 points over the course of 23 games. In addition, Dugan has an impressive presence on the ice and has been a key player for the Friars all season long, especially since he has spent time transitioning into a more defensive style of play.
On his way to becoming a well-rounded two-way player, the Las Vegas Golden Knights draft pick said, "I've become more of a 200-foot player. Coming in, I was pretty offensive, and now I can play in the last few minutes of a game and be trusted defensively."
Thus far, the numbers have backed his improvement and the efforts he has put into being recognized as the top player in the NCAA. Described as a "dominant player," throughout the course of the season, there have been 14 games where he notched at least two points, five games of at least three points, and three games of four points—the most in the nation.
Despite the fact that he has yet to complete two full seasons of play, head coach Nate Leaman believes that Dugan has a lot going for him, saying, "He's strong on pucks, he's got a good stick, he's got very good vision."
Ranked the best forward in college hockey by the NHL, as well as being listed in their top three for this year's most valuable player, Dugan is believed to be the frontrunner for the Hobey Baker Award. Should he win, he would be the first player in PC history to win, something that he finds to be "very cool."
However, Dugan is not letting his explosive second season cloud his judgement as he looks to what he hopes to be a future in the NHL. And similarly, neither is Thompson, who is listed as the NHL's top breakout player.
After a relatively quiet freshman year due to Leaman's stacked "older team" and desire to allow him to develop and grow, Thompson is experiencing a breakout sophomore season that has led to him being nominated for the Hobey Baker Award.
Currently sitting on 38 points overall, Thompson's 17 goals have him tied for top goalscorer in the country. In the 23 games already played this season, he has scored at least one goal in 15 of them, which leads all NCAA players, and has 13 multi-point games.
Like Dugan, Thompson also is a dominant player on the ice who brings "the energy and the smarts" to the game, according to Leaman. Furthermore, from last season to this season, Leaman also acknowledges that Thompson's overall strength buildup has significantly helped him with having such a great season with the Friars.
In addition to the Hobey Baker nomination, the 2019 New Jersey Devil's draft pick is joined by Dugan and co-captain Michael Callahan '22 in being nominated for the Walter Brown Award, which recognizes the best American-born Division I college hockey players in New England.
The winners of both awards will not be announced until the end of the season during the NCAA tournament.