Skating Her Way to Success
by The Cowl Editor on September 20, 2018
---
Friar Sports
---
Maureen Murphy '21 Invited to National Team Evaluation Camp
By Meaghan Cahill '20
Sports Co-Editor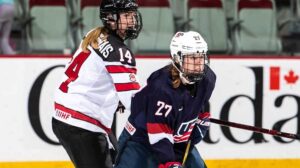 Providence College's standout women's hockey player, Maureen Murphy '21, was one of the select few hockey players throughout the country to be invited to participate in the 2018 U.S. Women's National Team Evaluation Camp.
"It was a lot of fun, but I think I was most excited to go and learn from everyone that was there," Murphy commented on her most recent trip to Biddeford, Maine, where the elite camp was held.
The camp, which took place from Sept. 13-17, was set up to evaluate the top-tier talent in the current Women's National Team player pool. The camp splits players into two teams and the teams participate in three intrasquad scrimmages along with going to practices.
"They were evaluating on three different standards," Murphy explained. "There is a tournament in a month and a half in Saskatchewan, Canada and they will pick a roster from people at this camp. They were also evaluating for post-grads and the third was just your overall standing in the national player pool. They have all of these players…and they are ranking and restarting for this quad. It resets every four years for the Olympics."
Murphy, who is still an eligible U-22 player, was one of the 37 players from around the country to be invited to attend the camp. Of the 37 players invited, 17 of them were members of the Olympic team that just won gold in PyeongChang, South Korea.
"I was most excited to go and learn from everyone that was there just because that was my first experience with the national team and obviously I was pretty nervous," Murphy commented on playing with these elite players.
"I think everyone there understood…where we were coming from so [the players] were super helpful. It was also really intense because I'm not going to outwork or out-skill these Olympian players any time soon. You just had to really work hard and grind it out."
Murphy said her favorite part of the camp was "getting to play with people that I had always looked up to as a kid…it was super cool for me."
Murphy commented "maybe" with a laugh when asked about being picked to play with the team heading to Saskatchewan in the upcoming months, after having played with the USA U-22 Women's Select Team in a three-game series against Canada in early August.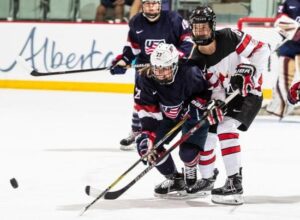 Her August trip to Canada was not the first time USA Hockey has called upon her to represent them. Prior to starting at PC, Murphy was invited to play for Team USA at the 2017 Under-18 World Championships in the Czech Republic. The team went on to bring home the gold medal.
Murphy, who is heading into her second season with the Lady Friars starting on Sept. 28 against Concordia University, finished her inaugural season with a team-leading 28 points, which consisted of 19 goals (the most on the team) and nine assists. Of her 19 goals, five were game-winners and four were short-handed; she tied first nationally in short-handed goals. Appearing in 36 games last season, Murphy also put up seven multi-point games.
Her success last season landed her the title of Hockey East Rookie of the Week three times, Hockey East Top Performer six times, and Hockey East Rookie of the Month in December. Murphy was also named to the Hockey East All-Rookie Team and was a Second Team All-Star. She was deemed a New England Hockey Writers All-Star and was awarded PC's hockey team Seventh Player Award.
On her success last season, Murphy humbly commented, "Players can't have success without the team. It's a collective unit kind of thing."
Looking at the upcoming season, Murphy believes the team will find success in the "amount of work that we put in as a team over the summer" and the "really good people" that were brought onto the team.
"I think we're all really excited as a team," Murphy added about newly assigned Head Coach Matt Kelly. Kelly was also asked to attend the Evaluation Camp as both a coach and an evaluator. While Murphy did not see him at the camp, she thinks his National Team experience, which she describes as the "highest level of women's hockey" will be "helpful for the team on a variety of different levels."
"We have pretty intense practices now," Murphy comments on how the team is getting ready for their upcoming season. "I think just like bringing a whole new level of speed and [the] mentality that we're gonna move forward and have a great year."
And in terms of last year, which ended in a Hockey East first round knock-out by the number six ranked University of Connecticut, all Murphy had to say was, "We're not looking back."