Ugly Puppy Love 
by trogers5 on February 10, 2022
---
Portfolio
---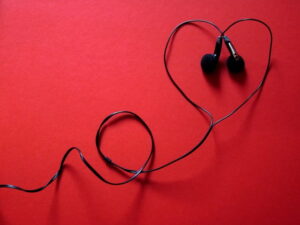 Taylor Maguire '24
They don't tell you when you're a kid that love is depressing. When you're five, you start watching movies that project the happily-ever-after trope, and as you continue on through middle school, your curiosity grows on the concept. Then high school rolls around, and you listen to music that praises the pretty girls with dead hearts or songs about the boy whose car was keyed after he cheats. You listen to your parents spew nasty words at each other, and you break up with your high school boyfriend over text, causing the delicate curtain of romance to slowly dissolve before your sixteenth birthday. But when you get to college, the curtain of romance is ripped off the rod entirely, and you can't help but feel like the creators at Disney purposely pushed your little heart towards failure.
College is a world full of the newly broken-hearted. Some people attempt to patch up their pain in order to mask the wounds caused by their high school sweethearts, while others wreak havoc on the opposite sex as an ode to the girl who broke their heart months earlier.  
The options for lovers are limited. Most put on an entire play-like performance in order to convince you they're not the douchebag you know they are. They say they like poetry and want to study Russian and comment some bullshit about the color of your eyes to distract you from what they are. But they're all horrible actors. As each new lover steps into your life, you come to realize the snippets of intimacy you shared a few nights earlier are no more special than the cheap carnival toy you won during a ring toss game.
Watching your friends fall in love is depressing. Watching you lose yourself to love is depressing. Infatuation feels like a parasite crawling into your brain, constantly whispering the names of your lovers on repeat. The parasite compels you to only spew out the same stories about the one you have knighted as the flavor of the month, and suddenly you become a broken record rather than a person. The three-in-the-morning hook-up stories that you swap like foreign currency with your friends over cheesy eggs reveal themselves to be the same story in a different font. The lovers that play the main characters of these fables are the ones who have funny caterpillar eyebrows and giant noses. They stroll around campus wearing the Vineyard Vines shirt their mom bought them last Christmas, or in terrible skinny jeans, and you can't help but think, "What a jackass," when you spot them. When you first meet them, infatuation dresses them up in the costume of desire, but as time goes on, their cartoonish qualities become more animated, and your friends say, "Don't look now, but Stuart Little's doppelganger has entered the building," and collectively everyone can't help but think, "That's the guy you talked about at breakfast?" as you cringe against their gaze.
The worst part is when you see those same people strolling through the cafeteria in Ray making a sandwich that brutal Sunday afternoon after kissing them in some basement party the night before. Sometimes an awkward glance will be exchanged and you both will act as if they never cried on your bathroom floor. But that's just the puppy love we've come to yearn for. 
Book Review: Ugly Love
by John Downey '23 on February 10, 2022
A&E Co-Editor
---
Arts & Entertainment
---
Book Review:
Ugly Love
A Perfect Valentine's Heartbreaker
Tully Mahoney '23
Those who find themselves on "BookTok" have likely heard of Ugly Love. For those who do not, this novel is written by no. 1 New York Times Bestselling Author Colleen Hoover, a romance novel genius. Hoover has an exceptional ability to write with passion, create depth in her characters, and draw readers in from the first page. Ugly Love is yet another one of her truly unputdownable books.
Ugly Love is written from two perspectives: the first follows Tate Collins in the present day and the second follows Miles Archer when he was a teenager. When Tate and Miles first meet, they hardly like each other, as she finds him drunk outside her brother's apartment. When he sobers up, however, they find they have a deep attraction to each other. The only caveat is that Miles has no interest in finding love and Tate has never been good at no-strings-attached relationships. Nonetheless, their undeniable chemistry leads them to follow two of Miles' rules for romance: 1. Never ask about his past, and 2. Don't expect a future. This is the point in the novel where the readers can tell the pair's relationship is not going to end well. Indeed, ignoring the fact that she knows that abiding by these rules will hurt her, Tate accepts them.
Hoover does an exceptional job of maintaining the integrity of her characters' perspectives. Some reviewers claim that the beginning sections of this novel are too sexually intimate, but it is clear that Hoover does this intentionally. Since the only narrative in present time is Tate's, readers experience her mixed-emotions and confusion owing to Miles' unpredictability in real time. The more time that Tate and Miles spend together, the more complicated their relationship becomes: the line between "friends with benefits" and coupledom begins to slowly fade. Tate becomes more invested in their relationship; Miles becomes more inconsistent. However, as the reader learns more about Miles' past, it becomes harder and harder for them to hate him. Yet, readers are still left with a feeling of frustration as they know what Tate does not yet know.
Readers will get angry that Tate does not leave Miles given what they know about him, but she reminds readers that "love isn't always pretty. Sometimes you spend all your time hoping it'll eventually be something different. Something better. Then, before you know it, you're back to square one, and you lost your heart somewhere along the way." Tate emphasizes that not all relationships are easy and that it is hard to judge someone's decisions when they are under the spell of love. She shows that sometimes, love takes patience and perseverance.
Many reviewers on Goodreads have expressed anger that Hoover gives Tate "a lack of self-respect." Such dissatisfied readers claim that since Tate is unable to stay away from Miles despite the fact that he continues to hurt her, she does not respect herself. This would be a valid argument if Tate was unaware of her actions, but throughout the novel, she continues to show awareness of the situation she is putting herself in. She consciously subjects herself to less-than-respectful treatment because, as she says, "beautiful moments make up for the ugly love." Hoover's portrayal of Tate in this manner makes her feel like a real person: she is able to make her own decisions, even if that makes the readers angry. Indeed, readers are meant to hurt for Tate and wish she was given the treatment she deserves—everyone truly wants a happy ending for their favorite characters.
Hoover also uses an interesting writing style when narrating Miles' past. When initially describing his first love, he says "Rachel. Rachel. Rachel, Rachel, Rachel. She's like poetry." From this point forward, his entire section is written in poetry because this is the way he views his life with Rachel. When she ultimately hurts him, this poetry disappears, demonstrating he no longer understands the world around him. 
Ugly Love is the perfect novel to pick up for an early Valentine's heartbreak. It deserves an undoubtable five stars due to Hoover's beautiful prose and her ability to create characters who lift off the page.