Tag:
women's club lacrosse
Bryn Reilly '22 Secures Monthly Club Award
by The Cowl Editor on March 5, 2020
---
Athlete of the Week
---
Honored for Her "Dedication and Persistence"
by Meaghan Cahill '20
Sports Coeditor
Every month, the Club Sports Council votes on who they believe should be recognized as player of the month. For the month of February, the council chose to recognize Bryn Reilly '22, a member of Providence College's Women's Club Lacrosse Team.
According to the council, "The purpose of the player of the month is to recognize extraordinary athletes [that are] a part of the club sports community [and] are going above and beyond either on or off the field."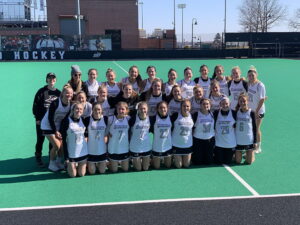 Ava Cicio '20, president of the women's club lacrosse team, believes that Reilly falls under this criteria, describing her as "an exemplary team player with a happy demeanor and overall positive attitude."
Reilly, who is in the midst of her second year with the team, grew up playing lacrosse with her dad, Brendan Reilly '88, who was a member of the Providence College Men's Lacrosse Team. According to Reilly, lacrosse "has always been a part of [her] family," and she chose to continue playing at PC because she just simply loves the sport.
"I think it is a lot of fun and I love being a part of a team. It was also a great way to meet new people as a freshman," said Reilly.
Reilly was a practice player her freshman year, an experience that she describes as "extremely welcoming." According to her, the only difference between being a practice player last year and a member of the travel team this year is that she "now dresses for games." Cicio notes that "Bryn was the team's number one supporter on the sidelines. This year as a travel player, [she] has maintained that support."
In a season that Reilly says has been going "very well" for both her and the team, they have currently beaten Quinnipiac University, the College of the Holy Cross, the University of New Hampshire, and Tufts University. They have two games left in the season against the University of Massachusetts-Lowell and Central Connecticut State University.
Described as a "solid addition" to the team's defense, Reilly has played a key role in the team's current 4-0 record. However, she does not have any personal goals for the remainder of her sophomore season; instead, as any true team player, she simply has team goals in mind.
"I hope we are able to stay undefeated as long as possible and make it to nationals," said Reilly. "We have a phenomenal team led by amazing captains and I cannot wait to see what the rest of the season holds for us!"
In regards to being accoladed as player of the month, Reilly said she was very shocked, but also very honored.
"I try to show up to all practices and games with a positive attitude and work hard while also having fun," said Reilly. "It is very nice to know that others think that my attitude and dedication to the sport are worthy of an award."
Due to her "dedication and persistence," as the council said, over the course of Reilly's two years with the team, she has proven herself to be an exemplary student-athlete worthy of this recognition.