Addison Root '20 Hits Career Milestone
by The Cowl Editor on October 31, 2019
---
Friar Sports
---
Senior Joins an Elite Group of Players With 1,000 Kills
By Meaghan Cahill '20
Sports Co-Editor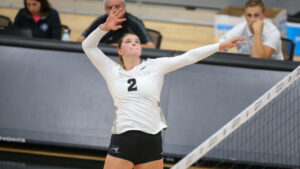 The Providence College Women's Volleyball Team may have lost their match against Butler University on Oct. 10, winning only one of the four sets played, but for Addison Root '20 there was a lot to celebrate.
Root did not realize at the time, but she registered her 1,000th career kill.
While she did acknowledge that she had a feeling that she was close to achieving the milestone statistic, Root said on the feat, "I knew that I needed 12 in that game so my mindset was 'alright, gotta go get it!'"
Root was keyed into her achievement by an official announcement during a time out. "During the timeout, our coach was kind of getting on us, so I tried not to smile or anything to keep it casual. My teammates were smirking up at me and I was like 'Guys, not now!'"
A transfer student from the University of Memphis, Root began her career as a Friar in a stellar sophomore season, starting in all of PC's 33 matches. At the end of her first season, she led the team in kills (416), aces (36), and was third on the team in digs (258). The MVP of the 2018 Friar Classic, Root was named to the All-Big East Second Team, which at the time made her the first Friar since 2001 to earn a Big East Award in volleyball.
Her first season as a Friar holds not only some of the most memorable playing moments in her career (her first weekend of Big East play included an upset against both Georgetown University and Villanova University and personal career highs), but was also pivotal in rediscovering her love for the game.
"The best decision I ever made personally was to transfer here. Being able to get two degrees and also re-find my love for volleyball after transferring was really everything I could have asked for and more," said the Kansas native. The ultimate highlights of her career as a Friar are all of the memories she has with the team, hanging out in the locker room and on their road trips.
However, despite her immediate success as a Friar and the success that would follow, Root credits her teammates for having the biggest impact on her career and experience at the College.
"After I got [the 1,000th kill], all of my teammates were posting on social media and I was like, 'Guys, this wouldn't be without you because I can't hit the ball without you. This is all you, I just have to swing.' We are really close as a team. This has probably been the closest team that I have been a part of," admitted Root. "We are more than willing to work hard for each other."
And, despite their overall 5-18 record going into the second half of their season, Root believes it is the team's closeness and hardworking mentality that will allow them to have a winning record for the final stretch of the season.
"Our record hasn't necessarily shown all of the work and talent that we have on the team," Root said before stating that despite the team's losing record, they are winning more sets than ever this season and only suffered a two-point deficit loss to the ninth team in the country. "We come into the gym every single day and don't let the losses get us down. We continue to work incredibly hard and have fun playing together."
Vowing that the team is ready to do whatever it takes to have a winning second half of their season, Root said, "I think we just need to continue to keep the same mentality of working hard and keeping up the fight. We can upset some teams and upset their seasons."
Individually, Root would really like to see the team capture some Big East wins that she feels they deserve after all of the team's hard work thus far. "We're obviously tired of losing but it's not [as if] we are going to give up. I would like to see some of that translate into some wins."
More focused on what the team is doing as a whole in comparison to her own personal goals and achievements, Root said she is "pretty happy" with her 1,000th kill achievement. "It was pretty cool," she concluded.