Featured Friar: Abby Kiernan '21
by The Cowl Editor on March 18, 2021
---
Features
---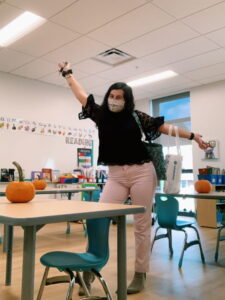 by Kyle Burgess '21
News Co-Editor
As the world acknowledges the one-year anniversary of a life in lockdown due to the COVID-19 pandemic, many have considered the past 12 months as a time for isolation and removal from group settings to ensure the safety of others. However, social-distancing measures have not prevented many members of the Providence College community from continuing to make impacts on the lives of others around them. Such is the case for Abby Kiernan '21, who strives to make a positive impact both on the children she educates as a student teacher and on her residents as head resident assistant of Meagher Hall.
Kiernan's path to PC began when she was in high school in Brockton, MA. As a member of her school's choir, she became friendly with the choir director, a PC alumnus, who suggested that Friartown would be a perfect fit for her. "My freshman year, [my] choir director said to me, 'You are definitely a future Friar,'" Kiernan explained. "As senior year approached, I decided to apply to Providence because I knew how excited Mr. Cunningham would be to write a recommendation." One campus tour on accepted students' day was all it took to convince Kiernan that her choir director was right all along.
In the years since her first visit to PC, Kiernan has kept herself busy between her involvement in the Office of Residence Life and student teaching. In particular, the challenges that COVID-19 restrictions have presented for resident assistants on campus has been a real learning curve. "Everything I learned last year about being an RA I had to relearn during the pandemic in a more demanding and higher leadership position as an HRA," she said. "Not only do I support the community on my floor, but also amongst my staff and the entire Residence Life staff. Because of the many COVID-19 guidelines and policies at Providence College this year, I have had to learn many different ways to build community but also to support my residents in these difficult times."
Despite this, Kiernan embraced her new role with open arms and feels that her student teaching background has certainly helped her adjust. "Because of my teaching background, I am usually pretty good with names and love to stop and chat in the hallway. Being there for others and filling others' buckets are what makes my heart happy!"
Kiernan is also thankful for the opportunity to attain her dream of becoming a teacher despite the new challenging classroom environments created by the pandemic. Following in her mother's footsteps, becoming a teacher has been Kiernan's goal since she was young. She believes that teaching in person and virtually for students at school while studying remotely has demonstrated the importance of being resilient and being able to think on her feet. "Not only have I been dealing with being a college senior during a pandemic, but I have also been supporting a diverse group of elementary-age students with many different needs during this time. Student teaching is a time for me to learn how to take over and manage a classroom with the help of my supervisor and cooperating teacher. This experience has been unique in the fact that all of us are learning how to teach during the pandemic."
Looking ahead beyond graduation in May, Kiernan will work as a graduate assistant while pursuing a master's degree in urban teaching. She hopes to eventually return to her hometown to work within the Brockton public school system as a teacher and potentially work in Boston afterwards. No matter where Kiernan's career takes her, she will always be thankful for the opportunity to change the lives of others while at PC, even from six feet away.