Featured Friar: Alex Richards '21
by The Cowl Editor on February 4, 2021
---
Features
---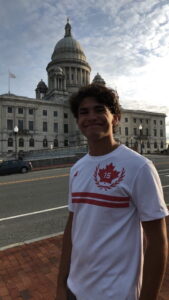 by Max Waite '21
News Staff
For Alex Richards '21, attending Providence College runs in the family. Son to Derek Richards '92 and brother to Morgan Richards '19,'21G, Richards carries on his family legacy as a marketing major and writing minor.
Originally from Georgetown, MA, Richards attended St. John's Preparatory School in Danvers, MA. He was an active member of the St. John's community. He was a member of the football team, played the saxophone in the school band, and served as president of Amnesty International, a non-government human rights organization. When it came to the college application process, PC was always at the top of his list.
"I chose Providence College because of my family's history and knew that I would be rewarded with a one-of-a-kind college experience. I loved the atmosphere and felt that it would be a perfect fit for me," said Richards. 
Arriving at PC, Richards established a large circle of close friends through his involvement in and out of the classroom. One of his fondest memories came from his freshman year Introduction to Literature class with Professor E.C. Osondu, as the class enhanced his passion for writing and prompted him to declare a writing minor.
"The short stories that we read in Osondu's class were really inspiring for me to start writing my own stories," said Richards." I developed a great interest in the composition of a unique story and have tried my best to reflect my own style in everything that I write."
Additionally, Richards has been a part of several intramural sports teams, including hockey, football, and frisbee. Though he has not won a coveted intramural champion t-shirt, he hopes to chase that dream in his final semester as a competitive badminton player. He said, "I feel like it's everyone's goal at PC to win an intramural champion shirt. I'd love to add that to my Providence College experience, as it would serve as a great accomplishment during my past four years."
During his freshman year, Richards was a part of the club frisbee team. He had played throughout high school, and wanted to take his skills to the next level. 
While Richards did not stick with frisbee, he took his talents to the WDOM 91.3 FM radio booth. "WDOM is a great creative outlet for my friends and I to share our interests for the Providence College community to hear. I've loved music all my life, and have an extensive background and taste in everything that I listen to," he said. 
As a business student, Richards has thrived in all of his marketing courses with his friendly and extroverted personality. He has expressed a great interest and dedication toward his studies, and his marketing major has provided him with a lot of great opportunities to explore after graduation. 
Currently, Richards works remotely from school as a recruiter at Sevenstep RPO, a business that works towards developing talent management and recruitment strategies.
"My job has given me a great introspective view on the interviewing process and an excellent chance for me to work during the school year," noted Richards. "It's also been great practice for me in how to communicate within a professional environment."
As his four years at PC come to a close, there are a lot of things that he will miss and cherish. "I'm really going to miss the liberal arts aspect of my education. I was able to take a lot of different classes that interested me with a wide variety of subject matter," Richards stated. 
"I really enjoyed my [Development of] Western Civilization experience. I took the Magic and Mysticism Civ colloquium with Professor Johnathon Wales, and I thoroughly enjoyed my experience learning about esotericism, which is something that I never imagined I'd be able to learn about in a classroom."
 Some of his favorite memories come from spending time with his friends and housemates as they conclude their final year together, as well as Late Night Madness and the spring concerts. While Richards is concluding his undergraduate experience at PC, he has applied to the 4+1 MBA program, where he is hoping to continue his education at PC next fall.
Connecting and Networking through an Online Network: Providence College Holds Virtual Career Expo
by Kyle Burgess on October 29, 2020
---
Campus
---
By: Max Waite '21
News Staff
This past Wednesday, Oct. 21, the Providence College Career Expo was held virtually for the PC community. Over 450 students attended the redesigned event, where they were given the option to sign up for one-on-one or group sessions on the Handshake platform.
The Career Expo has always been a tremendous opportunity for students, not only to expand their networks, but also to gain valuable practice in communicating with business professionals. Given the COVID-19 pandemic, the entire event had to be moved to a virtual format in order to comply with social distancing guidelines. Despite this, students were still engaged with and intrigued by each guest speaker.
Prior to the event, students were given the opportunity to participate in the "Expo Crunch" on Oct. 13-15 from 1-5 p.m. As part of this event, students could elect to receive extensive feedback on their resumes from employer partners of a student's choosing. Another set of eyes is always helpful when reviewing resumes, for the advice provided from someone in a field you are interested in could enhance your brand image within the working world.
Dylan Clune '21 appreciated the help he received on his resume, stating, "It was awesome to receive feedback on how to improve my resume in order for it to stand out." He continued, saying, "It was great to experience the effort and care someone was willing to put in to help me out to make my resume even better."
Given the virtual format, it was likely more difficult to ask questions within sessions. Originally,  students could have the opportunity to have a brief one-on-one conversation with an employer and ask them questions about their line of work and their company. Within virtual group sessions, however, it could be more difficult to stand out amongst other attendees of a session, and students may have felt awkward asking questions or participating in conversations with large numbers of attendees in a particular session. Regardless, students received great preparation to take with them for future interactions within a professional environment.
Cam Offner '21 stated, "I attended 3 sessions, all widely ranging in the number of attendees. I thoroughly enjoyed the Career Expo, but sometimes felt that it was difficult for some students to ask questions to employers. I truly feel that I received all the information that I needed in order to make the most out of the experience, as well as enhance my presence within the working world."
A crucial component of the Career Expo, regardless of whether the event is virtual or not, is preparation. All students were strongly encouraged to research each of the industries and companies that they were interested in, even if they had participated in previous events of this kind. Through research, one could stand out and impress employers by showing their dedication and motivation. Alex Richards '21 said, "I thoroughly researched every employer in attendance. The Expo is always a great opportunity to get your foot in the door and expand your network. There are a lot of opportunities to stand out at the Expo, and I strongly felt that I did my part to make the most out of the experience." As part of the preparation for the Career Expo, students were also given the opportunity to attend the Career Development & What Employers Are Looking For Webinar on Thursday, Oct. 15.