Wheeler and Coffin Set Pace for Friars Track and Field
by Joshua Lopes on April 15, 2021
---
Athlete of the Week
---
Runners Excel in Championship Races
By Joseph Quirk '23 and Cam Smith '21
Sports Staff and Sports Co-Editor
Last month, two Providence College athletes took their talents to the NCAA championships. Abbey Wheeler '20GS finished fifth in the 5,000-meter at the NCAA Indoor Track and Field Championships. Maria Coffin '21 placed 99th out of 253 runners at the NCAA Cross Country Championships. The Cowl sat down with each runner to reflect on their NCAA experiences, the challenges of racing in the COVID-19 pandemic, and their goals for the future.
Abbey Wheeler '20GS:
During her illustrious career at PC, Abbey Wheeler '20GS has been one of the most consistently dominant athletes on campus. Wheeler, recently named the United States Track and Field and Cross Country Coaches Association 2021 Women's Track Athlete of the Year, recently finished fifth at the NCAA Indoor Track and Field Championships for the 5,000-meter race.
The fifth place finish earned Wheeler an All-American nod, her third in her PC career. The championships took place in Fayetteville, AR, and Wheeler described the experience as both "wonderful" and "different" from other meets she had been to  because of COVID-19 protocols. 
"It's always so exciting to be at a meet where you're truly among the best of the best," Wheeler said. "That's always a bit nerve-racking, but also exciting where you get to test yourself in a field where there are no soft spots."
One would imagine that such a race would stir up a slew of emotions, but Wheeler kept herself composed, despite how difficult she said it could be. That would be needed, as she described the race itself as an "odd run" where the pack paced weirdly and stayed together for a lot of the race.
"It was really difficult to remain comfortable and composed with all those weird pacing things going on," Wheeler said. She added that "with everyone getting a little aggressive with pacing, everyone was pushing and in your head you're just trying to stay in it until the race actually gets going." Despite it being easy to lose focus and composure, Wheeler was able to hang on for a strong finish, passing multiple runners in the final lap when the pack finally began to split.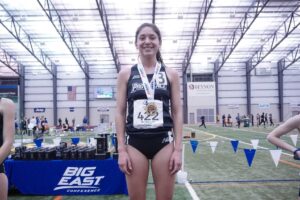 This was Wheeler's first appearance at the indoor track championships. She had previously competed in the outdoor championships and had qualified for the indoor race last year; however, it was unfortunately canceled. She said that the finish felt like a "long time coming," especially because she felt ready to make this breakthrough at last year's event before its cancellation.
When comparing it to previous 5,000-meter races she had run, she called it her "best performance at the national level. I definitely leveled up a bit there," Wheeler proudly said. "My last one I was second team All-American, so this was the first time I was first team All-American, so that was super exciting." She also pointed to a major difference between the indoor and outdoor versions of the 5,000-meter, citing that the indoor race only features 16 runners while the outdoor race features 24.
Following nationals, Wheeler proceeded to again finish fifth overall at the Raleigh Relays, one of the first races of the spring track season. Her finishing time of 15:46.87, as well as previous years' performances, should be enough to qualify her for the NCAA Outdoor Track and Field First Round in Jacksonville, FL on May 27-29.
When asked about the meet, the humble Wheeler mentioned her excitement about her time and possible qualification, before expressing a lot of happiness for her teammates who she also thinks could qualify following their performances. "It was nice to get a bunch of my other teammates to get times that can be competitive to qualify for that as well," stated Wheeler. "That was pretty much the goal of the meet."
Wheeler made sure to give credit to her coaches and teammates for keeping each other "grounded" throughout the season, especially with the challenges the COVID-19 pandemic held over both the school and the track season. This was especially important with a short season and a hard winter, making it difficult to stay ready and having less chances to qualify.
When reflecting back on her racing career here at PC, Wheeler noted something interesting. Aside from all the other accomplishments she has, one of her proudest moments actually came from overcoming adversity at a regional meet her junior season. "I was in the 5k and I wasn't in particularly fantastic shape, but I was racing to get a spot in outdoor nationals," she started. "And someone stepped on my shoe early on in the race and so I was running with my shoe kinda off. In the last mile I just kicked it off and I was running with only one shoe."
She said in those kinds of moments it is easy to give up on yourself, but vocal support from her teammates kept her focused and pushed her forward. She ended the race with a qualifying time, and while she said it was not her best race, overcoming that adversity made her really feel that she belonged competing at this level.
As for her goals for the remainder of the season, Wheeler is "just trying to run really fast, make the championship season, and make outdoor nationals. And if I can run fast there, that would be great."
Maria Coffin '21:
In October 2020, Maria Coffin '21 finishing in the top-100 at the NCAA Championships in March 2021 would have seemed improbable. After a summer of hard training, Coffin suffered a femoral stress reaction in October, which effectively shut down her training for the foreseeable future. When she was finally able to ramp back up her training in January 2021, the cross country schedule remained murky as COVID-19 regulations stayed in flux.
Nevertheless, Coffin persevered. Coming into her trip to nationals, she had just raced once, in the Big East Championships. Her performance there booked her a ticket to Stillwater, OK to compete with the best cross country runners in the nation.
The massive field of 253 runners, and a distinctly challenging course, made the event a grueling one for all parties involved. "It was a very difficult course," said Coffin. "Super windy, super hilly. I'd definitely say it's the hardest one I've run in my career."
Coffin's plan going into the race was to stay middle of the pack for the first half of the event, explaining that "in a course like that you can't really go out too quick, so I was trying to be conservative, stay in the middle, and then do most of my damage in the last half of the race."
Coffin did just that, passing 28 runners in the final 3,000 meters of the race. "When I finished, I really had no idea where I was," explained Coffin. "I was hoping I had gotten in the top 100 and luckily I just made that."
This was not Coffin's first trip to the biggest stage in the sport. In the 2017-2018 cross country season, her entire team qualified for the event, allowing her to participate in nationals in just her freshman year. That time around, Coffin placed 245th.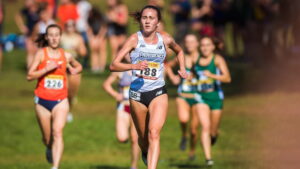 "That was definitely a tough race for me as a freshman," said Coffin. "I definitely did not do nearly as well [as this time]." Indeed, three years later, Coffin shaved off over a minute on her time, vaulting her up 146 spots. "It was cool to come back and really see that improvement," she added.
 As much as Coffin was thrilled to be able to finish top-100 at nationals, she also lamented the fact that her team could not be there with her. It was always going to be an uphill battle for the team, as the Big East Championship was the only time they could all compete together as a squad. "We have such a young team, it was pretty difficult for the freshmen without much race experience to jump right into the Big East Conference meet," said Coffin. "They still did really well there considering that was the first cross country race of their collegiate careers…I think that will help us next year having a few races under our belt."
 Coffin, a senior who will be returning as a graduate student next year, will get the chance to again lead her team in a season that will hopefully resemble a normal one. She has high hopes for a squad that she says will return more experienced and more confident. Coffin's goals: a Big East championship, an NCAA regional victory, and a whole team appearance at nationals.
For Coffin herself, "[I want] to improve upon my place and try to get around that All-American top-40 status at nationals." With a full slate of races next season, and an injury far in the rearview mirror, Coffin has what it takes to do just that.
Shammgod '15 Shaping Future NBA Star
by The Cowl Editor on October 4, 2020
---
Athlete of the Week
---
Former Friar Flourishes in New Role with Dallas
by Thomas Zinzarella '21
Sports Staff
It has been over 20 years since God Shammgod '15 donned the Friar black and white on a basketball court, yet he continues to carry lessons learned in Friartown with him in his career as the player development coach for the Dallas Mavericks. Indeed, Shammgod plays an integral part in the development of players not only on the Mavericks, but around the NBA as well.
To see where it all began, the clock must be turned back to 1997. The Providence College Men's Basketball Team, led by head coach Pete Gillen, was en route to the program's fourth-ever Elite Eight appearance. The team had a core of players that featured a shifty point guard from New York City named God Shammgod. It was in the Elite Eight game against the eventual champion, the University of Arizona Wildcats, that Shammgod would make his name known nationwide. Shammgod, famous for his exceptional ball handling skills, dribbled the ball towards the baseline from the wing. He then moved his body in the other direction while simultaneously pulling the ball back in towards the paint. This move would be coined, "The Shammgod."
Shammgod elected to forgo his final two years at PC to take his talents to the NBA. He was drafted in the second round by the Washington Wizards and played for a few seasons before moving on to play overseas. After his playing career ended, his first order of business was to finish his undergraduate studies. Shammgod re-enrolled at PC in 2012 and started working on Ed Cooley's staff. Cooley had just been named head coach of the men's basketball team in 2011. Shammgod, at the time, was uncertain as to what he wanted to pursue following his NBA career. His time in Friartown pointed him in the direction of coaching. "The way Coach Cooley and his staff coaches…they're all hands-on coaches and hard workers," Shammgod stated. "Ed Cooley is a great coach, motivator, and innovator for the sport. He gets the best out of his players."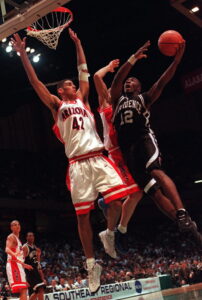 During his time as a coach under Cooley, Shammgod played an important role in the development of some brilliant Friar point guards, including Bryce Cotton '14, Kris Dunn '16, and Kyron Cartwright '18. Shammgod explains, "Their success is a testament to all of their hard work and what they put in… [That's what will happen] if you're willing to listen and to grow as a person and a player." He pointed to each of the player's successes in Friartown, but also to their successes in the professional leagues as well. Whether it was Cotton winning MVP awards in Australia or Dunn excelling with the Chicago Bulls, Shammgod was sure to recognize the talents of the Friar family. 
Though he now works at the professional level, Shammgod still recalls the passion and pride that comes with being a Friar. "The energy from the fans makes people play a certain way and with pride," he said. "PC is the biggest show in town. You have to play with a sense of urgency and pride."
 In his current job with the Mavericks, Shammgod coaches some of the best young talent in the world. He works with stars such as Kristaps Porziņģis and Luka Dončić, perhaps one of the best international duos to ever grace an NBA court. Dončić won the NBA Rookie of the Year Award in 2019, was named to the All-Star team in 2020, and with his recent play in the NBA bubble, looks to be an MVP candidate for years to come. "I feel blessed and honored," said Shammgod, "for kids to listen and take advice from me no matter what I have done in my career…I take a lot of pride in that…to see dreams come true…knowing all of the hard work they put in, for me it is wonderful."
 Although he is currently on an NBA staff, Shammgod has worked with players on all levels of basketball. He recalled working with a young Kobe Bryant when they played on the same Amateur Athletic Union (AAU) team for a summer in high school. Bryant's dad actually approached Shammgod to ask him to help his son work on his dribbling skills. Shammgod and Bryant became friends and remained so well after. When asked about Bryant, Shammgod reflected fondly on their relationship. He talked about the attitude that many referred to as the "Mamba Mentality." "[Bryant] said one day he would be better than Jordan," Shammgod recalled. "And he believed it. Even if nobody else did. We had a friendship because we had a certain bond about work ethic."
 Another major influence on Shammgod was the late-great John Thompson '64, a legendary collegiate coach and PC basketball star. Thompson and Shammgod connected through their love of hoops and passion for coaching. Thompson made sure to instill in Shammgod the idea that there was no one way to coach, that there was no perfect blueprint that you could easily follow. Shammgod took this advice to heart.
These days, everybody wants to learn "The Shammgod." Shammgod gets asked about the eponym everywhere he goes. Though he is perhaps most famous for this specific move, Shammgod refuses to let it define him and continues to strive to achieve even more than he has already. He hopes to one day be the general manager of an NBA team. "I keep studying and working hard, developing…my foundation is strong," said Shammgod. "I come from a great tradition, a foundation of family and sports at PC…I don't see how I can lose."
A Story of Resiliance: Keasel Broome '14
by The Cowl Editor on September 17, 2020
---
Athlete of the Week
---
Former PC Goalkeeper Talks Soccer Career and New Interests
by Jack Belanger '21
Sports Co-Editor
When we see athletes celebrate after winning a championship, it shows us what it looks like to reach the pinnacle of sports. We witness these athletes in their finest moments. What we miss are the struggles and challenges they must endure just to step on the field. For every MVP season, there is a story behind the athlete. Fans hear about the transformation the player makes on the field to become the best at their craft, but what often goes unnoticed are the trials they had to face behind the scenes. In some ways, the trials make those successful seasons more remarkable.
In 2014, the Providence College Men's Soccer Team had their best season in program history. Not only did the team win its first-ever Big East championship, they also made a run in the national tournament where they made it to the College Cup Semifinal. During the Semifinal, they pushed the University of California, Los Angeles into double overtime but fell short of making the championship, losing 2-3. It was a record-setting year for the team, in large part thanks to the man in the net, Keasel Broome '14. Broome had his best season with the Friars that year, posting a career-best 1.10 goals against average to go along with eight shutouts. He ended the season being named to the Big East All-Tournament Team and getting picked by the San Jose Earthquakes in the third round of the MLS Draft, not to mention leaving PC with a degree in hand.
The fans who watched Broome in person during the late season run saw one of the best goalkeepers in college soccer doing his job and giving his team a chance to win every game. What many missed is Broome's journey to become the starting goalkeeper and the challenges he faced during his college career.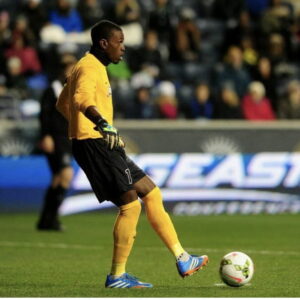 Broome came to PC back in 2010 when the Friars still played their games on the grass field outside of Guzman Hall. The two schools who recruited him were PC and Penn State University, but once Broome visited campus, it was clear PC was where he would continue his career.
"I felt right at home," Broome said. "The coaches made me feel really good. I loved the campus and how it was small."
Despite being the No. 2 ranked recruit out of Delaware with an opportunity to play right away, Broome did not see any game time during his first two years at PC, taking a redshirt year to get an extra year of eligibility. Even though he did not get to play in a match for the 2010 and 2011 seasons, Broome committed himself to work every day during the school year and summer to get ready for the chance to get into the game.
Going into the 2012 season, Broome was primed for the starting goalkeeper spot. Unfortunately, he separated his shoulder during a preseason game, causing him to miss the first game of the season. Just as he worked himself back into the starting spot, Broome pulled his quad in another game. He once again rehabbed and worked back into the starting spot. Broome managed to play in 14 games that season, though he had a 1.42 goals against average and the team only posted a 3-8-2 record in the games he appeared in. Still, Broome had two more seasons at PC and was going to keep improving. It looked like all his hard work would pay off.
That was before he got the text.
In December of 2012, Broome was in Las Vegas with family when he got the text that his father was diagnosed with stage IV pancreatic cancer that had spread to his liver. He immediately locked himself in the bathroom and started to cry. Millions of questions raced through his head.
"Never in a million years did I think someone close to me would be affected by cancer. I didn't know how to react. I didn't know what to do next."
Over the course of the next semester he would split his time between living at PC and at home. During the week, he took classes and worked out at PC, then drove five hours home to Delaware on the weekends to spend time with his father. Broome's schedule was so packed that he was on "auto-pilot" up until spring break.
"There came a point in time I couldn't sleep anymore. There was too much going on in my head; anger, frustration. I couldn't sleep naturally."
While it was tough to see his father sick, Broome learned to be his dad's biggest support system, just like his dad had been for him.
"It wasn't easy to watch someone you love struggle, but the thing I kept reminding myself was that if he wasn't complaining, I'm not complaining."
Getting to spring break was tough for Broome, who was trying to keep up with his normal schedule as a student-athlete while also taking care of his father. Fortunately, around the break, it was announced that the 2013 Big East Tournament was moved to Philadelphia, a short drive from Broome's home in Delaware.
Broome's father had only once seen his son in action for the Friars, and playing near home would have been a special moment for both of them. Broome and his teammates' new goal was to get to the semifinals that season to give Broome's father one last chance to see him play. 
Sadly that chance never came. In the final weeks of the semester, Broome's father's health took a turn for the worse. The cancer had spread aggressively and his blood sugar began to drop. Broome's family began to make phone calls to friends, family, and former co-workers to have them say their final good-byes. Soon, the hospital room became so packed that his father's roommate had to be moved in order to accommodate the amount of visitors. Broome's father passed away shortly after with Broome right at his side.
While Broome was devastated about losing someone so close to him, he focused on the special moments he had with his dad and appreciated the time they spent together. That season, the Friars improved to 12 wins, with Broome starting in 22 matches despite dealing with shoulder injuries. The Friars managed to make it to Philadelphia in the tournament, and Broome's family made sure to pack the stands. That night Broome played one of his best games, leading PC to a 1-0 win over Georgetown University in penalty kicks to head to the finals. From the moment he stepped onto the field, he knew that it was going to be a special night.
"That night I felt him [my dad] with me. I felt his presence next to me protecting the net."
After his breakout season, Broome continued to push himself. He spent more time at PC during the summer to get better. Everything came together for him and the Friars in 2014. It was a monumental season that changed the direction of the College's soccer program.
After getting drafted, Broome bounced around several American soccer teams in hopes of eventually making it to the MLS. Even though he was drafted by San Jose, Broome made his professional debut for the Harrisburg City Islanders in 2016. Unfortunately, injuries began to pile up and he struggled to stick with any team. His last appearance was in 2017 in a game for the Pittsburgh Riverhounds SC in the United Soccer League.
In June of 2015, Broome made his debut for the Barbados National Team, shutting out Aruba in a World Cup qualifying match. Since his father was of Barbadian heritage, Broome was able to apply for citizenship and represent his family on the big stage. Playing for a national team gave him the opportunity to travel the world and play against some of the greatest soccer players. One of his favorite memories playing for the team was traveling to El Salvador and playing in front of 40,000 passionate fans.
Now, Broome has a job in sales and continues to coach on the side. His newest endeavor is making his own podcast called "Keepin' It Real w/ Keasel." With each new episode, he shares his life experiences in hopes that his experience can help people get through struggles similar to those he faced. Some of his themes include: dealing with adversity in sports, relationships, picking the right college, and being thankful for the things we have in life.
"Over the past couple years, whenever I got together with my friends I could talk about any topic for hours. My friends told me I should become a motivational speaker or start my own podcast." 
Since he has gotten plenty of positive feedback, Broome is not worried about the direction of where the podcast is heading in the future. His goals may be different from when he was in college, having shifted from running goalkeeper reaction drills to working on building his professional network, but no matter what the goal, Broome has the resilience to tackle any obstacle in his path.
Nick Sailor '17: Soccer, Diversity, Equity, and Inclusion
by The Cowl Editor on March 5, 2020
---
Athlete of the Week
---
Former Soccer Player Returns to Campus
by Jack Belanger '21
Sports Coeditor
Nick Sailor '17 can be associated with a lot of firsts since stepping onto campus back in 2013. He was the first male student to graduate as a women's studies major, co-founded the Black Chalk Corps Council within Teach for America down in Baltimore, and was named Providence College's first director of training and education for diversity, equity, and inclusion back in October, a new position created by the Office of Institutional Diversity, Equity and Inclusion and the athletics department to help promote these ideals within athletics but across campus.
And ironically, had another school not been recruiting him to play soccer, Sailor may not have found the College at all.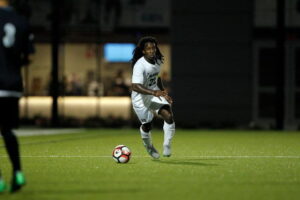 Sailor and his father came to Providence to meet with a coach who worked at a different school within the city. The two arrived early and Sailor's father suggested they visit PC to kill some time. Immediately, Sailor fell in love with the campus, though it was not until later in his recruitment process that he got the chance to consider PC.
"As the [recruiting] process got going they reached out to me, because they were interested in me as a soccer player," Sailor said. "And I told them 'I actually really liked this school from a while ago.' It all came together where I fell in love with the school first then the soccer part came second."
For the next four years, Sailor showed what it meant to be true student-athlete, finding great success on and off the field. He played four seasons for the men's soccer team and was named co-captain during his senior year. While he only scored three goals in his career, it was the last one that came at one of the most important moments in the program's history. It was the second round of the NCAA tournament against the undefeated University of Maryland where the Friars found themselves down 2-4 with just over 20 minutes left in the game.
After the Friars forced a turnover and went on the attack, Sailor found himself with the ball outside the box and ripped a shot from the right that was just out of the Terrapin goalie's reach. The goal closed the gap 4-3 and helped fuel the Friars' comeback. They eventually upset Maryland 5-4. Sailor admitted that it was not until after the game was won that he was able to appreciate the goal.
"If I took a second to think about how crazy the goal was, I think I would have been out of order," Sailor explained. "So, all I was thinking was, 'This can't be my last game,' and I was focused on what I could do next to keep things going."
While Sailor played on some successful teams, what he took away most from his time on the team was the brotherhood they built and connections he continues to keep with former teammates and former coaches.
For as much of an impact he made on the field, Sailor made just as much of one off of it. He served as the President of Student-Athlete Advisory Council, a Friar Foundation mentor, and sang with the Footprints Gospel Choir. Rather than focusing his studies in one area, Sailor double-majored in sociology and women's studies, while also minoring in black studies, fitting for someone who has spent his time after graduating focused on empowering others and striving for inclusivity everywhere he goes.
Upon graduation, Sailor joined Teach for America and moved to Baltimore, where he became a special education math teacher at Walter P. Carter Elementary & Middle School. Not only did he help shape young students, Sailor worked on supporting black educators in the Baltimore area.
"It was a good time for me to be there after graduating. It was good to go to a new place and while it was challenging at times, I was surrounded by many talented young black entrepreneurs and learned from them to grow as a young professional."
In Baltimore, Sailor helped co-found the Black Chalk Corps Council, a group within the Baltimore corps that strived not only to help empower black educators within the classroom but also outside in the community. He pointed out that data shows that black educators go through challenges on a day-to-day basis that other groups do not experience, such as having to be a disciplinarian. Sailor stressed that it is important to support black educators since they only make up 10 percent of all educators, yet they have a great value in public schools.
"The Council gave us the support to help black teachers flourish which, in turn, allows for our students to flourish. And overall that was our goal: to see our students be successful."
After two years in Baltimore, Sailor received a call from PC about a new position that focused on diversity in athletics. It seemed like a perfect fit for him after showing passion in promoting diversity during his time in school. Eventually it was announced on Oct. 25 that Sailor would become the College's first-ever director of training and education for diversity, equity and inclusion, a position that is not very common in colleges across the country.
Since it is such a new position, Sailor says most of his day-to-day work involves what he calls "infrastructure building." Not only does he plan for what the next year will look like, but also set the stage for the position years down the road. While having no predecessor has its challenges, Sailor enjoys how much freedom he has to shape the job to fit the needs and culture of PC.
One of his biggest goals in his new role is to push the value of student-athletes' mental health, something that he brought up during his time as a student-athlete. He also wants to connect with the entire athletic department and push the ideals he has been promoting since day one.
"For me, I want to bring the value of inclusion, diversity, and equity and show how it can be valuable to the different facets of the athletic department."
One of the initiatives Sailor has already created is called "Wisdom Over Waffles." The monthly event gathers the athletic staff into one room to discuss topics of diversity and inclusion in how it relates to sports over chicken and waffles. Sailor is focused on creating consistent events that continue the conversation of diversity rather than just one-time events such as bringing in speakers. He has given presentations to different teams while trying to connect to students as much as he can.
Looking back on his time as a student, Sailor believed the two things that have helped shape his career has been discipline and commitment. When it came to teaching, he believed in the idea of being a light for others and doing everything he had to support students.
"No one had to convince me to work hard. No one had to convince me to get up early and prepare. I knew if I had the passion in something, I could give it everything I had."
This drive and passion that has led Sailor to create change everywhere he has gone. He has been given the tools to have an influential impact at PC for years to come.
College Hockey's Hobey Baker Award Nominees Announced
by The Cowl Editor on February 6, 2020
---
Athlete of the Week
---
Two Friars Nominated for Prestigious Award
by Meaghan Cahill
Sports Co-Editor
In the final stretch of their sophomore season, Providence College Men's Hockey Team players Jack Dugan '22 and Tyce Thompson '22 were announced as nominees for the prestigious Hobey Baker Award, which is given to the top player in college hockey. They were joined by 76 other Division I college hockey players throughout the country.
The Hobey Baker Award follows four criteria when considering the nominees: strength and character, on and off the ice; contribution to the integrity of the team and outstanding skills in all phases of the game; scholastic achievement and sportsmanship; and compliance with all NCAA rules, including being a full-time student in an accredited college or university and completing 50 percent or more of the season.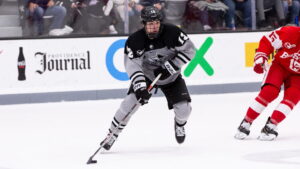 All 78 players who were nominated will go through a three-part selection process. First, NCAA head coaches nominate players from the league in addition to the top three players in the nation. Then, fans have the chance to vote online to narrow down the top 10 candidates. Lastly the Hobey Baker Memorial Award Selection Committee that consists of 29 individuals representing print and electronic sports media, college hockey coaches and officials, and NHL scouts, will vote on their top three candidates and, ultimately, who they think should win the award. Fans are also allowed to provide input by voting during this stage as well. Notable players that have won the Award in recent years include NHL players Johnny Gaudreau, Jack Eichel, Jimmy Vesey, Will Butcher, Adam Gaudette, and Cale Makar.
Dugan, whose goal is to be "the best player in college hockey," currently leads the NCAA in assists (34), points per game (1.78), power-play points (17), and even strength points (24). He also currently leads the league with 41 points over the course of 23 games. In addition, Dugan has an impressive presence on the ice and has been a key player for the Friars all season long, especially since he has spent time transitioning into a more defensive style of play.
On his way to becoming a well-rounded two-way player, the Las Vegas Golden Knights draft pick said, "I've become more of a 200-foot player. Coming in, I was pretty offensive, and now I can play in the last few minutes of a game and be trusted defensively."
Thus far, the numbers have backed his improvement and the efforts he has put into being recognized as the top player in the NCAA. Described as a "dominant player," throughout the course of the season, there have been 14 games where he notched at least two points, five games of at least three points, and three games of four points—the most in the nation.
Despite the fact that he has yet to complete two full seasons of play, head coach Nate Leaman believes that Dugan has a lot going for him, saying, "He's strong on pucks, he's got a good stick, he's got very good vision."
Ranked the best forward in college hockey by the NHL, as well as being listed in their top three for this year's most valuable player, Dugan is believed to be the frontrunner for the Hobey Baker Award. Should he win, he would be the first player in PC history to win, something that he finds to be "very cool."
However, Dugan is not letting his explosive second season cloud his judgement as he looks to what he hopes to be a future in the NHL. And similarly, neither is Thompson, who is listed as the NHL's top breakout player.
After a relatively quiet freshman year due to Leaman's stacked "older team" and desire to allow him to develop and grow, Thompson is experiencing a breakout sophomore season that has led to him being nominated for the Hobey Baker Award.
Currently sitting on 38 points overall, Thompson's 17 goals have him tied for top goalscorer in the country. In the 23 games already played this season, he has scored at least one goal in 15 of them, which leads all NCAA players, and has 13 multi-point games.
Like Dugan, Thompson also is a dominant player on the ice who brings "the energy and the smarts" to the game, according to Leaman. Furthermore, from last season to this season, Leaman also acknowledges that Thompson's overall strength buildup has significantly helped him with having such a great season with the Friars.
In addition to the Hobey Baker nomination, the 2019 New Jersey Devil's draft pick is joined by Dugan and co-captain Michael Callahan '22 in being nominated for the Walter Brown Award, which recognizes the best American-born Division I college hockey players in New England.
The winners of both awards will not be announced until the end of the season during the NCAA tournament.
The New Man in the Net
by The Cowl Editor on October 3, 2019
---
Athlete of the Week
---
Grad Transfer Aviza Finds New Home with Friars
by Jack Belanger '21
As faces came and went on the Providence College Men's Soccer Team, one remained constant: Colin Miller '18RS in net. After receiving numerous awards and accolades, such as the 2018 Big East Preseason Goalkeeper of the Year and 2018 All-Big East Second Team, Miller graduated and signed with Loudoun United FC in the United Soccer League Championship. That left the Friars with one important question for the upcoming 2019 season: Who would take over the goalkeeping duties?
That question was answered quickly as transfer student Austin Aviza '19 GS has followed in Miller's footsteps and has given the Friars another solid season from their goalkeeper so far.
Aviza graduated early from the University of Connecticut after a successful 2018 season where he went 9-3-2 as the starting goalie while also posting a 1.03 goals against average. He was granted a fifth year of eligibility as a graduate transfer by the NCAA and did not wait long to land a new home.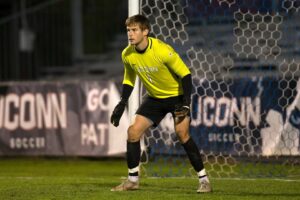 "Providence was really the only team on my radar," Aviza said. "As soon as the NCAA called me to tell me I was eligible for another season, I got into contact with Coach Stewart right away."
After finishing up school in Connecticut, Aviza came to the College for the spring semester and got the chance to practice with his new teammates. Although he was not able to play in games during the spring season due to NCAA eligibility rules regarding transfers, the semester gave Aviza the chance to get acclimated to the campus and his new teammates.
The results for Aviza have been spectacular this season. Through September he has already had six shutouts while posting a 0.70 GAA. After posting back-to-back 1-0 shutouts against Harvard University and Seton Hall University, Aviza was named to the Big East Weekly Honor Roll on Sept. 23, though he was quick to give his teammates credit.
"It is great to be named to the honor roll, but I think it's more of a team award," Aviza clarified. "We have a really good defense and the guys have been playing well."
When it comes to the differences in his experience from UConn, the goalkeeper focused in on two things: the style of play and home games. Aviza noted how PC's play style focuses more on possession and ball control to limit the opponent's opportunities.
As for the home games, Aviza explained how great the atmosphere has been playing at Chapey Field.
"It's really nice to see how many fans come out to support us. They really make it exciting to be playing here."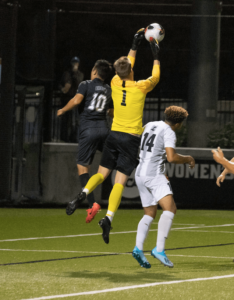 If there was any pressure to fill the big shoes left in goal, Aviza has certainly shown both on the field that he is ready for the challenge, and off the field he has made it a point to focus on his own game.
"Colin Miller was obviously really good, and it is not the easiest thing to follow up a guy like that. All I can do is focus on myself and do my best," said Aviza.
Aviza's path to PC has not been like that of his teammates. While the majority of the team has spent the entirety of their careers in Providence, the Friars will be Aviza's third team as he spent his first two collegiate seasons at Syracuse University before he went on to play for the Huskies. Joining his third team within four years has given him a chance to look at how unique his college career has been.
"I used to have a coach that told us everyone has their own paths in life. It didn't really hit me how different my journey has been until I came to Providence."
As their record stands at 6-3-0, PC is once again in the hunt to grab one of the top spots in the Big East. With the talent that is in front of him, Aviza believes the team has a chance to compete for a conference title and even make it back into the NCAA Tournament for the first time since 2016. The team has shown they can compete with some of the best teams in the country, such as tough one goal losses to No. 5 Georgetown University and No. 15 University of New Hampshire.
It may be his only season in Friartown, but Aviza has shown that he wants to finish his college career out strong by bringing this team deep into the playoffs and maybe even a championship.
Millie Paladino '19 Races to Success
by The Cowl Editor on March 21, 2019
---
Athlete of the Week
---
Paladino has Highest Finish for PC Since 1994
by Meaghan Cahill '20
Sports Coeditor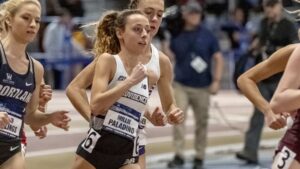 For the first time since 1994, Millie Paladino '19RS became the highest mile finisher from Providence College to place at the NCAA Indoor Track and Field Championships. Placing third in the nation in an event that only 16 people nationwide qualified for, Paladino ran a 4:38.44 mile, a time that also earned her First Team All-America Honors.
Having been told by Head Coach Ray Treacy that she could finish anywhere from eighth to first, Paladino says that she was "really happy and proud" of her accomplishment.
"It means a lot for me to do it for the school because it's one of our highest places in the last couple of years so I think it really puts the team and the program on the map in the NCAA, which is always really good to do," Paladino commented.
Her third place finish concluded a very tactical race in which Paladino reserved her energy by maintaining a solid seventh place position and then pulling ahead to third in the final 100 meters. To Paladino, the race was more mind over matter as she felt she had to prepare for it more mentally than physically.
"For prep…your physical prep is done [during the season]. You have to really work on telling yourself that you're good enough to do this and that you're prepared for this. The whole season has led up to this…I just have to tell myself that it's not worth it to step on the line if you're not confident in what you can do. Otherwise, why do it at all?" said Paladino.
Having transferred to PC from West Virginia University after her sophomore year because she felt that she would not get to be the best runner that she could be if she remained there, Paladino primarily chose to join the Friar family due to the success of Coach Treacy.
"He's the best in the biz!" praised Paladino when talking about Treacy's influence to come to PC. "I never looked back."
In her time with the Friars, Paladino has a number of top-three regular season finishes and has consistently been recognized by earning NCAA First Team All-America Honors. At the Big East level, Paladino recently won her third career Big East title when she was crowned 3,000-meter champion—the first Friar to win the event since 2015. She also set a school record for the 1,000-meter race this season with a time that is also the 12th fastest mark in collegiate history.
Paladino's continued success, especially within this current season, in what she describes as a "day-to-day" sport, has all added up to the U.S. Track and Field and Cross Country Coaches Association naming Paladino the 2019 Northeast Region Female Track Athlete of the Year.
And while Paladino recognizes that running is very much an individual sport, she does not believe she could have had any of her success without her team.
"I can only do so much on my own…I owe the whole world to [the team] honestly," says Paladino. "I think people really underestimate the people you are surrounded by and if I didn't have my teammates to train with throughout the season…I would never have gotten this far."
On the topic of her teammates, Paladino admitted that the cross country team's Big East Championship win her junior year is her favorite memory.
"I still wear my ring," she proudly admitted.
With the winter track season coming to a close, Paladino and the rest of the track teams are gearing up and heading outdoors with the start of the spring season, a season in which Paladino says the only main difference is that things are done outside.
"Mileages stay the same and your focus has to stay the same so your focus does not look that different even though it might," she comments on going from one season to the other.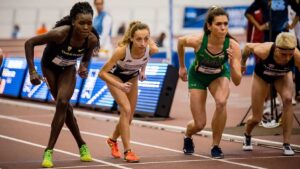 With a goal of finishing out her career at PC with an outdoor track Big East Championship title, Paladino also hopes to make it to Nationals again and just "make the most [of her final season]." And with the end in sight, she hopes to keep running and as she gets more "mature" in her running, she plans to up her distance, hoping to eventually run a marathon.
"But, I think that's so far in the future," she concludes.
Paladino will continue her distance running into the spring season, running both the 1,500 meter race as well as the mile as that is where her "strengths" are.
"Never give in," is how she would encapsulate her running career. "If it's really what you love and it's your dream, keep chasing it because you'll really surprise yourself."
Athlete of the Week: Catarina Rocha
by The Cowl Editor on November 9, 2017
---
Athlete of the Week
---
Athlete of the Week: Catarina Rocha
By: Joe Myko '19
Sports Staff
On Oct. 28, on a brisk day in Kenosha, Wisconsin, Providence College's Men and Women's Cross Country teams were involved in the Big East Cross Country Championships with the men's team finishing in fourth as a collective, while the women's team finished second.
  Catarina Rocha '17G has been competing for Providence College's track and field team since the beginning of her freshman year in 2013. Rocha became the ninth woman in the college's history to obtain the individual Big East title, something the athlete herself confirmed to be her "biggest sporting achievement to date." A gradual improvement, having finished seventh in 2013, second in 2014, and sixth in 2015.
    Rocha said modestly that this win came as a "surprise" to her. The win was all the more impressive because she was unable to compete in the 2016 competition, as she was sidelined with an injury.
  Rocha's achievement was particularly noteworthy as it also had sentimental value, as she is now the second in her family to have won a Big East cross country title, following her father's success for Boston College in 1987. Both of Rocha's parents ran competitively for Boston College, so it is unsurprising to learn that they had a large impact upon her interest and success in running.
Her brother is also on Providence College's track and field team. Somewhat surprisingly, Rocha admitted that it was only after sophomore year of high school, when she had to sacrifice playing soccer to pursue running, in which it became a huge part of her life.
   In terms of pivotal changes to her day-to-day life which may have contributed to her success, Rocha cites the added focus to enjoy her running which she has been gifted since becoming a graduate student as something which helped her to be perfectly prepared for the Big East Cross Country Championships.
        Rocha was also keen to identify the help of her teammates and coaches in giving her a great platform for her recent title win, highlighting the team spirit, particularythe way in which they will "push each other along when someone's having a bad day" as being a key ingredient to success.
   Cross country Head Coach, Ray Treacy, was eager to voice his congratulations for Rocha, whose individual title had a large part to play in the college's success: "I am especially proud of Catarina for winning the individual title, she has been a standout runner for us."
Looking forward to the next generation, Rocha was happy to offer some advice to the current and future runners of Providence College. Firstly, Rocha recommended that they stay "patient" in successfully balancing academics and training, as she freely admitted she found the step-up between high school and college to be a major one.
Secondly, she was keen to emphasize to upcoming athletes to enjoy their undergraduate years and to savor the key moments,  as the reality is, "You're never going to be able to be on a team with ten of your best friends again after you leave."
  In terms of her own future, Rocha is waiting to see what the future holds in terms of competitive running, as she will undoubtedly have a lot of exciting opportunities inside and outside the world of athletics. However, she is confident that running will "always be part of her life" in some regard, as will Providence College, going on to emphasize that "There's no place like Friartown!"
Athlete of the Week: Kyron Cartwright
by The Cowl Editor on March 2, 2017
---
Sports
---
by Jeff Williams '17
After a tough overtime loss to Seton Hall on Feb. 8, the Providence College Men's Basketball Team had lost four of their last five games and were 4-9 after a great 10-2 start to the season. At 14-11 overall and 4-8 in the Big East, the future looked bleak for the Friar men. Since then however, PC has gone on an absolute tear, winning their last five games versus Butler, Xavier, Creighton, Marquette, and DePaul.
Kyron Cartwright '18 and his teammates have risen to the occasion as the Friar engine roared to life. As the straw that stirs the drink, the floor general is a no-brainer for "Athlete of the Week." He has done an exceptional job of stepping up as a leader after the departures of Kris Dunn '16 and Ben Bentil '18 to the NBA, an accomplishment he credits to having "confidence, [and] getting other people to believe in you."
Cartwright is the school's first ever sports media major, a discipline he is very enthusiastic about. "Hopefully, one day I can be a sports broadcaster. These are great people to be around." While he enjoys being here in Providence, the proud California native does not enjoy Rhode Island drivers, whom he describes as "crazy."
Despite the seemingly daunting odds, Cartwright and the team never gave up. As he reiterates, "We just had to focus and bounce back." On Alumni & Family Weekend, Providence knocked off No. 22 Butler at the Dunkin' Donuts Center, 71-65. Cartwright played 37 minutes, scoring 14 points (including two for four from behind the arc) and dishing out seven assists. Four days later, playing host to Xavier, Cartwright led the way with 17 points and five assists to help mow down the Musketeers, 75-63.
The Friars traveled to Omaha on Feb. 22 to visit the No. 23 Creighton Blue Jays, who beat Providence earlier this year by double digits. The hosts used a 21-1 run to build a steady, consistent lead in the first half, but PC burst out in the second half to get back in the game. Down one point with only a few seconds left, the final play was chaotic. Rodney Bullock '18 and Isaiah Jackson '19RS were both heavily covered underneath. Somehow, Jackson managed to spot Cartwright. "Everybody but one got the ball, and Isaiah did a nice job of finding me…I hoped it would go in, and it did." Cartwright proceeded to knock down a very long three pointer to nab a 68-66 victory.
On Saturday, unseasonably warm temperatures caused the Dunk floor to be dangerously wet and slippery for the game against Marquette. Nonetheless, Cartwright steadily directed his team to a key 73-69 victory, notching 16 points and eight assists. Despite the difficulty that he and his teammates had in staying upright, he aptly points out that, "Both teams had to play with that situation." Three nights later, he recorded 14 and six on senior night for Casey Woodring '17. "It was nice to get the win for him," Cartwright added. The Friars proceeded to cruise by DePaul, 73-64 on Tuesday night.
It's safe to say that Cartwright has had a breakout year, averaging 11.4 points per game, knocking down nearly 40 percent of his attempts from three point land, and doling out 6.8 assists a night, which is good for first in the Big East and fourth in the country. When pressed about his play, Cartwright is humble, "It's an honor to be recognized as one of the best." The Friars next play at St. John's on Saturday, March 4, and will hope to make a run in the Big East Tournament at Madison Square Garden, which is March 8-11. Cartwright readily acknowledged that Saturday's game will be a "classic Big East battle," and will not think past them; "We're just focused on St. John's right now," said Cartwright. With a five game winning streak and the play of Cartwright, the sky is the limit for the Friars.
Athlete of the Week: Anthony Florentino '17
by The Cowl Editor on February 16, 2017
---
Sports
---
By Meaghan Cahill '20
Last weekend was a weekend of firsts for Providence College Men's Ice Hockey player Anthony Florentino '17. He scored his first ever career hat trick during the Friar's 5-3 win over Univeristy of Maine. When asked what that feeling must have been like, Florentino stated, "It's cool to say I've finally scored a hat trick in my hockey career…15-17 years of playing and it's my first one."
It was this that earned him his first Hockey East weekly nod as he was named Hockey East Defensive Player of the Week. Florentino is only the second Friar defenseman to score a hat trick throughout Hockey East this season and the seventh to do so in the past three seasons. Before the UMaine game, the last Friar to score a hat trick was Jake Walman '18 on October 30, 2015 against Colgate.
He was very humbled when speaking about this honor, giving all of the credit to his teammates. "Realistically, that wouldn't have happened without my teammates. It came from the game I had a hat trick in, but if you look at the three goals it was all generated by forwards…they made everything happen."
As a senior on the team, Florentino has quite the career under his belt, including a National Championship win and two appearances in Fenway Park's "Frozen Fenway." As a Boston native, Florentino said the past experience of playing in America's beloved ballpark, even though the game resulted in a loss, was "awesome." It was also a game that held meaning for him as a player, "My brother's boot camp went out for the Coast Guard, and it was the last game he saw me play, as a Friar, so it was a pretty special experience being at Fenway."
With this being his last season as a Friar, Florentino is setting his goals high and expecting nothing less than perfection as the season enters its final four games before the Hockey East tournament. When questioned about his goals for his final season, there was no hesitation in his voice, as he quickly stated, "I want another National Championship." He went on to say, "Obviously that's the ultimate goal. Gotta win Hockey East first though. End result for my senior year: going out on top." He does not want the Championship just for himself but "for the school, the team, the city even." Florentino was on the team that won that National Championship in 2015 against Boston University, a memory that he says is his favorite as a Friar. Reflecting back on the game, Florentino says, "That team was pretty special…[winning] was an amazing experience."
Florentino, who was drafted during the fifth round of the NHL Draft by the Buffalo Sabres in 2013, has no regrets when it comes to his career at Providence College. "Not a thing," was his answer when asked if there was anything he would have done differently, "Best three years of my life so far."
However, the season is not over yet. Ranked fifth overall in Hockey East and 10th overall in the country with a nine game win streak, the men's hockey team will have back-to-back away games against Notre Dame (ranked third in Hockey East and 15th in the country) Feb. 17-18 before they come back to Massachusetts  to face off with UMass Amherst at Amherst on Feb. 24. The Friars will conclude their regular season in Schneider Arena on Feb. 25 against UMass Amherst.
"Focus on the games we have to play," Florentino states, regarding what needs to be worked on going into the final few games and the tournament. "We started off pretty slow, a little up and down, but lately we've been putting it all together, a five-man effort out there. The younger guys are stepping up and everyone is coming together as one and playing a complete game."
When asked if he had any last words he would like to say before the interview concluded, Florentino acknowledged the fans who have always supported the team and with a big smile said, "Go Friars!"