Bob Driscoll to Retire as Athletic Director
by npatano on February 10, 2022
---
Friar Sports
---
Steve Napolillo Next in Line
Joseph Quirk '23
Sports Staff
It is the end of an era at Providence College: longtime athletic director Bob Driscoll has announced his retirement in the coming months. Driscoll's tenure in Friartown certainly had its ups-and-downs and was defined by change. At the end of Driscoll's role in leadership at PC, the athletic programs are noticeably improved and better off. His work will have everlasting effects on the athletic program at Providence College.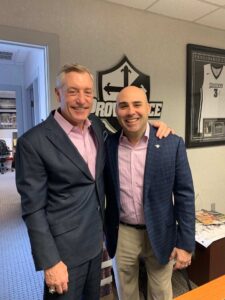 Driscoll was hired back in 2002. At the time, Driscoll was working at the University of California-Berkeley with the dream of one day being an athletic director. He interviewed for the position at UC Berkeley and did not get it. During his retirement announcement press conference, Driscoll told the story about how he ended up as a Friar after not being offered the position at Berkeley. He had heard that the position was open at Providence College, and he begged the headhunter to get him an interview. He ultimately got the job and established a staff that shared the vision of wanting to make the PC Athletics Department one of the best in the country.
Early on in his tenure as A.D., Driscoll made mistakes. He said he was inheriting a college with athletic facilities the quality of a "bad high school." The "big time" programs of the school: basketball and ice hockey, were struggling and not winning to the extent that is now expected of them. As one of his first head coaching hires, Driscoll hired Tim Army to be the head coach of the men's ice hockey team. Army had a long and extensive resume prior to being hired as a head coach for the Friars, which included time spent as an assistant coach with at PC in the 1980s. After leaving Friartown the first time, Army would have experience coaching at the NHL and AHL level, including a three-year stint as head coach of the Portland Pirates in the AHL. Army was hired in 2005 and only lasted six seasons with the Friars, with his highest single-season winning percentage being 0.514 his first season. After that, Army never posted a single-season winning percentage over 0.500. Another bad hire was Keno Davis, who was hired in 2008. Davis was out of town by 2011. Davis was hired after being named the College Basketball Coach of the Year by the Associated Press because of his success as head coach of the men's basketball program at Drake University. Davis went 46-50 during his few seasons in Friartown. When asked about these hires during his retirement press conference, Driscoll said, "Those weren't bad hires. They were good coaches; it just didn't work out here."
The failures of both Tim Army and Keno Davis may have been enough to get Driscoll fired at other schools, but then-president of the College, Rev. Brian Shanley O.P., kept faith in Driscoll. His next two hires, Ed Cooley and Nate Leaman, turned out to be home runs. Cooley brought the men's basketball program back to the NCAA tournament and currently has the Friars at No. 11 in the nation. Leaman has two Frozen Four appearances under his belt, including one national championship in 2015 with the men's ice hockey team. That championship was the first by a men's team in the College's history. During his press conference, Driscoll mentioned how Friartown has been turned into a destination job no one wants to leave. Driscoll affirmed: "I promise you: Ed had the University of Michigan job. I was there. We sat down and talked about it. He wanted to stay here." He also said, "He can go anywhere in the country and chose to stay here."
Driscoll has had several other impacts outside of his coaching hires. Driscoll was responsible for the underground parking garage with tennis courts on top, an idea he said he got from similar structures at Berkeley. He also rebuilt the soccer field and, in the process, relocated the softball field. He has upgraded the fundraising program to provide the different teams here with the amenities top Division 1 programs enjoy, such as the world-class Ruane Friar Development Center and renovations to Schneider Arena. Of course, Driscoll helped lead the Friars through the creation of the new Big East and aided in the building of the conference as it is today.
Driscoll has said he is retiring not only because it feels right but because he cannot provide the longevity that new president Rev. Kenneth Sicard O.P. will need it from him. He also wants to spend more time with his wife. "She has given so much of her energy to me and now it's time I give all my energy to her," said Driscoll. He also noted his competitive spirit and drive, things he picked up playing hockey at Ithaca College, and a desire to build a program and coach young men as the reasons he wanted to be an A.D. Driscoll noted how he had had "life coaches" his whole life, and all he has ever wanted to do was coach and teach other people.
In his press conference, Driscoll thanked his "teammates," identifying them as the reasons for his success. He hinted at an internal hiring when he said, "When you have a successful organization, you want to hire the team members that have been already working to make it so successful." A few days later, Steve Napolillo was announced as the new A.D. Napolillo was one of Driscoll's first hires and has worked closely with him for quite some time. He is equipped to take over as he has a list of uncompleted plans of Driscoll's, an idea of how things should be running here, and will have continued mentoring from Driscoll himself.
At Napolillo's first press conference, President Rev. Kenneth Sicard O.P. noted that he had done his due diligence and had been discussing Driscoll's replacement for months. He said that he feared screwing up the momentum that the program had built by bringing in an outside candidate and how he wanted to reward the talent they had internally. Driscoll said, "Nobody loves Providence College more than Steve [Napolillo]" and talked about the overwhelmingly positive reaction from the whole athletics department when they were told about his hire. Napolillo further exclaimed his gratitude and love for this school when he began to speak. From the sounds of things, Napolillo will be a great A.D. for Providence College. He will have big shoes to fill and we look forward to seeing how he will do it. To Bob Driscoll: thank you for everything and enjoy retirement.