Dark Storms Over the Capitol: Policing and Democracy After the Jan. 6 Insurrection
by The Cowl Editor on March 4, 2021
---
Campus
---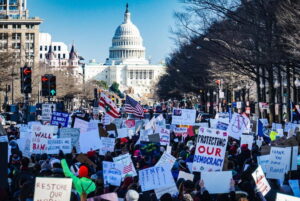 by Addison Wakelin '22
Assistant News Editor
On March 2, the Board of Programmers and the Board of Multicultural Student Affairs hosted a panel of Providence College faculty to discuss the topic of the double standards in protest policing and the implications of the Jan. 6. attack on the U.S. Capitol Building. The faculty panel included Dr. Keith Morton of the public and community service and American studies departments; Dr. Jeff Johnson of the history and American studies departments, and Dr. Paul Herron of the political science department, all of whom gave diverse views on the events that occurred.
On Jan. 6, shortly before pro-Trump insurrectionists stormed the Capitol, Donald Trump spoke at the Stop the Steal rally, which his campaign helped organize. Projecting into an echo chamber of lies and conspiracies, Trump made various false claims about the presidential election being stolen, widespread voter fraud, and how he won by a landslide. Less than 30 minutes after Trump's speech, the pro-Trump crowds had formed outside the Capitol, and the ensuing events occurred shortly after. Five people died in the aftermath, including U.S. Capitol Police officer Brian Sicknick.
The talk on March 2 gave important insight into the different political and social implications of the Jan. 6 insurrection. Morton most notably detailed the stark contrast of policing during the Jan. 6 Capitol insurrection and the Black Lives Matter protests this past summer.
The events that unfolded on Jan. 6 represent the deeply rooted institutionalized issues surrounding policing and race in the United States. The protests this past summer over the unjust murders of Breonna Taylor and George Floyd reflect larger issues of selective policing and deeply rooted racial inequality in this country.
"Our history of racialized violence by police influences all of the decisions and actions made in both the marches and in the insurrections and the ways in which we're trying to interpret what those events mean," stated Morton, reflecting on the distinct contrast of policing between the two events.
It has been close to two months since the assault on the Capitol took place. Of the thousands of participants in the attack, only 52 people were arrested on Jan. 6 in Washington, D.C., according to law enforcement officials. As of March 2, only 266 rioters have been formally charged.
In contrast, at the peak of the BLM protests this past summer, 427 protestors were arrested between May 30 and June 2, 2020, according to the metropolitan police department. The differences in police presence during the BLM protests over the summer versus the attack on Jan. 6 perpetuate those exact racial prejudices and issues with policing.
Johnson also provided insight into the ways in which history tends to repeat itself in American politics. Johnson described how much of the Jan. 6 attack mirrors past historical events, particularly the rhetoric surrounding the Burning of Washington on Aug. 24, 1814 and the controversial 2000 U.S. presidential election.
Herron, who specializes in American political history and constitutional law, raised important questions about the role of American political institutions in confronting such assaults on democracy. One of the most important questions Herron posed was about the role of Congress and the vice president in counting electoral votes, especially in their participation in aiding in the peaceful transfer of power.
The participation of several members of Congress, including Texas Sen. Ted Cruz, Missouri Sen. Josh Hawley, and Georgia congresswoman Marjorie Taylor Greene, who all rejected the electoral college votes of key swing states and have been accused of inciting the attack, has led to calls for their resignations.
The three faculty members reflected on the importance of remembering such events as Jan. 6, especially in the magnitude of precedence for the future state of politics in the United States. The insurrectionist attempt has proven the necessity for U.S. democratic institutions to be protected, and that the restoration of democracy is essential for the future of both American politics and civil society.
Featured Friar: Acklynn Byamugisha '20
by Kyle Burgess on January 30, 2020
---
Campus
---
by Julia Acquavita '22
News Staff
Acklynn Byamugisha '20 has certainly made her mark throughout her four years here at Providence College, whether it was with her constant organizing and running of campus-wide events, or meeting with her peers to develop new ideas for the Board of Multicultural Student Affairs (BMSA).
Byamugisha grew up in Camp Hill, PA, which is about six hours from Friartown. According to Byamugisha, "As a child, we moved all over the place, but a majority was spent in Camp Hill, PA. It's a very small suburb with horse and buggies, Amish markets, and tons of farm land and is the complete opposite of where people think I am from." It is safe to say that the city of Providence is much different than the small town Byamugisha originally grew up in.
Now the real question is, how did PC make it onto her radar and why did she choose this school? Byamugisha had always wanted a small liberal arts school far away from home so she could discover her independence and learn what things were like up north.
Byamugisha has definitely discovered her independence here, since she is very active at PC, where she studies health policy and management with a minor in black studies, and serves as the president of BMSA.
When asked why Byamugisha joined BMSA and how she discovered this club in the first place, she explained that when she visited PC as a high school senior, the BMSA office was where she first "flocked" to meet people. 
"I remembered it was filled with people laughing, cracking jokes, and I liked the atmosphere. When I learned about its devotion towards multiculturalism and the numerous clubs that were a part of this umbrella organization, I really wanted to be a part of it," said Byamugisha. 
Because of this initial encounter, she found a club within BMSA that she felt resonated with her the most, leading to her engagement in Afro-Am exec her sophomore year. This immediately put her in BMSA.
Regarding her first BMSA meetings, she could tell something lacked, but it was early on and she had hope that things would change. Then, junior year, she became president of Afro-Am. According to Byamugisha, "BMSA got a bit better, but something was still missing. I decided that I wanted to do something about it, so I ran for president. And I realized what was missing, we needed a holistic family approach. Cohesiveness. And after incorporating this into the club this year, I genuinely have had the most fun and I tell them all the time I'm grateful to be president." 
Byamugisha has brought a new approach to BMSA that has helped it to flourish and reach its full potential, allowing her to make a significant mark on the PC community.
Being the president of BMSA has shaped Byamugisha's experience at PC for the better. Not only has being president of this club allowed her to make history, but she also says, "It has helped me with building character, owning the spaces I am in, and just being unapologetically proud of all the accomplishments made possible through this organization." 
For Byamugisha, becoming president really was the "icing on the cake" for her, as it allowed her to be a part of this legacy that has shown her the impact of leadership and exposed her to experiences she would not have had the privilege of having without this position.
Despite all of Byamugisha's success here at PC, there will be a time when she must start down her career path. When asked about her future plans, she said she will be receiving two Master's Degrees from the University of Miami in Florida, one being in Public Health and the other in International Administration.
Byamugisha's impact on PC and the BMSA community will not be forgotten, since her efforts have changed this organization for the better and helped her make history. However, her future is very bright, and she will continue impacting communities of people in her years to come, just as she has done here at PC.
Silence for Solidarity
by The Cowl Editor on September 4, 2017
---
Campus
---
 PC Community Walks Together for Social Change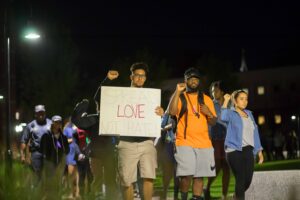 By Sabrina Guilbeault '18
News Editor
Only one day into the academic year, members of the Providence College community received an email from the BMSA Executive Board, inviting all to a Solidarity Walk, which took place this past Thursday, August 31. The walk allowed the community to reflect on the events that occurred this summer in Barcelona and Charlottesville, Virginia, and challenge one another to foster social change.
In the email, the student leaders said, "The events that took place in Charlottesville and Barcelona are inexcusable actions and it is through these times that we should come together as a community and engage in dialogue (not debate) despite our differences."
Thursday night at 8:30 p.m., students, faculty, and staff gathered outside the glass doors of the Slavin Atrium, and listened intently as Chalayna Smart '18, treasurer of BMSA, stood before the group and said, "Tonight we stand in solidarity for victims of violence." Smart recognized Kayla Luciano '18, president of OLAS for organizing the event, and explained that this walk would be a silent one.
"Take this time to live in one's shared experience," Fartun Abdulle '19, vice president of BMSA, said as she addressed the group. "Take the time to get to know how those around you are feeling, and then talk about how you feel." She emphasized that there is power in numbers, and that there were in fact numbers there.
The walk stretched throughout all of campus. The group moved through Slavin and Alumni (members holding doors for one another as the group entered) then walked across Slavin Lawn, across Aquinas Lawn and past Saint Dominic Chapel, then cut in front of Raymond Dining Hall and ended outside of the doors to the business school. Friends greeted friends as they passed; as Smart later reflected, "This is the first time no one screamed at us as we walked by, that's progress."
"This is a good time for reflection on those things we were not physically there to experience," said Ivan Vukusic '18. "College is supposed to change the way you think for the better, and I'm glad I had the chance to participate in a walk like this during my time here."
Once at the business school, the group circled around the stone benches found by the front door, and organizers of the event welcomed participants to stand and speak their reflections. All the while, Onassis Valerio '18 held up a sign that displayed the words, "Spread Love Not Hate."
Prior to the reflections, a group of women sang a rendition to classic gospel hymns including "Oh Freedom" and "Wade in the Water." Their voices echoed as far to the back of the crowd where administrators such as Father Brian Shanley, O.P., Father Kenneth Sicard, O.P., Kristine Goodwin, Steven Sears, and Tiffany Gaffney stood amidst the group of students and staff.
"PC has grown so much since I've been here," said Sara Jean Francois '19. "This is a student led march of solidarity and that means something."
Students then took turns standing on the stone benches and addressing the crowd. Sean Richardson '20 started the trend, emphasizing that silence is violence. "This is serious," he said. "It is so nice to see students here that are not of color. Thank you for supporting us."
Later, Gabe Alvarez '20 stood, and explained that he has learned a lot from his grandmother, especially the significance of the blue in the Colombian flag. "The blue in the middle represents the people and the water that connects us," he said. "Water runs through everyone. We don't make progress through hatred, but by seeing the blue in each other."
Keeping with the theme of water, Chaplain Father Peter Martyr Yungwirth, O.P., later explained that the spiritual "Wade in the Water" is normally associated with the Underground Railroad and has strong connections with the freedom of the Israelites from slavery in Egypt, but the version the students sang reminded him of the image of Jesus healing the sick man at the Pool of Bethsaida. "God stirred up even more powerful waters, and it shows that the healing that is needed comes from Christ," he said. "Imagine what our campus would be like if Jesus could touch all our hearts like that."
Two freshmen spoke, and were encouraged and applauded by their peers for their bravery. "I can feel the love," one said. The other emphasized that racism does exist at PC, and shared an experience she has already encountered this past week, "But it means so much to me to see all this support here tonight," she said.
Students were welcomed to voice their frustrations; one expressed her distress that solidarity walks still need to happen and said, "I hate feeling like I don't belong."
Another student shared her story about a time when someone told her that she only got accepted to PC due to affirmative action. "Good grades can make it," she said, and went on to explain that marches of solidarity like this one allow her to know that this is the place she wants to be. "Yeah we got problems, but shit, who else doesn't?" she asked the crowd.
Mostly students spoke, but two staff members from the Office of Admissions did stand and thank the students for what they were doing. Both highlighted the fact that that PC does love all its students, and that everyone is an equal member of our campus community. "It is so beautiful to see this representation," said Karen Vargas, associate dean of admission and coordinator of multicultural recruitment.
The event ended with pizza as a gift from the Dean's Office, which was brought out by members of the Office of Safety and Security who were at the event. Students embraced and interacted with one another and the faculty and staff who were present.
It was emphasized, however, that although the walk was successful, work still needs to be done.
"This is easy. This was a silent walk, you didn't even have to speak," Adriel Antoine '18 said. He explained that this same kind of energy should be found in the classroom, in the hallway, even on Eaton Street. "When you're on your own and you hear something said that isn't right, that's what's difficult. I challenge everyone here to speak up when you are alone just as we are all speaking up here," he said.