Ryan Incubator Launches in School of Business
by Sarah McLaughlin '23 and Emma Strempfer '24 on April 28, 2023
---
Featured Slider
---
Thanks to a $2 million gift from the family of Donald Ryan '69, Providence College has launched the Ryan Incubator for Entrepreneurship in the Arts and Sciences. Not only will the Incubator be a physical space for presentations and collaboration, but also a network of alumni who will coach and mentor entrepreneurial-minded students. This endeavor is not limited to just business school students; rather, it plans to serve any students who wish to pursue their entrepreneurial ideas.
Kelly Ramirez, co-founder of Social Enterprise Greenhouse, a Providence-based nonprofit incubator which supports local entrepreneurs, leads the project's development. She began this role in late September and is also an adjunct professor in the business school.
"The incubator is a work in progress," Ramirez says. "I've definitely been listening and learning from students and faculty to know what's needed. But we are launching a couple of things."
The Innovation and Entrepreneurship Fellowship launches this summer as part of the Incubator, which will place students with startups in the local community, pair them with alumni coaches, and provide a series of workshops along with a $4,000 stipend. In the fall, Ramirez plans to host a bootcamp/pitch competition for students who have already started or are interested in starting their own businesses.
Also, the incubator advises the entrepreneurship club on campus as well as creates partnerships in the community to support local businesses, particularly in Smith Hill. Ramirez is working closely with the business and innovation minor and says, "The goal is to have more entrepreneurial-related courses in the longer run."
Daniel Carrero '23, a philosophy major, works with Ramirez and plays a part in the Incubator's development. "Historically," he says, "there seems to be this big split between the business school and Arts & Sciences. It almost feels like you go to two different schools. But the wonderful thing about entrepreneurship—the wonderful thing about the incubator as a vehicle for entrepreneurship—is it can bridge the gap." Carrero emphasizes how "a lot of creativity is needed for startups" and entrepreneurs need to "use both sides of the brain."
The Incubator website will soon feature profiles of alumni. "There's a lot of great lessons, feedback, knowledge, and resources that will be tangible, concrete tools for students in the upcoming months," Carrero says.
Caroline Craig '24 is the philanthropic social chair and operations secretary of PC's Entrepreneurship Society. "The Incubator is an amazing opportunity for students in the business school to learn about entrepreneurship by having the opportunity to use new technologies and work with peers," she says.
"With any good entrepreneurial venture, the incubator will continue to listen and learn from its primary customers, PC students, to learn where we should go in the future," Ramirez says. She encourages all students interested in entrepreneurship, whether that means starting one's own business or having an entrepreneurial mindset in one's career, to reach out to her.
The Case for a RI Foundation-Ryan Incubator Partnership
by David Salzillo Jr. '24 on April 20, 2023
Opinion Staff
---
Featured Slider
---
Business to Benefit the Local Community
Across many college campuses—including rival Catholic colleges like Boston College—the laboratories of entrepreneurship empower students to transform business skills into real-life success. At their best, they challenge students to see business as public service: how can I make my life and the lives of those around me better?
Luckily, the head of Providence College's new Donald Ryan '69 Incubator for Entrepreneurship in the Arts & Sciences, Kelly Ramirez, shares my perhaps expansive definition of entrepreneurship. When she discussed the College's plans for the Incubator with the Student Advisory Council at Providence College, she made many of the same points. Her most interesting suggestion at that meeting was to have the Incubator foster partnerships between students and local Rhode Island businesses. I share her enthusiasm for such a plan. In my later discussions with her, she has tied it to a socially responsible model of business she believes the College ought to promote. She has mentioned the example of Patagonia founder Yvon Chouinard, who recently transferred the ownership of his company, worth about $3 billion, "to a specially designed trust and a nonprofit organization." I, again, agree; Chouinard's community-centered business model should inspire our program to set out an ambitious new vision for laboratories of entrepreneurship.
Still, how do we implement our Providence College business vision? To answer that question, we must ask ourselves: what opportunities does Rhode Island offer that other states like Massachusetts don't? And how can we exploit those opportunities? To those questions, I reply: look no further than the Rhode Island Foundation. Under the leadership of Neil Steinberg, the organization has been leading the way in philanthropy. During the 15 years that Mr. Steinberg has been President and CEO, it has created a whole host of programs to aid many of Rhode Island's struggling communities, and it has funded a whole host of scholarships to help mold the next generation of Rhode Island leaders. From the Foundation's Community Grants program to its Carter Roger Williams Scholarship awards, it has provided scores and scores of opportunities to people in a state that desperately needs them. Finally, from my personal experience, I can tell you this: the staff of the Rhode Island Foundation are people who appreciate the value of personal relationships and community engagement, and who will always see their work as a vehicle of positive social change.
A Ryan Incubator partnership with the Rhode Island Foundation has many benefits. To start, it allows the Incubator to target its initiatives better to Rhode Island's needs. Political campaigns require grassroots organizers, and so will Providence College's business initiatives require the expertise of local activists. But a Rhode Island Foundation partnership could also improve Rhode Island's business climate. How? Because local philanthropists like Neil Steinberg often start out as local business leaders; Steinberg himself began his career as a banker and fundraiser. If Providence College is educating the next generation of business leaders, why not hold up these local examples of philanthropy as the touchstone of the "Providence College business philosophy"? Why not challenge Providence College students to give back to Providence College by giving back to the community that made Providence College possible?
Now, am I suggesting that the Ryan Incubator pursue a partnership with the RI Foundation at the expense of other great community-based organizations in Rhode Island and even beyond? Certainly not. I applaud Kelly Ramirez's plans to coordinate with organizations like the United Way and Half Full, LLC, and I expect that these efforts will yield lasting success. However, I also believe the RI Foundation could have an especially promising part to play in the Ryan Incubator's community outreach program.
Providence College, then, has a great opportunity to make its Incubator program stand out. And, with Mr. Steinberg retiring as President and CEO, and (soon-to-be former) Congressman David Cicilline taking his place, who knows what the RI Foundation and Providence College can accomplish together? In the words of Rick Blaine from Casablanca, this might just be "the beginning of a beautiful friendship."
Trader Joe's Opens Downtown Providence Store
by Sarah McLaughlin '23 on November 3, 2022
Editor-in-Chief
---
Local Food
---
by Sarah McLaughlin '23
Great news for fans of frozen fried ravioli and strawberry mochi—Trader Joe's opened a new location in Downtown Providence this morning, Nov. 3. Located at 425 South Main Street, the store is within walking distance of Brown's campus and PVDonuts and is now the closest Trader Joe's location to PC's campus, as Providence students previously would have had to travel to either Warwick, RI or Foxborough, MA.
Trader Joe's is known across the U.S. for its low prices, which is due in part to how the chain sells primarily products of its own brand (about 80 percent of products on shelves) rather than typical name-brand groceries. PC students, often strapped for spare grocery cash but just as often out of Friar Bucks, could benefit from this new opening.
Through the company's long standing Neighborhood Shares Program, Trader Joe's locations pledge to make daily donations of 100 percent of the unsold, unexpired products they would otherwise throw away to local nonprofit organizations. The company has one of the best food waste management programs in the country; most grocery store waste ends up in landfills. In 2021, Trader Joe's donated more than $349 million worth of food and beverages to nonprofits across the country. The new Providence location will ideally contribute to this environmental and socioeconomic initiative.
Juul Reaches Multi-State Settlement in Continuing Legal Saga
by Jack Lockhart '25 on September 15, 2022
News Staff
---
National and Global News
---
Juul Laboratories recently settled upon a multi-state agreement with 33 U.S. states and Puerto Rico regarding their marketing practices targeting minors. Per Connecticut Attorney General William Tong, the lead state representative spearheading the issue: "They relentlessly marketed vaping products to underage youth." The implications of the agreement are tantamount to utter financial decimation for the vaping giant, having been barred from depicting people under 35 in its marketing, product placements in film and television, advertising on billboards and social media, selling Juul-branded merchandise, and funding education programs in schools. Juul has tried to deny any potential wrongdoing in their marketing practices, claiming that they had "voluntarily" ceased all practices now banned under the new ruling, which stems from an initial investigation started in 2020.
This settlement comes on the heels of a particularly lackluster series of litigious decisions against Juul, who has already paid out a total of $87 million to four different states, including Louisiana, Washington, Arizona, and North Carolina, since the start of 2021. Even more devastating for Juul was the FDA's June ruling earlier this year, ordering the company to cease all sales within the United States on account of the company's disproportionate role in the rise in youth vaping. While their products are still being sold in stores today due to an appeal being filed against the FDA, Juul's fall from grace has been nothing short of poetic. Juul's 2018 valuation as a $38 billion dollar company now appears to be nothing more than vapor in the air, as the company's apocalyptic public relations nightmare has now caused the company's value to drop all the way to $1.3 billion dollars today. In a case of friendly fire in the nicotine market, Marlboro manufacturer Altria Inc. has slashed its investment into Juul by a whopping 70 percent, dropping from $12.8 billion all the way down to $450 million. More concerningly for Juul, however, their now reduced valuation allows Altria to contractually exit their pre-existing non-compete clause, opening the door for them to usher in a new, equally harmful, and more monetizable brand of vaporizers free from the headaches they bought into with Juul.
Electronic cigarette usage has emerged as a pressing public health issue for the world's younger demographic, introducing a generation primed to loathe the sight of combustible tobacco to the wonders of a candy-flavored head rush. While the efficacy of these products as cessation devices for those quitting regular cigarettes is certainly worth hearing out, companies such as Juul cannot look the public in the face and claim that this is what drove their meteoric rise to public infamy. Their path to a $38 billion dollar empire was built on the coughing and convulsing bodies of their adolescent victims, both informed and uninformed alike. However, as convenient as it would be to believe that regulatory measures toppling Juul's vaping monopoly will lead to a significant reduction in the harm caused to those who partake, the damage is already done. According to the New England Journal of Medicine, there was a 10 percent increase in adolescents using e-cigarettes between 2017 and 2018 alone, with approximately 1.3 million teenagers who now must bear the burden of addiction that public health workers in this country had fought so diligently to eliminate.
Ultimately, nature abhors a vacuum, and even if Juul's house of cards comes crashing down upon itself, the market will adapt and those who bought into the nicotine lifestyle will just transition to the next best thing. Unfortunately, Pandora's Box of nicotine has already been opened, and whether Juul goes down or not, the victims of the corporation's marketing practices will bear a burden equal in severity to the $438.5 billion Juul must pay to finance its mistakes.
Using Science "For Good" Measure: PC Staff Develops New Hand Cream
by The Cowl Editor on March 5, 2020
---
Campus
---
by Eileen Cooney '23
Assistant News Editor
The For Good hand cream project started a year and a half ago as a vision for a business project in an MBA class taught by Dr. Helen M. Caldwell, assistant professor of marketing, here at Providence College. 
Fr. Nicanor Austriaco, O.P., and Dr. Robert J. Camp teamed up to design the product after Rev. Nicanor Austriaco, O.P., read about an extract from the Tiberian root that has anti-aging properties. They developed a plan to create a hand cream after presenting it to their professor, Dr. Caldwell; Campbell loved it.
Since last October they have been developing the cream, and now they are in the marketing phase. 
Originally, the hand cream was going to be called "forever," but unfortunately that name was already taken. Last year, the project was adopted in an MBA marketing class by a group of students to be used as the focus of their semester project. The students named the hand cream For Good and Fr. Nicanor and his partner Dr. Camp went for it. 
The hand cream is created in a little "kitchen" laboratory in the basement of Albertus Magnus Hall. It is a room that was used by construction workers when the new science building was being built, but Fr. Nicanor and his team of students now rent the space from the College for $1 a year. Here is where all the action takes place. 
Students working in the lab help Fr. Nicanor, and for their services they get paid minimum wage. After the cream has been concocted in the lab, part of the students' duties involve filling the plastic tubes, printing out labels, and applying the labels. The students involved in the project will also get an opportunity to be a part of the expansion of the For Good body products. Fr. Nicanor said a body butter and a serum are in the works for the future. 
Additionally, Fr. Nicanor is searching for new student employees who would be willing to work on the project for minimum wage, specifically an English major who would be able to write a market campaign and a graphic designer who would be able help with art and design. Anyone interested is encouraged to contact him. 
The goal of this project, says Fr. Nicanor, is to "set up a business labs experience for students interested in entrepreneurship in the same way that we have science lab for science majors." 
Currently, the hand cream is available for sale in the bookstore and on the bookstore's website. Ten percent of the proceeds from sales of the hand cream are used to fund Fr. Nicanor's student run lab that researches genes involved in skin cancer. In this way, a portion of the proceeds from the hand cream are going to be indirectly funding skin cancer research. 
Fr. Nicanor also encourages all PC students to keep up with the For Good project on Instagram. Every day they will be posting pictures of the hand cream at different locations around campus, and there will be chances for students to enter contests to win free products. Additionally, pop-up shops in Slavin, Harkins, and the Ryan Center, will be coming soon so that students can try the product and purchase it.
Friars Partake in Sales Showcase
by The Cowl Editor on November 14, 2019
---
Campus
---
by Brian Garvey '20
News Staff
This Wednesday, the Ryan Center for Business Studies hosted the Friars Sales Showcase. Featuring 12 of the leading business-to-business sales companies in the country, students were given the opportunity to network, gain information, and apply for jobs and internships.
The showcase provided something for everyone: major or non-major, freshmen or upperclassmen, job seekers or those looking for internships—this event was designed to give students a chance to learn more about business-to-business selling and build their network of business contacts. Joe McDonald '20, a member of the American Marketing Association Board, said, "This is a really important opportunity for marketing majors. I feel like accounting and finance jobs dominate the career fair, and this showcase gives more people the opportunity to take the next step towards their future career."
Many students took advantage of this fantastic opportunity and felt that the showcase was a really important guiding opportunity for them. Peter Chin '20 said, "I attended this showcase to really gain more insight into the sales field. It has definitely made me more interested in pursuing a career in this area, particularly with the company Toast."
One aspect of the showcase that people were most excited for was the discussion panel with other PC alumni. Students were able to pick the brains of those who once walked in their shoes and learned more about how to transition from college to the workforce. McDonald said, "This part of the showcase is what I found to be most valuable. It was very cool to see freshmen and sophomores learning from graduates, and I think that this advice is more valuable than anything from a textbook."
The visiting companies were impressed with the turnout of students. PC students spent their afternoon filtering in and out of different company tables, and showed a real enthusiasm for the showcase. There were many non-business majors as well, eager to learn more about a potentially exciting field. Dylan Holmes '20, a political science major, said, "I've never really been interested in a finance or accounting degree, but I found that I love the relationships that drive sales. This showcase definitely makes me think more positively about this field, and is definitely something I'll consider while I start my job search."
The success of this event has opened the door to more career-specific events in the future. McDonald said, "We love being able to promote these fantastic events. Anything that can help out students during such a stressful process is something that is very important to the student body." The event provided networking opportunities and valuable career information for students.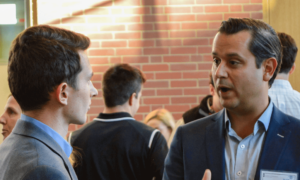 Getting a Better Sense of Sales in Marketing: PC Business School Hosts Sales Showcase
by The Cowl Editor on March 7, 2019
---
Campus
---
Matthew Mazzella '20
News Staff
On Feb. 27, Providence College hosted its first ever Sales Showcase in the Arthur F. and Patricia Ryan Center for Business Studies.
Dr. Ronald Jelinek, associate professor of marketing, organized the event so PC students could start making professional connections, especially for students interested in sales. The participating companies included 3BL Media, Dell EMC, EverQuote, Toast, HubSpot, Western Digital, CyberArk, and Oracle NetSuite. 
Jelinek credits the close connection with former sales students as well as strong industry ties for the success of the inaugural event.
The event had a massive turnout and exceeded all expectations. In total, 150 students pre-registered for the event, and many more showed up at the door to learn more about what was being offered on campus.
When he first arrived at PC in 2005, Jelinek's mission was to improve the sales curriculum, and he has done just that during his time in Friartown. 
Jelinek stated "When I arrived, the department did not have any regularly-offered sales courses and few students were graduating with the goal of pursuing a career in professional selling. I set out to develop two business-to-business (b2b) sales courses—MKT 310 (Personal Selling) and MKT 311 (Sales Management)—when I arrived here. Each of these courses were first offered just once per academic year, but as interest in and student demand for the courses grew, the marketing department gradually increased the number of sections offered. We now graduate 80-90 students per year who have taken at least one of the two sales courses, and many of these students go on to pursue careers in b2b sales."
Ryan Gallahue '20 believed the event was a huge success and provided him with opportunities and connections that can really help him down the road. 
Gallahue said, "It was really helpful to have another opportunity to meet employers on campus. It gave me a better sense of what I want to do in the future, especially by participating in the open forum held by sales alumni. I made some really strong connections here and gained great professional advice, and I hope that it could lead to a job opportunity in the future."
Jelinek is excited for the future after seeing all the success from this program. He believes "building upon our College's commitment to transform lives, develop minds and souls and motivate a quest for truth, our sales program provides an opportunity for graduates to stand for integrity and virtue and sell for success. Today's world needs this and companies which have recruited from us for years have long-understood this: we generate grads who know the sales process really well, but there is something else in our secret sauce. The showcase gave these eight new organizations a glimpse of that. Friars are different, and that is the way we like it."
The marketing department at the college believes this is a step in the right direction in terms of not only enhancing student-alumni relations, but also in building upon the career education that takes place on campus. 
There are never enough opportunities that can be given to college students looking for career advice and job offerings, and the Sales Showcase is another way for Friars to get their feet in the doors and help enhance their career paths.
Business and Innovation Minor: PC Offers New Minor Help Students Gain an Edge
by The Cowl Editor on November 1, 2018
---
Campus
---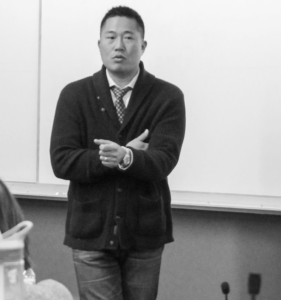 by Hannah Langley '21
In today's fast-paced work environment, college students are recognizing more and more that they need various skills in different areas of study coming out of college. Because of this, Providence College has created a business and innovation minor, which allows students to branch out into the business world and learn skill sets beyond their chosen major.
The minor, which is available to all non-business majors beginning with the class of 2020, consists of four concentrated tracks: organizations and entrepreneurs, global engagement, applied science, and design thinking.
According to Eric Sung, associate professor of photography, director of the business and innovation program, and sponsor of the design thinking track, of the six courses, students in any track included within the minor must take ACC 103 (Introduction to Accounting and Finance), CSC 120 (Applied Data Analytics), and ART 205 (Design Thinking & Innovative Problem Solving).
The four concentrations target specific interests of different majors, including psychology, sociology, biology, chemistry, global studies, economics, history, and political science in particular, according to the PC website. The minor is also available to undeclared students.
Each track has its own sponsor, or advisor, who is a professor in the field of study most closely related to the specific track. These sponsors will work with students in their designated track, guiding them to take course options which best match  their own needs and interests.
The faculty sponsors include Dr. Eve Veliz-Moran, associate professor of sociology and sponsor of the organizations and entrepreneurship track, Dr. Tuba Agartan, associate professor of health policy and management and sponsor of the global engagement track, Dr.  Kathleen Cornely, professor of chemistry and sponsor of the applied sciences track, and Sung.
Following the completion of six courses, students must choose a capstone, which, according to  Sung, "celebrates what you have learned." The capstone allows students to work directly with companies or non-profit organizations, in which the students will be graded on their performance.
One of the main reasons for creating this minor, according to Sung and Veliz-Moran, was the overwhelming prevalent need for students to have a broader skill set to compete in the workforce today.
"More and more employers are looking for people who can think outside the box," said Sung, "there is a greater need for people not necessarily trained to do one thing very well." 
Veliz-Moran added to this, commenting, "To compete in the 21st century, we need interdisciplinary programs."
Sung suggests that students should be able to adapt quickly to a world that is evolving rapidly. This minor, he says, is very adaptable, as it gives students a wide range of courses to choose from that can apply to almost any major. "You can bridge what you know into something more applicable and practical," said Sung.
One thing Sung emphasized was the liberal arts foundation of the minor, keeping with the PC educational tradition. According to the page on PC's website for the minor, business and innovation "combines the best of a liberal arts education with contemporary courses in business." Sung added to this idea, saying the minor "promotes how a liberal arts education can be applicable for anything out there."
Sung also stressed the point that this minor is new and, therefore, very flexible to change, just as the workforce is constantly changing. Talking to a group of PC students, Sung commented, "It's possible that a job you will have in the future doesn't exist right now," but this minor helps students prepare for the changing world. He also advises students who declare this minor to work closely with the faculty members in order to help the minor improve over time. 
The business and innovation minor gives students in the arts and sciences an opportunity to delve deeper into the business world, which Sung thinks is an important part of the college experience. Sung encourages students to not narrow their thinking to one job, profession, career path, or study. He addressed the idea that if a student wants to do something, they should make it happen, and this minor gives them the opportunity to do so.
For more information about the minor, students can contact professor Sung at mastersung@providence.edu.