COVID Cases Begin to Fall Following Campus Outbreak: Situation Temporarily Looking up for the Ocean State
by The Cowl Editor on March 4, 2021
---
Campus
---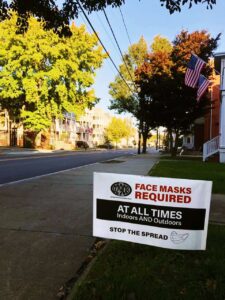 by Hannah Langley '21
News Co-Editor
For almost a year, COVID-19 has affected everyone in a variety of ways. Although the virus is still very much present, cases in Rhode Island have been dropping in recent weeks as more  people are getting vaccinated. Cases at Providence College have also been dropping, which is a good sign moving forward in this semester.
Over the past several months, nearly 300,000 doses of the vaccine have been administered in Rhode Island. The percentage of positive cases in the state has also been steadily declining, dropping from a positivity rate of 7.4 percent to 2.1 percent currently.  
Government officials in Rhode Island are divided on  whether the vaccine rollout is going smoothly or not. Governor Gina Raimondo argues that their strategy has been going well, targeting the state's most vulnerable populations first and now transitioning to broader immunization. "The overall picture, as it relates to us, is that we're in a good and stable place."
Lieutenant Governor Dan McKee disagrees, however, saying, "Like most Rhode Islanders, I am not satisfied with the current administration's progress on vaccine distribution, especially as we see our neighbors in Connecticut ranked among the top in the nation." Vaccine rollout will continue under the direction of McKee following Raimondo's departure to Washington, D.C., where she will be assuming the position of commerce secretary.
The PC community has also seen some success in recent weeks in combating the spread. During the week of Feb. 4, the College experienced a small outbreak with around 130 cases in a matter of five days. This forced the administration to set up temporary measures around campus, such as restricting non-essential travel, closing club offices, and making only to-go dining options available.
This past week, however, cases have been steadily decreasing, with only three positive cases reported on Thursday, Feb. 25 and five positive cases reported last Friday, Feb. 26. 
On Friday, the Continuity Task Force sent an email listing a number of lifted restrictions, including the opening of in-person dining on campus; the ability to begin student teaching, practicums, and other placements again; extension of the Concannon Fitness Center's hours; and 40 percent capacity of St. Dominic Chapel.
"Our sincerest hope is that this is just the beginning of our transition toward more opportunities for our students—and others in our community—to better enjoy more of the wonderful aspects of life on a campus," stated the email. "The College is committed to trying to create more opportunities for socialization and collaboration, but the first responsibility is for health and safety. Our best bet is to redouble our collective commitment to doing all the things that we know are effective—especially avoiding large gatherings—so that our COVID-19 cases continue to decline."
Dean Steven Sears, vice president for student affairs and dean of students, also sent an email that night, reiterating the email sent by the task force earlier. Sears' email included the prospect of many other positive changes that could be occurring on-campus in the coming weeks, including attendance at outdoor sports games, visitation at other residence halls, more intramural opportunities, and the reopening of McPhail's.
While these are just goals for what is to come during the remainder of this semester if case positivity rates remain low, it was a hopeful message to the PC community.
Road to Recovery Hits Speed Bump: COVID Concerns Rise as PC Experiences Spike
by The Cowl Editor on February 11, 2021
---
Campus
---
by Eileen Cooney '23
News Staff
A dip in the number of reported coronavirus cases across the country in recent days has compelled some states, including Rhode Island and Massachusetts, to ease up some restrictions. Rhode Island recently lifted its curfew for restaurants and bars, and Massachusetts announced a plan to allow restaurants and other indoor businesses to operate at higher capacity. 
Additionally, Rhode Island has announced the closure of the Dunkin' Donuts Center testing site and its transformation into a state-run vaccination site. This is part of the state's efforts to ramp up vaccinations and to move the process along so that a majority of its population can get vaccinated.
On campus, however,  the number of reported COVID-19 cases among Providence College students has remained high over the past few days. As of Feb. 3, there are 89 students in isolation and 121 students in quarantine. As of Feb. 9, PC's positivity rate is  2.27 which is slightly below the Rhode Island state positivity rate of 2.7%. While the number of students testing positive looks higher this semester compared to last, an email from the College's continuity task force sent out last Wednesday stressed the need to take this data seriously. 
This semester, students are being tested much more frequently, and we are in an environment where the virus is much more widespread in the surrounding community. 
Additionally, a number of the positive cases reported each day are from students who are already in quarantine as close contacts. Clearly, this subset of individuals is a group that has a higher probability of testing positive due to their status as close contacts, and most of these individuals had already been removed from the population by the time of their test. 
Despite this relatively positive news, the College is still warning students to remain vigilant. The Office of Public Safety and Community Standards sent out an email on Feb. 6 warning students that they were aware of the  reported behavior in violation of the student code of conduct that seems to be exacerbating the spread of the virus. Public Safety again warned students of the consequences of their actions. Public Safety's concerns are certainly not unfounded—on February 8 and 9, PC reported 34 and 33 new cases, respectively.
The College also announced its plan to test students twice weekly instead of just once. The effects of this plan remain to be seen in the coming weeks. 
Despite this, PC students remain resilient and determined to make the most of this rather strange semester. This winter, the College's Office of Student Activities invested in fire pits to be placed on Slavin lawn. The fire pits seat up to six people and can be reserved for one-hour time blocks on Friday, Saturday, and Sunday nights from 4 p.m.–midnight. Students can reserve them with their pods to safely and warmly enjoy a nice meal or banter session with friends. 
On Friday and Saturday nights, students can be seen gathered around the fires with masks on, grateful for the opportunity to be on this beautiful campus. Additionally, the Office of Student Activities has reserved food trucks for every weekend this semester. Last weekend featured Ming's Asian Street Food truck. These have been a major hit among students. 
Gracie Cleaver '23 says, "I love the new food truck Fridays. They are a great and safe way to get out of your dorm and enjoy some good food with friends. I'm really happy and appreciative that the College has invested so much time, money, and thought into resources for students during this very difficult time." Although this semester has seen an unprecedented number of changes to daily life for students, the College's commitment to its students' well-being remains strong. The College is working hard and will need the support of the student body to avoid the same kind of outbreak that put a pause on the fall semester.