A Menagerie of Smooth, Psychedelic Dreamscapes
by Patrick Smith '26 on November 17, 2022
A&E Staff
---
Arts & Entertainment
---
Australian psychedelic rock band King Gizzard and the Lizard Wizard—best known for their bizarre name and incredible variation in style and influence—have continued their insane pace of album releases this year with Ice, Death, Planets, Lungs, Mushrooms, and Lava; Laminated Denim; and Changes. All three albums are excellent and definitely lean towards the stronger end of their discography. While I do wish the band would return to fantasy-inspired metal (we may have peaked with Murder of the Universe and Infest the Rats' Nest), I really enjoyed the last month of their musical output. Allow me to break down my thoughts on the respective albums for you.
Ice, Death, Planets, Lungs, Mushrooms, and Lava is the most jazz-focused of the bunch, with an upbeat and aggressive pace throughout. It's pretty varied thematically, touching on fungus, space, and iron lungs of all things. Speak of the devil, "Iron Lung" is the real winner here. It's a massive, 10-minute epic with fantastic vocals and some amazing drum and piano work, not to mention the woodwind and brass interspersed throughout. Obviously, it's not directly related to the music itself, but the song has one of the weirdest and most unique music videos I've seen in quite some time in the form of a sprawling collection of odd, psychedelic paintings. It's worth checking out. It's generally a solid album, and while it didn't quite reach my expectations for it based on its wacky name, it was a good time.
Laminated Denim is the shortest of the bunch, only an EP. It's soft and poppy with a distinctive rhythm. It's short, containing only "The Land Before Timeland" and "Hypertension," but upbeat and fun. I like it, but it's the weakest of the bunch and lacks the feeling of experimentation the band's music usually encapsulates. It probably could have fit into either Ice, Death, Planets, Lungs, Mushrooms, and Lava, Laminated Denim, or Changes in terms of style and length, so its separation feels odd. Even so, it was a nice little addition between its larger brethren and still makes for an enjoyable listening experience.
Changes is the final album to have been released over the past few months and the most different to the band's usual style. There are some elements of synth, lo-fi, and other approaches they don't typically engage in. "Hate Dancin'" is my personal favorite on the album. It's extremely poppy, catchy, and melodic. "Gondii" is a close second, blending the lighter elements of the album with the band's more traditional fast-paced style for a nice light rock tone. I like Changes, but it does have a tendency to sort of blur into itself. Every song is very similar, and I feel like some variety would have gone a long way towards making the album stand out amongst their rapidly expanding discography.
Overall, these three are generally solid albums. King Gizzard and the Lizard Wizard are pretty dedicated to their craft, and everything here has their distinct sense of style and quality. I do think that these are maybe a little generic in terms of their output, but still enjoyable. I would consider Ice, Death, Planets, Lungs, Mushrooms, and Lava to be the strongest of the three, as tracks like "Iron Lung" stand out and there's a distinct flavor throughout. Changes is sort of in the middle for me, as it's pretty good and catchy but all sounds very similar and is a little at odds with the band's usual stylings. Laminated Denim is probably the weakest for me personally as it's very short but feels like it's going on for too long, coupled with a lack of personality. Generally, though, I am impressed by King Gizzard's output over the last month, and I'm excited to see what they do next.
Welcome to the Friar Food Family: Raymond Dining Hall Takes On New General Manager
by The Cowl Editor on November 21, 2019
---
Campus
---
by Peter Mazzella '22
News Staff
Recently Raymond Dining Hall welcomed a new general manager, Josef Quirinale, to its family. Although this is a new position for Quirinale, it is not his first position at Providence College, working as a resource manager last fall. 
Quirinale spent his career across the east coast working in the food industry. Working for Sodexo for almost 20 years, he has traveled to different schools to make dining experiences as good as they can be.
He started off at the University of Vermont, which set him up for new opportunities in the field. Following that, he continued his work at State Universiy of New York-Plattsburgh. His final position before PC was at Keene State College in New Hampshire.  
In his first semester as a general manager at Ray, Quirinale has enacted many changes, such as a full-time dietician, the Simple Servings station, and the hiring of a new chef. 
His first major change has been the acquisition of a dietician, Michelle Switach, who will be responsible for designing nutrition programs to ensure that each dish reflects a healthy diet, so that all students can have multiple options at each station for a balanced meal.  
Quirinale's second change was helping to open the Simple Servings station, which is a station where all foods are free of the eight major allergens. Each employee who works at Simple Servings is AllerTrain certified by MenuTrinfo. 
Finally, the addition of a new chef to the team has brought many new options, along with the intent of the least amount of waste possible. In line with this new initiative, fresh food is now scheduled to be prepared according to how much is left over after students dine in.
One thing that Quirinale is looking to bring to Ray in the second semester is a smoothie bar, not only for Tuesday and Thursday, but for the whole week. He thinks this is a great way to start the day, and Ray is looking into ways to make this happen.  
Something that the staff is particularly excited about is the addition of fresh grilled chicken to the salad bar, where they will be removing the chicken from the grilling station by the burgers and reserving that grill for fresh hot sandwiches. This will bring many new dining options, along with burgers that will be fresh off the grill every time. 
Finally, something that is very important to Quirinale, as well as the rest of the staff, is the feedback they receive. He states, "It is your dining experience," talking about PC students. Quirinale  said Ray is always looking to improve. The feedback forms in the dining hall are the main way that the staff can discuss changes that will bring an all-around better experience to each student.  
Quirinale spoke on his thoughts about the atmosphere that Ray tries to bring, which is consistent with PC's emphasis on community. 
"I think it's important that you have one dining facility that is a community space, where everyone can meet. Many campuses this size will have two or three resident dining facilities, but this brings everyone together." 
In his first semester as general manager, Quirinale and his team have made many changes to improve the dining experience that most PC students have on a day-to-day basis. His close relationship with the staff at Ray is one of the main reasons for the success that has been accomplished this year. 
Remodeled, Repainted, Removed
by The Cowl Editor on September 13, 2018
---
Campus
---
Ray Revamps Over the Summer with Redone Stations and Color Scheme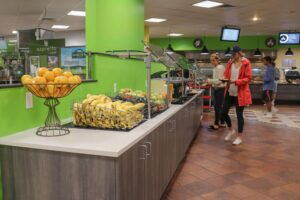 by Hannah Langley '21
News Co-Editor
Coming back to Providence College this year, many returning students were shocked and confused by the multiple changes Raymond Dining Hall had made to its décor and service stations. 
Stuart Gerhardt, general manager of Ray, explained that these changes were long overdue. Gerhardt has been working as Ray's general manager for eight years now, and noted that this was the first renovation the building has seen since his coming here. "The colors were old and tired," Gerhardt said. "We want to keep the facilities fresh… something that gives you a 'wow' factor." 
To help with the redesigning, PC hired a design build company which specialized in researching trends and preferences across various college campuses through statistics, surveys, and observations. "It's about being proactive and looking at trends," said Gerhardt. 
Among the several changes made to Ray, one of the most noticeable and prominent is the change of color scheme inside. The walls and pillars, which were once simply white and black, are now a vibrant green and yellow. Gerhardt talked about the colors, saying he was skeptical about the change at first, as well. "When the green first went up, I kind of went 'Oh no,'" he noted, "but you get used to it, and it does what it needs to do. It brightens the space and grows on you in a positive way."
Another change was the addition of icons on the entrance windows and above each of the stations. "Today everything is based on an icon," Gerhardt explained, "instead of words we switched to icons that make sense" in regards to the food served. 
Another prominent change was the removal of the "theme station." Gerhardt explained that the station was taken away in an effort to reduce lines and maximize space. "We wanted to look at the overall flow of the space," Gerhardt noted, "and the easiest thing to do was eliminate theme and open up the area." The decision, according to Gerhardt, has made other stations much more accessible. 
Gerhardt also emphasized the point that the dishes typically served at the Theme Station have not been completely eliminated from Ray's menu. "We eliminated the station, but we didn't eliminate the items," Gerhardt reassured. Gerhardt said that once the first few weeks of school are over and the freshmen get acclimated to the school, favorites, such as the mashed potato bar, will be reintroduced to the menu at different stations. 
The vegetarian station, which is now the comfort station, is operating under a similar idea. "What we took away from the vegetarian station is still accessible," Gerhardt noted. 
One idea Gerhardt wanted to focus on was the fact that while certain items may no longer be on the menu as frequently, students are still more than welcome to create their own dishes and meals with what is available to them. "Sometimes students need to have a little bit of creativity," said Gerhardt. He continued, saying, "Students should look at what's available at each station to create what they want." For example, Gerhardt pointed out that an extra panini grill has been added near the condiment station so that students can create their own sandwiches and paninis without having to wait in line. "You need to be creative in your own way," Gerhardt said. 
Another point that Gerhardt wanted to make is that while this is the first renovation in many years in Ray, it will not be the last. He talked about how the plan for Ray's future includes renovations if not every semester, every year, so that the space does not become outdated. "By renovating over an extended period of time, we will be able to keep the 'wow' factor," Gerhardt commented, "and add new things to replace things that didn't work so well." For the future, Gerhardt sees the beverage stations being reorganized to make things fresher and more accessible.
Gerhardt understands that change can be difficult for everyone. "What's different for current students isn't new for incoming students," Gerhardt explained. "We do things because we're looking for positive impact. We're always trying to improve." 
Students should continue to look for future changes in Ray during the coming years.