Sit-down with Friars Head Coach Ed Cooley
by npatano on May 5, 2022
---
Friar Sports
---
A Reload for Next Season
Liam Tormey '22
Sports Co-Editor
We are now into the month of May, and it has been over a month since the Providence College men's basketball team had their historic year come to an end against the eventual champions, Kansas University. 
It ended with the first Big East regular season title in program history, the first Sweet Sixteen in 25 years, a couple of shots and stops away from an Elite Eight, and head coach Ed Cooley winning the Naismith Coach of the Year. 
The 2022-23 season will be Ed Cooley's 29th in coaching. He began at University of Massachusetts Dartmouth as an assistant in 1994, then made his way to Stonehill College, University of Rhode Island, and Boston College before grabbing his first head coaching job at Fairfield University in 2006. Since 2011, Ed Cooley has had the chance to coach the team he grew up rooting for as a kid from South Providence.
Last season was a dream for Ed Cooley and the Friars. He spoke about what it meant for him and his program: "Any time you have team success, it starts at the top. Coaches win games, administration wins championships. Everyone was aligned, the stars were aligned with our personnel."
All Friar fans know the additions of Al Durham '22GS and Justin Minaya '22GS propelled this group to the next level this year. Cooley commented, "I thought our staff did a great job of identifying players that fit our style of play. I thought everything fell in place at the right time."
A 13-1 start to the season for the Friars made it feel like everything was in the right place at the right time. 
"The players were hungry and eager. We never had one issue on or off the floor. It was just one of those special seasons that came together at the right time."
Cooley and the program will now say goodbye to Durham, Minaya, Nate Watson '22GS, Noah Horchler '22GS, and A.J. Reeves '22 –  the entire starting lineup from last year. This particular starting five left a legacy for a lifetime.
 "When you're in the locker room with us this season, we always used to write on the white board before the game, 'Leave Your Mark.' I think that's something they did. Not many times can you hang a banner, wear a ring. This group left a mark. This group left a legacy. This group left an impression on all of Providence College. What a special season and what a special group that will be talked about for years to come."
The Friar fanatics made the special season what it was. Every game at the Dunkin' Donuts Center was loud, energetic, and everything the program wished for before going 16-1 at home. Cooley knew how important the fans were: "What it did for Providence College, not just for the city, but the state–how it was just energized at the Dunkin Donuts Center. Everywhere you would go in our area, they knew about Providence College men's basketball. As the coach, from someone who's from here, I can't be more proud to represent Providence College at that stage."
From the iconic sing along to Taylor Swift's "You Belong With Me" late in the second half to the court storming after defeating Creighton University to win the first regular season Big East title, the Dunk' was at a different level, "I go back years of being a Friar basketball fan and seeing the crowd there and all the things that have happened as a head coach, but the energy this year was a different level." Cooley went on to say, "The fan participation from our students, thank them a million times over. They created an atmosphere, and thankfully it's for years to come, and it was set by the 2022 class."
Cooley also added: "It was amazing — the energy that our students brought. They were the identity of the Dunkin' Donuts Center. There was a total shift this year in energy and I hope it continues into next season."
When looking at the season to come, the Friar fans are not going to be expecting a down year. With the transfer portal having over 1,400 college basketball players in it, Cooley and his staff were all over bringing in the right personnel, and quickly. The Friars have already added Noah Locke '23GS, Corey Floyd, Jr. '26, Clifton Moore '23GS, Devin Carter '25, and Bryce Hopkins '25, the definition of a reload. 
Just like last year, Cooley admitted he wanted to add players who were going to be good fits for his program, but also fit for representing Providence College. He said, "We hope whoever we bring in they understand it's about the team, it's about representing Providence College at the highest level. We want whoever follows moving forward, and I think we've had some continuity and consistency, we want whoever we bring in to have those values which last team's year set."
Many within college sports have the belief the transfer portal is way out of control. Cooley says it has been "disruptive" and has taken away from those in high school, and although he doesn't have the answers to the problem, what he does know is "We're doing the best we can to adjust. No matter what my opinions are, and I don't know what I can do about it as a single coach, and we will make the adjustments necessary to be competitive in the Big East and on the national scene."
With five players coming in through the portal, a few left the Friars as well. Matteus Case '25, Brycen Goodine '23, and Legend Geeter '25 all entered the transfer portal to find a new home. 
But with Jared Bynum '23 and Ed Croswell '22 returning for another season, Cooley is going to lean on them to help in the transition of the newcomers. 
He says, "We need those guys to be leaders. We need them to be demanding. We need them to do the right thing, say the right thing, carry themselves the right way. I want them to talk to our players who are not here yet and have them be engaged in our community, in the dorms, in Ray dining hall, in Alumni hall, have visibility, be approachable, say please, say thank you, appreciate the people you're in school with because one day you never know, you may work with that person, you may marry your person you just never know where relationships build."
The Friars will also have two freshmen, Quante Berry '26 and Jayden Pierre '26, coming into a team with expectations for next year. Breaking into the rotation with the addition of transfers is tough these days in college basketball, but Cooley commented that, "Whether it's Quante, or Jayden, or any player coming through the portal, we have to have guys who are totally bought in to having a common goal of success for the group. If we do that, we'll find ourselves with a good shot at success." 
He added, "The biggest expectation I have for any player, regardless of class [year], is to hold them to the standard. They have to meet the standard and exceed it if they can. Buy in. You have to buy into success. You have to buy into your role, buy into the team, buy into the community, buy into preparation." It will take some meshing with the addition of seven new players to the Friars program, but this is what college basketball has become in today's age. 
As he should be, Cooley is excited about the upcoming season, but he also expressed some of his own personal goals for the future. Providence College will remain in his DNA forever, and he wants to give back. 
"I still want to see Providence College grow. I want to be connected to Providence College as long as I can. I want to give men and women, regardless of religion, ethnicity, the belief that you can be special, you can do it. There are so many times people dwell on the negative and the past, but I want them to look at the present and look to the future because there's something bright ahead of you, you just have to be chugging along. There's going to be disappointments and failures, but the more I can have a presence and inspire young men and women to take care of the present and look at opportunity, I want to stay connected to Providence College as long as I can in whatever capacity that may be."
He knows it is a grind, but he still loves what he's doing as the head coach of the Friars. "I'm starting my 29th season in coaching next year and you do get burned out, you do get tired. I'm not there yet, but just like anything else, there comes a time and a place where it's hard to say goodbye, yet, you're going to say hello to something different."
Providence College men's basketball is what it is at the moment because of Ed Cooley and his staff. He is the man that lives and breathes Providence College, and everyone on campus and beyond knows who he is. With the most successful season in 25 years for the Friars program, Cooley and the rest of the Friar family will hope this is just the start of a long run of success.
Men's and Women's Basketball Transfer Portal Update
by npatano on May 5, 2022
---
Friar Sports
---
Friars Look to Rebuild for Next Season
Justin Bishop '24
Sports Staff
Over the past few weeks, the Providence College men's basketball team has seen some talented players depart, while reeling in some high caliber talent through the NCAA college basketball transfer portal. Justin Minaya '22GS has decided not to use his sixth and final year of eligibility, he did have one remaining year due to the NCAA establishing that all student athletes have an additional year of eligibility due to COVID-19. Instead, Minaya, like Noah Horchler '22GS, Al Durham '22GS, and A.J. Reeves '22, has decided to declare for the NBA Draft,hoping to earn a spot on a professional roster.
Coming to the Dunkin' Donuts Center next year will be University of South Carolina freshman transfer Devin Carter '25 who had a standout freshman year and was ranked as the No. 26 best transfer. Carter set the record at USC for three-point-shots made in a season by a freshman, so he will be a prime candidate to fill Reeves' spot as the team's go-to three-point shooter.
Next is University of Connecticut freshman transfer Corey Floyd Jr. '26, who will still have four years left to play even after next season. Floyd was highly sought after coming out of high school but did not see the court at UConn because their coaching staff apparently thought losing was better.
After Floyd came University of Louisville graduate student transfer Noah Locke, who played three seasons at the University of Florida before transferring to Louisville and who will finish here in Friartown.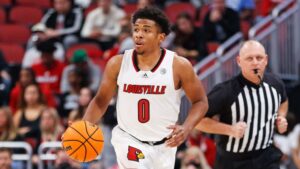 Next, Lasalle University graduate transfer Clifton Moore, who played two years at Indiana University before transferring to Lasalle, will play his final year here in Providence.
Lastly, the biggest transfer in recent years for the Friars, University of Kentucky sophomore transfer, Bryce Hopkins who played little time at Kentucky but will fit in perfectly as a three or four in the rotation. Hopkins was named 2021 Illinois Player of the Year in his last year in high school and also accumulated various summer tournament accolades.
This offseason, Friar fans could not have asked for a better transfer season from the National Coach of the Year Ed Cooley. Watching these players fit into the system with returning members Ed Croswell '23 and Jared Bynum '23 is going to be exciting.
On the women's basketball team's side, the team said goodbye to the team's second leading scorer this past season in Alyssa Geary '22, who transferred to Indiana University for her graduate year. Geary, who played all four years at Providence, was a consistent piece of the offense along with her defense as she finished her career with 128 blocks. They would also see Mary Baskerville '22 leave the team after four years to head to Quinnipiac University. Baskerville averaged 10.2 points per game in her four years as a Friar. An addition to the team next year is graduate transfer from the University of Iowa, Logan Cook. The 6'1 forward played all  four years at Iowa where the team was upset by Creighton University in the second round of the tournament. The team will look to bounce back from last season where they were bounced in the first round of the Big East tournament by Georgetown University.