A Menagerie of Smooth, Psychedelic Dreamscapes
by Patrick Smith '26 on November 17, 2022
A&E Staff
---
Arts & Entertainment
---
Australian psychedelic rock band King Gizzard and the Lizard Wizard—best known for their bizarre name and incredible variation in style and influence—have continued their insane pace of album releases this year with Ice, Death, Planets, Lungs, Mushrooms, and Lava; Laminated Denim; and Changes. All three albums are excellent and definitely lean towards the stronger end of their discography. While I do wish the band would return to fantasy-inspired metal (we may have peaked with Murder of the Universe and Infest the Rats' Nest), I really enjoyed the last month of their musical output. Allow me to break down my thoughts on the respective albums for you.
Ice, Death, Planets, Lungs, Mushrooms, and Lava is the most jazz-focused of the bunch, with an upbeat and aggressive pace throughout. It's pretty varied thematically, touching on fungus, space, and iron lungs of all things. Speak of the devil, "Iron Lung" is the real winner here. It's a massive, 10-minute epic with fantastic vocals and some amazing drum and piano work, not to mention the woodwind and brass interspersed throughout. Obviously, it's not directly related to the music itself, but the song has one of the weirdest and most unique music videos I've seen in quite some time in the form of a sprawling collection of odd, psychedelic paintings. It's worth checking out. It's generally a solid album, and while it didn't quite reach my expectations for it based on its wacky name, it was a good time.
Laminated Denim is the shortest of the bunch, only an EP. It's soft and poppy with a distinctive rhythm. It's short, containing only "The Land Before Timeland" and "Hypertension," but upbeat and fun. I like it, but it's the weakest of the bunch and lacks the feeling of experimentation the band's music usually encapsulates. It probably could have fit into either Ice, Death, Planets, Lungs, Mushrooms, and Lava, Laminated Denim, or Changes in terms of style and length, so its separation feels odd. Even so, it was a nice little addition between its larger brethren and still makes for an enjoyable listening experience.
Changes is the final album to have been released over the past few months and the most different to the band's usual style. There are some elements of synth, lo-fi, and other approaches they don't typically engage in. "Hate Dancin'" is my personal favorite on the album. It's extremely poppy, catchy, and melodic. "Gondii" is a close second, blending the lighter elements of the album with the band's more traditional fast-paced style for a nice light rock tone. I like Changes, but it does have a tendency to sort of blur into itself. Every song is very similar, and I feel like some variety would have gone a long way towards making the album stand out amongst their rapidly expanding discography.
Overall, these three are generally solid albums. King Gizzard and the Lizard Wizard are pretty dedicated to their craft, and everything here has their distinct sense of style and quality. I do think that these are maybe a little generic in terms of their output, but still enjoyable. I would consider Ice, Death, Planets, Lungs, Mushrooms, and Lava to be the strongest of the three, as tracks like "Iron Lung" stand out and there's a distinct flavor throughout. Changes is sort of in the middle for me, as it's pretty good and catchy but all sounds very similar and is a little at odds with the band's usual stylings. Laminated Denim is probably the weakest for me personally as it's very short but feels like it's going on for too long, coupled with a lack of personality. Generally, though, I am impressed by King Gizzard's output over the last month, and I'm excited to see what they do next.
Prince Philip, Husband of Queen Elizabeth, Dies at 99
by The Cowl Editor on April 15, 2021
---
National and Global News
---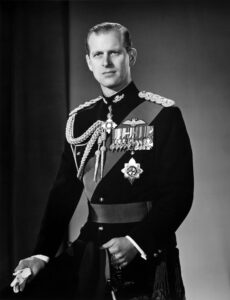 by Katherine Morrissey '22
News Staff
On Friday, April 9, Prince Philip, Duke of Edinburgh, passed away at the age of 99. The news of his passing came around noon in the form of a statement from Buckingham Palace which stated, "It is with deep sorrow that Her Majesty the Queen announces the death of her beloved husband."
The duke, at the time of his death Friday morning, was the longest-serving royal spouse in British history. Prince Philip married Elizabeth, the elder daughter of King George VI and heir to British throne, in 1947. Just two years later, Elizabeth ascended to the throne, and Philip has since been by the queen's side for over six decades. The couple were married for almost 74 years.
Prince Philip served in the Royal Navy during World War II prior to his role as the queen's consort. During his time in the Navy, the duke was praised for his bravery and heroism. He even received the Greek War Cross, a military decoration for acts of heroism, for his role in the Battle of Cape Matapan. This award, amongst other actions, shows how, despite his royal title, Prince Philip lived a life characterized by putting others before himself.
The duke not only put others before himself in military duty, but also spent much of his life playing a pivotal supporting role for the queen, who has served as the monarch of a powerful nation that has gone through challenging times over the past six decades. In a BBC article concerning his death, a tourist visiting London stated, "He's been with her for 73 years. If it wasn't for him, who knows if she would have got through it." In this sense, the strength and service Prince Philip provided for his wife and the monarchy is truly understood.
Prince Philip was also an active philanthropist. His wife and he supported over 1,000 charities as patrons and members during his long life. Some charities which Prince Philip supported include the British Heart Foundation, the World Wildlife Federation, and Book Aid.
As a veteran, Prince Philip also was engaged in military-related charities, working with organizations like The Association of Royal Navy Officers, The Royal Navy and Royal Marines Equestrian Association, the Army Cadet Force, and the Army Officers' Boxing Club. He also was very fond of sports and was a patron and member of many prestigious polo and yacht clubs.
While many are saddened to hear of the passing of Prince Philip, it is reported that he spent his final days on his own terms. The duke, who had been suffering from health complications and concerns for the past few years, ultimately retired from public service in 2017. This February, he was admitted and treated for preexisting conditions at two medical facilities in London. He was not discharged until March.
Since being discharged, Prince Philip reportedly spent his final weeks at Windsor Castle. At the end of his life, he spent most of his time awake, sitting in the sun outside with his wife by his side. He died peacefully Friday morning in the comfort of his home with the queen by his side as he wished.
British citizens and millions across the world have joined in mourning the loss of such a prominent figure and social servant. Many world leaders joined in offering their condolences, including President Joe Biden and First Lady Dr. Jill Biden. They remarked, "His legacy will live on, not only through his family, but in all the charitable endeavours he shipped." This quote showed a shared sentiment from President Biden and the Palace who wished to highlight and remember Prince Philip's charitable works.
While many wished to honor his long life and tremendous legacy by offering flowers and displays at Buckingham Palace in London, the Palace has asked in the midst of the ongoing COVID-19 pandemic that individuals not attempt to partake in the funeral service. Instead, they asked people to consider donating to a variety of the duke's charities.
Prince Philip's death leaves an unsatisfiable void in the hearts of many individuals around the world. Those who have admired the duke and his service may be inspired to implement acts of service and charity into their own lives. While death and the end of a life is saddening, Prince Philip's passing reminds us to reflect on the magnificence of such a long and influential life, challenging each of us to live honorably and charitably even if on a smaller scale.
Remembering George H.W. Bush: 41st President of the United States Passes Away
by The Cowl Editor on December 6, 2018
---
National and Global News
---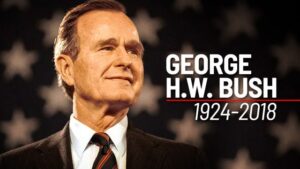 by Hannah Langley '21
News Co-Editor
The death of a prominent national figure, especially a former President of the United States, is always a tragic event. 
On Friday, November 30, George H.W. Bush, the 41st president and father of the 43rd, passed away late in the night at the age of 94.
Bush was diagnosed with Parkinson's Disease several years ago, and his health had been declining ever since. His death came only eight months after the passing of his wife, Barbara Bush.
Bush was considered a skilled politician not only by his fellow members of the Republican party, but also by many Americans. His career both before and after his presidency provides examples of his political prowess.
Bush was born in Milton, Massachusetts and later moved to Greenwich, Connecticut, where his father was a state senator.
Early in his life, Bush joined the United States Navy and became a pilot who fought in World War II. Following the war, Bush married and had six children, including George W. Bush, 43rd President of the United States, and moved his family to Midland, Texas.
Bush's career as a politician took off following his move to Texas. Over time, Bush would serve in the House of Representatives for Texas, as President Richard Nixon's U.S. ambassador to the United Nations, President Ford's U.S. envoy to the People's Republic of China and Director of Central Intelligence, and President Reagan's Vice President.
After his election to the presidency in 1988, Bush implemented many reforms, including the Americans with Disabilities Act and the Clean Air Act. 
Some of his largest achievements were in foreign affairs, as he helped end the Cold War between the Soviet Union and the United States peacefully and handled the fall of the Soviet Union with humility. 
He also helped unify Germany in the North Atlantic Trade Organization alliance after the fall of the Berlin Wall.
Bush supported efforts to create peace between the United States and other nations in the Middle East and with Saddam Hussein. The Gulf War was also a prominent global issue during his presidency.
Memorial services for the former president began in Washington D.C. on Monday, December 3 and will continue until Thursday, December 6, where he will be taken to Texas.
On Wednesday, December 5, the nation will be able to watch a funeral service on live television at 11 a.m. on major television networks.
Several eulogies will be given, including one by former President George W. Bush.
A smaller funeral service will be held at St. Martin's Episcopal Church in Houston, Texas. Bush will be buried at the George H.W. Bush Presidential Library in College Station, Texas, where his late wife and daughter Robin are buried.