Friar Spotlight: Kendall Jerzky
by The Cowl Editor on October 26, 2017
---
Athlete of the Week
---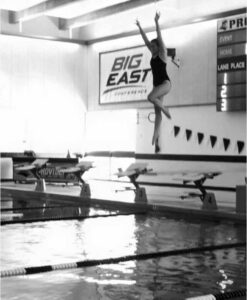 by Sam Scanlon '19
Sport Staff
  With the Fall season underway, the Providence College Swimming and Diving Program is hoping for a successful season in the pool. This year, the women will be led by an extremely talented group of upperclassmen swimmers and divers, including Kendall Jerzyk '18, who has already made a splash of her own so far.
The Madison, Connecticut, native has already had a decorated career, earning a spot in the Big East Championships in both her sophomore and junior years. Jerzyk placed third in the 1-meter dive as a sophomore at the tournament, as well as fourth and fifth place finishes in the 1-meter and 3-meter dive, respectively, last season.
   This year, however, Jerzyk is off to an extremely hot start. She opened up the season atop the podium in the 1-meter dive, and had a second place finish in the 3-meter dive at the New England Catholic Invitational in Newton, Massachusetts. Her efforts in this meet were good enough to earn her a spot as a Big East Honorable Mention for the week.
   Just a few days later, Jerzyk and the Friars traveled down the road to Bryant University. Coming off an impressive weekend performance, Jerzyk's success carried over as she posted the same scores at Bryant with a first and second in the 1-meter and 3-meter dives, respectively. Less than a week into the season, Jerzyk has already qualified to participate in the Big East Championships for the third season in a row. She will be competing in both the 1-meter and 3-meter dives in the tournament.
    Jerzyk is extremely enthusiastic for this season and helping the team win, especially since it is her senior year. Excited about her early qualification into the Big East Championships, she stated, "Qualifying early in the season makes it easier for me to practice dives with a higher difficulty, hopefully I can compete those dives confidently at the Big East and score more points for the team."
   She now has the remainder of the season for trial and error, with ample time to practice more difficult dives and make adjustments so she can land a high spot on the podium when it becomes tournament time. She plans to make improvements to her dives throughout each meet, while also practicing more difficult dives throughout the rest of the season.
  Jerzyk, who captained her volleyball and gymnastics teams in high school, is having a lot of fun with her successful diving career at PC. "I came to PC not knowing how to dive so any success I have in the sport is very rewarding. Placing in the Big East for both the 1 meter and 3 meter would be awesome."
   Like any senior, awards aside, Jerzyk is focused on enjoying her last year at Providence College. She closed with "My number one goal for my senior year is to have fun and do my best. Mostly I hope to enjoy my last season with my teammates."
      Keep watch on Jerzyk and the rest of the team as they set their sights on another accomplished season and a successful Big East Championship Tournament.