Editor vs. Editor: Iconic Duos
by The Cowl Editor on September 14, 2017
---
Arts & Entertainment
---
Michael Scott & Dwight Schrute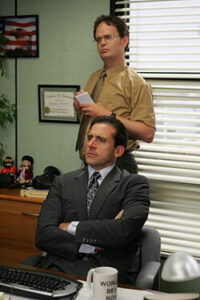 by Kerry Torpey '20
A&E Co-Editor
Although some fans of the hit NBC sitcom The Office might argue that couple Jim Halpert and Pam Beasley are the best duo on the show, they are definitely out-"duo-ed" by Michael Scott (Steve Carell) and Dwight "Assistant to the Regional Manager" Schrute (Rainn Wilson).
The relationship between Michael and Dwight has a hilarious dynamic that helped create a foundation for The Office to become a powerhouse that continued on for nine seasons. Even when Michael left the show, his friendship with Dwight was still a major component of Dwight's character.
One of the funniest aspects of their relationship is how overprotective Dwight is of Michael. No fan can forget the episode "Stress Relief" where Michael hosts a Comedy Central-inspired roast.
As each member of the office gets up and throws their best punches at Michael, Dwight stands up exclaiming, "How dare you all attack him like this? Michael is your superior, okay?" As Michael tries to interrupt him by repeatedly saying, "Idiot," Schrute responds, "You don't have any friends or any family or any land," making this encounter one of the best examples of their dysfunctional relationship.
All jokes aside, however, Dwight and Michael have a lot of love for one another. Michael even came back in the final season to be the best man at Dwight's wedding. While spaghetti and meatballs can keep you satisfied for a few hours, Michael and Dwight will keeps fans laughing for many years to come.
Spaghetti & Meatballs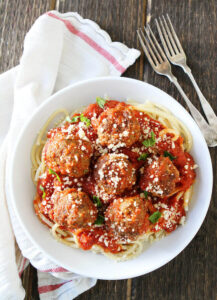 by Abigail Czerniecki '19
A&E Co-Editor
That's Amore! Not only did spaghetti and meatballs define one of the best love scenes in movie history in Lady and the Tramp, but spaghetti and meatballs has been one of the best dinner duos of Italian and, quite frankly, American history.
Is it the dull, mild looking color of the meatball laid upon the pale yellow pasta that makes this duo so irresistible? Or is it the complimentary tastes of the two foods that each bite simulates?
Unlike some other food duos such as salt and pepper or cookies and cream, spaghetti and meatballs has had its fair share of celebrity appearances in many movies. Movies like Cloudy with a Chance of Meatballs, Lady and the Tramp, and for all you '90s kids out there, The Lizzie McGuire Movie, have all had scenes of this duo playing a crucial role in the establishment of love.
There simply is no other food that is a perfect combination of romantic and tricky, almost to the point of awkward, to eat
Not only is this fantastic duo reasonably priced at restaurants, it is also one of the very few things that is safe to eat at Ray Dining Hall. Have I convinced you now that spaghetti and meatballs surpasses all other duos out there?
Whether you choose to eat it with a spoon and a fork, just a fork, or the no-hands sequence, spaghetti and meatballs always knows how to satisfy the hungry students of Providence College.
Do you really want Michael Scott and Dwight Schrute of Dunder Mifflin Paper Company on your dinner plate?