Tiff and Earl
by The Cowl Editor on September 29, 2022
---
Features
---
Dear Tiff and Earl,
I've been training really hard, attempting to beat Dean Sears in the Friar 5K. Any advice to crush the best runner at PC in his own race?
Sincerely,
Future Marathon Runner
---
Yo Future Marathon Runner,
If you want to beat Dean Sears in the Friar 5K, you have to start adding fingertip pushups to your workout routine (Dean Sears does them often). Since your race is in a few days, I would suggest tapering and loading up on tons of carbs, and you'll be good to go! With this advice, you're sure to crush Saturday's 5K!
Break a Leg!
Earl
---
Dear FMR,
An astute observer of Dean Sears would know that he runs with a lollipop in his mouth. This trick, my friend, is your golden ticket; researchers say this improves concentration, keeps blood sugar constant, and intimidates opponents. The real challenge is not whether you can beat Dean Sears with this tactic, but whether you can do it without impaling yourself…
Cheers!
Tiff

Recapping the Friar 5K
by The Cowl Editor on October 7, 2021
---
Friar Sports
---
Fr. Humbert Triumphs Over Dean Sears
Liam Tormey '22
Sports Co-Editor
As the annual Providence College Homecoming was just getting underway, so too was the Friar 5K, a tradition continuing to be a massive hit.
The race has become a staple of Homecoming, a weekend which is already filled with so many great events for students, families, and faculty to be a part of the community.
Students, alumni, parents, family members, faculty, staff, and even the public were all invited to run or walk the 3.1 mile race. Racers were allowed to sign up individually or as a team to get in on the action.
Before the event, whoever pre-registered was given a free cotton race t-shirt. The event directors were also looking for female graduates or those running in honor of one to support the school with a donation towards the National Alumni Association Scholarship Fund. Each runner who made an additional gift received an upgraded t-shirt to celebrate 50 years of women at PC.
Every runner of the 5K received a ticket for a complimentary beverage at the Homecoming Friar Fest, an outdoor party held on campus which offered food, drinks, and a place to catch up and meet fellow Friars.
At Friar Fest, awards were handed out to the overall male and female winners along with the top three male and female finishers in each age category.
A wide range of ages spanned the runners of this year's event. The first group was 18-years-old and under. The second was 19-29, the third was 30-39, the fourth was 40-49, the fifth 50-59, all the way to group eight: those 80 years old and above.
The Friar 5K, which occurred on Oct. 2, courses around the PC community. The race begins right in front of Harkins Hall, travels through Eaton Street, up Enfield Avenue, down Naples Avenue, then turns down Sharon Street, goes back through Eaton Street, turns back onto the  campus, and finally finishes at the Ray Treacy Track at Hendricken Field.
To amp up the runners, the organizers of the event in recent years have set up a Friar 5K Spotify playlist, giving everyone who is running a chance to listen to past artists who have performed at PC and other popular hits to help motivate runners while they up their heart rates. .
Starting at 9 a.m. on Saturday morning, every racer was blessed with perfect weather for the event: sunny and neither too hot nor too cold.
This great event allows friends and family to connect over fitness and an enjoyable time. It is not often that all members of the Friar family are able to get together at once, but this race offers the perfect opportunity, and the chance to settle long rivalries.
Back in Nov. 2020, Dr. Steven A. Sears was named Vice President for Student Affairs and Dean of Students. Dean Sears wanted to take on an "unwavering commitment to [PC] students and their well-being" when he accepted the role. He has shown nothing but love and support to the PC community since he took over.
Sears, a U.S. Air Force veteran, isn't shy of competition, and neither is Father Humbert Kilanowski, O.P., an Assistant Professor of mathematics at PC. Since the moment the two met and disovered each other's running ability, they have fostered a runner's feud.
This year's 5K was no different, but there was a clear winner. Fr. Humbert came out victorious and said Dean Sears was not even close to him: "I never even saw him. He was behind me the whole time." Fighting words to say the least.
Fr. Humbert credits much of his success to Ray Tracey, Providence College's distinguished Cross Country and Track and Field coach. Coach Tracey inspired Fr. Humbert to pick up running and gave the Friar his personal training regimen. "I couldn't have done it without him."
The rivalry between Fr. Humber and Dean Sears has been gaining traction within Friartown. Commenting on the race, Fr. Cuddy stated, "Dean Sears has consistently beaten really fast runners half his age. But sadly it seems that the one foe he can't outrun is Father Time."
Fr. Humbert decided to continue the running feud by sending an email to his good friend Dean Sears, congratulating him on "winning his age group." So, as all can tell, this rivalry runs deep.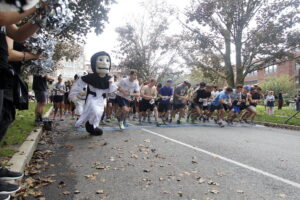 Dean Sears responded that Fr. Humbert has been "aiming for me since the day he arrived at PC."
He also says there might be an obsession on Fr. Humbert's part in wanting to beat him so badly. "Fr. Humbert has been training so hard for the past year to beat me, asking regularly 'how fast are you running?' 'What is your 10K and 5K time?' It seemed to be an obsession." Dean Sears seemed shocked at how much Fr. Humbert really wanted to beat him.
The Friar community knows how much Dean Sears loves everything that has to do with PC, and he wanted nothing more than to make Fr. Humbert happy. "I felt kind of bad so I decided to hang back this year so he could win," Dean Sears added.
"Watching him ahead of me was the greatest gift in this year's Friar 5K. I really enjoy seeing others happy. This was his one Friar 5K that I will allow this to happen."
In short, this victory may just be the start of an even deeper friendly competition between the two. Fellow Friars may see Dean Sears in the Concannon Fitness Center, or Fr. Humbert running along campus or in the streets, and no one should be surprised by Friars putting the work in.
Dean Sears also has a comment to make about future events: "I will have his name on the back of my shirt next year so he can see it while he is behind me. It may help him finish at a faster pace. It's on!"
Word is spreading throughout the PC community that next year's race should bring even more drama and that Dean Sears is determined to prove the 2021 race was only a fluke. Nick Braz '23, who was in attendance that Saturday morning and knows the Dean well, declared, "insider sources tell us Dean Sears is training harder than ever for next year's race. If you ever see him on campus, give him a thumbs up or a wave! Next year is your year!"
Either way, this year, Fr. Humbert got the better of Dean Sears. For the student body and everyone associated with PC, the Dean Sears and Fr.  Humbert Rivalry may be going on for years to come and may be a part of many Friar sports rivalries.
The Friar 5K is an opportunity for everyone to come together and show their love for PC. For some, it is the sparking of a rivalry that may only just be getting underway. Whether you are a new runner or a seasoned competitor with a longstanding rival, the Friar 5K is a fun and relaxed way for the Providence College community to come together as one. Go Friars!
Editor's Corner: Friar 5K
by The Cowl Editor on October 24, 2019
---
Friar Sports
---
By Jack Belanger '21
Sports Co-Editor
Back on Oct. 5, Providence College held its 10th annual Friar 5K as part of  Homecoming Weekend. The race may have been a commercial success with over 900 runners registered, more than 800 who finished the race, and $15,000 raised towards the National Alumni Association Scholarship Fund. For some runners though, the race did not go as planned.
A group of at least 30 runners who led for most of the race unintentionally went off the course in front of the Slavin Center, shaving off anywhere between a tenth to a quarter of a mile. For those who were looking to finish in the top three of their age group, their times would be disqualified; for others looking to set new personal records, their times were no longer reflective of their performance that day. The question that floated through everyone's mind was simple: how did so many runners manage to get off the course?
For those who were not at the event, the runners were supposed to run up the street behind Raymond Dining Hall and take a left towards Moore Hall and back to Eaton Street. The runners instead stayed straight, ran towards the Science Complex and back out the front gates where they would get back onto the course before they crossed the finish line.
While the gaffe may not be a huge deal for casual runners, the fact of the matter is the course should have been marked better for those who were competing for the top spots. Organizers should have had people at the turn directing people where to go, simple as that.
It can be argued that the runners should have taken responsibility and known how to stay on the course, but that is not the first thing that runners are thinking about in the moment. Runners are focused on trying to keep pace around those near them or catch up with the leaders of the group.
It is the responsibility of those organizing the race to make sure the race goes smoothly. Not only does that mean giving out water to make sure runners stay hydrated, but it also means marking the course clearly at any turn or spot that could potentially lead runners the wrong way. If anyone does get off course, action should be taken quickly to get people back onto the course and prevent more from getting off track.
Many people came from all around the country to celebrate Homecoming Weekend and race with their fellow Friars. Plenty trained for the race, and it is unfair to those who may not have taken a look at the map beforehand to lose the opportunity to finish the way they hoped for just because time was not taken to prevent this from happening.
The Friar 5K should be an event that is celebrated as something that brings the community together and allows runners to get a chance to do their best with their families and classmates watching. In order to make sure that controversy can be avoided going forward, the College should take the necessary steps to make sure something like this does not happen again.
PC Holds 10th Annual Friar 5K
by The Cowl Editor on October 10, 2019
---
Campus
---
by Sienna Strickland '22
News Staff
This past Homecoming weekend, on Saturday, October 5, hundreds of faculty, students, family, and alumni were gathered around Harkins Hall to participate in the Friar 5K—an annual 3.1 mile run. 
Participants were not the only ones in attendance, as residents around the area lined the streets to watch the runners. 
Student volunteers handed out apples, oranges, water bottles, and Gatorade after the race on the track. Tents were set up on Slavin Lawn featuring pizza, calzones, apple cider donuts, and more from local establishments. 
Students from all running backgrounds participated in the race. These included anybody from former track stars, to people merely looking for a challenging bout of exercise. Alex Chapparo '22, who ran on Saturday, falls somewhere between the two.
Chapparo has been running for a good part of her life. "Growing up my dad did triathlons, marathons, and 5Ks at least monthly, so I've always grown up running. It's been my steady stress relief no matter what stage of life I'm in."
A long-time lover of running, Chapparo jumped at the chance to participate in the 5K. Only one small problem: her decision to participate was made a mere two weeks before the race. So, how does one prepare themselves for a 5K, especially in such a short period of time?
She admits that her past, as well as current, running experience was helpful in her preparation, but admitted she still had a lot of work to do in order to get into proper shape. She describes her workout routine leading up to the race.
"I try to run two to three miles at least twice a week no matter what, but in the days leading up to the race I slowly increased my distance daily until I was comfortable running five or six miles. That's when I started lowering the distance a bit more and focusing some on my split times."
Other than upping the distance of her weekly runs and increasingly working on her speed, Chapparo also talks about her specific gym routine. "I always start every workout with some type of cardio and then rotate different areas to focus on. Leading up to the race I made sure to increase reps and lower the amount of weight I was lifting to try and gain more lean muscle."
In addition to the physical aspect of preparation, being mindful of her diet was another integral part to the process—emphasizing "protein, protein, and more protein!" She describes her typical meal. "Protein was super important! My go-to food was chicken, some type of bean, and lots of hummus and veggies for dinner!"
Despite careful preparation for the race, facing difficulties during the actual run is inevitable. Chapparo cites her biggest challenge on race day—which ironically, had nothing to do with her physical condition. "My biggest mental challenge was making it past the first mile," she says, adding that "Once I settled into my pace however, it was smooth sailing from there!"
Smooth sailing it was. The day turned out great—with all types of members in or associated with the PC community coming together. With the help of her preparation routine, and encouragement from PC student volunteers cheering on the sidelines, Chapparo successfully completed the race. 
She had a great time doing it, stating: "The race went amazing, the day was beautiful, and I was so blessed to be running alongside so many fellow dedicated running Friars!"
A Perfect Day for a 5K
by The Cowl Editor on October 4, 2018
---
Campus
---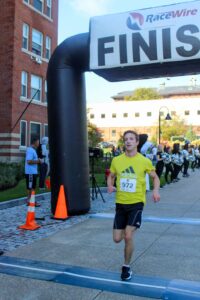 Lillie Hunter '22/TheCowl
PC Community Reunites for the Ninth Annual Friar 5K
by Julia Acquavita '22
The skies were a vibrant blue this past Saturday, September 29, as hundreds of people gathered onto the Providence College campus, thrilled to join in on the Friar 5K festivities. 
Organized by the National Alumni Association of the College, this race marked the ninth annual Friar 5K. Faculty, alumni, students, family, friends, and members of the greater Providence area gathered together to participate in a day full of fitness, family, and fun.
The runners eagerly met around Smith Lawn, ready to start the race. As the horn rang through the air, they were off! 
The crowd consisted of sprinters, joggers, and walkers as everyone made their way through the course and onto Eaton Street, prepared to take on the uphill battle ahead  of  them.
The festivities of the day began bright and early for the many who volunteered to help out throughout the course of the race. 
The streets were flooded with sports teams, alumni, PC clubs, and Friars ready to cheer on the runners. PC pride was in the air as all the volunteers gathered in support of the courageous participants.
Orchestrated by the National Alumni Association, this event has been around for the past eight years, with the purpose of contributing to fund the National Alumni Association Scholarship. This elite scholarship is only given to a select number of PC students.
For the 2018 Friar 5K, organizations such as United Natural Foods (unfi), Spino Brothers Inc., New England Mechanical Contractors Association, UnitedHealthcare, Coast to Coast Promotional Products, and SLAM helped to sponsor this event.
The anticipated race began in front of the Smith Center for the Arts, ending in front of the Arthur F. and Patricia Ryan Center for Business Studies. 
The race route weaved in and out of the campus, providing the racers with a scenic view of the campus and the city itself. 
Maureen Severino, a participant in the race, mentioned, "It was lovely to see the campus and notice how far this school has come since my daughter went here twenty-five years ago."
This year's top finishers included Peter Murphy, age 29, finishing the 5K in 16:56 minutes, Brian Strobel, age 26, finishing in 18:04 minutes, and Tim Sears, age 19,  finishing in 18:14 minutes. 
This event has only prospered over the years, with more and more students, alumni, and other members of the Friar Family registering to participate in such a community-oriented day. Whether these people are physically running the event, or simply passing out T-shirts, people dedicate their time to show their support and be a part of this special event.
One story which promotes the idea of the Friar Family is that of two PC alumni, Tom Allard '84 and Karen Delane '84. They met during their time at Providence College and now have a daughter that attends the school. 
PC events have now become a full family affair, as they come to support several school-sanctioned events every year, such as attending basketball games, legacy day, and more. 
Even when the race was over, the festivities of the day continued. 
A series of events took place throughout campus on the Slavin and Business Center lawns, consisting of rock climbing, races through inflatable obstacle courses, and autograph signings from the Providence College Men's Basketball Team. 
Everyone's Friar 5K experience was packed to the gills with these all-day games and activities, making this day a popular event during PC's St. Dominic's Weekend celebration.
A core value of the College is community and unity. Through events such as the Friar 5K and St. Dominic's Weekend celebration, people from the years of PC's past and present can unite for a day dedicated to the PC community and family. 
Without days like these, the Friar Family would not be the strong, passionate group of people it is today.