Kicking for a Cause: Friars For ____ Hosts Charity Kickball Event
by The Cowl Editor on November 21, 2019
---
Campus
---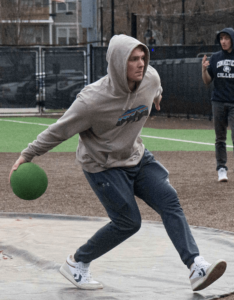 by Kelly Martella '21
News Staff
On Sunday, November 17, many clubs on campus came together for some friendly competition at Glay Field. Providence College's "Big Five" — Board of Programmers (BOP), Board of Multicultural Student Affairs (BMSA), Friars Club, Student Congress, and Campus Ministry—played in a kickball tournament to raise money for those affected by Hurricane Dorian in the Bahamas.
The afternoon was full of music, food, and some friendly competition. In the end, Friars Club was the big winner of the kickball tournament, beating Student Congress with a score of six to five in an exciting final game.
Students who could not make the event were still able to be involved by purchasing raffle tickets. The six prize packages included LaSalle gift cards, restaurant vouchers, and "Friars for Bahamas" t-shirts.
The event was sponsored by both the Organization of Latin American Students (OLAS) and the Friars For ___ club. Friars For ___ raises money and awareness for a variety of causes and encourages students to "fill in the blank" with causes that they want to support. The club is only in its second year at PC, but has already had great success. In the past, they have sponsored events for causes like Operation Christmas Child, Puerto Rico, and PAWS.
Sunday's event raised funds for the Bahamas in response to Hurricane Dorian. In August of 2019, the islands of the Bahamas were devastated by the category-five storm. The money raised from the event will be going to Samaritan's Purse, a worldwide charitable organization.
Friars For ___ executive member Adriana Santos '21 called the event "a huge success." The event raised over $750, which the club is excited to give directly to those in need in the Bahamas. "It will all go to [Samaritan's Purse]," said Santos. "They have a mobile site right in the Bahamas and are providing aid to those affected." The charity has been providing much-needed services to the devastated areas. The charity explains on their website that the mobile facility "is now operating out of Emergency Field Hospital in Freeport on Grand Bahama, performing lifesaving surgeries and otherwise treating patients for a variety of injuries and illnesses." They have served thousands of patients in the two months since opening.
The Friar community came together to help those in need in the Bahamas, and Friars For ____will surely look to support other communities in the future. Contact the Friars For ____ club with any suggestions of causes you would like to support.