Men's Lacrosse: Road to Redemption
by Joshua Lopes on February 11, 2021
---
Friar Sports
---
Coach Gabrielli, Friars Finally Return
Liam Tormey '22
Sports Assistant Editor
In 2020, the Providence College Men's Lacrosse Team started the season 5-1. Wins against Boston University, the College of the Holy Cross, and a 13-12 victory in the Ocean State Cup over Brown University seemingly marked the start of a fantastic season. But then, COVID-19 struck.
Head coach Chris Gabrielli admitted to how crushing it was to have the season cut short when his team was just getting started. "It was devastating, it was one hundred percent devastating," Gabrielli said. "We were playing well in all phases." He lamented, "Any end to the season is brutal, but to end in mid-March so abruptly was tough."
Heading into a 2021 season still marked with difficulties, Gabrielli can take some solace in the NCAA's decision to allow for an extra year of eligibility for any player who missed out on last season. The decision gave Gabrielli, his coaching staff, and his players an idea of what things would look like this year. "I'm thankful for all the people on campus who have helped in making this process for myself and my players easier."
Eight of the 11 seniors from last season took advantage of this opportunity and will be returning. It was a long process, but Gabrielli tirelessly pulled out all the stops to make sure his graduated seniors were prepared: from getting information for them about PC's MBA program to helping them sign up for the GMAT exam. The process was made more difficult by the fact that many of the seniors already had jobs or were accepted to other graduate programs. However, in the end, a key group of players will be returning.
That includes returning captains Tim Hinrichs '20GS and Nick Shaw '20GS. They are joined by new captains, Toby Burgdorf '21, Matt Grillo '22, Evan McGreen '21, and Mike O'Grady '22. "Certainly an older team is typically a better team," Gabrielli said. With 16 seniors and graduate students, the Friars will indeed be an older team this season. "They've seen it all, they've been through a lot, and they know how to handle certain emotions."
With the new additions to the captain list, Gabrielli wants his main guys to "continue to be themselves, but don't be complacent and don't be satisfied." He knows his captains will continue to perform on the field, but "I now challenge them to elevate their leadership role. It's the next challenge, you have established yourself on the field and now I want you to be a leader, and we wouldn't give that title to anyone if they didn't deserve it."
Last season, Grillo led the way for the Friars with 25 total points. In just six games, Grillo put up an astounding 21 goals and four  assists. In PC's win against Sacred Heart University, Grillo scored seven goals and added one assist.
Once again, Burgdorf will be in the net for the Friars. Last season was his first year as the starting goaltender and he did not disappoint. In just six games, Burgdorf ranked second in the country in save percentage, third in goals against average, and 13th in saves per game. As a result of his performance, Burgdorf has been named an Inside Lacrosse Preseason All-American Honorable Mention.
In five games last season, McGreen recorded six points with four goals and two assists. O'Grady added two goals in six games for the Friars as well.
Gabrielli was adamant that the opportunity to have an older team bodes well for the future of the program. "These guys are all tremendous leaders," he said. "Having the graduate students back and the freshman class being able to learn from them, it's great for us. They are going to learn how to work, how to lead, and how to get better."
Learning from the graduate students will be 13 incoming freshmen. Gabrielli is aware that this situation is not unique to PC. Many teams will welcome back seniors from last season, as well as a new freshman class. "This isn't just happening to us," said Gabrielli, "but it's happening all around the country, and the competition is just going to be fiercer."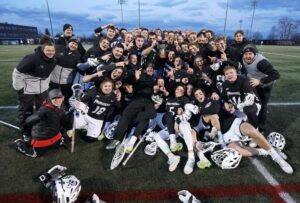 Gabrielli expects a handful of these freshmen to have roles right out of the gate. Some of the players Gabrielli mentioned as standout freshmen to watch are Michael Chabra '24, Ty Thureson '24, Chris Cusolito '24, and Tom Fegley '24. All four will be seeing playing time in the upcoming season.
Channeling the frustration of how last season ended, Gabrielli has made it a focal point that the Friars now get to complete the season they thought they would have had last year. Gabrielli said, "Our team has to be tremendously disciplined, tremendously committed, use common sense, and the sacrifice level has to go to a whole new level this year."
Indeed, it will be a year of sacrifice if things are going to go smoothly for the Friars. Gabrielli knows that with what his team has been through already, they are all ready to make sacrifices for the benefit of the team.
Gabrielli mentioned how his expectations are high every year, but this year, his expectations are "higher than ever." With his top players returning, there was always the belief that this season will be a successful one, but "we know how challenging it is to be successful and this year with the pandemic makes it a challenge."
Now, at the end of a difficult offseason, Gabrielli explained how his team has only been able to practice together just a handful of times as a whole unit. For most of the time, they were working in pods. With no outside scrimmages able to be played, the preparation has been different and difficult.
On Feb. 13, the Friars will travel to Bryant University for their first official game of the season. Without any of the outside scrimmages to prepare, "the sense of urgency is so great for us right now, we can't take shortcuts and we have to be disciplined," said Gabrielli. "The Big East games are so critical and Feb. 20, boom, we're in it."
That Feb. 20 game will see the Friars begin Big East play by traveling to Queens, NY to take on St. John's University. Their first home game of the season will not be until March 3 against Fairfield University.
Gabrielli is still unsure about the status of spectators for the upcoming season, though, there may be the potential for students to come to the games. He emphasized, "If you are able to come out and not be stuck in your dorm room anymore, we would love for the students to come out and support us." If they are allowed, fans will have plenty to look forward to, as Gabrielli and the Friars, motivated and talented as ever, are finally back.