TV Review: The Girl From Plainville
by John Downey '23 on May 6, 2022
A&E Co-Editor
---
Arts & Entertainment
---
TV Review:
The Girl From Plainville
A Small Screen Adaptation of a Case That Gripped the Nation
Grace O'Connor '22
Trigger Warning: This article contains mention of suicide.
 The Girl from Plainville, starring Elle Fanning, adapts a case that gripped the nation to the small screen. The true, tragic story behind the show began on July 13, 2014, when teenager Conrad Roy passed away from carbon monoxide poisoning in his truck. His death was originally ruled a suicide, but then investigators discovered that there was more to the story. Roy's girlfriend, Michelle Carter, was texting him on the day of his death, and she played a significant role in his decision to take his own life.
Carter met Roy in 2012 on a family vacation in Florida. The pair began a texting-based relationship that lasted for almost two years. As Bazaar explains, they "bonded over their mental health struggles. Carter was isolated at school, and suffered from anxiety and an eating disorder that—during the time period of her relationship with Roy—necessitated a stay at a residential clinic. Roy himself had already made several suicide attempts." Carter became a constant in Roy's life, helping him through his struggles and finding herself increasingly attached to him as she shared the details of her own struggles with him. 
In a statement made soon after Roy's tragic death, Carter claimed that "Conrad did not kill himself because of bullying like everyone assumes. I know the real reasons." The real reasons, it would later come out, had much to do with Carter, herself. 
With the reveal of Carter's involvement in Roy's passing came new questions about the case. According to The Guardian, people began to wonder, "is Michelle a psychopath looking for sympathy? A delusional narcissist? An unwell teenage girl so devoid of self-worth that she psychotically over-identifies with a fictional character? Someone deeply moved by television?" The Guardian's mention of television and fictional characters references Carter's obsession with Glee, particularly with Rachel Berry (Lea Michele) and Finn Hudson's (Cory Monteith) relationship. Carter seemed to view her relationship with Roy in terms of the fictional romance, which sees Monteith's character die.
The first three episodes of The Girl from Plainville focus on the aftermath of Roy's death and Carter's seemingly deep remorse. Viewers quickly learn the importance of texting in the pair's relationship through flashbacks of messages that they sent to one another. In this way, the show does a great job of depicting the reality of the couple's situation. As The Guardian emphasizes, "The couple, who only met in person a handful of times, were less lovers than voices in each other's heads. The show captures some of that blurriness, and why adults just didn't get it, by putting the texts in the actors' mouths. Their digital conversations (pulled, it seems, from the real texts) play out as fantasy sequences, one imagining the other in the room with them, staring ravenously at them, as they type."  
The Girl from Plainville does not shy away from the ugliness of its story. Later episodes show Carter pushing Roy to end his life—still through text messages—feeding on his vulnerability. Additionally, in episode six, viewers learn how Carter's loneliness and lack of true friends exacerbated her eating disorder and other personal struggles. Although the show is careful to not turn Carter into a sympathetic figure, it makes it possible for viewers to empathize with her, even if only for a few moments.
Overall, despite its heavy plot, Girl from Plainville brings awareness to mental health and the importance of helping others who may be struggling. The talented cast did an excellent job of vividly portraying this tragic story.
Pink Popsicle
by trogers5 on May 5, 2022
---
Poetry
---
Grace O'Connor '22
The blue in her sparkly eyes hugged the green rim in the middle
She was careless, as her only fear was if her mom would hide her favorite rose dress from her
The cloth of her dress held infinite red roses, which she wore with a gleaming smile
Her smile could cure all the sadness around her
She was careless, as her only fear was if her mom would hide her favorite rose dress from her
In time the simplicity and warmth of life in a young eye start to fade
Her smile could cure all the sadness around her
Before the rose-colored glasses are removed and reality bleeds through
In time the simplicity and warmth of life in a young eye start to fade
She no longer was protected by her own oblivion, as the strength vulnerability isolated her
Before the rose-colored glasses are removed and reality bleeds through
Bliss is now only felt in artificial ways
She no longer was protected by her own oblivion, as the strength vulnerability isolated her
She carried the true torment of reality around with her
Bliss is now only felt in artificial ways
She now eyes the intangible old comfort from a distance, yearning for it day by day
Where the Crawdads Sing Controversy
by John Downey '23 on April 22, 2022
A&E Co-Editor
---
Arts & Entertainment
---
Where the Crawdads Sing
Controversy
Taylor Swift Unfairly Criticized for Involvement in Film Adaptation
By Grace O'Connor '22
Many readers have been anxiously awaiting the release of the film Where the Crawdads Sing, which is based on the New York Times best-selling novel of the same name. The book centers on a woman named Kya who is forced to grow up on her own and navigate the complexities of life without guidance from a young age. 
As a teenager, Kya finds herself involved in two serious relationships. She becomes swept up in both, letting herself be open to love, a feeling she had never experienced before in her life. When one of the men she is involved with is found dead, Kya is the first to be blamed, as many people in her community are quick to judge her due to her tragic past. 
The novel seamlessly combines two genres, romance and mystery, keeping readers engaged from its opening pages to its final lines. Readers empathize with Kya as she falls victim to social prejudices against her owing to her socioeconomic background but are inspired by her resilience.
With news of Where the Crawdads Sing's adaptation to the big screen has come scrutiny of author Delia Owens' questionable past, the facts of which were not publicized when the novel was first released in 2018.: Years before she became a writer, Owens and her now-ex-husband traveled to Zambia, where they were believed to be somehow involved with the murder of an unidentified poacher. 
Without spoiling Where the Crawdads Sing, there were enough similarities between the novel's plot and the author's unsavory background for backlash to erupt at news of the novel's film adaptation. Indeed, according to BuzzFeed News, "despite its critical acclaim, Where the Crawdads Sing has been shrouded in controversy after problematic information about [Owens] came to light." 
One famous figure who seems unfazed by the controversy is music industry legend Taylor Swift. In March, Swift took to social media to share a teaser trailer for the film that featured a song she wrote called "Carolina." The singer expressed, "as soon as I heard there was a [Where the Crawdads Sing] film in the works starring the incredible @daisyedgarjones and produced by the brilliant @reesewitherspoon, I knew I wanted to be a part of it from the musical side. I wrote the song 'Carolina' alone and asked my friend @aarondessner to produce it. I wanted to create something haunting and ethereal to match this mesmerizing story." 
Although many of Swift's loyal fans were excited to hear a new song from the artist, some were disappointed that in supporting the upcoming film, Swift essentially aligned herself with Owens despite the author's dubious past. As The News explains, many have "expressed disappointment that Swift is supporting someone who got away with the murder. Others said that she should have first [considered] all the information [about the project and those associated with it] before doing [a song for it]." Still other fans believe that Swift and her team fans were not aware of Owens' past before becoming involved in the production. As BuzzFeed News notes, some critics are attempting to paint the situation as evidence of Swift being a white feminist and only standing up for others' rights when it benefits her.
However, Swift is only one person of many—and one celebrity of many—who is involved in the production, with breakout star Daisy Edgar-Jones starring as Kya and Reese Witherspoon's production company helming the film. While, if true, Owens's role in the poacher's murder is certainly deplorable, critics' condemnation of Swift for her involvement in Where the Crawdads Sing and silence with regard to the other big names attached to the project suggests that the outcry is not so much about the morality of working on the film, but rather about criticizing a successful woman's accomplishments.
Spotify Songwriter Controversy
by John Downey '23 on March 26, 2022
A&E Co-Editor
---
Arts & Entertainment
---
Spotify Songwriter Controversy
Writers Protest the Streaming Service's Pay Policies
Grace O'Connor '22
 Spotify has become a world-renowned music-streaming app, boasting over 406 million active users and 106 million paying subscribers as of Dec. 2021. According to Variety, "the platform rose from 7 [percent] of the U.S. market in 2010 to a whopping 83 [percent] by the end of 2020—and recorded-music revenues saw their fifth consecutive year of growth, topping $12.2 billion, per the RIAA." The magazine went on to add, "it's no understatement to say that streaming saved the recorded-music business and that global market leader Spotify [has] led the charge toward the stability and growth that the industry enjoys today." Needless to say, over the course of the past few years, Spotify has grown exponentially in popularity and success—as well as in its impact on the music industry. 
Songwriters, however, are not necessarily sharing in the bounty. On March 1, 2022, over 100 of these talented creators took to the streets of Los Angeles in a protest planned by activist group the 100 Percenters to express their dissatisfaction with Spotify's current policies. More specifically, according to OkayPlayer, they are protesting the fact that the streaming service only gives most songwriters 0.003 percent of a penny per stream. 
Among those songwriters protesting is Kennedi Lykken. In a statement to The Los Angeles Times, Lykken expressed that her last royalty check totaled only $432. She has worked on tracks for Dua Lipa, Ariana Grande, and Britney Spears. She has also won a Grammy Award. Needless to say, her impressive record calls for more than minimal royalties. 
Songwriters have been battling the "0.003 percent" rule for several years now. The 100 Percenters, the nonprofit organization leading the current protests against Spotify, was founded back in 2020 by a small group of individuals including songwriter Tiffany Red. In an interview with The Los Angeles Times, Red, who has written for Zendaya and Jeniffer Hudson, expressed her frustration that "people will say to her, 'Oh, you're a ghostwriter'" and explained that to such remarks, she always asserts, "'I'm not a ghost, I'm a person.'" This is precisely the sentiment that 100 Percenters hopes to convey in their fight against the disproportionately low payment rate for songwriters. 
Another songwriter, Kaydence Tice, spoke up at the recent protest to share her story. Tice worked with Beyonce to co-write "Black Parade," and despite such a massive hit to her name, she can barely afford to pay rent. 
Unfortunately, these songwriters' stories are the norm in the industry, rather than the exception. Indeed, there are innumerable other songwriters with similar stories, songwriters whose success Spotify has not acknowledged with proper compensation. 
The manner in which Spotify is treating songwriters is ironic considering that the platform is meant to celebrate and highlight their talents. As singer-songwriter Heather Bright expressed in a powerful statement, "you can feel the oppression and the disrespect when you're in rooms with people who have million-dollar homes while [you] have nothing." 
Bright's statement echoes the sense of degradation and dehumanization that songwriters are experiencing at Spotify's hands. Hopefully, the streaming giant will soon realize its songwriters' value, and treat them as they deserve.
Chocolate-Colored Mousse
by trogers5 on March 3, 2022
---
Poetry
---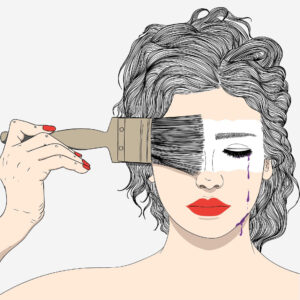 Grace O'Connor '22
She waits for hours as her hair is bleached, 
Piece by piece slowly being painted, 
In order to not expose her dark roots. 
She uses a mitt to spread the chocolate-colored mousse on her skin, 
Spreading it over every inch of her body, 
Waiting for it to slowly melt into her dry, pale skin. 
Her mascara wakes up her tired eyes. 
Complementing the blue in them, 
Hiding her exhaustion and natural beauty. 
The powder is held on by clear polish and strengthened by blue light, 
Tearing away, slowly killing her soft nail underneath, 
The tough layer holds onto what is left. 
The tight clothing she wears hugs her rib cage. 
Her skin is vulnerable to the wind. 
Goosebumps are being pushed to the surface. 
Her accessories are meant to distract the eye from her body, 
The bling on her gold jewelry meant to hold stares, 
Turning others' eyes away from her face. 
She pushes the thin lens against her eye  
As the water starts to puddle in the corner.  
She refuses to touch the lens that mocks her in the corner. 
Fear. 
She fears scrutiny and her dignity being shredded away. 
Her dignity stuck to her like loose, dead skin,  
Waiting to be peeled off with a simple scratch. 
The temporariness of artificiality leaves her panicking, 
Waiting, watching it slowly melt away day by day, 
Till she can paint herself again, hiding every mark she dislikes. 
Her paintbrush is held by her firm grip, 
But her hand is exhausted, she loosens this grip steadily, 
Till she drops her paintbrush and looks at herself in the mirror.
Adele Cancels Las Vegas Residency
by John Downey '23 on February 18, 2022
A&E Co-Editor
---
Arts & Entertainment
---
Adele Cancels Las Vegas Residency
A Look at the Artist's Controversial Decision
Grace O'Connor '22
Adele's fans were shocked when, 30 hours before her first show in Las Vegas was scheduled to take place, the beloved British singer announced that she was postponing her residency. After their initial shock subsided, fans felt a wide range of emotions from irritation to confusion. Caesar's Palace, the location set to play host to the residency, was also caught off guard and confused why Adele waited until the last minute to cancel her shows. 
Knowing that she owed her supporters an explanation, Adele took to social media to express the reasoning behind her last-minute decision to cancel her Vegas performances for the time being. According to Cosmopolitan, she explained in a set of Instagram stories that "the show was not ready for the stage and that her team has been absolutely destroyed by delivery delays and Covid." This message offered the singer's fans the answers they were looking for and demonstrated how distraught she is over the unfortunate situation. At one point in the post, she was visibly upset as she explained to viewers that "half my team, half my crew are down with Covid, they still are, and it's been impossible to finish the show." The singer added that she is "gutted" about canceling her shows and apologized profusely for disappointing her fans last-minute. 
While Adele's social media speech demonstrates her distress and suggests that the artist has a valid reason for wanting to postpone her Las Vegas residency, many are speculating that there is more to the story.
TMZ, for instance, has claimed that Adele was "unhappy with various set pieces, a choir, the sound system, and other items associated with the show," and felt that multiple elements of the show "were not good enough" despite it costing millions of dollars in total. Similarly, according to The Sun, "there was no real clarity around what Adele wanted for the show because of the endless changes being made to the production. It seemed that while she has always preferred a stripped-back performance, she was under some pressure to come up with a huge extravaganza." If these accusations are true, they paint Adele's heartfelt speech in a superficial light, and the possibility that Adele actually postponed her residency for those reasons has angered some fans, especially those initially upset by her decision to do so. 
These fans feel that Adele's desire to create an ideal, perfect show is a selfish reason for canceling, as it has left many scrambling for refunds. For many, their loyalty to and respect for the artist has diminished, given that she did not seem to take into account the inconvenience and financial burden that her canceling would cause them, let alone how much it would disappoint them. 
Hopefully, Adele will find a way to make it up to her fans, lest she risk further alienating them.
In Memoriam: Bob Saget
by John Downey '23 on January 29, 2022
A&E Co-Editor
---
Arts & Entertainment
---
In Memoriam: Bob Saget
Remembering the Man Who Made the World Laugh
Grace O'Connor '22
Bob Saget was a renowned actor and comedian most recognized for his role on Full House. He passed away unexpectedly on Jan. 9 in Orlando, FL after a comedy gig. The news shocked the world, saddening many who have worked with him or otherwise knew him during his successful career. Saget's wife, Kelly, shared, "My whole heart. Bob was my absolute everything. I am so completely shattered and in disbelief. I am so deeply touched by the outpouring of love and tribute from our friends, family, his fans and his peers. When the time is right and when this news is not as raw, I look forward to sharing more of Bob with the world." This statement is only one of many highlighting the tremendous amount of love and support that Saget had. 
Saget's career took off in 1987 when he was introduced in the iconic role of Danny Tanner on Full House. Starting in the 1990s, Saget became the host of America's Funniest Home Videos. He was always known to be naturally funny, winning the smiles of those around him from a young age. Aside from his time on Full House and AFV, Saget played a leading role in the show Raising Dad and the documentary The Aristocrats. He also went on to become the narrator for How I Met Your Mother and helped to produce Farce of the Penguins. After taking a few years off from television, he returned in 2009 with the show Surviving Suburbia. Saget's resurgence in popularity was solidified with the 2014 release of his comedy special That's What I'm Talking About, which was nominated for the Grammy Award for Best Comedy Album. In recent years, Saget has returned to his television roots, reprising his role as Danny Tanner in the Full House revival Fuller House from 2016 to 2020. 
Although Saget was known to be upbeat, he was not without his personal struggles. For instance, the death of his sister, Gay Saget—who passed away from scleroderma, an autoimmune disease—had a profound impact on the actor. According to CBS, he once remarked that her decline "was a three-to-four year process, and she was gone. And I couldn't bear it…I can't get the images of the end of her life out of my head, ever." Bob went on to say, "Humor is the only way my family survived. It's so healthy to laugh, and I'm out there doing it and I know it's healing for people." Evidently, Saget's pain drove his talent and allowed him to be resilient after his sister's death. 
On Saturday, Jan. 8, after what would be Saget's final performance, he posted on Instagram, "I loved tonight's show in Jacksonville. Very appreciative and fun audiences. I had no idea I did a two hour set tonight. I'm back in comedy like I was when I was 26. I guess I'm finding my new voice and loving every moment of it. A'ight, see you in two weeks. Goin' everywhere until I get the special shot. And then probably keep going cause I'm addicted to this." This Instagram caption, Saget's final message to the world, encapsulates the actor's passion for his craft and his love for his fans. The world will forever feel the gravity of his death but will nonetheless smile when looking back on his marvelous life. 
Film Review: 14 Peaks
by The Cowl Editor on December 11, 2021
---
Arts & Entertainment
---
Film Review:
14 Peaks
The Possibility of the Impossible
Grace O'Connor '22
The Netflix documentary 14 Peaks explores courageous mountaineer Nirmal Purja's journey as he climbs the 14 highest peaks in the world in the span of seven months. The previous record for the amount of time taken to climb all of these mountains was seven years, so Purja and his team's accomplishment is quite astounding. The Nepalese climber named this adventure "Project Possible." 
According to The Los Angeles Times, Nirmal was "a former Nepali Gurkha soldier and member of the U.K. Special Forces. He's a charming, exuberant leader out not only to achieve an incredible physical — at times even metaphysical — feat but also to help bring Nepal and his nation's uber-climbers into the international spotlight." 
Purja's background clearly gave him the necessary skills to prepare for "Project Possible." Indeed, the many factors that a mountaineer must take into account are daunting, especially those concerning the "Death Zone." As Salon explains, this "is the elevation above 8,000 meters, where cold, wind, and avalanches can kill, and oxygen is scarce." 
Purja's journey certainly had many setbacks, including his life-threatening struggle with High Altitude Cerebral Edema. Purja described this experience to Yahoo News, saying,  "I needed to get down the mountain quickly…It was a matter of life and death." 
Nirmal attributed his success in overcoming this frightening obstacle to his ambition, which is one of the qualities that stands out the most about him to his family. His wife, for instance, describes him as "very driven" in multiple interviews. 
While Purja's achievement is incredible, he remains humble. He described the project to Yahoo Canada as a "story that needs to be told to the rest of the world," expressing that "It's not about me, but [rather about] somebody else who believed in the vision to change the world for a better perspective, better reason." Purja's desire to share his experience and motivate others to achieve whatever they put their minds to is inspirational. Indeed, although Purja's journey certainly was tough, his resilience awes the rest of the world.
Book Review: Will Smith's Will
by The Cowl Editor on November 18, 2021
---
Arts & Entertainment
---
Book Review: Will Smith's Will
The Actor Shares Personal Struggles and Growth
Grace O'Connor '22
Actor Will Smith has released a new memoir highlighting his resilience and strength, offering hope for those facing similar struggles. Known for bringing smiles to his fans through his often blunt comedy, Smith's career began in the 1990s with the television show The Fresh Prince of Bel-Air. From there, he found success starring in movies such as the Men in Black films, Independence Day, and I Am Legend. He currently plays the father of tennis stars Venus and Serena Williams in King Richard. 
Smith's memoir goes in depth about instances of trauma he experienced as a child and how he has since grown from them. As he explained to NPR, "Those difficulties and those traumas and the mental anguish that I had to overcome was a big part of me growing into the person I am today, and I love my life. I'm happier than I have ever been. And it is largely based on the perception of myself that I can survive anything." 
Smith also details his relationship with his father in the memoir, discussing how he always looked up to him. According to NPR, Smith describes his father as "one of the greatest men I've ever known," and expresses that "my father was brilliant. My father was wise, and not unlike other little boys, my father was the Superman image in my mind." However, these many great qualities Smith felt his father had were tainted by the abuse that Will and his mother experienced at his father's hands. Although Smith does not shy away from discussing instances in which his father abused his mother, he also notes the guilt he feels in doing so as he knows that it paints his father in a bad light. He thus takes care to additionally focus on how his dad was a great teacher and upheld his duties to his family. 
Another aspect of his life Smith discusses in the memoir is his mental health experience as a child. Entertainment Tonight explains how Smith "reveals that he thought about killing himself twice in his life, with the first time being when his mother left his father" in response to her husband's abusive behavior when Smith was 13. In his memoir, Smith not only reflects on how his mother leaving the household spurred a downward spiral in his mental health, but also examines how he found himself projecting this troubled aspect of his past onto his own relationships with women. He was concerned that he was hurting them the same way his father hurt women. It took many years for Smith to acknowledge this behavior and to grow from it rather than perpetuate it. 
Needless to say, Smith's memoir is eye-opening, bringing to light the importance of reflecting on one's past in order to bring about a healthier future. Smith's transparency is refreshing, and his desire to help others by sharing his own experiences is praiseworthy. 
Yet Another Breakup Rocks Bachelor Nation
by The Cowl Editor on November 4, 2021
---
Arts & Entertainment
---
Yet Another Breakup Rocks Bachelor Nation
Does the Bachelor Franchise Live Up to Its Premise?
Grace O'Connor '22
The Bachelor franchise consists of a beloved set of shows based on the premise of bringing together a couple that will live happily ever after—or does it? On the most recent season of The Bachelorette, lead Katie Thurston, a fan-favorite contestant from Matt James' season of The Bachelor, ended her season engaged to contestant Blake Moynes. Thurston's happiness was tangible both on the show and after the cameras stopped rolling. She expressed on multiple occasions that she spent years trying to find the right man who matched her maturity level as well as her fun side. It seemed that she and Moynes were headed for the "happily ever after" the Bachelor franchise purports to create.
However, it appears that things were less rosy between the happy couple behind the scenes. As People Magazine explains, last week, both took to Instagram to write, "It is with mutual love and respect that we have decided to go our separate ways. We are so grateful for the moments we shared together and the entire journey that has unfolded this year, but we ultimately have concluded that we are not compatible as life partners, and it is the most caring choice for both of us to move forward independently." 
Another statement made by Katie in Us Weekly brings more clarity to the situation: "We were together for six months [and] Blake and I are very level-headed and mature, and we communicate very well on our thoughts, and we just both knew if this was how our first six months were as a couple, going forward it was going to not be in our best interest for our happiness to stay together."
Although news of the breakup is disappointing to fans, it should not come as a complete surprise. The reality of The Bachelor franchise, whose purpose is to bring together two soulmates for life, is that a majority of its couples ultimately end their relationships less than a year after the cameras stop rolling. 
Indeed, when reality hits couples after their screen time is over, many are unable to uphold their commitments to one another. A Middlebury site network study examining the success rate of the show in creating long-lasting relationships finds that, "It turns out not that many [last]. In fact, only two-thirds of the seasons end with proposals. Then out of those proposals, only five have led to marriage, with The Bachelorette having a better success rate at 30 [percent] versus The Bachelor at 11 [percent]." 
These statistics suggest that the Bachelor franchise is more successful as a source of entertainment for viewers than as a means of helping two soulmates find each other. With this being said, however,  it is important to note that there are 24 couples who are still together. Nonetheless, despite the many valuable relationships and connections that have been ignited through the franchise, over time, it has lost its legitimacy not only because of its demonstrated failure in helping contestants find lifelong partners, but also due to a tendency of contestants to come on the show to find not love, but rather, fame. 
This was especially apparent in the last season of Bachelor in Paradise, with contestants Brendan Morais and Pieper James more concerned about how many Instagram followers they had and how they looked to the public rather than strengthening their actual relationship. 
Thus, with regard to the question of whether the Bachelor franchise is doing what it is meant to, the answer is both yes and no. Although it seems to give contestants all the resources they need to find love, the majority of relationships that form while the cameras are rolling do not last. Moreover, in recent years, more and more contestants seem to go on the franchise's shows for fame because they are so popular and widely broadcasted. As the franchise moves forward, fans can only hope that its producers find ways to facilitate more genuine connections and that contestants do not go on the shows hoping to find stardom, but rather, true love.