Women's Soccer Recap
by The Cowl Editor on November 4, 2021
---
Friar Sports
---
Reflecting on the Friars End to the Season
Stephen Foster '22
Sports Staff
The Providence College Women's Soccer Team finished their season in heartbreaking fashion this Sunday, Oct. 31, suffering a disappointing 2-1 overtime loss to St. John's University in the first round of the Big East Tournament. Amber Birchwell '21 scored the lone goal to force OT for the Friars. Despite outshooting St. John's 16-3 in the contest, the team let up the game-winning goal to the Red Storm within the first 25 seconds of the extended period. PC Women's Soccer finishes the season with a 10-6-3 record, and a 5-4-2 record in the Big East competition.
For the 2022 season, the Friars will be hurt by the loss of fifth-years Amber Birchwell '21, Hannah McNulty '21, and Jana Braun '21, as well as graduate student Christina Rodgers '21.
Birchwell finished second in total points (two points per goal, one point per assist) on the season with 13 points, composed of four goals and a team-leading five assists. She has started in 82 of her 86 games played for women's soccer over her five years in Friartown.
McNulty finished fifth in total points on the season with eight points, including two goals, and tied for second on the team in assists with four. Similar to Birchwell, McNulty has been an integral part of the Friars lineup for the entirety of her five years at PC. She started 72 of her 89 games in her college career.
Braun was a significant part of PC's midfield this season, starting 14 of 19 games with 1,111 total minutes. Her returning teammates will miss her skills in advancing the soccer ball down the field and distributing to her teammates.
Rodgers was a defensive anchor for the team this season, playing in a team high 1,808 minutes and starting every game. She did the same in the 2020 season, playing all 1,140 minutes across all 12 games. Rodgers started in 82 of 88 games for the Friars across her five years on the team. Her defensive presence on the back line will be greatly missed next season.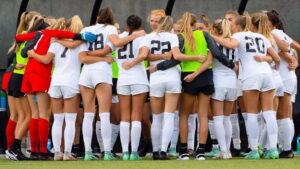 Although the women's soccer team will be hurt by the loss of their graduating players, there is a silver lining in the performance of several underclassmen who stepped up this season and will continue to improve for the 2022 season.
The Friars were led in points by Meg Hughes '24, who scored nine goals and tied for second in assists with four. This is her second season in a row leading in scoring, as she led the team in goals and assists in 2021. She looks to continue her pattern of dominating offense for her junior season, as well as stepping into a leadership role.
Continuing on the offensive side, Gillian Kenney '25 impressed in her freshman debut. She started in 10 of 19 games and recorded the third most points, finishing tied for second in both goals and assists with four in each category. She has much room to grow in the offseason and could become the spark the Friars need in 2022. Kyla Gallagher '24 also contributed to the bottom line, adding in four goals and two assists for 10 total points, which is good for fourth on the team.
The defensive line relied on the skills of Alexis Rothmann '23 and Chloe Ortolano '23 to keep the opposing offense out of the net. They will be seniors next year and likely will be called upon to lead the Friars with their experience. Sophomore midfielder Avery Snead '24 is also a name to remember for next season as she looks to take a step forward in her responsibilities. In addition, goalkeeper Emma Bodmer '24 thrived in her second season this year, picking up three Big East weekly awards.
Providence College Women's Soccer may have ended their season without a Big East Tournament victory in 2021, but they have high hopes for next season with a mix of proven and promising returning players set to fill the minutes vacated by those who close the door on their admirable college soccer careers.