Reaching New Peaks at Mount Major: PC Outdoor Adventure Club Goes on Second Annual Hike
by The Cowl Editor on October 24, 2019
---
Campus
---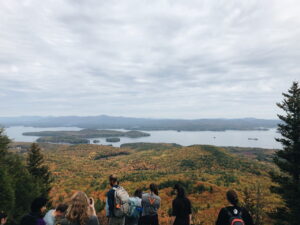 by Peter Mazzella '23
News Staff
This past weekend, a group of around 30 students ventured out of their comfort zones on a hiking trip to New Hampshire. The Outdoor Adventure Club traveled over two and a half hours to get to their destination Mount Major. 
Standing over 1,785 feet tall, Mount Major is home to many scenic overlooks, including one of Lake Winnipesaukee. This weekend's trip was the club's second annual fall hike. They will continue to plan more in the coming months.
The club made the most of their time by leaving at 7 a.m., hiking for three hours, then returning back to campus at 4 p.m. 
With a combination of perfect weather and great views, the trip could not have gone any better. The Outdoor Adventure Club does their best to plan around weather conditions, and give members the best scenery when the leaves are turning different colors.
With increased participation from previous years, there were certainly more responsibilities for people on the executive board. 
Club leaders made a point of enacting a buddy system that held people accountable for the safety and location of others to make sure everyone was with the group.
Outdoor Adventure Club  Vice President Lindsey Cartier '21 spoke on the different types of people that join the club on their fall hike, saying, "I would say members are a mix of experienced hikers and beginners. Most people seem to go on the trip for a nice escape off campus to enjoy the beautiful fall in New England. Those with more experience definitely help pave paths for beginners when we reach more challenging parts of the trail."
The incentive to go on a day trip to ease the mind and have some fun is one of the main reasons for the increase in participation, and is what made the fall hike even more of a success than last year.
Not limiting the experience to just experienced hikers eliminates barriers that would otherwise deter aspiring members. This mixture of experienced and inexperienced hikers is an effective way to develop new relationships as people can help others as they fall behind. 
With a focus on meeting new people, the Outdoor Adventure Club is a great fit for people looking for something different and exciting to do on a weekend.
With continuously growing numbers, the club brings an array of personalities from different walks of life. The easygoing culture also helps students to form bonds with each other. 
Cartier says, "My favorite part of the trip was getting to meet some of the underclassmen who just joined the club this year! It is always exciting to be able to plan trips that will hopefully become a part of their annual PC memories." 
The experience of meeting new people all while indulging in incredible views is something that is hard to turn down, and is one of the reasons why students stepped out of their comfort zones and went on this trip.
Taking a day to get away from the busy life of a college student can be extremely beneficial, due to the fact that hiking is one of the healthiest things one can do for the mind and body, and brings a sense of freedom once the peak is reached. The Outdoor Adventure Club is open to new members, which is why day trips on a weekend are so fun and bring with it new relationships.