PC as a Polis: Humanities Forum Hosts Professor Bartlett on Importance of Rhetoric
by npatano on April 21, 2022
---
Campus
---
"Rhetoric is a loaded gun," a fitting metaphor included in Professor Robert Bartlett's Humanities Forum in the Ruane Center for Humanities on March 27. Professor Bartlett is an award-winning professor and author from Boston College and Emory University. He specializes in ancient Greek political classic philosophy and discussed the power of persuasion with the Providence College student body by highlighting the importance of the Aristotelian Rhetoric.
Bartlett is exceptionally well-versed in Aristotle's book, Rhetoric, as his principal area of research is classical political philosophy. This book, like many of Aristotle's works, has been a crucial philosophical vessel, handed down through generations of brilliant minds. Bartlett spoke fluidly and passionately, utilizing Aristotle's works to describe how the early philosopher laid out passions to speak to people. Even philosophers such as Hobbes say "he was the worst teacher, politician and ethicist, but his rhetoric was rare."
Barlett enthusiastically reviewed the three kinds of essential Aristotelian rhetoric: deliberative, judicial, and display. He cohesively explained how these three kinds of rhetoric often have three types of use: the noble, the good, and the bad. Deliberative rhetoric is often used to pursue a future goal, either to persuade or shun. Judicial is often an accusation or defense of something usually concerned with past acts. Finally, display is seen in praise speeches and usually connects us to the present tense. He also goes over the modes of persuasion: ethos, pathos and logos, which are notions of Aristotelian rhetoric often taught in PC's Development of Western Civilization program. These modes build a sense of trust and conviction, but that conviction is not proof. Here lies the danger of rhetoric, as Bartlett explains.
Bartlett transitions to the point that with this understanding of rhetoric, there is also power. Both lies and truth can persuade humans, which is the ultimate paradox. In echoing this message, Bartlett uses the metaphor of a gun. He states that proof itself is misleading—what is proof at its very core? Bartlett states, "If I can get you angry, I haven't proved anything, but I have instilled in you a conviction that my policy is better." Herein lies the danger of rhetoric. Rhetoric has an "odor," as Bartlett describes, that attaches to a phrase, a taste of manipulation, perhaps. But, as Aristotle describes, we do need rhetoric, and it comes to defending what is faithful and just. Bartlett explains that if you think the cause you serve is right, you're being naïve without rhetoric to provide proof. If you become alive because a speaker is trying to move you, you become more self-aware and equipped against rhetoric's bullet.
         Bartlett used former U.S. President Barack Obama's 2008 "A More Perfect Union" speech as a modern-day example of the power of rhetoric. Bartlett described the stark recovery associated with that speech in the 2008 primary. Before the speech, due to scandals involving his childhood reverend, it was viable to speculate that Obama had a strong for toward America. After the speech, that speculation was indisputably invalid. Instead, Obama's rhetoric was powerful enough to provide proof of his love of the country in his 2008 bid for the U.S. presidential election.
         After the forum, there was a question-and-answer period. Having listened to Bartlett, I reflected on how there is a unanimous value in an individual who demonstrates actions and principles over words. Someone who is always there when needed, reliable yet flies under the radar. I asked, "Considering Aristotle's view of rhetoric with persuasion, would he view an implicit and 'short and sweet' individual, who listens and speaks only when needed with strong rhetorical tactics in itself?" He agreed that it could be a rhetorical strategy to withhold using words. Bartlett stated, "keeping things simple is powerful because you are being selective with your usage. The denunciation of rhetoric, perhaps in a sense, is rhetorical. However, there can be something overblown to rhetoric." The word overblown even alluded to his gun metaphor, quite a remark.
         Throughout this humanities forum, Bartlett used his widespread knowledge of Aristotelian rhetoric to emphasize its power and value in contemporary forms of U.S. dialogue, especially in political and academic spaces. After assessing Bartlett's talk, we should all aim to understand the power of our loaded guns of language.
Remembering the Legacy of John Lewis: Humanities Forum Held to Review Lewis's Autobiographical Book
by The Cowl Editor on October 15, 2020
---
Campus
---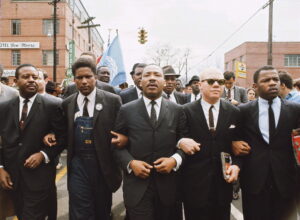 by Nicole Silverio '22
News Staff
On the afternoon of Friday, Oct. 2, Nate Powell and Andrew Aydin, who collaborated on the graphic novel March with the late congressman and civil rights activist John Lewis, joined Patrick Breen at the Humanities Forum to discuss their book and the legacy of the legendary civil rights activist and congressman. Breen interviewed Aydin and Powell on their collaboration with Lewis, their personal relationship with him, and Lewis's legacy.
Lewis passed away in July at the age of 80 after a year-long battle with pancreatic cancer, leaving behind a legacy through his civil rights activism and time in Congress.
During the civil rights movement, Lewis was one of the "Big Six" leaders who organized the 1963 March on Washington. In 1965, he led the first of the three Selma to Montgomery marches. In 1986, Lewis was elected to the U.S. House of Representatives, where he served 17 terms as a representative of the state of Georgia.
March, an autobiographical black-and-white graphic novel trilogy about the civil rights movement, was written by Congressman Lewis and Aydin with illustrations by Powell. The trilogy tells the story of the civil rights protests from Lewis's perspective. At 15-years-old, Lewis was introduced to a 10-cent comic book called Martin Luther King and the Montgomery Story, which had inspired him to get involved in the civil rights movement. He began by attending meetings at universities weekly to discuss nonviolent protests.
Aydin first met John Lewis while on a job interview during Lewis's reelection campaign. He was hired and worked alongside Lewis for over 13 years. "The book itself is universally readable," Aydin said while discussing March. "Comics are going to become ingrained in the educational system and the younger generation."
Aydin discussed the impact the series has had on young people, who make up a big portion of the book's readers. Since the work is a graphic novel rather than a traditional autobiography, Aydin says, "We need to show our heroes' humanity through some form of creativity, the young generation needs a creative leap." March covers the student sit-ins and the impact of the youth on the civil rights movement.
Aydin reflects on the impact the younger generation has on change, saying, "When you talk about student activism, you think of the young people changing the shape of the world; the success of our book was due to 18-25-year-olds."
Nate Powell, who served as the illustrator of the book, gave his insight on the trilogy and on John Lewis. Lewis had been an inspiration to Powell since his childhood. When asked by Breen how he came to draw these images to convey a message about the civil rights movement, Powell replied that the book was a process of humanizing the storytelling—it required a delicate balance of an accurate and creative account of its history.
Knowing Lewis personally and remembering his legacy, Powell explains that throughout Lewis's lifetime, he had a rare ferocity and passion for the things he cared about. "The level of intensity he saw in the world and finding a way to fight the injustice he saw throughout society was truly amazing," said Powell.
On a similar note, Aydin closed by telling the listeners one thing that Lewis always told him: "Once you lose your sense of fear only then can you be free." This motto has always stuck with Aydin and is worth remembering.
This Humanities Forum commemorated not only the impactful history of the fight for civil rights in the 1960s, but of one the most important figures of the movement. It is important that we remember Lewis not only this year, but every year going forward, for the legacy he has left behind.
Wherefore Art Thou, Scorsese?: Humanities Forum Warns of "Absent History"
by The Cowl Editor on March 5, 2020
---
Campus
---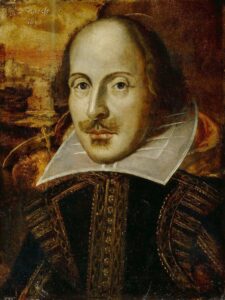 by Alexandra Huzyk '20
News Staff
In this past week's Humanities Forum, Dr. Brian Walsh spoke on "Shakespeare and the Performance of History." Walsh, a senior lecturer in the arts and sciences writing program at Boston University, is an expert in adaptations of Shakespeare in film, modern drama, and contemporary drama. 
The lecture was meant to compliment the Development of Western Civilization program and was the second of three events to be connected to Shakespeare.
Walsh began the lecture by pointing out that modern consumption of Shakespearean drama is largely by studying plays through print. Even if we do see it, it is often a movie or a recording and not an authentic play.
He stated, "Plays don't tell us how they were performed, just how they were printed." By only studying the print itself, one loses both the experience of watching a production and the theatrical context that is meant to enhance the storyline. 
Walsh emphasized that Shakespeare's pieces were live events to which Elizabethan audiences would flock. In order to properly understand these works, we must try to imagine the original condition of these plays and how they were meant to be performed for an audience.
Walsh then began to elaborate on the "heightened awareness of the absence of history," in the 16th century. At this time, there was a break between the past and the present, and a hankering for history. Shakespeare plays grew out of this culture and aimed to bring about a sort of pleasurable historical consciousness cultivated through the theatre.
In the 16th century, Walsh said, "print history reauthorized oral history," leaving the question of: where does the oral and visual performance fit into this framework? Walsh said "theatere became an alternative vehicle to experience history."
Shakespearean dramas are typically looked at through a lens of politics, but Walsh said that they should also be looked at within their historical context, for, "history is written as a means to comment on the present." Moreso, Walsh stressed the necessity of thinking about how, historically, these plays worked, what their affect might be, and what people felt compelling about them on the visceral level.
Walsh drew examples from Richard III, as it "helps our understanding of the pleasurable self-consciousness of a historical play." In the theater, history is not only produced through human labor and the use of physical space, but is also perceived by the audience. This theatrical sense of the past impacts the audience so that real, historical figures become inseparable from the theatrical connotation attached to them.
In Shakespearean plays, historical moments developed within one play are alluded to in a separate play entirely. This happens within Henry VI, in which Shakespeare references a number of moments in Richard III. This helps to activate the memories of the audience and combine historical and theatrical memories in order to self-consciously create narratives.
Just as historical and theatrical moments merge, Walsh also pointed out how certain actors have become emblematic of specific Shakespearean roles. 
This is evident in the painting titled, "David Garrick as Richard III," which was painted by William Hogarth. The painting features a recognizable actor playing the part of Richard III. It is contextually ambiguous and "visualizes the historical event, but draws upon Shakespeare's representation."
Following the conclusion of the lecture, students and faculty were given the opportunity to ask Walsh questions. One student asked if there is a boundary between history's narrative and commercialization through false representations.
Walsh says that there is danger in changing the narrative and playing with events for concerns of drama. He posed the questions, "Is changing history in this way just a playful intervention? Is there any danger in that?" He brought up examples of Once Upon a Time in Hollywood and The Irishman—popular movies that twist real life events.