Listening Tour: An Interview with Nick Sailor '17
by Joshua Lopes on April 22, 2021
---
Friar Sports
---
PC Administrator Talks Social Change in Sports
By Jack Belanger '21
Sports Co-Editor
This article is part of The Cowl's Listening Tour, a series that aims to amplify the voices of BIPOC members of our community and bring awareness to social justice initiatives on campus.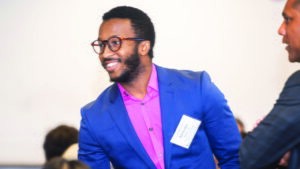 Three years ago, Fox News commentator Laura Ingraham infamously said, "Shut up and dribble" on her TV program in response to criticisms made by NBA star Lebron James of former president Donald Trump. Ingraham argued it was unwise to take political advice from someone who gets "paid $100 million a year to bounce a ball."
Fast forward to now and countless professional athletes across the country are using their platforms to speak out against issues plaguing our society and to make change. Where at one point socially active athletes stood out like a sore thumb, today's environment has opened the doors for all athletes to have a voice, even providing young college athletes with the opportunity to make changes in their own communities.
At Providence College, the athletic department has become a leader in pushing for change and promoting conversations about diversity, equity, and inclusion. Thanks to much of the work of director of training and education for DEI, Nick Sailor '17, a former PC athlete himself, being an athlete at the College has come to mean more than excellence in the gym and in the classroom.
"Student-athletes are starting to recognize they do have influence and they do have a voice," said Sailor. "They don't have to wait on someone else to do something. They recognize they can be advocates for change."
Ever since Sailor came back to PC 18 months ago, he has worked to create a space where everyone in the athletic department can be part of an inclusive environment. What separates PC's athletic department from other schools, Sailor believes, is the support and participation from the senior staff, starting with athletic director Bob Driscoll, to make diversity, equity, and inclusion a priority.
"We are really fortunate we have someone like Bob Driscoll who is passionate [about promoting DEI]," Sailor commented. "This work doesn't happen without our senior staff."
Sailor recalled a conversation with Driscoll during his final interview for director of training and education for DEI in which Driscoll expressed that he wanted to expand the goals of the athletic department.
"[Driscoll] says to me, 'We have the national championships, we have built great facilities, now we need to enter this new frontier.' He wants to be an innovator and a leader when it comes to creating these inclusive spaces on campus." Driscoll and the rest of the senior staff have done their part to attend workshops and be a part of the growth process.
Needless to say, the staff's work has turned into student-led action that has made a real impact. In the fall, the Student-Athlete Advisory Council worked to ensure every single student-athlete at the College registered to vote in the election, achieving 100% voter turnout for eligible athletes.
The access athletes had to vote was a major change from when Sailor, in 2016, had to take a train from campus into Boston just to get onto a bus to Connecticut in order to vote in that year's election. Sailor notes that he would never want a student-athlete to go through what he did just to vote.
Sailor believes that the work the athletic department has done could prove to be sustainable as long as everyone remains committed to it long-term, and that includes smaller departments like marketing or even business development. While racial injustice became a hot topic during the summer, the athletic department has shifted their strategy to how they can keep pushing for change in a post-pandemic world where it does not take tragic events to grab people's attention.
"I want us to be able to talk about these issues and take action without having to unearth deep pain. What is it that we can do long-term?"
Sailor believes that everybody in the department has a role in helping promote change, and he is passionate about helping people find their specific role. Even for those who are not experts in DEI, there are actions individuals can take to be part of the solution.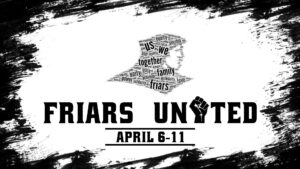 "You probably aren't going to be up here giving an hour-long lunch and learn about intersectionality. You can make sure you have diverse candidates when hiring for [graduate assistant] positions. There are ways everyone in our department can do something to help where we are trying to go."
More recently, SAAC created a new initiative called United Friars Week that ran from April 6-11. Each day during the week, student-athletes ran workshops that covered topics such as allyship, LGTBQ+ inclusivity, and anti-xenophobia. Athletes also wore Friars United warm-up shirts before games.
What makes college athletes especially amazing is how different the landscape is for them from just four years ago when Sailor was at school. Much of Sailor's work now can be traced to his time as a student on campus.
"There are times I think how nice it would have been to have someone focused in DEI in an athletics role such as the one I am in now when I was a senior. Somebody that I could have looked up to as a Black student-athlete."
Sailor's time at PC coincided with events like Eric Garner's death and when Colin Kaepernick began kneeling during the National Anthem. As a Black student, Sailor found Garner's death was hard to process, and PC was still learning how to talk about events involving racial injustice. There were times Sailor felt isolated when it came to processing these kinds of events. He did point out, though, that the College is now much better equipped to talk about events involving racial injustice.
Trying to navigate through those tough conversations as a student-athlete "was definitely a tough time," Sailor remembers. "Even then, the notion of athletes using their voice was not as commonplace as it is now."
Looking to the future, a driving theme that Sailor envisions for student-athletes is "being bigger than the sport" and utilizing their sport for change.
"Our favorite athletes are obviously good athletes, but they have a voice bigger than their sport. Whether that is gender equity with Serena Williams, or the work Lebron James has done or Muhammed Ali. Of course, they are once-in-a-generational talents but we are drawn to them because we recognize their sport is just a part of what they are doing for a bigger cause."
Sailor wants every student-athlete to find their voice at PC. Much like these inspirational athletes, Sailor encourages every student-athlete to help change their community for the better.
The Cowl Sports Staff Picks Its Winner
by Joshua Lopes on March 18, 2021
---
Sports
---
Gonzaga Bulldogs Will Take Home Their First Championship
By Jack Belanger '21
Sports Co-Editor
Members of the sports staff put their heads together to come up with the third official The Cowl March Madness bracket. Thanks to Luke Sweeney '24 for his analysis of the South region, Leo Hainline '22 for the West, Ben Bilotti '23 for the East, Joseph Quirk '23 for the Midwest, and to everyoneelse for helping make the picks. Here is our breakdown of each region, the semifinals, and the championship.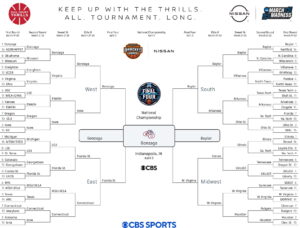 South Region:
In the South region, things should get exciting as the first round boasts multiple strong teams and potential upsets. No. 3 seed University of Arkansas will squeeze by the surprisingly explosive offense of No. 14 Colgate University, before advancing all the way to the Elite Eight.
Villanova University at the No. 5 seed should dominate No. 13 Winthrop University even with all of the Wildcats' injuries, but they will face a tough road in the later rounds. The 8-9 seed matchup will see the University of North Carolina at Chapel Hill beat the University of Wisconsin-Madison after what should be a very competitive, high-scoring matchup.
West Region:
Creighton University is one of the tournament's biggest question marks. The Bluejays are incredibly inconsistent but can out-shoot just about anyone in the tournament if they are on their game. It does not help that the team got embarrassed by 25 points in the Big East Championship and has been dealing with off-the-court issues.
The University of California, Santa Barbara has a star player in JaQuori McLaughlin, but the Gauchos have yet to be tested by elite competition.
The University of Kansas, University of Virginia, and Creighton could all very well pack their bags early this year, but the Kansas Jayhawks are in the most trouble. 
Eastern Washington University is a team full of balanced scoring. They have seven guys who all contribute and are a strong free-throw shooting team. Kansas has multiple players returning from COVID-19-related absences and may naturally get off to a slow start. The Eagles will be attacking from the start and will likely grab an early lead.
It is difficult to envision Luka Garza's Hawkeyes struggling with any team before the Elite Eight. The University of Oregon Ducks could be competitive against the University of Iowa in the Round of 32, but Iowa has too much talent both inside and out to suffer an early exit.
When all is said and done, Gonzaga University is simply the most dominant team in the country and will represent the West region in the Final Four.
East Region:
There are several upsets in the East region of our bracket. In the first round, No. 11 Michigan State University (pending a First Four win) will upset No. 6 Brigham Young University.
From there, they carry their momentum all the way to the Sweet 16, where they will be taken down by the University of Connecticut. The Hoyas will use the momentum from their 73-48 victory over Creighton University in the Big East Championship Game to beat the University of Colorado.
In the end, an elite Florida State University squad gets in the Hoyas' way, as the team, moving all the way to the Elite Eight, will face off against UConn with a trip to the Final Four on the line. 
Midwest Region:
The main story in this section is the No. 1 seed, University of Illinois. Illinois is expected to be one of the title favorites. That being said, they may have the most difficult road to the Final Four, facing a loaded side of the bracket.
The Midwest region features a number of threats, some obvious and some more underrated. We, as a staff, have Illinois making it through the gauntlet, beating out teams such as Loyola University Chicago, Oklahoma State University, the University of West Virginia, and the University of Houston.
There should be a number of wildly entertaining games in the first round alone from Loyola vs. the Georgia Institute of Technology, San Diego State University vs. Syracuse University, and Clemson University vs. Rutgers University.
Final Four:
Florida State may give Gonzaga its toughest matchup of the tournament. With a strong interior defense and one of the best teams crashing the offensive boards, the Seminoles are one of the more physical teams this year. The Bulldogs will have to hit their threes early, which is what they have been doing all year. They have proved they can beat top teams this season, and FSU is no exception.
If it were not for Gonzaga, Baylor University would be the best team in the country this year. Taking on an underdog West Virginia team, the Bears should have an easy time making it to the finals. Star players Jared Butler and Davion Mitchell were both named to the All-Big 12 First Team. Mitchell was also named the conference's defensive player of the year. Despite their best efforts, the Mountaineers will not have the defense to stop the Bears.
Championship:
This matchup is perhaps a little anticlimactic, but Gonzaga and Baylor are simply a tier above the rest of the country. The championship game should come down to the final minutes. Both teams are efficient on offense and both have good defenses. Gonzaga came up short a few years ago against North Carolina—that team was good, this team is better. Mark Few is one of the most underappreciated coaches of all time. This is his chance to put his name among the greats. Lottery pick Jalen Suggs will lead the Bulldogs to their first title ever.
PCI: Who Will Win the Big East Men's Tournament?
by Joshua Lopes on March 4, 2021
---
PCI
---
Providence College Investigates: College Basketball
Creighton University Will End Villanova's Reign
By Jack Belanger '21
Sports Co-Editor
After three straight Big East titles, Villanova University will likely be the favorites once again to be conference champions. If any team is going to end the Wildcats' reign, it is going to be coach Greg McDermott's Creighton University Bluejays. Outside the Wildcats, Creighton has the best combination of versatility and experience to make a deep run in the tournament.
The Bluejays are one of the most complete teams in the conference. The team has five players averaging over 10 points per game, led by Marcus Zegarowski, who is averaging 14.9 points a game. Center Christian Bishop leads the entire Big East in field goal percentage, shooting 70 percent.
Creighton's team defense has played a huge factor in their success. Teams are shooting less than 40 percent against them as well as averaging 68.4 points per game. With all five starters standing between six-feet-two-inches and six-feet-seven-inches, the Bluejays rarely get caught in a mismatch. Where they lack in size they make up for in athleticism.
While they only average three blocks per game, Creighton is second in the Big East in steals, with 7.3 per game. The team does have one shot blocker in seven-foot center Ryan Kalkbrenner who can come off the bench when the team needs to protect the paint. 
The Bluejays are one of the few teams that match up well against the Wildcats. In their first meeting of the season, Creighton won 86-70 with 25 points from Zegarowski. The team was hot from the three-point line, knocking down 46.2 percent of their shots. It was Villanova's biggest loss of the season.
With five losses in the Big East, Creighton is far from a perfect team. They split their season series with Providence College thanks to center Nate Watson '21 dominating the paint and a bad day behind the arc. While anything can happen in the tournament, what works in the favor of the Bluejays is they have an experienced team that is used to playing under pressure.
All of Creighton's starters are juniors or seniors with experience playing in the Big East Tournament. With the cancelation of last year's tournament, teams with freshmen and sophomores could be prone to mistakes when the game is on the line.
Even if they are not making shots, Creighton is one of the more disciplined teams in the conference. With the third best turnover margin, the Bluejays know how to protect the ball as well as create opportunities for themselves.
Everyone will be aiming to take down Villanova and end their reign as champs. Creighton is in second place for a reason. They can match up with the Wildcats better than anyone else and cover up their own flaws. After three straight titles, Villanova's run will end thanks to the Bluejays.
Villanova Will Win Their Fourth Straight
By Liam Tormey '22
Sports Assistant Editor
Villanova University has won the Big East Men's Basketball Tournament four times in the last six years. This year, once again, the Wildcats will win the Big East tournament.
Currently one of the best teams in the country, as they sit at the top of the Big East standings, the Wildcats' offensive firepower is going to carry them to a title. First things first: all of Villanova's starting five is averaging double-digit figures. That five includes the reliable Collin Gillespie, alongside Jeremiah Robinson-Earl, Justin Moore, Jermaine Samuels, and Caleb Daniels. Any player in the group has the firepower to take over a game, and that will be crucial come tournament time.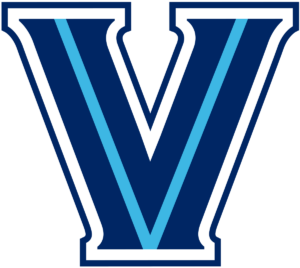 Gillespie, a battle-tested senior, has done it all in his time at Villanova and will be a major reason why the Wildcats will come away with another Big East title. This season, Gillespie is averaging 14.4 points, 4.7 assists, and 3.3 rebounds. A part of the 2018 Villanova National Championship team, Gillespie's leadership will continue to be infinitely valuable to the team when they enter Madison Square Garden in March.
Sophomore Robinson-Earl has continued to show all year why he was ranked as an elite prospect coming out of high school. He is the Wildcats' leading scorer this season with 15.5 points per game to go along with 7.9 rebounds. His season high this year was a 28-point game against Arizona State, but he has proven to have the ability to put up consistent numbers every game.
Another sophomore, Moore, has also provided solid scoring for the Wildcats. Averaging 12.8 points and 4.4 rebounds, Moore is a two-way guard who has continued to improve his game since arriving at Villanova.
Samuels and Daniels finish out one of the most complete starting fives in college basketball. Samuels, the 6-foot-7-inch senior, has shown his capability all year long. Averaging 11.1 points per game and 6.3 rebounds, Samuels can put up big numbers, especially after his 32-point performance in early February against Georgetown University. Daniels adds another 10.6 points per game for the Wildcats, rounding out the starting five.  
The Wildcats do not have a deep roster of guys coming off the bench, but the capable play of players such as Cole Swider and Brandon Slater will be beneficial come tournament time.
Let us not forget about how great of a coach Jay Wright is, too. In his 20th year as the head coach of Villanova, Wright has won the Big East tournament four times, has been to the Final Four three times, and has won a National Championship twice. There is no question he will have his guys ready to play in the tournament, no matter who they come up against.
Season Finally Arrives for Swim and Dive
by Joshua Lopes on February 25, 2021
---
Friar Sports
---
Men and Women Swim First Races of the Year
By Jack Belanger '21
Sports Co-Editor
One week after their opening race of the season was canceled, the Providence College Swimming and Diving Teams each had their first meet of the 2021 season. The men's team fell to Bryant University, 169-119, and the women's team lost to the University of Rhode Island, 165-108.
Out of the four first-place finishes for the men, three of those came from Justin Viotto '22 in the 800- and 400-meter freestyle races as well as the 200-meter individual medley. The women were able to win five races during their meet. Katie Winklowski '24 won two individual races, while the 200-yard freestyle team of Katie Thornton '21, Sami Martin '24, Lauren Zawacki '21, and Jennifer Bankes '22 also took first place.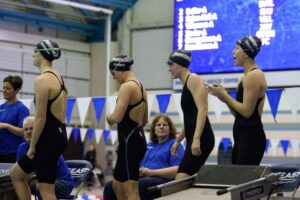 Even though PC did not get the outcomes they were hoping to see, the teams are excited to be back in the pool after an extended break. On top of getting their season pushed back, the teams were not able to practice as an entire group, forcing swimmers to train on their own time.
"Typically, we have a practice week where most training groups lift twice a week," said assistant coach Margaret Howe. "We really have not been able to lift at all this year."
With the reduced number of team activities, several athletes have had to schedule gym sessions in the Concannon Fitness Center or run outside on their own. Howe also pointed out that the loss of full team activities has hurt the process of building team chemistry.
While every sport has had to make scheduling adjustments, the swimming and diving teams had to cut down some of their usual travel due to the varying COVID-19 protocols across different states and college campuses. The Friars were fortunate enough to schedule several dual meets with teams around New England that were within driving distance, including their annual rivalry meet against the College of the Holy Cross Crusaders.
Some of the notable returning swimmers include Viotto and captain Andrew Ferrell '21 on the men's side. Howe noted that Ferrell's versatility to compete in a variety of events will be big for the team. Viotto currently holds four school records while Ferrell holds three.
As for the women, Zawacki and Sally Alrutz '23 should help carry the team. Zawacki currently holds the school record for the 50-yard freestyle and is hoping to get a chance to break the 100-yard freestyle record at the Big East Swimming and Diving Championships. Alrutz currently holds the school record in the 100- and 200-yard backstroke events.
Howe also expressed her excitement for a recruiting class that brought 22 new swimmers to PC. "It's crazy that we haven't gotten to see any of them race [before the season]," she said. "But I'm looking forward to working with every single one of them."
While uncertainty and  adjustments due to COVID-19 can be sources of distraction, the coaches have made sure players are focused when it comes to practice and training.
"We are trying to create an environment where you are cheering for your teammates at practice or you are really going after the set you have on the board [during workouts]. We want to create that team atmosphere during practice. We want the sport to be a bright spot in all of the craziness that's going on."
COVID-19 has made it harder for the teams to practice together, but the coaches have made the best situation for their swimmers. Both Howe and head coach John O'Neill have committed to creating a program that provides all their athletes with a chance to improve and compete at a high level.
Men's, Women's Soccer Eager to Begin Season
by Joshua Lopes on February 11, 2021
---
Friar Sports
---
Top Goal Scorers Return For Another Run
By Jack Belanger '21
Sports Co-Editor
After an extended offseason, the Providence College Men's Soccer Team will finally open their season this Saturday at home versus in-state rival University of Rhode Island. Due to the postponement of fall sports, the last time the Friars played was over a year ago in the third round of the NCAA Division I Men's Soccer Tournament, losing to Clemson University 2-1 in overtime.
It will be an interesting year for the Friars as they lost seven players from last season, five of whom were starters, including captain Joao Serrano '19 and grad-transfer goalkeeper Austin Aviza '20GS. This means Rimi Olatunji '22RS will start the season in net for the Friars.
Inexperience in the goal and on offense will be a big roadblock the team must overcome if it wants to have a successful season. Due to COVID-19 restrictions, the soccer team has had only about a week or two of full practices as an entire team and has played one intra-squad match. Olatunji has only made two appearances in the last two seasons, and the offense lost five of its seven top point scorers. Luckily for the Friars, Paulo Lima '22 was named to the Preseason All-Big East Team after leading the team in goals last season.
The strength of the team resides in their defense. Last season, the Friars averaged only one goal allowed per game as well as only 7.2 shots allowed. Ramzi Qawasmy '22 and recently named captain Malcolm Duncan '21 both started all 23 games last season on the backline, and will be tasked to be the anchors when things get chaotic.
In order to cut down on travel, the Big East broke into two divisions and shortened the season schedule. The six teams in the Northeast will make up the East Division, while the remaining five will comprise the Midwest Division. 
After two local games against URI and Boston College, the Friars will face each team in the East Division twice, including the reigning national champion Georgetown University, who is the preseason favorite to win the East Division. The Friars are picked to finish second, which will make the matchups against the Hoyas especially exciting if the Friars find themselves on the edge of an NCAA tournament bid thanks to a decrease in the number of tournament teams this year.
The Providence College Women's Soccer Team is also looking to build on their 2019 season when they snuck into the Big East Tournament as a sixth seed and upset the third seed Butler University in the first round. Hannah McNulty '21 scored the game-tying goal in the 82nd minute, and the Friars were able to win the game in a shootout after two overtimes.
Similar to the men's league, the Big East will be split into two divisions in which the Friars are predicted to finish third in the East, though they did receive a first place vote, indicating that coaches are taking the team seriously.
McNulty will once again be the focus of every opponent's defense. She has scored 19 goals over the past two seasons and was a unanimous selection on the Preseason All-Big East Team this year.
While the team needs McNulty to be at her best in order to have a chance to win, they also need to find secondary options when teams put extra pressure on her. Elayna Grillakis '22 was the only other player on the team to score more than one goal. Thankfully, the Friars will return with every player who scored last season, which means they will need less time to build team chemistry on the offensive side of the field.
A big question for this team is who will replace standout goalkeeper Shelby Hogan '21RS, who decided to go into the professional league. The team currently has three goalkeepers on the roster, with Caroline Drinkwater '22 as the only one that has any game experience for the Friars.
This team will face some challenges as they welcome 10 new players, including eight freshmen and two sophomore transfers.
The women will also begin their season this weekend hosting URI on Sunday before hosting another in-state rival Bryant University a week later.
While both teams will share the challenge of opening their season in the midst of winter, there is a lot of excitement around the College's two soccer teams. Just being back on the field is a relief for the players and coaches, but there is still work to be done. Both teams are hungry after a long break and after each had an incredible finish to their 2019 seasons.
Editor's Corner
by Joshua Lopes on February 4, 2021
---
Professional Sports
---
Remembering Baseball's Best
By Jack Belanger '21
Sports Co-editor
Two weeks ago, the baseball world lost its former home run king, Henry "Hank" Aaron, marking the ninth baseball Hall of Famer to pass away within the past calendar year. Aaron's passing calls us back to a much different time, when baseball was America's National Pastime and the best players were icons. Baseball reigned during the '50s and '60s, and with each death of aging legends, the further we move from baseball's golden era.
Each of the Hall of Famers were giants and represented what was once great about the game. Aaron's chase to break Babe Ruth's long-time home run record captivated the entire country in 1973. Less than 30 years after Jackie Robinson broke baseball's color barrier, Aaron becoming baseball's home run king was another victory for the Black community.
The late Bob Gibson pitched three complete games for the St. Louis Cardinals in the 1967 World Series and won all three starts. For comparison, not one pitcher made it past the sixth inning in the 2020 World Series. Instead, the country got to see journeymen relievers come out to pitch a single inning at a time on baseball's biggest stage. In the NBA, you want your best player taking the last shot. In the NFL, you want your quarterback taking deep passes down field as the clock ticks down. For the fan's sake,  would it not be more exciting to see a team's best pitcher on the mound when the game is on the line?
The late Los Angeles Dodger manager, Tommy Lasorda, had a personality that is completely devoid in the game today. The longtime manager was never shy to get after an umpire for a bad call and brought more energy to the dugout as a 70-year-old than most players show today. His love for the game led him to working in LA's front office well into his 90s. Don Sutton, another popular Dodger who passed away, established himself at LA's ace during the 1970s and went on to be one of the few men who have won 300 games in the major league.
Tom Seaver, Al Kaline, and Joe Morgan were the faces of their franchises in New York, Detroit, and Cincinnati respectively. Each won the World Series and were the top performer on their teams for the majority of their careers. Lou Brock set the all-time steals record temporarily and helped St. Louis to multiple titles. Whitey Ford was a crucial part of the New York Yankees dynasty, winning a total of six World Series titles.
Baseball may not have the same pull that it once did, but that should not diminish the significance of those who came before. The men that we lost were more than just great players. They were  household names, heroes to many, and in Aaron's case: an activist. They were the bridge that connected us to our ancestors who watched them play over 50 years ago.
Editor's Corner: Ode to Fall Sports
by The Cowl Editor on October 29, 2020
---
Friar Sports
---
by Jack Belanger '21
Sports Co-Editor
It is apt to say that sports play a significant role in shaping the culture at Providence College. From the first moment I stepped onto this campus, it was clear how important basketball and hockey are to the PC community. While fall sports do not come close in terms of popularity to winter sports, they nevertheless are an important part of the culture on campus.
For six semesters I have manned the sidelines as a ball boy for all fall athletic teams. I have been up close for countless shootouts at Anderson Stadium. I woke up one early Saturday morning to witness the Friars score eight goals in a field hockey game. I spent Friday evenings in Alumni Hall counting down how many points the volleyball team needed to score to end their match so I could begin my night. What I noticed was where all these sports lacked in flash, they made up for in one unique characteristic: intimacy.
Have you ever noticed how at basketball and hockey games, student sections are packed behind either the basket or goal, away from the benches and an entire half of the court/rink? It would be nice to be close to the action for the whole game. While games at the Dunkin' Donuts Center carry a lot of excitement and energy, there is something special about the games in which you can hear and see the action up close behind the bench.
Fall sports may not be as loud as their winter counterparts, but the sounds you hear are more distinct. During men's soccer games, head coach Craig Stewart's English accent can be heard for the full 90 minutes no matter where you are sitting. There are always a few fans whose chants stand out, whether it be the passionate parents we are all too familiar with or the immature classmates shouting wacky chants.
While the Dunk brings in fans from all around, fall sports are events that specifically bring the campus community together. You always recognize the faces you see at a fall sports game, whether it be fellow students, professors, parents, or even the Dominican friars. The fans are there not because of the prestige of the team competing, but to show authentic support for those they know.
PC's winter sports may show the size of the Friar Family, but the College's fall sports reveal its strength. You do not stay to the end of a volleyball match after the team loses the first two sets or sit through a chilly night because you think your team has a chance to win a national title. You do it because Friars support each other, regardless of the outcome.
Going Courtside with Cayleigh Griffin
by The Cowl Editor on October 16, 2020
---
Friar Sports
---
Griffin Talks About Transition to NBA
by Jack Belanger '21
Sports Co-Editor
Cayleigh Griffin '14 can still recall the first time she ever spoke to Providence College legend Doris Burke '87, '92G, & '05Hon. It was during her senior year at PC, and Griffin had every intention to break into the sports media industry after college. She reached out to Burke, not to ask for a job, but to make a connection, to show Burke the work she completed during internships for media companies such as Fox Sports. After all, what better opinion could you get than from the first woman to become a full-time National Basketball Association (NBA) game analyst who has been working for ESPN since 1991? What Griffin got was the start of a relationship that has helped her launch her own career into the top of the broadcasting industry.
"She is so supportive of young people trying to get in the industry," Griffin said of Burke. "Especially young females trying to break into the field. And to have a young female that also went to PC, she was really eager to talk to me."
With all of the accomplishments Burke has compiled over her storied broadcasting career, her lasting impact will be the path she paved for women like Griffin to have opportunities for top-level broadcasting jobs. Griffin, herself, put in the work before coming to PC to prepare for a career in media.
In high school, Griffin wrote for her local newspaper, covering high school sports whenever she could while juggling competing in volleyball and basketball at the same time. Even though PC lacked any sort of communication or journalism major, she grew up loving the College, as it is where her mother played basketball. Griffin knew she would have to create her own opportunities when it came to finding internships and hands-on experiences.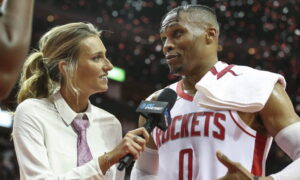 During her time at the College, Griffin would intern as a runner during Red Sox and Yankees games for Fox Sports. She also interned for the local "Rhode Show" during her senior year and for NBC Universal. Despite working for some of the biggest networks in the country, Griffin believed her "big-break" was when a station in New Jersey contacted her to commentate for high school volleyball and basketball. This provided her with her first chance to broadcast games live.
"It was a really fluke thing that these people reached out to me. It was an unbelievable experience for me as a college student," Griffin recalled.
It was there Griffin worked with Ed Cohen, who would later go on to become the radio announcer for the New York Knicks and a colleague with whom Griffin has continued to keep in touch. Whenever the Knicks face a team that Griffin is working for, the two reminisce about their time together calling games in front of audiences that pale in comparison to those at the sold-out arenas they travel to today.
Griffin moved on from New Jersey and got a job working for the Big East Digital Network as an on-air correspondent. After working her way up in the company for two years, she felt that she had reached her peak and it was time to move onto bigger endeavors: the NBA.
During the summer of 2016, Griffin was searching for jobs when she turned on an NBA summer league game which happened to feature the San Antonio Spurs. Coincidentally, the team posted an opening for the position as the team's sideline reporter that same day. Once again Burke was there to lend a hand for Griffin, as she was one of several people who reached out to the Spurs on Griffin's behalf.
Griffin was able to land an interview with the Spurs and fly down to San Antonio. Sure enough, after a three-month application process, at age 23, Griffin landed her first job for an NBA team.
In the two years she worked for San Antonio, Griffin was able to work up close with stars such as Tony Parker and Kawhi Leonard. Some of her favorite memories include working with Manu Ginobili during his final season in the league and getting to interview Patty Mills, one of her favorite players to interview.
"[Mills] is one of the nicest people I have ever met. He was always willing to do an interview. I have been so fortunate to work with teams that had players who were easy and respectful. They knew I had a job to do and they were willing to help."
After completing two seasons with the Spurs, Griffin spent a season working for the Cleveland Cavaliers before settling into her current job with the Houston Rockets. She earned her first chance to work baseball games as a fill-in reporter for the Houston Astros. Even with the two traveling around the country every week, Griffin has been able to maintain a strong relationship with Burke.
"I see her so often at games. It's so cool to be working with her at games at the same time. I try to take tidbits from her in all aspects. I will randomly call or text her and she will text right back. She is so great."
Despite establishing respect from her peers, Griffin admits there are times when people will doubt her knowledge of the game even though she spends every day following the same team upclose. It is incidents like this which remind us that women still have to work harder than men just to earn the same level of respect from outsiders.
Griffin has learned to stay positive despite the detractors, though. She is quick to praise her colleagues who have been nothing but supportive and to compliment the players who make her job easier. While she may still be in the early stages of her career compared to her older counterparts, Griffin has proved that she has the talents to become a mainstay in the NBA for years to come
A Story of Resiliance: Keasel Broome '14
by The Cowl Editor on September 17, 2020
---
Athlete of the Week
---
Former PC Goalkeeper Talks Soccer Career and New Interests
by Jack Belanger '21
Sports Co-Editor
When we see athletes celebrate after winning a championship, it shows us what it looks like to reach the pinnacle of sports. We witness these athletes in their finest moments. What we miss are the struggles and challenges they must endure just to step on the field. For every MVP season, there is a story behind the athlete. Fans hear about the transformation the player makes on the field to become the best at their craft, but what often goes unnoticed are the trials they had to face behind the scenes. In some ways, the trials make those successful seasons more remarkable.
In 2014, the Providence College Men's Soccer Team had their best season in program history. Not only did the team win its first-ever Big East championship, they also made a run in the national tournament where they made it to the College Cup Semifinal. During the Semifinal, they pushed the University of California, Los Angeles into double overtime but fell short of making the championship, losing 2-3. It was a record-setting year for the team, in large part thanks to the man in the net, Keasel Broome '14. Broome had his best season with the Friars that year, posting a career-best 1.10 goals against average to go along with eight shutouts. He ended the season being named to the Big East All-Tournament Team and getting picked by the San Jose Earthquakes in the third round of the MLS Draft, not to mention leaving PC with a degree in hand.
The fans who watched Broome in person during the late season run saw one of the best goalkeepers in college soccer doing his job and giving his team a chance to win every game. What many missed is Broome's journey to become the starting goalkeeper and the challenges he faced during his college career.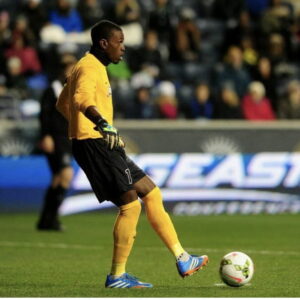 Broome came to PC back in 2010 when the Friars still played their games on the grass field outside of Guzman Hall. The two schools who recruited him were PC and Penn State University, but once Broome visited campus, it was clear PC was where he would continue his career.
"I felt right at home," Broome said. "The coaches made me feel really good. I loved the campus and how it was small."
Despite being the No. 2 ranked recruit out of Delaware with an opportunity to play right away, Broome did not see any game time during his first two years at PC, taking a redshirt year to get an extra year of eligibility. Even though he did not get to play in a match for the 2010 and 2011 seasons, Broome committed himself to work every day during the school year and summer to get ready for the chance to get into the game.
Going into the 2012 season, Broome was primed for the starting goalkeeper spot. Unfortunately, he separated his shoulder during a preseason game, causing him to miss the first game of the season. Just as he worked himself back into the starting spot, Broome pulled his quad in another game. He once again rehabbed and worked back into the starting spot. Broome managed to play in 14 games that season, though he had a 1.42 goals against average and the team only posted a 3-8-2 record in the games he appeared in. Still, Broome had two more seasons at PC and was going to keep improving. It looked like all his hard work would pay off.
That was before he got the text.
In December of 2012, Broome was in Las Vegas with family when he got the text that his father was diagnosed with stage IV pancreatic cancer that had spread to his liver. He immediately locked himself in the bathroom and started to cry. Millions of questions raced through his head.
"Never in a million years did I think someone close to me would be affected by cancer. I didn't know how to react. I didn't know what to do next."
Over the course of the next semester he would split his time between living at PC and at home. During the week, he took classes and worked out at PC, then drove five hours home to Delaware on the weekends to spend time with his father. Broome's schedule was so packed that he was on "auto-pilot" up until spring break.
"There came a point in time I couldn't sleep anymore. There was too much going on in my head; anger, frustration. I couldn't sleep naturally."
While it was tough to see his father sick, Broome learned to be his dad's biggest support system, just like his dad had been for him.
"It wasn't easy to watch someone you love struggle, but the thing I kept reminding myself was that if he wasn't complaining, I'm not complaining."
Getting to spring break was tough for Broome, who was trying to keep up with his normal schedule as a student-athlete while also taking care of his father. Fortunately, around the break, it was announced that the 2013 Big East Tournament was moved to Philadelphia, a short drive from Broome's home in Delaware.
Broome's father had only once seen his son in action for the Friars, and playing near home would have been a special moment for both of them. Broome and his teammates' new goal was to get to the semifinals that season to give Broome's father one last chance to see him play. 
Sadly that chance never came. In the final weeks of the semester, Broome's father's health took a turn for the worse. The cancer had spread aggressively and his blood sugar began to drop. Broome's family began to make phone calls to friends, family, and former co-workers to have them say their final good-byes. Soon, the hospital room became so packed that his father's roommate had to be moved in order to accommodate the amount of visitors. Broome's father passed away shortly after with Broome right at his side.
While Broome was devastated about losing someone so close to him, he focused on the special moments he had with his dad and appreciated the time they spent together. That season, the Friars improved to 12 wins, with Broome starting in 22 matches despite dealing with shoulder injuries. The Friars managed to make it to Philadelphia in the tournament, and Broome's family made sure to pack the stands. That night Broome played one of his best games, leading PC to a 1-0 win over Georgetown University in penalty kicks to head to the finals. From the moment he stepped onto the field, he knew that it was going to be a special night.
"That night I felt him [my dad] with me. I felt his presence next to me protecting the net."
After his breakout season, Broome continued to push himself. He spent more time at PC during the summer to get better. Everything came together for him and the Friars in 2014. It was a monumental season that changed the direction of the College's soccer program.
After getting drafted, Broome bounced around several American soccer teams in hopes of eventually making it to the MLS. Even though he was drafted by San Jose, Broome made his professional debut for the Harrisburg City Islanders in 2016. Unfortunately, injuries began to pile up and he struggled to stick with any team. His last appearance was in 2017 in a game for the Pittsburgh Riverhounds SC in the United Soccer League.
In June of 2015, Broome made his debut for the Barbados National Team, shutting out Aruba in a World Cup qualifying match. Since his father was of Barbadian heritage, Broome was able to apply for citizenship and represent his family on the big stage. Playing for a national team gave him the opportunity to travel the world and play against some of the greatest soccer players. One of his favorite memories playing for the team was traveling to El Salvador and playing in front of 40,000 passionate fans.
Now, Broome has a job in sales and continues to coach on the side. His newest endeavor is making his own podcast called "Keepin' It Real w/ Keasel." With each new episode, he shares his life experiences in hopes that his experience can help people get through struggles similar to those he faced. Some of his themes include: dealing with adversity in sports, relationships, picking the right college, and being thankful for the things we have in life.
"Over the past couple years, whenever I got together with my friends I could talk about any topic for hours. My friends told me I should become a motivational speaker or start my own podcast." 
Since he has gotten plenty of positive feedback, Broome is not worried about the direction of where the podcast is heading in the future. His goals may be different from when he was in college, having shifted from running goalkeeper reaction drills to working on building his professional network, but no matter what the goal, Broome has the resilience to tackle any obstacle in his path.
Editor's Corner
by The Cowl Editor on September 3, 2020
---
Friar Sports
---
A Sports Section Without Sports
by Jack Belanger '21
Sports Co-Editor
I remember back in the spring when Providence College canceled all of its spring sports. I had joked with my friends that COVID-19 was slowly taking away my ability to run the sports section. Of course at the time, I thought we would cover how the Big East Tournament and March Madness got canceled. I also thought that I would have to navigate through only a few weeks of quarantine.
Oh, how the tables have turned.
Now, we are faced with the possibility of having to go through an entire semester without seeing any athletic competition on campus. The Big East has already canceled all of its fall sports, which is the season with the most overlapping play. There has been no official start date announced for college hockey or basketball, though it is hard to imagine either sport starting at its usual date. Even if there is no delay for basketball, the earliest any game would occur would be mid-November. Hockey usually begins early in October but is more likely at this point to begin around the same time as basketball.
Despite the challenge of having no sports to cover on campus in the near future, we are committed to expanding and focusing our coverage away from the fields. Our weekly Sports Shorts feature and game recaps will be put on hold and will be replaced with more in-depth stories. Our goal is to have more stories involving interviews with athletes, coaches, administrators, and alumni. These interviews will allow them to share their own unique stories and to give their perspectives on the current issues within our society. Having fewer games to cover will also give us the opportunity to look back at some of the biggest moments in Friars sports history, such as celebrating the 100th anniversary of the first game the men's basketball team ever played. We will also report how the athletic department plans to bring sports back onto campus and the steps they are taking to ensure the safety of the athletes.
Today, sports have become a big part in advancing the civil rights movement and other problems plaguing the country. While the vast majority of these voices come from the professional ranks, it is our job to also give a voice to collegiate athletes and coaches. Some of the biggest faces of the College are members of the athletics department and it is imperative to give them a venue to share their stories.