Former Friar is on Fire: PC Hosts Entrepreneur and Podcast Star John Lee Dumas '02
by The Cowl Editor on April 15, 2021
---
Campus
---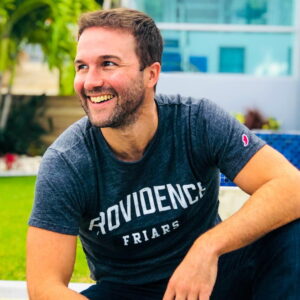 by Sydney Olinger '23
News Staff
John Lee Dumas '02, author of The Common Path to Uncommon Success and host of the award-winning podcast Entrepreneurs on Fire, spoke to students via Zoom on Tuesday, April 13. Dumas shared his story and journey to financial freedom and fulfillment after graduating from Providence College in 2002. He also addressed the lessons and strategies he learned while building his multi-million dollar media empire by interviewing over 3,000 of the world's most successful entrepreneurs. Dumas's podcast, Entrepreneurs On Fire, has gained over 100 million listens since its launch in 2012. He has now generated over 1.4 million monthly downloads.
Though he did not know what career route he would take at the time, the beginning of his long journey to success began at PC. From the first time he stepped foot on campus as a kid from Maine, to the present day as a successful businessman in San Diego, CA, Dumas states he has bled black and white as many members of the Friar Family do. After attending his first basketball game as a prospective student on his visiting day, he never missed a home game in all of his four years, which he claims is one of his proudest accomplishments at PC.
While a student at the College, Dumas was an army cadet in the Reserve Officers' Training Corps for four years before officially becoming an active-duty officer. Despite the 6 a.m. alarms three days a week as a member of the ROTC program, he powered through and believed that it was his "North Star" truly helping him to have a sense of focus and drive throughout his four years. He also strongly valued the relationships he made with and lessons he learned from the Dominican Friars as a freshman living in St. Joseph Hall.
Following Dumas's graduation from PC in 2002, he traveled to Iraq to serve a 13-month tour of duty at only 23 years old. There he was a tank commander in charge of four tanks and 16 men. Through all of the death and destruction he witnessed as an active-duty officer including four of his own men, Dumas was grateful for the many experiences he had, but he decided it was time to move on.
Subsequent to his time in the army, Dumas confesses that he struggled to find his place in the world for about six years. He attended law school at Roger Williams University for one semester before dropping out. He then tried corporate finance with John Hancock in Boston, until he realized he did not want to work a cubicle job and quit. After a few attempts of finding his footing, he ultimately made the decision to move to San Diego on his own to try working in real estate. Ironically, his first connection in San Diego within the real estate community was a fellow PC graduate, which further confirms that the Friar Family always sticks together.
Dumas started his own business with 13 employees, whom he had to train himself, which essentially gave clients home evaluations in regards to what a house was worth. He knew at the time that this was not going to be his end career, but he acknowledges that it was a perfect start and that he gained a great deal of business knowledge.
In an attempt to learn more about business for his job at the time, Dumas was unknowingly landing his most successful career yet. He started reading books on entrepreneurship, salaries, etc. but it was the podcasts that he truly enjoyed for inspiration. His favorite podcasts were the interviews with successful entrepreneurs, but when he realized there was not a single daily-interview-with-successful-entrepreneurs podcast that existed, he had, as he claims, his "aha moment."
In September of 2012, Entrepreneurs on Fire launched. For seven months, he did not make a single dollar. Dumas continued to consistently interview successful entrepreneurs until, finally, in his 13th month, he brought in abundant revenue. He has remained consistent for five and half years, interviewing thousands of successful entrepreneurs and inspiring many more future entrepreneurs.