In Memoriam: John Thompson
by The Cowl Editor on September 3, 2020
---
Friar Sports
---
PC Legend Leaves Behind Lasting Legacy
by Cam Smith '21
Sports Co-Editor
John Thompson '64, a legend in the game of basketball, passed away last Sunday night at the age of 78.
Thompson spent four years in Friartown under then Coach Joe Mullaney, helping lead the Friars to a National Invitational Tournament title in 1963. The talented "big man" accumulated 1,520 points and 1,061 rebounds during his college career, one of only seven Friars to ever do so. Following his graduation, Thompson was selected by the Boston Celtics, where he would go on to win two NBA titles.
As remarkable as his playing career was, Thompson made his true impact on the game of basketball as a coach. He served as the head coach for Georgetown University for 27 years. In that time, he would lead the Hoyas to 24 straight postseasons, featuring three Final Four appearances and a championship victory in 1984.
With that 1984 title, Thompson became the first Black basketball head coach to win an NCAA National Championship. Indeed, Thompson's rise to prominence as a coach began to break down barriers that had stood since the game's creation. The great hypocrisy at the beginning of the 1980s was that there were Black stars on the basketball court, but almost no Black men coaching them.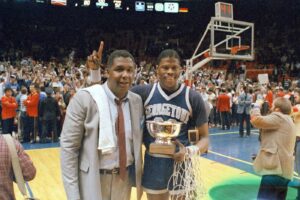 Thompson's fearlessness changed this. By the mid-80s, there were more Black basketball head coaches than ever before.
Patrick Ewing, another basketball legend in his own right, caused a stir in the 1980s when he chose to attend Georgetown over some other high-profile schools. "The main reason I chose Georgetown was Coach Thompson," said Ewing. "I thought that being a young Black kid who in just listening to a Black man who back then, spoke the way that he spoke, the way that he carried himself, it was someone I could emulate."
Thompson never shied away from using his powerful position as an avenue for pursuing racial justice. He protested numerous times, but perhaps his most famous protest came against Proposition 48.
In January 1989, the NCAA implemented Prop. 48, which denied scholarships to freshmen who failed to meet certain academic criteria. Estimates showed that approximately 90 percent of the students impacted by the decree would be Black students. Thompson refused to let that stand.
On a cold night in January against Boston College, Thompson walked out onto the floor 12 minutes before the game. He talked with the opposing coach. He shook hands with the officials. Then he walked right back out of the tunnel, not looking back until he reached his maroon Lincoln Town Car.
"Coach Thompson was a pioneer whose impact extended far beyond basketball," said current Friar Head Coach Ed Cooley after learning of Thompson's passing. "His message was always real and authentic as his passion was helping people to be better… As a mentor, Coach Thompson taught me about fit and loyalty and I will forever be grateful for the doors he opened for so many of us Black coaches. My heart is heavy today. It was an honor to have known him."
Indeed, Thompson's legacy extends far past the confines of any basketball arena. He was a trailblazer: forever fearless and resolute.