From Scranton, PA to Pennsylvania Avenue: Biden, Harris Enjoy Historic Victory
by The Cowl Editor on November 12, 2020
---
National and Global News
---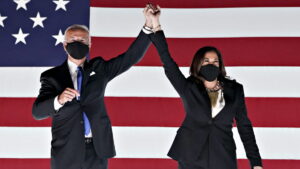 by Eileen Cooney '23
News Staff
On Saturday, Nov. 7, after  four long days of counting votes from key swing states including Arizona, Georgia, Nevada, North Carolina, and Pennsylvania, presidential candidate Joseph Biden obtained 290 electoral votes, surpassing the 270 threshold needed to take the White House.
Early Friday morning, Joe Biden took the lead in Pennsylvania, a very promising sign for the Biden campaign, as Biden sought to turn the state blue after Hillary Clinton failed to do so in the 2016 presidential election. With Biden winning Pennsylvania and leading in Georgia, President Donald Trump's hopes at reelection were squashed—without Georgia or Pennsylvania, he could not gain enough electoral votes to win reelection. 
In a speech given on Thursday, Nov. 5, President Trump indicated his intentions to preserve the integrity of the election by bringing the results to the courts, saying there would be "a tremendous amount of litigation," and that he would not "allow anyone the ability to steal such an important election." He also urged officials to stop counting votes, tweeting "STOP THE COUNT!"
On Nov. 6, Supreme Court Justice Samuel Alito temporarily granted a GOP request to have mail-in ballots received after Nov. 3 in Pennsylvania separated, but he did not prohibit them from being counted.
Many prominent Republican Senators publicly defended President Trump's claims of election corruption. Senator Lindsey Graham, chair of the Senate Judiciary Committee, was one of many who said that he stands with President Trump. Similarly, Senator Ted Cruz has also affirmed his support for President Trump, voicing his opinion that the Justice Department, state legislatures, and the Supreme Court should get involved to make sure that voting laws have been followed properly. Others, notably Senate Majority Leader Mitch McConnell, have remained largely mute on the subject, with McConnell only tweeting, "Every legal vote should be counted." 
While it was largely expected that a winner would not be determined on election night due to the COVID-19 pandemic and the surge in absentee voting, Democratic leaders and the Biden campaign were not expecting President Trump to declare victory prematurely. 
On election night, Trump gave what seemed to be a victory speech, where he claimed victory in Georgia and North Carolina, even though ballots were still being counted. He also contested the results in Arizona, calling upon officials to overturn their decision to give Biden those electoral college votes at the time. 
In the days following election night and the pronouncement of Joe Biden as the winner, President Trump has vehemently attacked the integrity of the election, claiming that "if you count the legal votes, I easily win," and calling mail-in voting "a corrupt system." He has accused Democrats of trying to steal the election from him, claiming that the voting apparatus of those states key swing "are run in all cases by Democrats." 
This statement is false, as in the key states of Georgia and Nevada, the top elections officials, Secretary Brad Raffensperger and Secretary of State Barbara Cegavske, respectively, are both Republicans. Again, President Trump and his campaign team have publicly announced their intentions to pursue legal action to ensure that all election laws were followed. 
Meanwhile, the Biden campaign remains confident in the results of the election, with Joe Biden giving a victory speech that focused on his administration's next steps and attempted to bridge the divide between Biden and Trump supporters. Biden said, "For all those of you who voted for President Trump, I understand the disappointment tonight. I've lost a couple of times myself. But now, let's give each other a chance." 
Biden also announced on social media, "I am humbled by the trust and confidence you have placed in Kamala Harris and I. We're reminded tonight of all those who fought so hard for so many years to make this happen. It is long overdue, but once again, America has bent the arc of the moral universe towards justice." This election will certainly be one for the history books, as Mr. Biden received the most votes ever cast for a U.S. president and Ms. Harris became the first woman, first Black American, and first South Asian American to be elected to the office of vice president.