Men's Lacrosse: Road to Redemption
by Joshua Lopes on February 11, 2021
---
Friar Sports
---
Coach Gabrielli, Friars Finally Return
Liam Tormey '22
Sports Assistant Editor
In 2020, the Providence College Men's Lacrosse Team started the season 5-1. Wins against Boston University, the College of the Holy Cross, and a 13-12 victory in the Ocean State Cup over Brown University seemingly marked the start of a fantastic season. But then, COVID-19 struck.
Head coach Chris Gabrielli admitted to how crushing it was to have the season cut short when his team was just getting started. "It was devastating, it was one hundred percent devastating," Gabrielli said. "We were playing well in all phases." He lamented, "Any end to the season is brutal, but to end in mid-March so abruptly was tough."
Heading into a 2021 season still marked with difficulties, Gabrielli can take some solace in the NCAA's decision to allow for an extra year of eligibility for any player who missed out on last season. The decision gave Gabrielli, his coaching staff, and his players an idea of what things would look like this year. "I'm thankful for all the people on campus who have helped in making this process for myself and my players easier."
Eight of the 11 seniors from last season took advantage of this opportunity and will be returning. It was a long process, but Gabrielli tirelessly pulled out all the stops to make sure his graduated seniors were prepared: from getting information for them about PC's MBA program to helping them sign up for the GMAT exam. The process was made more difficult by the fact that many of the seniors already had jobs or were accepted to other graduate programs. However, in the end, a key group of players will be returning.
That includes returning captains Tim Hinrichs '20GS and Nick Shaw '20GS. They are joined by new captains, Toby Burgdorf '21, Matt Grillo '22, Evan McGreen '21, and Mike O'Grady '22. "Certainly an older team is typically a better team," Gabrielli said. With 16 seniors and graduate students, the Friars will indeed be an older team this season. "They've seen it all, they've been through a lot, and they know how to handle certain emotions."
With the new additions to the captain list, Gabrielli wants his main guys to "continue to be themselves, but don't be complacent and don't be satisfied." He knows his captains will continue to perform on the field, but "I now challenge them to elevate their leadership role. It's the next challenge, you have established yourself on the field and now I want you to be a leader, and we wouldn't give that title to anyone if they didn't deserve it."
Last season, Grillo led the way for the Friars with 25 total points. In just six games, Grillo put up an astounding 21 goals and four  assists. In PC's win against Sacred Heart University, Grillo scored seven goals and added one assist.
Once again, Burgdorf will be in the net for the Friars. Last season was his first year as the starting goaltender and he did not disappoint. In just six games, Burgdorf ranked second in the country in save percentage, third in goals against average, and 13th in saves per game. As a result of his performance, Burgdorf has been named an Inside Lacrosse Preseason All-American Honorable Mention.
In five games last season, McGreen recorded six points with four goals and two assists. O'Grady added two goals in six games for the Friars as well.
Gabrielli was adamant that the opportunity to have an older team bodes well for the future of the program. "These guys are all tremendous leaders," he said. "Having the graduate students back and the freshman class being able to learn from them, it's great for us. They are going to learn how to work, how to lead, and how to get better."
Learning from the graduate students will be 13 incoming freshmen. Gabrielli is aware that this situation is not unique to PC. Many teams will welcome back seniors from last season, as well as a new freshman class. "This isn't just happening to us," said Gabrielli, "but it's happening all around the country, and the competition is just going to be fiercer."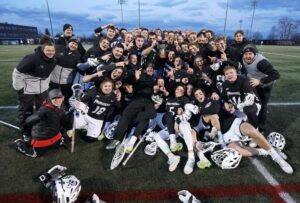 Gabrielli expects a handful of these freshmen to have roles right out of the gate. Some of the players Gabrielli mentioned as standout freshmen to watch are Michael Chabra '24, Ty Thureson '24, Chris Cusolito '24, and Tom Fegley '24. All four will be seeing playing time in the upcoming season.
Channeling the frustration of how last season ended, Gabrielli has made it a focal point that the Friars now get to complete the season they thought they would have had last year. Gabrielli said, "Our team has to be tremendously disciplined, tremendously committed, use common sense, and the sacrifice level has to go to a whole new level this year."
Indeed, it will be a year of sacrifice if things are going to go smoothly for the Friars. Gabrielli knows that with what his team has been through already, they are all ready to make sacrifices for the benefit of the team.
Gabrielli mentioned how his expectations are high every year, but this year, his expectations are "higher than ever." With his top players returning, there was always the belief that this season will be a successful one, but "we know how challenging it is to be successful and this year with the pandemic makes it a challenge."
Now, at the end of a difficult offseason, Gabrielli explained how his team has only been able to practice together just a handful of times as a whole unit. For most of the time, they were working in pods. With no outside scrimmages able to be played, the preparation has been different and difficult.
On Feb. 13, the Friars will travel to Bryant University for their first official game of the season. Without any of the outside scrimmages to prepare, "the sense of urgency is so great for us right now, we can't take shortcuts and we have to be disciplined," said Gabrielli. "The Big East games are so critical and Feb. 20, boom, we're in it."
That Feb. 20 game will see the Friars begin Big East play by traveling to Queens, NY to take on St. John's University. Their first home game of the season will not be until March 3 against Fairfield University.
Gabrielli is still unsure about the status of spectators for the upcoming season, though, there may be the potential for students to come to the games. He emphasized, "If you are able to come out and not be stuck in your dorm room anymore, we would love for the students to come out and support us." If they are allowed, fans will have plenty to look forward to, as Gabrielli and the Friars, motivated and talented as ever, are finally back.
Women's Hockey: Simply Terrific
by Joshua Lopes on February 4, 2021
---
Friar Sports
---
Friars Break into National Rankings
By Liam Tormey '22
Sports Assistant Editor
The Providence College Women's Hockey Team held a record of 5-0-1 when the fall semester ended in mid-December. At the start of the new semester, the Friars are ranked 10th in the country with a 9-4-1 record. 
Due to COVID-19 concerns, the Friars played only eight games while classes were out of session. Series against Boston University and the University of New Hampshire were both canceled. In the eight games that they did play, PC went 4-4-0. 
To begin the winter break, the Friars hosted the University of Maine for two games on Dec. 18 and 19, 2020. The team split the weekend series against the Black Bears with a 4-0 victory and a 2-1 loss. In the victory, Sara Hjalmarsson '22 and Annelise Rice '21 led the way. Hjalmarsson recorded three assists while Rice scored two goals. Goaltender Sandra Abstreiter '21 finished the night with a shutout, 23 saves, and her second shutout game of the year.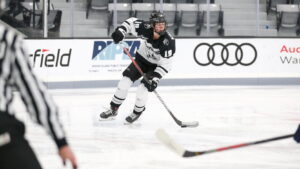 In the loss, Maine grabbed a goal in the first period before the Friars tied it up in the second, but an early third-period goal by the Bears sealed a victory and a split of the weekend series.
After a break due to the holiday season, PC was scheduled to play Boston University in a home-and-home series on Jan. 8 and 9, but due to COVID-19 health and safety protocols, the weekend series was postponed and has yet to be rescheduled.
Instead, the Friars traveled to the College of the Holy Cross on Jan. 9 to start off the new year against the 3-7-0 Crusaders. After falling in a 2-1 hole, the Friars would tie things up in the second with a goal from Hayley Lunny '21. The Friars then exploded offensively in the third, as Lindsay Bochna '24, Bailey Burton '23, and Lauren DeBlois '23 all netted goals to secure a 5-2 victory. The Friars ended with 48 shots on net and improved their record to 7-1-1.
Three of the Friars' four losses since the winter break have come against a very strong Northeastern University squad. PC traveled to Boston for the first time this season on Jan. 12 to take on the Huskies. Unfortunately, the play of Huskies goalie Aerin Frankel and her 32-save shutout led to a Friar defeat. 
Before their most recent games against Northeastern, the Friars got back on the winning track in a home-and-home with Merrimack University. The first period would remain scoreless, but Hjalmarsson got the Friars on the board in the second period. Ciare Barone '22 would build the lead with a goal right before the end of the second, and Bochna would seal the deal with an empty netter to secure a 3-0 victory. Abstreiter made 22 saves in the shutout victory.
On Sunday, Jan. 17, the team again handled business against the Warriors. Isabelle Hardy '23 put one in the net just 51 seconds into the contest. However, Merrimack would tie things up before the period ended and took the lead in the second. This proved to be of little issue to PC, as they rode another three-goal third to a 4-2 victory. Peterson, Burton, and Claire Tyo '24, were the heroes in the third this time, as they helped push the Friars to an impressive 9-2-1 record. 
The Friars' most recent series was during the weekend of Jan. 22 in a home-and-home against Northeastern. Unfortunately for the Friars, the results were much of the same from the previous meeting. Prior to the game, the Huskies ranked fourth in the country. PC cut the lead down in the second period to make it a 2-1 game, but two goals in the third period lifted Northeastern to a 4-1 victory.
Saturday's game was not much better. Northeastern jumped on PC from the start, riding three powerplay goals to a 5-0 win.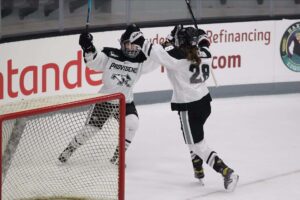 These results would bump the Friars down to No. 10 in the nation, the position in which they currently sit. Last weekend's meeting against UNH was canceled due to COVID-related issues within the program. Like many teams in this altered season, the Friars will have to now wait and see when they are scheduled to play next.
Nevertheless, the Friars have enjoyed a tremendous start to their season. Hjalmarsson has been a major factor in the team's success so far. She leads the team in points this season with 14 and has tallied five goals and nine assists. Additionally, Rice is tied for first in the nation with three game-winning goals this season.
Abstreiter, the senior goaltender from Freising, Germany, has appeared in every game for the Friars. She currently has a save percentage of .930 and a goals against average of 1.91, and is ranked 12th in the nation.
Another major part of the Friars' success over the first 14 games of the season has been the power-play. The team is fourth in the country in power-play percentage at 24 percent with 12 power-play goals overall.
PC currently sits third in the Hockey East standings just behind Boston College and Northeastern with a strong 9-4-1 record and will look to continue to climb even higher in the rankings.
Former Friars Make History as First Female NHL Scout
by The Cowl Editor on October 29, 2020
---
Athlete of the Week
---
A True Trailblaxer, Cammi Granato '93 Is No Newcomer to Breaking Barriers
by Liam Tormey '22
Cammi Granato '93 has been the first to achieve a lot of things in her life. She was one of the first women to be inducted into the Hockey Hall of Fame, she was the first to captain the United States Women's Hockey Team to an Olympic Gold Medal, and now, she is the first female scout in National Hockey League history.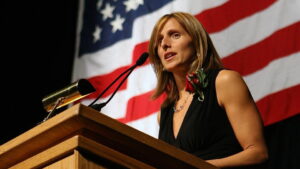 Growing up in Downers Grove, IL, Granato was one of six siblings. Her household was hockey-centric, as her entire family loved the sport.
"My family had a direct impact on who I was as a person and an athlete. I grew up in a team environment. Everything was family first," Granato said while describing her upbringing. Her brothers were very influential in shaping the hockey player she would become. Tony Granato would go on to have a very successful career in the NHL and is now the head coach of the University of Wisconsin's Men's Hockey Team. Her other brother, Don, is now an assistant coach for the Buffalo Sabers in the NHL.
Although it was never easy having to play with her brothers all the time, Granato admitted, "I followed my three older brothers everywhere they went. They never took it easy on me, I always had to keep up if I wanted to play." When they started to give her a hard time, she recalls her brothers saying, "Do not tell mom." When she was halfway up the basement stairs, ready to express her frustrations to her mother, she realized, "They will not let me play again if I do this."
The hardships of being a woman in a male-dominated sport never made Granato back down. Her brothers helped shape her into a player who was confident enough in herself to play at the highest level. Granato says she is most appreciative of "the standard they set for me."
Her journey came with challenges, however. As a teenager, Granato was "the only girl. [She] never played against a girl until [she] was 18." Playing with her brothers for a club team, she had to deal with constant whispers and snickers from a whole host of people. Granato recalls getting to the rink one day only for the figure skaters to "turn off the lights on me in the bathroom and call me weird and giggle at me."
This was only one of the many obstacles she met in the rink. Granato remembers getting intentionally blindsided on the ice one time and suffering a concussion as a result. Another time, a coach told her before the game that he would break her collarbone if she played. A teammate's father even told Granato's coach his son would not play if a girl was playing.
"At the same time, I was shielded by all of the noise," said Granato. "My coach was terrific, I had my family behind me, and they all accepted me."
Granato's path to Providence College was one she never thought possible. It all started when another PC graduate caught her eye. Cindy Curley '85 was Granato's first inspiration as a woman in hockey; Curley quickly became her role model. "I knew about her when someone sent me a pamphlet in grade seven. My mom said, 'Did you know girls played hockey in college?' In Illinois, we had no idea that women played."
Granato came to PC in 1989 and admitted she was homesick the first month because she was so close with her family. Everything changed when she was able to get on the ice and be with her team. "Once hockey started," Granato said, "I realized I had this instant team and the friendships started to form. The memories for me were formed within the day-to-day."
The records show Granato found her home at Schneider Arena. During her time at PC, she won Rookie of the Year, ECAC Player of the Year three times, and helped PC win back-to-back conference titles. She still leads the program in points (256), goals (139), and remains second in assists (117). She was inducted into the PC Hockey Hall of Fame in 2013. "Those four years were amazing," recalled Granato.
In the 1998 Winter Olympics, there was a women's ice hockey competition for the first time in history. Granato got the opportunity to captain the inaugural USA Women's Hockey Team. The result: a gold medal. 
"Being able to participate was surreal and being able to compete for a gold medal, who would have thought it was even possible?" Granato said. She sees playing on the Olympic team as one of her biggest accomplishments. "It doesn't get any better than that," she said. "The pinnacle for me, playing in the Olympics and winning the gold was incredibly memorable. It is something I am very grateful for."
In 2010, Granato was one of first two women to ever be inducted into the Hockey Hall of Fame. It was never her goal while playing to get into the Hall. She admits, "I never thought about that, about getting into it. I had never aspired to do it because I didn't know it was possible."
When the opportunity finally arrived, it meant more for her than just being inducted: "I was humbled and honored. I knew it was not just about me, it was about women. I knew there were women before me who deserved it. It was a representation for women, and I see it as a day of recognition of women. It was special."
Granato is now the first female scout in NHL history. While living in Vancouver, she heard that Seattle was the destination for the new NHL expansion team and immediately thought it would be the perfect fit. 
Rob Francis, the general manager for the Seattle Kraken, played with Granato's husband, Ray Ferraro, and asked for Granato's number. "He offered me the position and I just thought it was a great fit," she recalled.
After Granato was named one of the Kraken's scouts in 2019, Francis spoke to the media and told them that, "I know she's a female pro scout for us, but her résumé is why she got the job— not because she's female."
Currently, Granato is scouting the professional players in the NHL, specifically in the Pacific Division of the Western Conference. "The position itself was super natural to me," she said. "I love analyzing the game and that has come from being in a family of coaches and brothers who love watching game tape." She added that "sitting up in the press box with ten other guys is not something I'm not used to."
Granato is very excited for the opportunity to continue to be involved in the game of hockey. She says for the future, "I definitely want to stay in the game and be at the level I am at. It is really enjoyable being a part of an organization especially like Seattle. The environment is great."
After all, hockey has been a part of Granato's life since day one. "Hockey in general is just a part of me. I don't know life without hockey. It's second nature to me." Granato says she has more goals for the future, ones she wishes to keep to herself, but for now she is happy with the balance between her family at home and her team in Seattle.
A trailblazer in every sense of the word, one can only wait and see what barrier Granato will break next.
NFL Mid-Season Update
by The Cowl Editor on October 16, 2020
---
Professional Sports
---
COVID-19 Outbreaks Lead to Scheduling Fiascos
by Liam Tormey '22
Sports Staff
It is now a couple weeks into the National Football League (NFL) season, and there have been both surprises and concerns for many teams in the league.
It goes without saying that COVID-19 is going to be the biggest issue this season. Going into Week Four, the Pittsburgh Steelers were supposed to travel to Tennessee to face the Titans, but, due to an outbreak of cases in the Titans camp, the game was rescheduled to Week Seven. The Baltimore Ravens vs. Pittsburgh Steelers game was moved to Week Eight. Both the Steelers and Titans went into Week Four undefeated and have proven to be playoff contenders.
The Kansas City Chiefs and New England Patriots were supposed to face off on Oct. 4 but had to reschedule to a Monday night game after Patriots quarterback Cam Newton tested positive for COVID-19. With Newton in quarantine, Brian Hoyer got the starting job. Hoyer played a terrible first half before being replaced by second-year quarterback Jarrett Stidham in the second half of the game.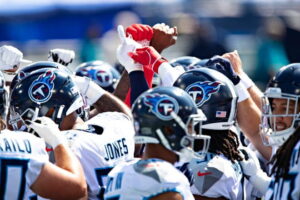 With both rosters at capacity, the Chiefs and Patriots have been two of the more impressive teams in the league. Surprisingly, the Chiefs are the first team ever to start 4-0 for four consecutive seasons. Their impressive display against the Ravens in Baltimore has many believing they have a good chance to repeat winning the Super Bowl.
For the New England Patriots, Newton looks like he has found his new home. The Patriots hope to get him back for their Week Six matchup against the Denver Broncos, a game that was moved from Week Five following more positive cases in New England. Newton's arm and his ability to run the ball have added a new dimension to New England's offense. And with Bill Belichick as the coach, anything is possible for the Patriots this season.
Credit must be given to the other undefeated teams in the American Football Conference (AFC). The Buffalo Bills are the leaders of the AFC East, and quarterback Josh Allen looks ready to lead his team to a successful playoff run. Head coach Sean McDermott has continually given Buffalo a sound defense since coming from the Carolina Panthers as a defensive coordinator.
In the National Football Conference (NFC), the Seattle Seahawks and the Green Bay Packers are at the top of the list for impressive teams thus far. Russell Wilson, who has never received an MVP vote, has been at the top of his game, proving how he has become one of the best deep-ball throwers in the league. Not many people believed in the Packers before the season started, but Aaron Rodgers has proven the doubters wrong, giving his team one of the best starts to the season.
The Atlanta Falcons and the Houston Texans have been the disappointments of the season. Atlanta blew back-to-back leads against the Dallas Cowboys and the Chicago Bears in games they looked certain to win. The Texans have had problems all over the board after trading star receiver DeAndre Hopkins. Both teams have now fired their coaches, Dan Quinn and Bill O'Brien, after winless starts to the season. 
The unpredictability of this football season mirrors the unpredictability of 2020. Although there have been surprises, disappointments, and league-wide challenges, it has been exciting for fans just to have football back on their televisions.
Incoming Men's Hockey Class
by The Cowl Editor on October 4, 2020
---
Friar Sports
---
Men's Hockey Welcomes Seven New Members
by Liam Tormey '22
Sports Staff
Although there will be a delay to the start of Hockey East play, the Providence College Men's Ice Hockey Team is excited to welcome seven new faces to the 2020-21 roster. The list consists of four freshmen and three transfer students. Included in the list of seven players are Brett Berard '24, Anton Martinsson '21GS, Nick Poisson '24, Uula Ruikka '24, Jaxson Stauber '23, Matt Tugnutt '21GS, and Chase Yoder '24.
The first player on the list, Brett Berard, is a 5-foot-9-inch, 163 pound forward from East Greenwich, Rhode Island. Berard played for the U18 USA Hockey National Team Development Program in the 2019-2020 season, and recorded 16 goals and 18 assists in 41 games. He has also been ranked No. 45 by the NHL Central Scouting for North American Skaters in preparation for the 2020 NHL Draft. Although it did not occur this summer due to COVID-19, Berard was one of 44 United States players named to the 2020 World Junior Summer Showcase. 
Berard is the son of PC alums David Berard '92 and Lynne Berard '93. David played men's hockey and is currently the head coach of the College of the Holy Cross Men's Ice Hockey Team. He has also spent time at PC on the men's hockey staff as an assistant coach (1994-96 and 1998-2011) and the director of hockey operations (2013-14). Lynne starred at field hockey while at PC and is the current President of Samsonite LLC North America.
When pressed on his small stature in an interview, Berard noted that, "As an undersized guy, I'm trying to play like Brad Marchand. He doesn't take anything from anyone, no matter how big they are, and he's a great offensive player." Friar fans certainly hope Berard replicates the play of the Bruins' forward. 
Anton Martinsson is the next name on the list. Martinsson, from Klippan, Sweden, is a 6-foot-1-inch, 175 pound goalie coming off a full four years at the University of Alaska Fairbanks. Martinsson had a career-best year last year with a 2.51 GAA and a .919 save percentage. Most notably, he had a 35-save shutout on the road against the No. 8 ranked team in the country, Penn State University. With Michael Lackey '20GS having graduated last year and the transfer of Jake Kucharski to American International College, Martinsson will be up for the starting job alongside Gabe Mollot-Hill '21 and Jaxson Stauber.
Indeed, Stauber is another goalie transfer. Last season, Stauber appeared in just one game for Minnesota State University, but showcased a 1.00 GAA and a .933 save percentage. He was also a part of the Sioux Falls Stampede in the United States Hockey League, where he led all goaltenders with a .918 save percentage in the 2019-2020 season. Stauber was instrumental in leading Sioux Falls to the 2019 Clark Cup title. In 12 playoff games, he posted a 1.46 GAA and a .941 save percentage, securing him the 2019 Clark Cup MVP. 
Stauber's coach in the USHL, Scott Owens, had nothing but praise for the new Friar goalie. "First you can see that his fundamentals and technique are so much better than the average goaltender," said Owens.  "And then you can see a little bit of it in the genes. He moves well, he's athletic. He understands the position very well."
Nick Poisson, from Vancouver, British Columbia, is a 5-foot-11-inch, 185 pound forward. He played for Prince George in the British Columbia Hockey League before coming to Friartown. During his time at Prince George, Poisson put up better numbers each year. Last season, Poisson led Prince George in scoring with 21 goals and 26 assists in 49 games played. He also led the team with five game-winning goals while serving as an alternate captain.
Uula Ruikka is the lone defenseman on this list. Hailing from Oulu, Finland, Ruikka last played for the Chicago Steel of the USHL. Last season, he posted four goals, 21 assists, and a +17 rating for the Steel. "On the ice, he is a team-first guy with a lot of skill to go along with his great skating ability," said Steel general manager Ryan Hardy. Ruikka will be one of nine defenders on PC's active roster.
Matt Tugnutt is another graduate student transfer for the Friars. The forward transferred from Sacred Heart University where he served as the alternate captain for the Pioneers. Over the course of his career, Tugnutt has earned himself 30 goals and 42 assists in 97 career NCAA games. He finished with 14 goals and 16 assists last season.
Last on the list is another forward: Chase Yoder. Yoder, 5-foot-11-inches, 185 pounds, comes from Fairview, Texas and last played in the U.S. National Team Development Program. Last season, Yoder produced 10 goals and 10 assists for the U.S. U18 Team. Yoder grew up as a two-sport athlete, starring in baseball as well. "There are definitely some similarities between the two sports, especially when it comes to having a short memory," Yoder said when questioned about how his upbringing translated to his current success. "Whether you strike out in baseball or have a bad shift in hockey, you just have to let it go and focus on your next play."
With four forwards, two goaltenders, and one defenseman, the Friars appear to have a deep class of newcomers to add to an already talented team. All players hope to showcase their skills sooner rather than later, as all eyes are on the status of the Hockey East.
LIFE WITHOUT BRADY
by The Cowl Editor on September 17, 2020
---
Professional Sports
---
The Cam Newton Era has Begun in New England
by Liam Tormey '22
Sports Staff
A new era is beginning for the New England Patriots. After 20 seasons and six Vince Lombardi Trophies, Tom Brady decided to end his career with the Patriots and sign a two-year, $50 million deal with the Tampa Bay Buccaneers. It is now the post-Tom Brady era in New England.
So, where do the Patriots go from here? Well, for starters, Cam Newton will be the face of the New England offense after he was named the starting quarterback last week. Newton beat out both Jarrett Stidham and Brian Hoyer for the starting job.
The 2015 MVP of the league has had his issues with injuries over the last couple of seasons. Last season, Newton played only the first two games of the season before being placed on injured reserve for the year with a Pedal Lisfranc sprain. After being released from the Carolina Panthers, Newton found a home in New England on a one-year deal. 
The offense will look different this year without Tom Brady behind center, but there are still some familiar faces returning. Newton will be relying on the likes of Sony Michel, Julian Edelman, and N'Keal Harry. After trading for Mohamed Sanu last season for a second-round pick, the Patriots cut him this past week alongside running back Lamar Miller. Behind Edelman and Harry, Damiere Byrd will start the season as the Patriots No. 3 wide receiver.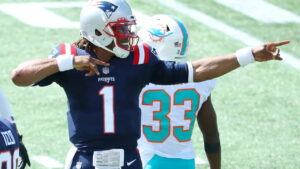 New England's starting tight end this year will be Devin Asiasi, who was the Patriots' pick in the third round at number 91 in this year's draft class. Asiasi enters the NFL after a successful collegiate career at the University of California, Los Angeles. In 2019, Asiasi had 44 receptions, 641 yards, and four touchdowns. After coming out of retirement, Rob Gronkowski, one of the greatest tight ends of all time, was traded alongside a seventh-round pick to meet up with Tom Brady in Tampa Bay for a fourth-round pick. The Patriots took back-to-back tight ends in this year's draft, selecting Dalton Keene from the University of Virginia Tech in addition to Asiasi. Asiasi and Keene will look to fill the massive void left at the position since the departure of Gronkowski. 
Due to COVID-19, the Patriots have a league-high number of players who have opted out of the 2020-2021 season. Those opt-outs include tackle Marcus Cannon, linebacker Dont'a Hightower, safety Patrick Chung, tight end Matt LaCosse, running back Brandon Bolden, fullback Dan Vitale, receiver Marqise Lee, and guard Najee Toran.
On the opposite side of the ball, the Patriots defense will look very different from how it was last year. The Patriots lost Kyle Van Noy, Jamie Collins, and Elandon Roberts to free agency. Each leaves very large shoes to fill on defense. The defensive line will stay mostly intact, however, with Lawrence Guy, Adam Butler, John Simon, and Deatrich Wise Jr. all returning. 
The cornerback spot is still a strong spot for the Patriots. Reigning Defensive Player of the Year Stephon Gilmore will feature alongside Jason McCourty, Devin McCourty, and Adrian Phillips in the secondary. With their second-round selection in this year's draft, the Patriots added Kyle Dugger at safety. Dugger should be able to fill the hole left by Chung, as the hard-hitting safety dominated Division II football while playing for Lenoir-Rhyne University in North Carolina. 
It is going to be a strange time for New England fans with these new-look Patriots, but with Bill Belichick running the team, and with Newton having something to prove, anything can happen for New England this season.
Indeed, the Patriots started on a strong note this past Sunday against the Miami Dolphins at Gillette Stadium. The team secured a 21-11 victory behind two rushing touchdowns from Newton. They will look to continue their solid start this Sunday against the Seattle Seahawks.
PCI:Should There Be College Football This Fall?
by The Cowl Editor on September 3, 2020
---
PCI
---
Yes, It Will Be Safe!
by Jack Belanger '21
Sports Co-Editor
After colleges across the country canceled the end of their winter and spring sports due to the COVID-19 pandemic, many senior athletes missed out on what would have been their final season of collegiate competitive sports. Basketball players who were on their way to play in March Madness lost their last chance to win a national title; spring athletes lost the chance to celebrate their final home game. It was difficult  for many athletes to face the cancellation of their season after putting in countless hours of work. The NCAA should not put the same burden on football players and allow them to play this fall.
College football is the most profitable sport at many universities and many schools need the revenue in order to pay for athletic scholarships. Even though stadiums would  not be able to sell out their seating to fans, schools could  still make money from broadcasting their games and fulfilling their TV deals. The pandemic has already tightened athletic department budgets across the country and many schools have had to cut sports that do not generate any revenue. By having football games this fall, universities would be able to help fund other sports that may have had their season canceled and support other athletes.
While there may be safety concerns about having players travel and face teams from other schools, teams have been testing their players on a consistent basis and the NCAA has laid out a plan for teams to follow in order to proceed with the season. If the athletes are truly committed to playing out their final collegiate season, then they would  have to follow the rules laid out for them to avoid any unnecessary risks that could ruin the season. By participating in regular  practices and games, players would create a bubble for themselves since they would  essentially be interacting with the same people on a daily basis.
Playing out the season is just as important for underclassmen as it is for seniors. For the players who are eligible for the next NFL draft, playing games is really the only way for them to get noticed by NFL teams and have a chance to continue their careers at the next level. Without a season, NFL teams could only judge players based on their performances from last season and the draft combine, neither of which can solely represent a player's abilities accurately.
There are multiple parties who would benefit from having a college football season for a variety of reasons. Not only do players want to compete in the sport they put so much work into, especially the seniors who may be playing their final season, but the  athletics directors want to bring in any revenue they can to make up for the lost profits from the cancellation of March Madness and spring sports. Yes, there may be some risk involved, but with the proper rules put in place, college football teams should be able to play out their seasons safely.
No, It Is Irresponsible.
by Liam Tormey '22
Sports Staff
In times such as these, it seems almost insensitive  to believe the upcoming college football season should occur. The threat of COVID-19 is real, both to college campuses and the surrounding communities. College football should not happen this year for the safety of all.
To begin, one should look at the fact that many other college sports will not be competing for the remainder of the calendar year. Universities are going to be missing out on the likes of soccer, volleyball, cross country, and field hockey this semester. To give football the chance to play while other sports will  not be given that same chance seems rather unfair.
Many of the other canceled sports are hoping to play in the spring semester, which begs the question: why are some schools in such a rush to be playing football at this moment? Athletic directors will say that postponing this football season to the spring, just a couple of months before next season's restart, will not work. That may be true, but we find ourselves in a time when no one should be taking massive risks that can put people in danger, no matter how inconvenient it is.
College football, with a few exceptions, is currently set to be played across the country in one way or another this fall. The two major exceptions to this trend are the Big Ten and the Pac-12 conferences. Despite holding some of the most well-known college football teams in the country, these conferences  have decided to suspend their seasons. Although they have received backlash, it is the right decision. The country has come a long way since the beginning of the pandemic, and any further setbacks should be avoided at all costs. The sheer number of players on a given football team should be reason enough for no college football this year.
A lot has been sacrificed to maintain some semblance of pre-pandemic normalcy. Some universities have already shifted to online learning. owever, these same schools want to be playing football soon. This is not only selfish, but a clear money grab. Essential workers have worked so hard to keep this country afloat. Can we really say that young college football players are essential workers right now? Maybe they could be considered as such for the universities where these players are generating millions of dollars, but not for a country that  needs everyone to continue to make smart and safe choices.
Father Brian J. Shanley, O.P., Talks Big East
by The Cowl Editor on March 5, 2020
---
Friar Sports
---
Bob Driscoll Joins in for Riveting Presentation
by Liam Tormey '22
Sports Staff
Last Thursday, the Sports Business Organization at Providence College got the opportunity to hear Rev. Brian J. Shanley, O.P. and Athletic Director Bob Driscoll discuss the history of the Big East Conference and the influence that both men had on its formation. 
To begin, both guests gave an overview of the roles that they have in sports at PC. Driscoll has been the athletic director at PC for 19 years and says his job is to "create the vision of what a first-class Division I department should look like." He said that his role as athletic director  would not be possible without the support of the president of the College, with that, of course being Fr. Shanley.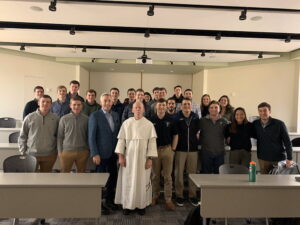 Fr. Shanley's role at PC is far-reaching; however, and sports are a big part of his responsibilities. Fr. Shanley talked about the importance of "hiring smart people and letting them do their own thing." He also spoke to the fact that he believes that if he needs to get into the "weeds" about someone, then that person is not doing their job. Although, he admits that has never found this to be the case at PC. 
Next, Fr. Shanley and Driscoll were asked about both the history of the Big East and the realignment of the conference. The Big East originated in 1979. Fr. Shanley discussed the vision of Dave Gavitt, the former athletic director at PC at the time, and how he saw that northeast basketball was going to fall behind other major conferences unless something was done. 
Indeed, in the early stages, many colleges wanted to join the Big East, and the conference had great success. However, the demise of the conference in past 10 years came as many of the big schools left to go to football conferences where all the revenue was. 
Fr. Shanley spoke about the meeting at St. John's University where all of the schools in the Big East got together to discuss how to fix this problem. At the meeting, it was decided that the Big East was going to "chart our own path individually of the football schools."
 A unique opportunity arose with the arrival of Fox Sports 1 and their need for a polished basketball product. The match between the conference and TV broadcaster ended up being perfect, as the Big East Conference received a 12-year contract with Fox which has "been a blessing," according to Fr. Shanley. 
Driscoll added that they were "in the right place at the right time" and "we went back to our roots" regarding the realignment of the Big East. The desire for schools to get into the Big East skyrocketed as presidents and athletic directors bombarded Fr. Shanley and Driscoll with calls to join the Big East. 
Being able to play at Madison Square Garden for the Big East Tournament was also a huge boost for the conference. Both Shanley and Driscoll referred to it as "the Mecca," saying the ability to have a long-term deal with MSG as the only conference in the country to play at the Garden was very important. Many major conferences still want to play at MSG, but the Big East is still the only conference able to do so, and that is huge from a marketing standpoint for the conference. 
Fr. Shanley and Driscoll, were very excited to answer members' questions about their role in forming the Big East Conference, and both believe the conference is in very good hands for years to come.  
Softball Takes on 2020 Bearkat Classic
by The Cowl Editor on February 27, 2020
---
Friar Sports
---
Friars End on Good Note, Walk-off for Win
by Liam Tormey '22
Sports Staff
Two weekends ago, the Providence College Softball Team traveled to Huntsville, TX to compete in their first competition of the season: the 2020 Bearkat Classic.
Traveling did not come easy for the Friars as they planned to head down on Thursday, February 13. Unfortunately, the ladies faced travel problems as their flight was canceled. On the bright side, they were able to reschedule their flight to the next morning. 
The team woke up at 3 a.m. and had a double-header which started just 15 hours after wake-up. Problems in the air caused problems for the Friars, but they still had to play five games during the weekend.
On Friday, the first game for the ladies was against the Houston Baptist University Huskies. The Huskies jumped to a 6-0 lead thanks to a four-run fourth inning which sealed the victory at 7-1. Miranda Trinidad '20 got the start on the mound for the Friars and Elysia Cunnigan '23 came in to relieve Trinidad for her first appearance for the Friars.
Game two started very quickly after the conclusion of game one for the Friars. Their opponent was Sam Houston State University Bearkats. The first inning put the Bearkats at a 2-0 advantage and the Friars were not able to claw their way back into the game. The final score was 9-1. Coach Jill Karwoski said the ladies "emptied the tank" after travelling for most of the day and being short on sleep.
Saturday would involve two more games for the Friars. It would be a much better day after a full night of rest.
Houston Baptist was the first opponent of the day and the game was much closer than it had been just 20 hours before. After a run in the first inning for the Huskies and a response in the third by the Friars, the Huskies scored four runs in the bottom of the third to make the score 5-1. The Friars brought the game back to make it 5-3 after Mackensie Compton '20 had four at bats and three RBIs with a two-run home run in the fifth.
The next two games of the weekend showed the promise the Friars wished for heading to Texas. Sam Houston would be the opponent again, but with a much different result. After being down 5-2, the Friars had an eight-run fourth to seal the first victory of the season with a score of 11-7. Cunnigan got the win on the mound for the ladies with four strikeouts in 3.1 innings pitched, which secured her first win as a Friar. Crista San Antonio '20 had a great day at the plate with four RBIs and two hits, one being a home run, for three at bats.
Coach Karwoski said, "Besides sleep, the biggest change the team made was finding their ability to play loose, letting go of the outcome and being more present in each moment as it presented itself."
The Friars finished the weekend strong with a exciting win against George Mason University. After going down early in the first inning, 1-0, the Friars played well defensively but could not get the bats going. In the bottom of the seventh inning with three outs before the game was over, Tiana Wren '23 hit a walk-off three-run home run to win the game 3-1 and finish the weekend 2-3.
The Friars will be competing in several competitions before the start of Big East play and coach Karwoski stressed the importance of these tournaments because they "allow for us as coaches to see what lineup options we can potentially have and for our players to see, adjust, and compete against a range of competition and talent."
Big East play for the Friars will begin March 20 at home against St. John's University.
PC Lacrosse 2020 Season Preview
by The Cowl Editor on February 6, 2020
---
Friar Sports
---
Lacrosse Begins Season With Win Over BU
by Liam Tormey '22
Sports Staff
As the spring semester gets underway, so too does the season for the Providence College Men's Lacrosse Team. The Friars are very excited for the upcoming season, to say the least. 
Last season saw the Friars post a 7-9 record, with an elimination in the Big East Men's Lacrosse Semifinals to Georgetown University. It was not the way the team had hoped to finish their season while being led by top scorers Nick Hatzipetrakos '19 and Brendan Kearns '19, but head coach Chris Gabrielli says there is a lot to be excited about with this particular team.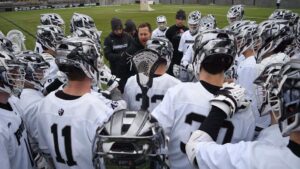 Gabrielli joked, "I certainly wish we could keep our top players around for 20 years like Tom Brady, but it's also extremely rewarding to see the next wave of players emerge." He added, "We have quite a few athletes on our team that no one is talking about now, but they will later." Mixed in with the 11 current seniors on the roster, the combination of all different years on Gabrielli's squad could result in some eye-opening play this season.
The senior year class always holds importance for any collegiate athletic team. Many of the players have gone through the ranks and have seen what it takes to be successful on the field. This year's seniors are going to be no different. "The number one story of this year's team is our senior class," said Gabrielli. "All 11 seniors will play important game-day roles for our team in 2020, and this is rare."
The seniors and the rest of the team will be led by captains Tim Hinrichs '20 and Nick Shaw '20. Hinrichs has appeared in 47 games since his freshman year for the Friars. He played 15 games last season, starting in 11 of them. He registered 29 points on 13 goals and 16 assists last season and looks to add to that total this season. Meanwhile Shaw has appeared in 30 games for the Friars since joining freshman year. Shaw had eight points last season with five goals and three assists. Gabrielli lauded the efforts of the two seniors, saying, "These two young men are excellent representatives of our program."
Gabrielli has continued to grow the program since arriving eight years ago. This year may very well showcase just how far the program has come, as the coach mentioned that this year's team has a  different sort of confidence than in years past. He talked a lot about the culture of the team, saying it "has never been stronger, and we have never had such few distractions." A large part of this is due to the senior class. Gabrielli stated, "This is a testament to their leadership style and caring for the success of the program. I trust this group to do the right thing every day, and to stick to our process."
The Friars had their first official game this past Saturday in Boston, taking on the Boston University Terriers. Last season, PC lost their annual opener against BU at home 8-7, but Saturday was different. After a 2-2 start to the first quarter, the Friars scored six goals in the second and did not look back after halftime. The result was a victory for PC by a score of 12-5, with three goals coming from Matt Grillo '22 who picked up right where he left off with 30 goals last season as a freshman.
Looking ahead to what comes next for PC, Gabrielli commented, "We have very high expectations every year, and this is due to the uncommon commitment that we demand of each other. We have put the work in to have high expectations, but the team knows that true success is earned on game day." Gabrielli holds his players to very high standards and they know that. "Every team that we compete against has worked hard. Now we must honor the work that we have put in by executing on game day, while playing with tremendous passion and toughness." Gabrielli knows his team has what it takes to take a big step this season.
The Friars first home game will be this upcoming Saturday against Holy Cross University at 3:30 p.m. The start of Big East play will pick up on March 28 with the team hosting St. John's University.